Monthly Current Affairs for all banking PO,Clerk,IBPS PO,Railway,SSC,IAS,OAS Exams
More Visit www.isbtonline.com
Fourth Health Index released by NITI Aayog - 01 Jan 22
Highlights:
Recently, the NITI Aayog released its fourth Health Index.
The fourth round of Index took into account the period 2019-20 as reference year.
NITI Aayog prepared this report in collaboration with the Ministry of Health & Family Welfare as well as with the technical assistance from the World Bank.
According to NITI Aayog's health index, Kerala has emerged as the top performer with respect to overall health performance among larger states.
On the other hand, Uttar Pradesh has been ranked the last.
However, Uttar Pradesh topped in terms of incremental performance since it registered the highest incremental change in reference year 2019-20 as compared to the base year 2018-19.
Tamil Nadu emerged as second while Telangana emerged as the third best performers, on health parameters.
Andhra Pradesh and Maharashtra have been ranked among top five.
Bihar is the second and Madhya Pradesh is the third worst performers, on health parameters.
In smaller states category, Mizoram became the best performer in overall performance and incremental performance.
Among Union Territories, Delhi and Jammu & Kashmir have been ranked among bottom UTs with respect to overall performance.
However, they emerged as leading performer with respect to incremental performance.
In terms of health performance, Kerala emerged as the best state, for the fourth time.
Kerala and Tamil Nadu were top two performers with highest reference year (2019-20) index score, in terms of overall performance.
However, they have been ranked twelfth and eighth in terms of incremental performance.
Telangana secured the third place in terms of overall performance as well as incremental performance.
Rajasthan was the worst performer, in terms of overall performance and incremental performance.
Among smaller states, Mizoram & Tripura registered strong overall performance.
Global Environment and Climate Action Citizen Award - 01 Jan 22
Highlights:
The Global Environment and Climate Action Citizen Award was presented in Dubai.
The prestigious Global Environment and Climate Action Citizen Award was presented to Surat's noted industrialist Viral Desai.
Viral Desai is popularly known as Greenman, because of his love for the environment.
Sanskruti Yuva Sansthan presented the 'Bharat Gaurav Samman' to Viral Desai and other winners, at Dubai's Atlantis, The Palm.
28 prominent personalities from 11 countries, namely the United Kingdom, the United States, France, New Zealand, and Malaysia, were felicitated with the prestigious awards.
Viral Desai was the only Indian to won honour for climate action.
Other Awardees :
Motivational speaker Padma Shri Gaur Gopaldas
Polo player Ashvini Kumar Sharma
Akshaya Patra Foundation's chairman Padma Shri Madhu Pandit Dasa
Instrumentalist Padma Bhushan Pandit Vishwa Mohan Bhatt
Padma Shri Ramkishore Chhipa
Nirbhaya's mother Asha Devi
Investor banker Saket Mishra and others.
Global Environmental Citizen Award : A Fact File
It is an environmental award, established by "Harvard Medical School Centre for Health and Global Environment".
It is bestowed annually to an individual who is working to restore and protect global environment.
Center for Health and the Global Environment
It is located at Harvard T.H. Chan School of Public Health.
The center works with the mission to help people in understanding that our health depends on the health of environment.
It was founded in 1996, for promoting a understanding of human health consequences because of global environmental change.
Aarati Krishnan appointed SEBI Member Of MF Advisory Panel - 01 Jan 22
Highlights:
Aarati Krishnan, a BusinessLine Editorial Consultant, has been appointed to the Securities and Exchange Board of India's Advisory Committee on Mutual Funds.
The committee, which is chaired by Usha Thorat, a former Deputy Governor of the Reserve Bank of India, advises SEBI on mutual fund regulation in order to ensure investor protection, industry development, and disclosure requirements.
It makes recommendations for how to make the legal framework for mutual funds more transparent and simple for investors and constituents.
The committee consists of 24 members, including CEOs of major mutual fund companies, academics, exchanges, consumer interest groups, fund trustees, rating agencies, distribution firms, and the media.
The company was founded on April 12, 1992.
It's headquarters located at Mumbai.
Vikram Misri appointed as Deputy National Security Advisor - 01 Jan 22
Highlights:
Vikram Misri, a diplomat, has been appointed to the national security council secretariat as deputy national security adviser.
Misri, an Indian Foreign Service (IFS) officer from the 1989 batch, was appointed after nearly three years as India's ambassador to China.
He worked at the Ministry of External Affairs (MEA) headquarters and the Prime Minister's Office in various capacities.
Misri will report to Ajit Doval, the national security adviser. Rajinder Khanna, Pankaj Saran, and Dattatray Padsalgikar are the deputy NSAs at the moment.
Misri has also worked in Indian Missions throughout Europe, Africa, Asia, and North America.
India's new envoy to China, Pradeep Kumar Rawat, has already been appointed by the government.
Atal Ranking of Institutions on Innovation Achievements 2021 - 02 Jan 22
Highlights:
The central government released the "Atal Ranking of Institutions on Innovation Achievement (ARIIA) 2021" award list.
Top position was achieved by IIT Madras.
It topped the ranking as the most innovative educational institute in India in technical category.
IIT Madras won this recognition for the third consecutive time.
Top 10 institutions:
IIT Bombay, IIT Delhi, IIT Roorkee, IIT Kanpur, IIT Kharagpur, Indian Institute of Science (IISc) and IIT Hyderabad.
Under the "University & Deemed to be University (Govt. & Govt. Aided) (Technical)" category, Punjab University and Delhi Technical University were at top position.
Under this category, Kalinga Institute of Industrial Technology Khordha achieved the first position while Chitkara University achieved the second position.
Under 'Colleges/Institutes (Govt. & Govt. Aided) (Technical)' category, College of Engineering in Pune and PSG college of Technology won the awards.
Under "non-technical institutions" category, Indira Gandhi National Open University (IGNOU), Delhi and Indian Institute of Management (IIM), Kozhikode won the awards.
ARIIA- ranks
ARIIA ranks are announced in 9 separate categories, including Centrally funded technical institutions such as IITs, NITs, State standalone technical colleges, State Universities, Private standalone technical colleges, Private universities and non-technical government colleges.
It is a joint initiative of Ministry of Education and AICTE, that systematically rank higher educational institutions across India on indicators like start-up, Innovation, and Entrepreneurship Development amongst students and faculty.
Under the initiative, institutions are evaluated on parameters such as number of registered students & faculty start-ups, patent filing & granted, fund generation by incubated start-ups, etc.
Its first edition was launched in 2018.
World's longest Metro line opened in Shanghai - 02 Jan 22
Highlights:
World's longest Metro Line was opened in China's Shanghai Province.
With this inauguration, Shanghai uphold its rank as the city with the largest Metro network worldwide.
The city opened two new metro lines - Line 14 and Phase One of Line 18.
With this, the total length of metro network in Shanghai has extended to 831 km. It continues to be the longest network across the world.
The opening of two new lines has increased the total number of fully automatic metro lines in Shanghai to five, having an operating length of 167 km.
Now, there are 20 metro lines and 508 stations in Shanghai. Out of 508 stations, 83 are transfer ones.
Shanghai is located on the southern estuary of Yangtze River.
The city is the most populous urban area in China as well as the most populous city in the world.
The city is a global center for finance, research, business & economics, manufacturing, education, science & technology, tourism, culture & transportation.
Port of Shanghai is the busiest container port of the world.
Sahitya Akademi Award 2021- Winners - 02 Jan 22
Highlights:
Tthe Sahitya Akademi announced its prestigious "Sahitya Akademi Awards, Yuva Puraskar as well as Bal Sahitya Puraskar" for 2021 in various languages.
The Sahitya Akademy Award 2021 was given in 20 Indian languages.
Namita Gokhale received it in English for her novel titled 'Things to Leave Behind'.
Other winners include:
Anuradha Sarma Pujari (Assamese)
Bratya Basu (Bengali)
Daya Prakash Sinha (Hindi)
Wali Mohd Aseer Kashtawari (Kashmiri)
Khalid Hussain (Punjabi)
Vindeshwari prasad Mishr "Vinay" (Sanskrit) etc.
Winner of Gujarati, Manipuri, Maithili, and Urdu languages will be announced later date.
Sahitya Akademi Yuva Puraskar 2021
The Sahitya Akademi Yuva Puraskar 2021 was given in 22 Indian languages.
Megha Majumdar won this award for her debut book 'A Burning', which was published in 2020. This book is about struggles of life in India.
Megha Majumdar was born in India, but now lives in New York and works as an Editor in chief- Books at Catapult Story.
Other winners of the award include:
Abhijit Bora (Assamese)
Gourob Chakraborty (Bengali)
Drashti Soni (Gujarati)
Himanshu Vajpai (Hindi)
Mahesh Dahal (Nepali)
Swetapadma Satapathy (Sanskrit) etc.
Bal Sahitya Puraskar 2021
The Bal Sahitya Puraskar 2021 was given in 22 Indian languages.
Anita Vachharajani won the award in the English language. She was awarded for her children's book titled 'Amrita Sher-Gil: Rebel With A Paintbrush'.
Other winners include:
Mrinal Chandra Kalita (Assamese)
Sunirmal Chakraborty (Bengali)
Devendra Mewari (Hindi)
Majeed Majazi (Kashmiri) etc.
The Sahitya Akademi Award
It is a literary honour in India, conferred annually by the Sahitya Akademi. Award is conferred on writers of most outstanding books of literary merit, which are published in any of 24 major Indian languages and 22 languages which are listed in the Eighth Schedule of Indian Constitution. The award was established in 1954.
Union Education Minister launched the 'Padhe Bharat' - 03 Jan 22
Highlights:
Union Education Minister Dharmendra Pradhan launched the 'Padhe Bharat' 100-day Reading Campaign on 1 January.
Detailed Analysis:
The Padhe Bharat Campaign was launched to help students improve their academic performance.
It is a significant step toward improving learning levels because it fosters creativity, critical thinking, vocabulary, and the ability to express oneself verbally and in writing.
It will assist children in making connections with their surroundings and real-life situations.
The campaign will cover children in Balvatika from kindergarten to eighth grade.
On January 1, 2022, the Padhe Bharat campaign began.
It will take place over the course of 100 days, or 14 weeks. On April 10, 2022, it will come to an end.
The campaign was launched with the goal of involving all stakeholders, including children, educational administrators, teachers, parents, the community, and others, at both the national and state levels.
One activity has been designed per week for each group as part of the 100 days campaign, with the goal of making reading enjoyable and creating a lifelong association with the joy of reading.
A comprehensive guideline on the Reading Campaign, as well as an age-appropriate weekly calendar of activities, has been prepared by the Ministry.
All of the guidelines were developed in collaboration with states and union territories.
The goals and vision of the "foundational Literacy and Numeracy mission" have also been aligned with the reading campaign.
The campaign will also emphasize Indian languages such as mother tongues, regional languages, and local languages.
In order to achieve this goal, the campaign has been linked to "International Mother Tongue Day," which takes place on 21 February.
Water Taxi Service to be launch in Mumbai - 03 Jan 22
Highlights:
Mumbai's much-anticipated Water Taxi Services are expected to begin in January 2022.
Prime Minister Narendra Modi is expected to launch the water taxi service in the first week of January 2022.
There are three operators available right now.
After their catamaran is certified fit, the fourth operator will join. Following Nitin Gadkari's appointment as Shipping Minister, work on the Water Taxi Services project was accelerated.
The Mumbai Port Trust (MbPT), Maharashtra Maritime Board, and City & Industrial Development Corporation have collaborated on the Water Taxi Service project (CIDCO).
Mumbai Water Transport Project service will most likely connect the Domestic Cruise Terminal at Ferry Wharf with the terminals in Belapur and Nerul.
Several operators have been given the following routes:
International Cruise Terminal to Elephanta Domestic Cruise Terminal (DCT) to Karanjade, Rewas, and Dharamtar.
DCT to Belapur, Vashi, Nerul, Airoli, Khanderi Islands & JNPT
The most important route will be DCT to JNPT and Navi Mumbai.
DTC to Navi Mumbai fares will range from Rs 1200 to 1500 per passenger, while DTC to JNPT fares will be around Rs 750.
At the moment, the fares are extremely high. Once operators have a large catamaran, rates will be reduced.
The ferry from DCT to Navi Mumbai will take 30 minutes, and the ferry from DCT to JNPT will take 15-20 minutes.
These services are available for 300 to 330 days out of the year. It will not, however, function in extremely heavy rains.
Previously, the Gateway of India was connected to Navi Mumbai by catamaran, and Girgaum to Juhu by catamaran.
However, the services were terminated in 1994. The Mumbai-Mandwa route is currently served by speedboats, catamarans, and launches.
It is also launched to connect Mumbai to Uran, Rewas, Mora, Mandwa, and Elephanta Caves via launche
Energy Transition Advisory Committee established - 04 Jan 22
Highlights:
The Ministry of Petroleum and Natural Gas established the Energy Transition Advisory Committee.
Tarun Kapoor, the former Secretary of the Petroleum Ministry, is in charge.
It will concentrate on increasing the proportion of clean energy sources in the country's energy mix, such as hydrogen, biofuel, nuclear, geothermal, and tidal.
Detailed Analysis:
To assist India in meeting its 2070 net-zero emissions goal. Creating a road map for the energy transition (within 6 months).
To develop a step-by-step plan for transitioning from fossil fuels to renewable energy.
India announced its goal of achieving net-zero emissions by 2070 during the Leaders Summit on Climate Change.
To accomplish this, oil companies were told to develop plans aimed at increasing their clean energy portfolio.
These plans will be reviewed by the committee.
It will also make recommendations. In addition, the committee will make recommendations for the plans' development.
The committee will provide guidance to the oil companies as they begin to implement their transition plans.
Hindustan Petroleum, Indian Oil, and Bharat Petroleum, for example, recently announced a joint venture to build 22,000 charging stations.
Of all the clean energies, the committee will concentrate on biofuel and green hydrogen.
It will devise strategies for enhancing its supply chains.
The biofuel plans will concentrate on establishing a long-term biomass supply chain.
It will also concentrate on improving the country's biofuel infrastructure.
India intends to build 5,000 biogas plants in the near future.
These initiatives are being implemented because India is looking for ways to increase domestic fuel production. And the only way to do so is to increase biofuel production.
The committee will concentrate on increasing the country's green hydrogen production.
This has been given precedence over all other committee functions.
The committee will also focus on developing a strong green hydrogen value chain.
The committee's Green Hydrogen plan will greatly aid India's National Hydrogen Mission (NHM).
The mission was announced in the budget for 2021-22.
The National Hydrogen Mission (NHM) aims to produce hydrogen from renewable sources. Green hydrogen had been prioritized in India's climate change and energy security plans.
Oil companies will be given transition plans by the committee.
It will assist the transportation sector in making the transition to clean energy.
One Nation-One Grid-One Frequency - 04 Jan 22
Highlights:
As part of the Azadi Ka Amrit Mahotsav, PowerGrid Corporation Limited commemorated the achievement of "One Nation One Grid."
On this occasion, Free health check-ups and medical camps were organized across 70 locations.
India's total multi-transmission capacity is currently around 1,12,250 MW. By 2022, it is expected to increase to around 1,18,740 MW.
By transferring power from resource-centric regions to load-centric regions, synchronization of all provincial grids will aid in the most efficient use of natural resources.
It will also result in the establishment of a thriving electricity market in India, which will facilitate power trading.
National Grid India History
Grid management in India began in the 1960s on a regional basis. Grids were initially connected to form a regional grid.
India's five grid-based regions:
Northern Grid
Eastern Grid
Western Grid
North Eastern Grid and
Southern region.
It is noted that , in October 1991, the North Eastern and Eastern Grids were linked.
In March 2003, the Western Grid and the North Eastern Grid were linked.
The North and East grids were connected in 2006. As a result, four regional grids, the Northern, Eastern, Western, and North Eastern grids, were interconnected to form a single-frequency central grid.
With the commencement of the 765kV Raichur-Solapur Power line in 2013, the Southern Region was linked to the Central Grid.
With this, the goal of 'ONE NATION'-'ONE GRID'-'ONE FREQUENCY' was met.
Jawaharlal Nehru Road Now Called Narendra Modi Marg - 04 Jan 22
Highlights:
Ganga Prasad, the Governor of Sikkim, has announced a new road, Narendra Modi Marg.
From the 4th mile of Kyongsala, the Governor looked down on the road under Kabi Lungchok.
The alternative to Jawahar Lal Nehru Marg is this street. Border Roads Organization constructed the National Monument on National Highway 310.
Indian tourists will have an easier time getting to the Nathula Border.
The Border Roads Organization built the stretch, which has cut the distance between Gangtok and Tsomgo Lake by 15 kilometers.
The proposal to change the name of the road after the prime minister was passed unanimously in the gram sabha on December 20
According to IK Rasaily, the village council head of 51 Kyongasala GPU.
The Border Roads Organization built the stretch, which has cut the length between Gangtok and Tsomgo Lake by 15 kilometers.
Rasaily explained that it is a small gesture to give thanks to the PM, who made free vaccines and rations available during the COVID-19 pandemic.
Jhansi Railway Station Renamed Veerangana Laxmibai Railway Station - 04 Jan 22
Highlights:
Jhansi Railway Station in Uttar Pradesh has been renamed 'Veerangana Laxmibai Railway Station.'
Yogi Adityanath, the Chief Minister of Uttar Pradesh, has announced that the Jhansi Railway Station in Jhansi, Uttar Pradesh, has been renamed "Veerangana Laxmibai Railway Station" in honor of Rani Laxmibai.
Yogi Adityanath, the Chief Minister of Uttar Pradesh, made the announcement.
The UP government has released a notice to this effect, and the railways have begun preparatory work to implement the change.
Mughalsarai Railway Station was previously known as Pt. Deen Dayal Upadhyaya Junction, and Faizabad Railway Station was known as Ayodhya Cantt.
The railway station's station code will be changed in the future.
The renaming will likely boost tourism in the area, as well as benefit the Bundelkhand region.
The railway station will be named after Rani Laxmibai after some formalities are completed. According to Manoj Singh, the Jhansi railway station will be renamed the Veerangana Laxmibai railway station.
Faizabad was renamed Ayodhya, Allahabad was renamed Prayagraj, and Mughalsarai station was renamed Deen Dayal Upadhyay Junction by the Yogi government.
World Braille Day is observed On January 4 - 05 Jan 22
Highlights:
World Braille Day is observed on January 4, 2022, like every year.
It has been designated as World Braille Day around the world on 4th of January, since 2019.
The purpose of the day is to recognize blind people's right to access braille and to raise awareness about the importance of braille as a form of communication in the full realization of blind and partially sighted people's human rights.
The day commemorates the birth anniversary of Louis Braille, the man who invented Braille - a system of writing for people with visual impairments.
He was born on January 4, 1809, in the northern French town of Coupvray.
Braille is a tactile portrayal of alphabetic and numerical symbols, as well as musical, mathematical, and scientific symbols, using six dots to portray each letter and number.
Blind and partially sighted people use Braille, named after its man who invented in 19th century France, Louis Braille, to read the same books and periodicals that are printed in a visual font.
As stated in article 2 of the Convention on the Rights of Persons with Disabilities, braille is crucial for the implementation of education, freedom of expression and opinion, and social inclusion.
Kochi Water Metro Project Gets First-Ever Electric Boat - 05 Jan 22
Highlights:
The Kochi Metro Rail Limited received the first battery-powered electric boat manufactured for the Kochi Water Metro Project in Kerala.
The fully air-conditioned boat is one of 23 being manufactured for the 747-crore Kochi Water Metro project by the Cochin Shipyard.
Detailed Analysis:
The Kochi Water Metro system would include 78 ships that will connect 38 ports over 76 route kilometers.
The 100-passenger water metro boat is powered by batteries.
The battery can be charged in 10 to 15 minutes while the passengers are boarding.
According to KMRL, this is the first time a centrally managed integrated water transportation system with a large fleet has been powered by a battery.
The Kochi Metro Rail Limited has built 23 battery-powered electric boats for the water metro project.
The first boat was handed over to the KMRL in the presence of its MD Loknath Behra and his wife Madhumita Behra at a ceremony held at the shipyard here.
The boat was given the name Muziris by Madhmita Behra.
Richard Leaky Kenyan Conservationist Passes Away - 05 Jan 22
Highlights:
Richard Leaky, a renowned Kenyan conservationist and fossil hunter, has died on 2 January 2022.
Richard Leakey, a well-known Kenyan politician, conservationist, and fossil hunter, has died.
The discovery of 'Turkana Boy' in 1984 is credited to the legendary paleoanthropologist, and it led to able to introduce of proving that the human race evolved in Africa.
Turkana boy is the most full human ancestor Skelton ever discovered.
The study of human evolvement through fossil and archaeology records is known as paleoanthropology.
Leakey is also known for spearheading anti-ivory campaigns in order to save the African elephant population.
Richard Erskine Frere Leakey FRS was born on December 19, 1944, in London, England.
Kenyan paleoanthropologist, conservationist, and politician Richard Erskine Frere Leakey Leakey worked in Kenya for a number of years, mostly in archaeology and nature conservation institutions.
He was the Director of Kenya's National Museum, the founder of the non-governmental organization WildlifeDirect, and the Chairman of the Kenya Nature Conservation Service.
In an educational collaboration with Stony Brook University, where he had been an anthropology professor, Leakey co-founded the Turkana Basin Institute.
Until his death, he was the chair of the Turkana Basin Institute.
War Veteran Vice Admiral S H Sarma Passes Away - 06 Jan 22
Highlights:
Vice Admiral S H Sarma, a veteran of the Indian Navy's 1971 war, has died on 3 January.
Vice Admiral S.H. Sarma, a veteran of the Indian Navy's 1971 Indo-Pak war, has died at the age of 100.
During the war in 1971, he was the Flag Officer Commanding the Eastern Fleet.
In the 1971 war, India defeated Pakistan, resulting in the formation of Bangladesh.
Vice Admiral Sarma turned 100 years old on December 1st of last year. In addition, he recently attended the Azadi ka Amrut Mahotsav in Delhi.
During the 1971 war, Sarma was the Flag Officer Commanding the Eastern Fleet.
In the 1971 war, India defeated Pakistan, resulting in the formation of Bangladesh.
World Day of War Orphans observed on Jan 6 - 06 Jan 22
Highlights:
On January 6, the World Day of War Orphans is observed to raise awareness about the sufferings of children who have lost their parents as a result of the War.
Children are among the most marginalized and marginalized groups in any conflict.
Children who have been wounded in a gun battle or who have been kept separate from their families require special attention in order to recover from their war wounds, return to school, and resume a normal life.
The French organization SOS Enfants en Detresses created the World Day of War Orphans to help children who have been orphaned by war.
An orphan is defined as a "child under the age of 18 who has lost both parents to any cause of death," according to the United Nations Children's Fund (UNICEF).
Several awareness programs are held on World War Orphans Day to raise awareness about the trauma that orphaned children face.
For many children around the world, the coronavirus pandemic has resulted in issues such as food insecurity and access to basic health and sanitation facilities.
The World Day of War Orphans is observed to raise awareness of the issues that such children face, as well as to remind the international community of its responsibility to ensure that such children have equal access to health and educational opportunities.
First LNG Terminal In Karnataka - 06 Jan 22
Highlights:
The state of Karnataka has inked an agreement with the Singapore-based LNG Alliance Company to build the state's first LNG terminal in Mangalore.
In partnership with the New Mangalore Port Trust, the first LNG terminal will be built in Karnataka (NMPT).
The government has invested Rs 2,250 crore in the terminal's construction.
Around 200 individuals will be directly employed as a result of this project.
The terminal will be built as part of the Union Government's strategy to expand the alternative fuel sector in order to achieve net-zero carbon emissions by 2070.
LNG Port Terminals: A Fact File
LNG port terminals are purpose-built facilities.
They are built to accommodate huge LNG carrier ships that load, transport, and unload LNG. LNG terminals are usually built next to a gas liquefaction and storage facility (for export) or a gas regasification and storage plant (import).
The Following are the LNG Port terminals in India,
The Konkan LNG Private Limited terminal is situated in Dabhol, Maharashtra, and has a 5-million-tonne-per-year capacity.
The Dahej Terminal, operated by Petronet LNG Ltd, is situated in Gujarat. The terminal has a 15-million-tonne-per-year capacity.
Shell Limited's Hazira Terminal is situated in Gujarat and has a capability of 5 million tonnes per year.
Petronet LNG Ltd's Kochi Terminal has a capability of 5 million tonnes per year.
JC Chaudhry sets Guinness World Record In Numerology - 07 Jan 22
Highlights:
JC Chaudhry, one of India's top numerologists, has set the first-ever Guinness World Record in Numerology.
He also set the first world record for the year 2022, by teaching about ancient science to over 6000 numerology enthusiasts from the United States, the United Kingdom, the Middle East, and India.
Detailed Analysis:
For this achievement, the Guinness World Record London office has created a new category called "Numerology."
CNPL (Chaudhry Nummero Pvt Ltd) and the Indian Institute of Numerology organized the event to raise awareness of numerology, which is used in ancient societies such as Greece, Egypt, China, Chaldea, and India.
what is Guinness World Record ?
Guinness World Records, also known as The Guinness Book of Records from 1955 to 1999 and The Guinness Book of World Records in prior United States editions, is an annual reference book that lists world records in both human achievements and nature extremes.
The book was launched in August 1955 in Fleet Street, London, by twin brothers Norris and Ross McWhirter, who were inspired by Sir Hugh Beaver.
By Christmas 1955, the first edition had dominated the best-seller list in the United Kingdom.
The book was published internationally the next year, and as of the 2022 edition, it is in its 67th year of publication, with over 53,000 records in its database, and has been published in 100 countries and 23 languages.
SAAR Launched Smart Cities Mission - 07 Jan 22
Highlights:
The Smart Cities Mission was the driving force for SAAR's creation. SAAR will document the Smart Cities Mission's projects as a part of the Azadi ka Amrut Mahotsav festivities.
The Ministry of Housing and Urban Affairs is in charge of implementing SAAR.
Detailed Analysis:
The National Institute of Urban Affairs and other leading institutions in the country will join the ministry in implementing the project.
This contains 15 of the world's best architectural schools.
The institutes will keep track of the mission's preparation and implementation.
Students will be able to learn about urban development processes realistically due to this.
SAAR must first compile a list of 75 projects.
The list includes projects that are both creative and cross-sectoral.
The project will capture the outcomes of the smart city mission and its impact on the lives of city residents.
Students from prestigious universities will travel to the chosen smart cities to study the mission's operations.
Data analysis, field inquiry, peer review of the first draught, and research workshops are all part of this process.
Following that, the students will present a study along with recommendations.
These documents will serve as a starting point for further research.
The goal of SAAR is to develop a database of urban initiatives.
Despite adopting various innovative city initiatives and being the PM's constituency, Varanasi has been excluded from SAAR.
Varanasi has been chastised for it.
This indicates that the city's smart city initiatives are insufficient.
Pradhan Mantri Formalisation of Micro Food Processing Enterprises Scheme - 07 Jan 22
Highlights:
Under the PMFME Scheme, the Ministry of Food Processing Industries has introduced six one-district product (ODOP) brands.
PMFME is the acronym for Pradhan Mantri Formalisation of Micro Food Processing Enterprises.
Amrit Phal: It's amla juice for Haryana's Gurugram.
It's natural with lemon juice added. Amrit Phal is priced at Rs 120 for 500 ml.
Cori Gold: Coriander powder was created for the Rajasthani city of Kota. Because of its flavor, the product is one-of-a-kind. Cori gold prices 34 rupees per gram.
Kashmiri Mantra: Kashmiri red chiles are used to make this product.
It was created for the Jammu and Kashmir district of Kulgam.
Seventy-five rupees buy 100 grams of the Kashmiri mantra.
Madhu Mantra: It's a honey-like substance created for the Uttar Pradesh district of Saharanpur. It's a honey with a variety of flora.
Madhu mantra honey is gathered from bees that are allowed to fly freely.
Five hundred grams of Madhu mantra will set you back 185 rupees.
Dilli Bakes, a bakery, created these whole wheat biscuits. It's one-of-a-kind since it's created with jaggery rather than sugar. One hundred seventy-five rupees get you 380 grams of whole wheat biscuits.
Somdana as a brand: Ragi flour was created for Maharashtra's Thane district.
It's free of gluten. Calcium, fiber, and iron are abundant in the Somdana. Somdana is priced at 60 rupees for 500 grams.
The products are packaged distinctively and provide the product longer shelf life.
Independent expenditures are made to help firms promote their sales through e-commerce platforms.
Punjab government established Mehtab Singh Gill Committee - 08 Jan 22
Highlights:
The Punjab government established a high-level team to probe Prime Minister Narendra Modi's security lapse on 6 January.
The Punjab government constituted the Mehtab Singh Gill Committee in response to the security lapse.
Mr. Gill has served as a judge in the past. Punjab's Home Secretary is also a member of the committee.
The committee has three days to provide a report.
The Security Breach is that Prime Minister arrived in Bathinda on 5 January 2022 and was scheduled to fly to Hussainwala to attend the National Martyrs Memorial.
Due to the rain, plane transportation could not be organized.
As a result, the prime minister traveled to the memorial by car.
Protesters obstructed his convoy on the way there. He was also stuck in a flyover for 15 to 20 minutes.
The Prime Minister was at the monument to inaugurate development projects of Rs 43,000 crore.
This includes the building of roads and hospitals.
He was also scheduled to speak to a group.
The visit has been postponed.
Special Protection Group: A Fact File
It was founded in 1988 with the express purpose of protecting the Prime Minister. SPG protects the PM both in India and overseas.
It also safeguards the Prime Minister's immediate family. THE SPG PROTECTED the PM's spouse, children, and parents.
Protection was offered at their home as well as anywhere else. Protection was guaranteed for five years while in office and for another five years after they left.
The amending statute decreased the mandate. SPG safeguards only the PM under the statute.
SPG's rulebook is known as the Blue Book.
It contains all of the guidelines for PM protection.
As per the Blue Book, the state police must plan a path in the event of adversity, such as the one that has occurred recently.
The state police had been informed about the protests by the Intelligence Bureau.
Despite all of these precautions, a security compromise happened.
National Youth Festival 2022 host by Puducherry - 08 Jan 22
Highlights:
Prime Minister Narendra Modi has chosen Puducherry to host the 25th National Youth Festival.
The 25th National Youth Festival will take place in Puducherry from January 12 to 16, 2022.
The celebration is part of the Azadi ki Amrit Mahotsav, which commemorates the 75th anniversary of India's independence.
Around 7000 young people between the ages of 18 and 22 are expected to attend the festival from all around the country.
The event would be attended by around 500 Puducherry youths.
As part of the National Youth Week celebrations, the Indian government hosts the National Youth Festival.
It is organized with the goal of instilling in young people the values of national cohesion, brotherhood, communal peace, courage, and adventure.
This goal is accomplished by bringing together young people and encouraging them to participate in various activities.
National Youth Festival began in 1995 as the main activity of the National Integration Camp's agenda (NIC).
National Water Awards 2020 Announced - 09 Jan 22
Highlights:
Gajendra Singh Shekhawat, Union Minister of Jal Shakti, has announced the winners of the third National Water Awards for the year 2020.
In the National Water Awards 2020, Uttar Pradesh has named the Best State for Water Conservation.
Rajasthan and Tamil Nadu come in second and third, respectively.
The award includes a citation, a trophy, and a monetary prize.
The finest district prize in the northern zone went to Muzaffarnagar in Uttar Pradesh, followed by Shahid Bhagat Singh Nagar in Punjab.
The Jal Shakti Ministry established the National Water Award in 2018 to honor and motivate individuals and organizations who excel in the field of water resource management.
In total, 57 awards in 11 categories have been announced.
Best State, Best District, Best Village Panchayat, Best Urban Local Body, Best Media (Print & Electronic), Best School, Best Institution/RWA/Religious Organization for Campus Use, Best Industry, Best NGO, Best Water User Association, and Best Industry for CSR Activity are among the categories.
Category --------------- Winners
"Best State"- Uttar Pradesh
"Best District" – North Zone, Muzaffarnagar, Uttar Pradesh
"Best District"– South Zone, Thiruvanathapuram, Kerala
"Best District"– East Zone, East Champaran, Bihar and Godda, Jharkhand
"Best District"– West Zone, Indore, Madhya Pradesh
"Best District"– North-East Zone, Goalpara, Assam,
"Best Village Panchayat"– North Zone, Dhaspad, Almora, Uttarakhand
"Best Village Panchayat"– South Zone, Yelerampura Panchayat, Tumakuru District, Karnataka
"Best Village Panchayat"– East Zone, Telari Panchayat, Gaya District, Bihar
"Best Village Panchayat"– West Zone, Takhatgadh, Sabarkantha, Gujarat
"Best Village Panchayat"– North-East Zone, Sialsir, Sirchip, Mizoram
"Best Urban Local Body",- Vapi Urban Local Body, Gujarat
"Best Media (Print & Electronic)",- Mission Paani (Network 18)
"Best School"- Govt. Girls Hr. Secondary School, Kaveripattinam, Tamil Nadu
"Best Industry"- Welspun India Textile Ltd., Gujarat
"Best Water User Association"- Panchgachiya MDTW WUA, Hooghly, West Beng
"Best Industry for CSR activities"- Indias first Mobile Honey Processing Van
National E-Governance Conference to be held Madhapur, Hyderabad - 09 Jan 22
Highlights:
The Department of Administrative Reforms and Public Grievances (DARPG), State Government of Telangana, and Ministry of Electronics and Information Technology will host the 24th National E-Government Conference.
The conference will happen at Madhapur, Hyderabad, at the Hyderabad International Convention Centre.
Theme: "India's Techade: Digital Governance in a Post-Pandemic World".
Emerging technologies, universalization of public services, ease of life through good governance, universalization of public services, innovation – platformization, government re-engineering, and citizen participation in government processes are the subtopics.
It will help e-governance efforts gain traction.
It gives businesses and government officials the chance to show off their successful E-Government initiatives. This improves service delivery from beginning to end.
Through Digital India, the Indian government is digitizing the country. E-Governance is critical for social development and promoting economic inclusion.
To combat cyber fraud, fake news, and other forms of misinformation, it is critical to progress toward secure e-government.
E-governance also aids in expense savings, service simplicity, and real-time governance. Accountability and transparency are also aided by it.
National Awards for E-Governance 2021
The awards will be given out at the conference. The awards will be given out in six different categories.
The awards will be given out to 26 E-Governance initiatives.
Excellence in government re-engineering for digitalization, excellence in district-level e-governance, universalizing access to e-services, good citizen-centric research, use of ICT in COVID-19 management, and remarkable use of emerging technologies are the six categories.
India's first Mobile Honey Processing Van launched by KVIC - 09 Jan 22
Highlights:
India's first "Mobile Honey Processing Van" was launched by KVIC.
Vinai Kumar Saxena, Chairman of the Khadi and Village Industries Commission (KVIC), has inaugurated the country's first Mobile Honey Processing Van in Ghaziabad's Village Sierra. KVIC's Multi-disciplinary Training Centre in Panjokehra designed the Mobile Van in-house at a cost of Rs 15 lakh.
In just 8 hours, this transportable honey processing device can process up to 300 KG of honey.
The van is also outfitted with a laboratory facility that can measure the quality of honey in real-time.
The Mobile Honey Processing Van is a significant step forward in KVIC's Honey Mission, which aims to train beekeepers, provide Bee Boxes to farmers, and assist rural, educated, and jobless youth in earning additional revenue through beekeeping.
The KVIC has come up with this unique idea to enable beekeepers and farmers to earn fair rates for their honey output, in keeping with the Prime Minister's dream of a "Sweet Kranti" (Sweet Revolution) through honey production.
KVIC has created the unique Mobile Honey Processing Van, which will process beekeepers' honey in their homes, saving them the time and expense of transporting the honey to processing plants in distant towns.
While this will make beekeeping more profitable for small beekeepers, it will also ensure that honey is pure and of the greatest quality.
Khelo India Games 2023 to be take place in Haryana - 10 Jan 22
Highlights:
The Khelo India Games were created to bring India's sports culture back to life.
Due to the COVID situation, the 2021 Khelo India Games have been postponed.
It is now scheduled to take place in Haryana in January 2022.
Anurag Singh Thakur, the Union Minister for Youth Affairs and Sports will attend the games.
Madhya Pradesh will host the Khelo India Youth Games in 2022-23.
The Madhya Pradesh Cabinet finally enacted Bhopal as the host city for the games.
The cabinet also approved a 50-acre plot of land for the construction of an international sports center.
For the first phase, the Madhya Pradesh government set aside Rs 176.59 crores.
The International Sports Complex will cost Rs 15.56 crore to operate and maintain.
For the second and third phases, separate funds will be granted.
The sports stadium will be equipped with a 10,000-seat hockey rink, a 4,000-seat football field, landscaping, parking, horticulture, guardrooms, gates, internal service roads, street lighting, and sewage systems.
During the first phase, an indoor sports complex would be constructed in Bhopal's Nathu Barkheda hamlet.
A cricket stadium will be developed in the second and third phases.
Pravasi Bharatiya Diwas Celebrated on 9 January - 10 Jan 22
Highlights:
The Pravasi Bhartiya Divas (PBD) also known as Non-Resident Indian Day commemorates the contribution of Indians living in other countries to the development of their homeland.
Pravasi Bharatiya Diwas is a day dedicated to the Indian community living in other countries that occurs every two years.
The people of India commemorate this day on January 9.
The day is named after Mahatma Gandhi, the greatest Pravasi and our nation's Father of the Nation.
In 1915, he returned from South Africa and became the leader of the Indian independence movement.
As a result, the Ministry of External Affairs (MEA) has commemorated this day every year from January 07-09 since 2003.
This practice will bring Indians living abroad together to contribute their knowledge, expertise, and talents on a common platform.
Oscar-Winning Composer, Marilyn Bergman, Dies at 93 - 11 Jan 22
Highlights:
Marilyn Bergman, who wrote Oscar-winning songs with her husband Alan Bergman, died on Jan 8 2022 at the age of 93 in her Los Angeles home.
She died of respiratory failure which was not related to COVID-19.
When she passed away, her 96-year-old husband and daughter Julie Bergman were by her side.
The Bergmans, who married in 1958 and specialised in introspective ballads for film, television, and the stage that combined the romance of Tin Pan Alley with the polish of contemporary pop, were one of the most enduring, successful, and productive songwriting partnerships, specialising in introspective ballads for film, television, and the stage.
They collaborated with some of the world's best melodists, including Marvin Hamlisch, Cy Coleman, and Michel Legrand, and were covered by the likes of Frank Sinatra, Barbra Streisand, Aretha Franklin, and Michael Jackson.
Urjit Patel Appointed Vice President of Asian Infrastructure Investment Bank - 11 Jan 22
Highlights:
AIIB's Board of Directors has appointed Dr Urjit Patel to the position of Vice President for Investment Operations Region 1 -South Asia, the Pacific Islands and South East Asia.
Patel, 58, was the 24th governor of the Reserve Bank of India (RBI), succeeding Raghuram Rajan on September 5, 2016.
Patel had abruptly resigned in December 2018 citing "personal reasons".
AIIB is a multilateral development bank that aims to improve economic and social outcomes in Asia. The bank currently has 104 members, including 17 prospective members from around the world.
Finance Minister Nirmala Sitharaman is on the board of governors of the bank.
Below the President are five vice presidents - one being the position that Pandian held and is now being given to Patel.
Dr Urjit Patel: A Fact File
Patel also served as former Chair of the Governing Body of the National Institute of Public Finance and Policy, New Delhi, a leading think tank on fiscal policy and tax matters.
He was also Executive Director and member of the Management Committee of the Infrastructure Development Finance Company Ltd.
A PhD in economics from Yale University, Patel has extensive experience in infrastructure and energy sectors.
He is the recipient of the Wilbur Cross Medal from Yale University in 2019 and has authored many scholarly publications and papers in the areas of public finance, infrastructure, regulatory economics, monetary policy, global financial safety net, the economics of climate change and the theory of international trade.
Under the ADB's Asia Pacific Vaccine Access Facility (APVAX) project, India asked for loans from the AIIB and the ADB in October to purchase 667 million doses of COVID-19 vaccines, with the ADB likely to lend $1.5 billion and the AIIB roughly $500 million.
India's First Indigenous Aircraft Carrier Vikrant Started Another Phase Of Sea Trials - 12 Jan 22
Highlights: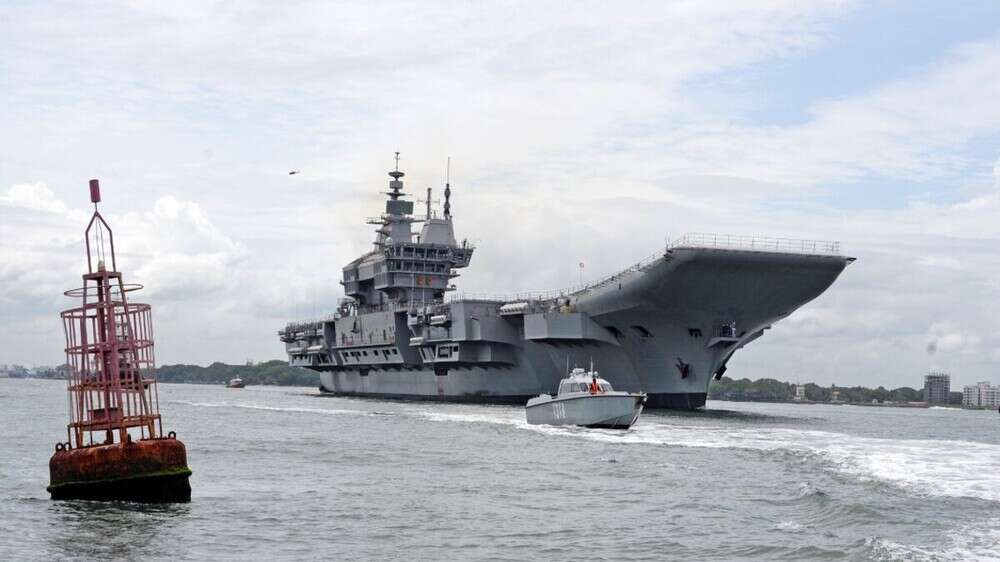 The Indigenous Aircraft Carrier (IAC) 1, which will be known as INS Vikrant when it joins the Indian Navy, began another round of sea trials in advance for its August induction.
The 40,000-tonne aircraft carrier, India's most advanced warship, had a five-day maiden sea cruise in August and went through 10-day sea testing in October.
Navy spokeswoman Commander Vivek Madhwal also mentioned that the IAC is now sailing to do intricate maneuvers to obtain specific readings of how the ship operates in various scenarios.
IAC Vikrant is moving out for the next phase of sea trials, after two high-profile visits from India's President and Vice President in less than two weeks.
Poet Maya Angelou becomes first Black Woman to feature on US Coin - 12 Jan 22
Highlights:
Activist and Poet Maya Angelou has become the first black woman to appear on the US quarter, in a new version of the coin which was unveiled by the US Mint on January 10, 2022.
The author of 'I Know Why the Caged Birds Sings', will also become the first figure commemorated through the American Women Quarters Program.
It was signed into law in January 2021.
As per the press release from the agency, the US Mint has started shipping the first coins with Maya Angelou's likeness on the American Quarter, a 25 cent piece.
Maya Angelou was born in Missouri in 1928.
She was an essayist and poet who had worked with Martin Luther King Jr. and Malcolm X during the Civil Rights Movement.
16th India Digital Summit 2022 host by IAMAI - 13 Jan 22
Highlights:
The Internet And Mobile Association of India hosted the two-day virtual event on January 11 and 12, 2022. (IAMAI).
Piyush Goyal, the Union Minister of Commerce and Industry, spoke remotely at the 16th India Digital Summit in 2022.
"Supercharging Startups" was the summit's theme.
The India Digital Summit is the country's oldest digital industry event.
The Minister introduced 'LEAP' as a path forward to further enhance our Startup ecosystem during the occasion.
"LEAP" is the acronym for "Leverage, Encourage, Access, and Promote."
On DPIIT, there are presently 58,379 start-ups, with around one-third of them being digital.
Significantly, India is ranked second in the world for the number of online start-ups, with Bengaluru topping the list as one of the top three start-up hotspots.
Currently, the industry employs around 5.7 million people. PayTM, Nykaa and Policy Bazaar are among the digital start-ups whose IPOs are estimated to raise a total of INR 30,000 crore.
There are currently 66 Unicorns and 30 Soonicorns in India, with a combined value of INR 17.81 Lac Cr.
Raghuvendra Tanwar appointed as new Chairman of ICHR - 13 Jan 22
Highlights:
The New Chairman of the Indian Council of Historical Research (ICHR) was appointed.
The New Chairman of ICHR is Raghuvendra Tanwar.
Raghuvendra Tanwar, a Kurukshetra University professor emeritus, has been named chairperson of the Indian Council of Historical Research (ICHR).
Tanwar's appointment is for three years, beginning on the day he takes the position of Chairman and ending until additional orders are issued.
Tanwar, who began teaching at Kurukshetra University in August 1977, has a stellar academic record, including two golds in MA History.
The Indian Council of Historical Research's principal goal and objective is to promote and direct historical research, as well as to support and cultivate objective and scientific history writing.
The primary goal of the ICHR's agenda has been to improve the academic quality of the output of its activities.
The Indian Council of Historical Research is a non-profit organization dedicated to historical research.
The Indian Council Historical Research was founded on March 27, 1972, with its headquarters in New Delhi.
Justice Ayesha Malik become Pakistans First Woman Supreme Court Judge - 14 Jan 22
Highlights:
Ayesha Malik will become Pakistan's first female Supreme Court judge.
After a high-power panel authorized the promotion of Lahore High Court judge Ayesha Malik to the Supreme Court.
Pakistan is one step closer to installing the country's first female Supreme Court judge. Malik's promotion was confirmed by the Judicial Commission of Pakistan (JCP), led by Chief Justice Gulzar Ahmed, by a majority of five votes to four.
The JCP is convening for the second time to vote on Justice Malik's promotion.
Justice Malik's name was first presented to the JCP on September 9 of last year, but the panel was evenly split, resulting in her candidacy being rejected.
Justice Malik was appointed to the Lahore High Court (LHC) as a high court judge in March 2012, and she is now ranked number four on the LHC's judge seniority list.
If she is confirmed, she would serve as a Supreme Court judge till June 2031, when she will retire at the age of 65.
She will be Pakistan's most senior judge, with the possibility of becoming the country's Chief Justice in January 2030.
India reached 46th spot in Global Innovation Index from 81st rank. - 15 Jan 22
Highlights:
India's Global Innovation Index ranking has improved from 81 in 2015 to 46 now.
The campaign that is going on in India regarding innovation has the effect that India's ranking in the Global Innovation Index has improved a lot.
In 2015, India was at number 81 in this ranking.
Now, India is at number 46 in the Innovation Index,
India has more than 1,000 universities, over 11,000 stand alone institutions, over 42,000 colleges and lakhs of schools.
With over 9,000 Atal Tinkering Labs and thousands of Hackathons, we are encouraging our youth to solve today's problems with innovation and technology.
Private companies to form India Edtech Consortium - 15 Jan 22
Highlights:
The private companies in India have joined together to form India EdTech Consortium.
It was formed under the guidance of Internet Mobile Association of India.
It was launched after Government of India announced that it is to launch as policy to regulate the edtech sector, that is education and technology sector.
What is Edtech?
EdTech is Education and Technology. Before COVID-19, the education and technology sector were performing normally.
They were growing steadily. The COVID induced lock down shut schools and colleges. Suddenly modern choice, that is, remote learning became the only alternative.
Four out of every six edtech startup have succeeded in their respective field during this phase.
Who are forming the Consortium?
It is mostly formed by the 1 billion USD companies.
This includes Unacademy, BYJU's, upGrad, Lead School and Vedantu.
These 1 billion USD companies are generally referred to as Unicorns.
Technically unicorns are defined as those companies whose annual turnover is more than one billion USD.
People are enrolling in courses without studying about the courses completely.
The edtech companies are not providing clear details about the courses.
This includes subjects included, fee structure, certificate, etc. Some have even signed up for loans. Some of the edtech companies are forcing parents to sign for the auto debit feature.
Basically, the consortium is framing self-regulation.
This is being done to reduce the interference of the government in the sector's operating principles or rules and regulations.
The parliament of India recently debated about the malpractices in edtech companies.
These practices are undertaken to attract consumers.
In December 2021, the Government of India issued an advisory of dos and donts to guardians and students who are signing up online courses offered by the edtech companies.
What is the plan of the consortium?
The consortium has launched a three page code. It stresses on transparency, warnings of misleading ads.
The educational institutions can use their students' success as promotion tool only with proper proof of performance.
The industrial players should compulsorily adopt codes issued by Advertising Standards Council of India.
Pandit Birju Maharaj Passed Away - 16 Jan 22
Highlights:
Pandit Birju Maharaj, a legendary Kathak dancer, has perished on 17 January.
Pandit Birju Maharaj, a legendary Kathak dancer, died at the age of 83.
He was affectionately known as Pandit-Ji or Maharaj-Ji by his pupils and millions of followers were one of India's best-known artists.
He was a winner of the country's second-highest civil award, Padma Vibhushan. Birju Maharaj was a Kathak dancer's descendent, as were his two uncles, Shambhu Maharaj and Lachhu Maharaj, as well as his father and master, Acchan Maharaj.
Birju Maharaj was a master vocalist who could do Thumri, Dadra, Bhajan, and Ghazal.
Five children, three daughters, and two sons, as well as five grandchildren, survive him.
He had a kidney problem and had been on dialysis for the past month because of his high blood sugar.
He most likely died of a heart attack.
On February 4, the Kathak maestro would have turned 84 years old.
National Startup Day observed on January 16 - 16 Jan 22
Highlights:
Every year the National Startup Day is celebrated on January 16.
PM Modi has announced that Startups are the backbone of India.
This is why it is essential to celebrate the day.
Also India is celebrating Startup India Innovation Week between January 10, 2022 and January 16, 2022.
The week celebrations are organized by Department of Promotion Industry and Industrial Trade.
This is the first time, India is celebrating the day.
In 2022, the National Startup Day is celebrated on six themes.
They are sustainable development, technology of future, from local to global, building champions in manufacturing, nudging the DNA and growing from roots.
The National Startup Day, 2022 focused on data collection mechanism in agriculture, healthcare through use of technology, creating agricultural business hubs, tackling issues related to mental health, improving health care related technologies, space sector and job identification.
In 2013, only four thousand patents were approved.
However, in 2020-21, more than 28,000 patents have been registered. In 2013-14, 70,000 trademarks were registered.
However, in 2020-21 more than 2.5 lakh trademarks were registered.
Areas where Startups play major role in the country
Defence manufacturing, EV charging, infrastructure, chip manufacturing and drone sector.
The new drone policy of Indian Government focuses on defence startups.
The Indian Army, Navy and Air Force have placed five hundred crore rupees worth order to the drone startups.
Role of Government of India:
The Government of India had introduced Standup India, Startup India and Make in India to encourage the young and new entrepreneurs.
The Government of India solved the issues around Angel Tax. Also, the tax procedures have been simplified. GoI now allows self-certification and has removed more than 25,000 compliances.
Challenges faced by Startups in India
Lack of availability of financial resources. Lack of access to supporting infrastructure. Regulations related to intellectual property rights, labour laws and dispute resolution.
National Award For E-Governance conferred to Mon District Administration of Nagaland - 17 Jan 22
Highlights:
National Award for e-Governance 2020-21 (Silver) was recently conferred to Mon District Administration of Nagaland.
Award was presented at 24th National Conference on e-Governance at Hyderabad.
Award was handed over to Deputy Commissioner of Mon district, Thavasselan K, by union Minister of State (MoS) Dr. Jitendra Singh.
Objectives:
The National Award for e-Governance was presented under the category 6 of "Use of ICT in the Management of Covid-19" to Mon district. It was aimed at recognizing the initiatives undertaken by district administration.
Project titled "Technology in Aid to Administration" was initiated in Mon district, for mitigating the hardships caused to public while enforcing Covid-19 Appropriate Behaviour (CAB) to restrict the spread of infections. This project is helping in reducing hardship of people, keeping people safe from Covid and increasing effectiveness of administration.
Other entries for the award
A total of 231 entries were received from India in this category. But only two districts were awarded.
There were 1377 entries, with top 26 initiatives awarded across six different categories.
National Award for e-Governance
National Award for e-Governance is presented to recognise and promote excellence in implementation of e-Governance initiatives.
It is presented during the National conference on e-Governance.
It is presented by Department of Administrative Reforms and Public Grievances (DARPG).
The National Award for e-Governance was announced in December 2021. It comprises of a trophy, certificate, and cash prize of Rs. 1 lakh
The National Award for e-Governance is presented with following objectives:
To recognize achievements in e-Governance area.
To raise knowledge on effective methods to design and implement sustainable e-Governance initiatives.
To encourage incremental innovations in e-Governance solutions
To promote and exchange experiences in solving problems, mitigating risks and planning for success.
World First Deaf T20 Cricket Championship to be in 2023 - 17 Jan 22
Highlights:
The AISCD has been granted permission to host the first World Deaf T20 Cricket Championship in 2023.
The International Committee of Sports for the Deaf (ICSD) has given the All India Sports Council of the Deaf permission to hold the first World Deaf T20 Cricket Championship in Kerala from January 10 to 20, 2023.
This championship was supposed to take place in 2020-21, but owing to a coronavirus outbreak, it was delayed first to 2022, then to 2023.
The tournament is projected to attract at least eight countries, and it will be the first time that such an international event is staged in India with the consent of the ICSD."
The AISCD is the only deaf national sports federation recognized by the Centre, and the ICSD is the only international organization recognized by the International Olympic Committee as the ruling body of the deaf sports movement and Deaflympics.
The International Committee of Deaf Sports is a non-profit organization that promotes deaf sports around the world Founded in 1924.
The International Committee of Sports for the Deaf has its headquarters in Maryland, USA, and its president is Rebecca Adam.
First DTC Electric Bus flagged off at Delhi - 18 Jan 22
Highlights:
On January 17, 2022, the Delhi Chief Minister Arvind Kejriwal flagged off the first electric bus of the Delhi Transport Corporation.
The E -buses are to run on 27- km long route.
These buses were manufactured by the JBM Auto Limited.
These electric buses are low floor buses.
They are fully air conditioned.
These buses were acquired under the Faster Adoption and Manufacturing of Hybrid and electric Vehicles in India, that is, FAME – II.
The first fleet of 300 buses is ready. First a few electric buses are to run from Pragati Maidan to IP Depot.
It is a 27- km long route.
It will cover places like ITO, Safdarjung and Ashram on its way.
This is a prototype.
This is being flagged off to check how long the batteries in the bus last.
It will also check for technical problems. After this test run, the rest of the buses in the fleet will be added.
The Delhi Government has planned to release fifty more electric buses by February 2022. The target is to add fifty electric buses per month. In the pipeline set earlier, the Delhi Government will launch 2,300 electric buses. Of these, 1,300 are to be procured by the DTC. The rest of the thousand is to operate under the cluster scheme.
The Delhi Government is to install charging stations in the bus depots.
The charging stations are to be built in phased manner.
Apart from the charging stations, the Delhi Transport Corporation will also build hybrid bus depots. These depots are a combination of CNG (compressed natural gas) buses and electric buses. They are to be established in Bawana, Hasanpur, Rajghat depot and Subhash Place depot.
The Delhi Government decided to run electric buses in the region in 2018. In future, the Kejriwal Government has decided to convert all the government run buses into electric buses.
Government of India announced National Start-up Awards 2021 - 18 Jan 22
Highlights:
Government of India announced the winners of "National Start-up Awards 2021" and felicitated 46 start-ups for their contribution in their respective sectors.
Government also conferred an incubator and an accelerator with the award during this ceremony.
This marked the second edition of National Start-up Awards.
Applications were invited from 15 sectors and 49 sub-sectors, ranging from agriculture to animal husbandry and from enterprise technology to fintech.
National Start-up Awards 2021: A fact File
National Start-up awards seek to recognise start-ups contributing towards economic dynamism by encouraging innovation and injecting competition.
It focuses on following start-ups.
That build innovative products or solutions
That are scalable enterprises, with high potential of wealth creation or employment generation
That demonstrates measurable social impact.
In fintech category's financial inclusion sub-sector,Bengaluru-based Naffa Innovations Private Limited was declared the winner.
The start-up, also called ToneTag, was founded in 2013.
It provides for mobile payments using sound and near-field communication (NFC), without using internet.
Another winner in fintech category's insurance sub-sector, Umbo Idtech Private Limited won the award.
This start-up was founded in 2018.
It has built a full-stack platform, enabling omnichannel insurance distribution for its clients.
In Robotics sub-sector, Sagar Defence was declared the winner.
It was founded in 2015 by Mridul Babbar and Nikunj Parashar.
The start-up builds autonomous navigation systems, aerial vehicles and unmanned marine.
In the women-led start-up category, Jaipur-headquartered Frontier Markets was honoured.
It was founded in 2011 by Ajaita Singh.
It is a social commerce platform that focuses on rural India.
Yonex-Sunrise India Open won byLakshya Sen - 19 Jan 22
Highlights:
India's Lakshya Sen secured his maiden Super 500 title by winning "Yonex-Sunrise India Open", on January 16, 2022.
Badminton World Federation (BWF):
He secured the title with a stunning straight-game victory over reigning world champion from Singapore, Loh Kean Yew in the men's singles final.
20-year-old Lakshya had earlier claimed his maiden world championships medal with a bronze in Spain in December 2021.
He produced a fine performance of 24-22 21-17 in the summit clash.
In the doubles' final, top doubles pair of Satwiksairaj Rankireddy and Chirag Shetty won against three-time world champions Mohammad Ahsan and Hendra Setiawan from Indonesia.
The pair become India's first men's team to win the Yonex-Sunrise India Open.
The world no 10 Indian pair had won its first Super 500 tournament in 2019 in Thailand.
India Open is an annual badminton event, held in India since 2008.
It is a BWF World Tour Super 500 Grade international badminton tournament.
The event was inaugurated in 2007 in Hyderabad, however the it was cancelled amid Hyderabad bombings.
The first three editions of the India Open were designated as Grand Prix Gold events.
It was upgraded to BWF superseries tournament in 2011.
In between 2011-2019, the event was held annually at the Siri Fort Sports Complex in New Delhi.
India open is categorised as one among seven BWF World Tour Super 500 events by BWF since 2018.
World Employment and Social Outlook Report released - 19 Jan 22
Highlights:
The International Labour Organisation (ILO) released its report titled "World Employment and Social Outlook".
In the report, ILO has projected global unemployment of 207 million in 2022.
Global unemployment will reach to 207 million in 2022.
It is almost 21 million more than 2019.
Total hours worked in 2022 will be about 2% below than the pre-pandemic level.
There will be deficiency of 52 million full-time equivalent jobs in 2022.
The 2022 outlook represents a substantial deterioration as compared to outlook in June 2021.
In June 2021, shortfall in working hours relative to fourth quarter of 2019 was projected to decrease to less than 1% in 2022.
According to ILO, every new covid-19 outbreak brings setbacks.
Many gains in decent work prior to pandemic have been significantly impacted upon.
Pre-existing decent work deficits are decreasing the prospects of sustainable recovery across several regions.
As per ILO report, since the onset of recovery, employment growth trends in low-income and middle-income countries have remained below to trends in richer economies because of lower vaccination rates and tighter fiscal space in developing countries.
Developing nations experienced a higher level of inequality, weaker social protection systems and more divergent working conditions.
Projections to 2023, for all regions, suggests that a full recovery will remain elusive.
All regions are likely to face severe downside risks in their labour market recovery because of ongoing impact of the pandemic.
ILO is a United Nations agency, that advances social and economic justice by setting international labour standards, established in October 1919, under the League of Nations.
It is the first and oldest specialised agency of the UN having187 member states.
Its headquartered is in Geneva, Switzerland.
Keralas Kumbalanghi become India's First Sanitary-Napkin Free Village - 20 Jan 22
Highlights:
Kumbalanghi in Kerala will be India's first village without sanitary napkins.
Kumbalanghi in Kerala is scheduled to be the first sanitary napkin-free panchayat in the country.
This action is part of the 'Avalkayi' initiative, which is being carried out in the Ernakulam electoral district in collaboration with HLL Management Academy's "Thingal Scheme" and Indian Oil Corporation.
Menstrual cups will be supplied to women in Kumbalangi village aged 18 and up as part of this campaign.
Under it, 5000 menstruation cups will be supplied. The Governor will also designate Kumbalangi village as a model village at the same time.
The Pradhan Mantri Sansad Adarsh Gram Yojana (PM-SAGY) is funding the model village project. In addition, a new visitor information center will be built in the village.
Kumbalangi:
Kumbalangi is an island town on the fringes of Kerala's Kochi metropolis.
It is a popular tourist destination known for its Chinese fishing nets.
It's roughly 12 kilometers from the city center, nestled among backwaters.
The village is also India's first eco-tourism destination.
Social Activist Shanti Devi Passed Away - 20 Jan 22
Highlights:
Shanti Devi, a social crusader who won the Padma Shri award, has perished.
Shanti Devi died on January 17 in Rayagada, Odisha. She was 88 years old.
Shanti Devi, an Odisha social worker and Padma Shri awardee known as the "Voice of the Poor."
Lugdi Devi was another name for her. She was well-known for her commitment to helping the poor and dedicated to helping in Maoist-affected districts of Odisha.
On November 9, 2021, she earned the distinguished Padma Shri honor from President Ram Nath Kovind.
Shanti Devi, born in the Balasore area in 1934, began working in the social sector at a young age.
At 17, she wedded Ratan Das and moved to Koraput.
Shanti Devi began her humanitarian activity by establishing an ashram in Rayagada's Gobarapalli neighborhood.
She strived to help native girls develop and receive an education. She then moved to Gunupur, where she established her now-famous ashram in 1964 and educated tribal females.
Shanti Devi has established a new sanctuary for leprosy patients in Jabarguda, in the Rayagada district's Padmapur block.
Shanti Devi devoted most of her life to the holistic development of tribal female children, including education, rehabilitation, and vocational training for orphans and underprivileged youngsters.
Shanti Devi received the Jamunalal Bazaz Award and the Radhanath Rath Peace Award in addition to the Padma Shri in 2021.
Jhulan Goswami has been designated Ambassador of the All Women Match - 21 Jan 22
Highlights:
Jhulan Goswami has been named an ambassador for the Legends League
Cricket (LLC)'s Women Match Official Team.
This was done in order to promote the LLC's Women's Empowerment
programs and enhance women's engagement in cricket.
.com Current Affairs - Monthly Edition PDF
(January 1 - January 31, 2022)
For the League, the LLC formed an All-Women Match Official Team.
This is the first time an all-women official team has officiated a men's league.
Legends League Cricket:
The Legends Competition Cricket (LLC) is a professional cricket league for
cricketers who have retired from the game.
LLC will hold its first session on January 20, 2022, at the Oman Cricket
Stadium in Muscat, Oman.
Indian Maharaja, Asian Lions, and World Giants are the Legends League
Cricket (LLC) 2022 teams.
India's first UNDP Youth Climate Champion - 21 Jan 22
Highlights:
Content creator and actress Prajakta Koli become India's first UN Development Programme (UNDP) Youth Climate Champion.
United Nations Development Programme (UNDP)
She won the title under her partnership with the UNDP.
Title has been conferred to her because of her contribution towards mental health, girl child education and women's rights through various global social campaigns.
What does this title mean to Prajakta?
As a part of her responsibilities, Prajakta will now be entrusted with interacting with young minds for raising awareness on issues like global warming, climate crisis, biodiversity loss and their impacts, because tremors of these issues are being felt by all sections of the society, including poor and marginalized communities.
Prajakta Koli : A Fact File
Prajakta Koli is an Indian YouTuber and actress, known by her YouTube Channel "Mostlysane".
She makes comedy videos, focusing mostly on observational comedy related to daily life situations.
Prajakta Koli has spoken up on issues such body shaming and online bullying with 'Shameless' under her campaign #iPledgeToBeMe, in the past.
The campaign came into force on World Mental Health Day in 2016.
She is a global ambassador for YouTube's 'Creators For Change' initiative.
She is known to draw attention of people to trolling, homophobia through "No Offence Campaign" and female subjugation.
Her "No Offence Campaign" was showcased at the UN headquarters in New York on International Tolerance Day.
In 2018, she was a part of three initiatives and social cause partnerships:
First with YouTube for Social Impact Girl's Education campaign,
Second with Instagram on their Safer Internet Week campaign and
Third with One.org for their Girl Education campaign.
In 2019 she received an invitation from "Bill and Melinda Gates Foundation" for "annual Goalkeepers Summit".
In 2021, she joined Google's Impact Challenge to provide grants to non-profits who are addressing economic inequities faced by girls and women.
United Nations Development Programme (UNDP):
UNDP is a United Nations organization, established in 1965. It is headquartered in New York City.
The body help countries in eliminating poverty and achieving sustainable economic growth as well as human development.
It is the largest UN development aid agency, having offices across 170 countries.
Indonesians are relocating to Nusantara, a new capital in East Kalimantan - 23 Jan 22
Highlights:
Indonesians are relocating to Nusantara, a new capital in East Kalimantan.
East Kalimantan, or Jakarta, is a city on the island of Borneo.
In 2019, it was stated that the capital would be relocated here.
President Joko Widodo made the announcement. Since 1949, Jakarta has served as Indonesia's capital.
Jakarta is confronted with environmental and financial challenges. Jakarta is becoming increasingly polluted.
It has constantly been recognized as one of the world's most polluted cities.
Jakarta is located on the Indonesian island of Java.
Nusantara is located on the island of Borneo. The island of Borneo is larger
than the island of Java. Jakarta is currently densely inhabited.
This adds to the load that the Indonesian government is already carrying.
Jakarta is also sinking.
The majority of Jakarta is anticipated to be submerged by 2050.
This is primarily due to Jakarta's proximity to multiple rivers. These rivers are flood-prone regularly. Many areas in Jakarta dipped up to 10.7 cm between 2019 and 2020.
All government buildings, including the presidential palace, international
organization buildings, and foreign diplomatic buildings, would be relocated to Nusantara.
The idea will cost 33 billion dollars to implement. The capital city will be built on approximately 2,56,142 hectares of land.
Nusantara is the Indonesian word for the archipelago. It encompasses philosophical, social, and historical considerations.
Nusantara is a biodiverse island. Moving the capital to Nusantara, according to environmentalists, will result in colossal deforestation.
It will also put the region's forests and animals in jeopardy.
Urjit Patel Appointed Vice President of Asian Infrastructure Investment Bank - 24 Jan 22
Highlights:
Urjit Patel Appointed Vice President of Asian Infrastructure Investment Bank
Mr. Patel will serve a three-year tenure as one of the multilateral Development Bank's five vice presidents, succeeding former Gujarat Chief Secretary D.J.
Pandian, who led the AIIB's investment operations as well as all sovereign and non sovereign loans in South and Southeast Asia as Vice President.
Since its establishment in Beijing in 2015, the AIIB has granted more loans for
India than any other member. China is the company's largest stakeholder, followed by India. Its 104 members do not include the United States or Japan.
The AIIB has invested $6.7 billion in 28 projects in India.
Apart from infrastructure, it has recently emphasised green projects and assisting public health activities during the COVID-19 pandemic. Under the ADB's Asia
Pacific Vaccine Access Facility (APVAX) project, India asked for loans from the
AIIB and the ADB in October to purchase 667 million doses of COVID-19 vaccines, with the ADB likely to lend $1.5 billion and the AIIB roughly $500 million.
Global Private Banking Awards 2021 - 24 Jan 22
Highlights:

HDFC Bank is voted Best Private Bank in India at the Global Private Banking Awards 2021.
At the 'Global Private Banking Awards 2021,' organized by Professional
Wealth Management (PWM) in a virtual ceremony, HDFC Bank was voted the 'Best Private Bank' in India.
The Financial Times Group publishes PWM, a wealth management magazine.
The prize was presented to assist in accelerating significant trends, such as digitization, communication, and investment in ESG initiatives (environmental, social, and governance).
PWM received over 120 submissions for the Global Private Banking Awards 2021, of which 16 judges judged from four continents.
Professional Wealth Management (PWM), the world's premier global business newspaper, focuses on private banks' expansion strategies and the regional financial centers for which they function.
HDFC Bank customers can choose from a product suite across all asset classes for "optimal asset allocation" based on their risk profiles and goals, according to HDFC Bank Private Banking, India's largest privately-owned bank.
The headquarters of HDFC Bank is located in Mumbai.
HDFC Bank is a bank based in India. Sashidhar Jagdishan is the CEO of
HDFC Bank, founded in August 1994.
Atanu Chakraborty is the Chairman of HDFC Bank
PASSEX Exercise In Arabian Sea - 25 Jan 22
Highlights:
The Indian Navy and the Russian Navy are participating in the PASSEX exercise in the Arabian Sea.
Highlights:
The Indian Navy and the Russian Navy conducted PASSEX exercises in the Arabian Sea port of Cochin.
The Indian Navy's INS Kochi, a guided-missile destroyer designed and built in India, took part in the test. RFS Admiral Tributs represented the Russian Federation Navy.
Two other Russian naval ships were also present: the Russian Naval Missile Cruiser Varyag and the Russian Tanker Boris Butoma.
The exercise would include tactical maneuvers, cross-deck helicopter operations, and seamanship activities to demonstrate the two navies' cohesiveness and interoperability.
These exercises will include advanced exterior and anti-submarine counterinsurgency exercises, weapon firings, seamanship exercises, and helicopter operations, according to Navy officials.
These exercises are conducted on a regular basis with units of friendly foreign navies, while visiting each other's ports or during a rendezvous at sea, according to Navy officials.
Pilot Shivangi Singh: First Woman Rafale Pilot In India - 25 Jan 22
Highlights:
India's first female Rafale pilot is Shivangi Singh. At the Republic Day celebrations, she was a part of the Indian Air Force Tableau. In 2017, she enlisted in the Indian Air Force.
She is only the second woman pilot to take part in the Tableau of the Indian
Air Force. Bhawna Kanth, a fighter jet pilot, was the first woman to take part in the IAF tableau.
Shivangi Singh was part of the second group of female fighter pilots to be commissioned. Before Rafale, she was a MiG-21 pilot.
She is a member of the squadron known as the Golden Arrows.
Shivangi Singh was born in the Indian state of Bihar.
Sikkim Manipal Institute of Technology was where she earned her bachelor's degree in technology.
She continued her education at Jaipur's Malaviya National Institute of Technology.
"Indian Air Force Transforming for the Future" was the theme of the 2022 IAF Tableau.
The tableau included the Aslesha radar and indigenously produced Light
Combat Helicopters. The Gnat aircraft was also displayed by the IAF.
Golden Arrows Squadron:
Its headquarters are in Ambala, Punjab.
Dassault Rafale jets were used to resurrect the squadron in 2016.
During the 1965 India-Pakistan war, it was relocated to Delhi to safeguard the capital. It's been Rafale since 2019.
It's a low-weight radar with a lot of features. It can be used in a variety of environments, including deserts, plains, high altitudes, and mountain peaks.
The British came up with the idea for Gnat.
It's a fighter jet with a subsonic speed.
It's used for both combat and training. Different squadrons in India fly the Gnat.
SEBI launched Saarthi Mobile App for Security Markets - 26 Jan 22
Highlights:
SEBI launched the Saarthi mobile application, which provides information about security markets, which is useful for investors.
The application explains mutual funds, how they work, trading and settlement, KYC (Know Your Customer) procedures, market developments, and so on.
The application also includes a mechanism for resolving grievances. Both Hindi and English are used in the application.
It is compatible with both iOS and Android devices.
The app will eventually be available in local languages as well.
The number of independent investors entering the market has recently increased.
The app was created to assist these individual investors.
In addition, new investors are trading on their smartphones.
As a result, mobile apps are assisting them.
Individual Investors: Individual investors in India are on the rise.
In 2020, their share was 39%.
According to NSE (National Stock Exchange) data, it will have risen to 45 percent by 2021.
Banks' interest rates are decreasing.
Fixed Deposit interest rates range from 2.9 % to 5.4%.
As a result, the returns on such investments are extremely low. Global
liquidity is increasing. People are also spending a lot of time at home as a result of the pandemic.
The BSE (Bombay Stock Exchange) market capitalization increased by 1.8 times.
In Russia, it rose by 1.6 times.
China, France, and South Africa are the other countries that have seen significant growth.
It is obvious that India has a higher market capitalization than other countries.
Security Markets Security markets are those in which securities are freely traded.
Securities are nothing more than assurances.
When a person fails to pay back the money, the securities are forfeited.
Securities are tradable financial instruments that raise capital both in public and private markets.
World Economic Outlook -2022:IMF - 26 Jan 22
Highlights:
On January 25, 2022, the International Monetary Fund (IMF) published its World Economic Outlook.
According to the analysis, global economic growth will be half a percentage point lower than previously projected.
The rate of growth will slow from 5.9% in 2021 to 4.% in 2022.
In 2023, it will drop even lower to 3.8 %.
According to the IMF, the reduction in global growth predictions is mostly due to the IMF's assessment of economic prospects in China and the United States.
In the United States, the removal of Joe Biden's Build Back Better strategy from the baseline, early withdrawal of monetary support, and supply constraints resulted in a 1.2 percentage point downward revision for growth in 2022.
Disruptions connected to China's zero-tolerance Covid policy and persistent financial hardship among property developers resulted in a 0.8 percentage point negative revision.
India will grow at a rate of 9% in 2021-2022. India's growth prospects were assessed by the IMF to be 9.5 percent for the year in October 2021.
India's GDP is expected to grow at 9% in 2022-23, according to the IMF.
According to the October prediction, growth will be 8.5 percent in 2022-23 and 7.1 percent in 2023-24.
India's prospects for 2023 are predicted based on expected credit growth increases. Furthermore, the financial sector's improved performance is boosting investment and consumption.
The World Bank recently predicted a decline in global growth, with the rate remaining at 4.1 percent in 2022.
Omicron Variant Impact:
According to the IMF, governments have reimposed mobility restrictions in response to the introduction of the Omicron Covid-19 strain.
In the United States and other developing countries and emerging markets, rising energy prices and supply interruptions have resulted in increased and much more broad-based inflation than predicted.
China's ongoing real estate contraction, as well as a delayed rebound in private spending, have hampered economic forecasts.
International Education Day observed on January 24 - 27 Jan 22
Highlights:
The International Day of Education is observed on January 24, annually.
Year 2022 marked the fourth year of celebration.
The day was observed with the theme - 'Changing Course, Transforming Education'.
Celebration took place at the UN Headquarters in New York, Expo 2022 in Dubai, Global Minnesota and Harvard University Graduate School of Education.
History of the day:
The International Education Day was proclaimed by "United Nations General Assembly (UNGA)" in December 2018.
It was proclaimed to mark the significance of education in ensuring peace and development.
UNGA resolution:
The resolution to observe 'International Day of Education' was authored by 59 member states.
It demonstrated the unwavering political will for supporting transformative actions for equitable, inclusive, and quality education for all.
Significance of Education:
Education is a tool, which can be employed to ensure progress and growth.
However, access to this tool is deeply unequal. Covid-19 pandemic has increased this divide.
Education has suffered a huge gap amid the pandemic because of closure of universities, schools, and other educational institutions and it required a shift towards online mode.
National Voters Day observed on January 25 - 27 Jan 22
Highlights:
Every year, the National Voters Day is celebrated on January 25.
The day is celebrated to increase the enrolment of new voters in the country.
Theme of National Voters Day 2022: "Making elections Inclusive, Accessible and Participative."
Every year, the National Awards for the Best Electoral Practices are conferred at state and district level on the National Voters Day.
The awards are presented for election management, security management, IT initiatives and accessible elections.
Also, the awards are presented for Election Commission of India icons, media groups and other important stakeholders.
The awards are presented by the Election Commission of India.
The National Voters Day is being celebrated in the country since 2011.
The then broadcasting minister Ambika Soni (during Manmohan Singh government) announced that the participation of youths reaching the eligible age of 18 years were showing less interest towards electoral rolls.
The day was launched to increase their interest. Thus, the day targets the young population.
Veteran archaeologist R. Nagaswamy passed away - 28 Jan 22
Highlights:
Renowned archaeologist and first director of Tamil Nadu archaeology department, Padma Bhushan R. Nagaswamy, passed away in Chennai.
He is survived by two sons and two daughters.
His wife, Parvathi, predeceased him.
Nagaswamy is known for his epigraphy research on sculptures in Mahabalipuram.
He is known for several books on Tamil literature.
Padma Bhushan
Nagaswamy was honoured with the Padma Bhushan award, for his research work in archaeology, in 2018. He was also the recipient of Kalaimamani award, which is the highest civilian award from Tamil Nadu government.
Ramachandran Nagaswamy: A Fact File
He was an Indian historian, epigraphist and archaeologist, known for his work on temple inscriptions and art history of Tamil Nadu. He was the first director of Tamil Nadu Archaeology Department, from 1966 to 1988.
He also played an instrumental role in starting the annual Chidambaram Natyanjali festival in 1980. He was an authority in Chola Bronzes.
Param Vishisht Seva Medal honoured to Neeraj Chopra - 29 Jan 22
Highlights:
The Olympic Gold medal winner Neeraj Chopra was honoured with the Prama Vishisht Seva Medal.
Neeraj Chopra brought fame to India by winning the country's first athletic gold medal.
In Tokyo Olympics, Chopra won the medal throwing javelin to 87.58 metres. Along with Neeraj Chopra, 18 other are being honoured with the award.
Chopra was honoured with the Arjuna award in 2018. In 2020, he was awarded the Vishisht Seva Medal.
In 2016, Chopra was enrolled in Rajputana Rifles as Naib Subedar.
He was a part of the Mission Olympics Wing that operated at the Army Sports Institute located in Pune.
The Mission Olympics Wing was an initiative of the Indian Army.
Under the initiative, the army identified qualified sports person from the army and trained them in different disciplines. They participated in national and international competitions.
Naib Subedar:
It Is a rank in the Indian army. The Naib Subedars are Junior Commissioned officers. Their ranks are lower than lieutenants and higher than havidars.
Param Vishisht Seva Medal:
The award was constituted in 1960.
It is awarded to peace time services. The award shall be presented posthumously.
The lawfully constituted armed forces, Territorial Army, reserve forces; auxiliary and nursing officers are eligible for the award.
It is equivalent to Sarvottam Yudh Seva Medal.
It is lower to Padma Bhushan and higher to Maha Vir Chakra.
World's fastest AI supercomputer introduced by Meta - 30 Jan 22
Highlights:
According to Facebook parent company Meta, its new "artificial intelligence supercomputer" will be the fastest across the world, by the middle of year 2022.
Meta introduced the AI Research Super Cluster (RSC) on January 24, 2022.
It is believed to be among fastest AI supercomputers running today.
Currently, AI can perform tasks such as translating text between languages and help in identifying potentially harmful content.
However, development of next generation of AI will require powerful supercomputers, which are capable of quintillions of operations per second.
Significance of RCS:
RCS will help in building new and improved AI models. It will also allow to work across hundreds of different languages.
RCS will also help in building technologies for next major computing platform called "the metaverse", where AI-driven applications and products will play a significant role.
What is Metaverse?
Metaverse is a network of 3D virtual worlds.
It is focused on social connection.
This term is described as a hypothetical iteration of internet and universal virtual world, in futurism and science fiction.
Metaverse term was originated in 1992 science fiction novel Snow Crash.
Meta Platforms is formerly known as Facebook.
It is an American multinational technology conglomerate.
It is headquartered in Menlo Park, California.
Meta is the parent organization of Facebook, WhatsApp, and Instagram. Meta is among world's most valuable companies and is among Big Tech companies in U.S. information technology along with Amazon, Google, Apple, and Microsoft.
Supercomputer has high level of performance as compared to general-purpose computer.
Its performance is commonly measured in floating-point operations per second (FLOPS), rather than "million instructions per second (MIPS)".
India become largest exporter of Cucumber and Gherkins - 30 Jan 22
Highlights:
India emerged as the 'Pickle King of The World', in a recent development.
India crossed the exports if worth USD 200 million of agricultural processed product, pickling gherkins, cucumber or cornichons, in the financial year 2020-2021.
With this, India became the largest exporter of cucumbers and gherkins worldwide.
India exported 1,23,846 metric tonnes (MT) of cucumber and gherkins, with a value of USD 114 million during April-October 2021.
In 2020-21, India shipped 2,23,515MT of cucumber and gherkins with value worth USD 223 million.
India meeting Global Demand:
As many 51 companies in India produce and export gherkins. Gherkins are exported in two forms viz., packed in drums and in ready-to-eat packs.
India meets 15 percent of total global requirement or demand of gherkins.
Indian plants are of international standards and have been made to cater to the requirements of foreign countries.
Indian states of Karnataka, Tamil Nadu, Telangana and Andhra Pradesh process and export the pickled cucumber across the world.
Pickled cucumbers are imported by more than 20 countries, namely, USA, France, South Korea, Japan, Israel, Canada, Germany etc.
As per reports, gherkins are cultivated under contract farming by 90,000 small and marginal farmers across India.
These farmers have an annual production area of 65,000 acres.
A gherkin farmer earns Rs 80,000 on an average, with a net income of Rs 40,000.
Farmers can take two crops of gherkins annually, since it is a 90-day crop.
Gherkin is also known as pickled cucumber. It is a cucumber that has been pickled in vinegar, brine, or other solution and left to ferment for some time.
Peru Crises : Govt. Declared Emergency - 31 Jan 22
Highlights:
The Government of Peru recently declared an environmental emergency due to oil spill last for 90 days.
Around six thousand barrels of oil were spilled into the Pacific Ocean.
A tanker of Repsol, a Spanish Energy firm, was transporting oil to Vantinalla refinery in Peru.
The name of the tanker is "Mare Doricum",an Italian tanker.
The oil spill occurred due to the explosion of undersea volcano Tonga. According to NASA, the Tonga volcano eruption is more powerful than an atom bomb.
The tsunami waves from the explosion caused the oil spill.
Damages caused:
The oil spill killed huge number of marine wildlife. It has left a huge impact on the local fishermen.
Also, it is to affect the tourism sector largely.
Around 2,384 cubic metres of sand is affected by the oil spill.
The total economic losses are estimated to be more than 50 million USD.
Around 713 hectares of sea has been affected.
Impact on Biodiversity:
The oil spill has threatened the survival of Humboldt penguins. These penguins are listed as "vulnerable" species by the IUCN.
The fish in the region is carrying oil smell. The crustaceans that feed on the fish are badly affected.
Humboldt Penguins
The Humboldt Penguins were added to the Mumbai Byculla Zoo in September 2021.
They have large bare skin patches around their eyes.
This adaptation of the penguin helps to keep them cool. They are endemic to the coasts of Peru and Chile.