Monthly Current Affairs for all banking PO,Clerk,IBPS PO,Railway,SSC,IAS,OAS Exams
More Visit www.isbtonline.com
Global Climate Tech Investment Trend: India Ranked 9th place - 01 Nov 21
Highlights:
In the Global Climate Tech Investment Trend Report, India ranked in the 9th position in the Top 10.
According to London & Partners and Co's research 'Five years on: Global climate tech investment trends after the Paris Agreement,' India ranked ninth among the top ten countries for climate technology investment from 2016 to 2021.
During this time, Indian climate-tech companies garnered $1 billion in venture capital (VC) funding.
The paper looked at climate change developments since the United Nations Conference of Parties (COP) in Paris, France, in 2016.
The United States (US) led the list with USD 48 billion, followed by China with USD 18.6 billion.
Climate-tech venture capital investment surged nearly fivefold, from $6.6 billion in 2016 to $32.3 billion in 2021.
The research says that worldwide climate tech investment in 2021 will surpass that of the entire year of 2020, proving the importance of the global tech industry in battling climate change.
International Internet Day Commemorated On 29 October - 01 Nov 21
Highlights:
International Internet Day is celebrated on 29 October every year to celebrate the usage of the internet.
The first electronic message was sent on this day in 1969, and it was sent from one computer to another.
ARPANET was the name of the Internet at the time (Advanced Research Projects Agency Network).
On October 29, 1969, Charley Kline, a student programmer at the University of California, Los Angeles (UCLA), sent the first-ever electronic message, 'LO.'
On October 29, 2005, the first International Internet Day was held to commemorate this watershed moment in telecommunications and technology.
According to speed test 2021 global index, the mobile download speed has increased by 59.5% over the last year globally and the same or fixed broadband increased by 31.9%
India has ranked 122nd with 17.77 Mbps mobile download speed, 5.09 mobile upload speed and 47 ms latency
UN Disarmament Week Observed From 24 To 30 October - 01 Nov 21
Highlights:
The UN Disarmament Week is observed from 24 to 30 October to create awareness about the issues of Disarmament worldwide.
The aim is to reduce the use of weapons particularly, nuclear weapons and bring peace to society.
In 1995, the UNGA invited the government and non-governmental organizations to be part of the disarmament week.
The Disarmament plays a significant role in the achievement of Sustainable Development Goals 16.
The United Nations Office of Disarmament Affairs was established in January 1998 in New York, USA.
In 2018, UN Secretary-general Antonio Guterres declared 'Securing our common future: An Agenda for disarmament'.
4 key Points In Agenda:
Disarmament that saves humanity
Disarmament that saves lives
Disarmament for future generations
Strengthening Partnership For Disarmament.
Indian-origin Anita Anand becomes Canada's new Defence Minister - 01 Nov 21
Highlights:
Recently, the Prime Minister of Canada Justin Trudeau reshuffled his cabinet.
He has appointed Indian-origin Canadian politician Anita Anand as new Defence Minister of Canada.
Prime Minister reshuffled his cabinet after his Liberal Party returned to power in snap polls,
Furthermore, there were calls for major military reforms.
Public and political leaders are putting pressure on Canadian military to change its culture and create a system for preventing and managing sexual misconduct allegations.
Detailed Analysis:
The 54-year-old Anita Anand will replace Indian-origin Harjit Sajjan.
Harjit Sajjan is a long-term defence minister who was criticized for handling the military sexual misconduct crisis.
Though, there are some reports that, Sajjan has been given charge as Minister of International Development Agency.
As per Defence industry experts, Anita Anand is a strong contender for this position.
This move will send a strong signal to the survivors and victims of military sexual misconduct.
On this issue, government is serious about imposing critical reforms.
She also holds a strong background as a corporate lawyer.
She has served extensively on corporate governance in line with the rules and laws of managing operations of businesses.
Anita Anand was declared winner in Oakville, with 46 per cent vote share.
She was first elected as a rookie Member of Parliament in 2019, to represent Oakville in Ontario province.
She also worked as procurement minister during the Covid-19 pandemic.
Indian Coast Guard Ship "Sarthak " Launched - 02 Nov 21
Highlights:
The Indian Coast Guard Ship commissioned by K Natarajan, Director General of Indian Coast Guard (ICG) was launched on 28 October.
Detailed Analysis:
The ship's commissioning is a big boost for India's maritime safety and security.
The ICGS Sarthak will be based in Gujarat's Porbandar.
It will operate along India's western coast, under the operational and administrative supervision of the Commander of the Coast Guard Region (Northwest).
It will be led by Deputy Inspector General MM Syed, who will be supported by 11 officers and 110 soldiers.
CGS Sarthak is the fourth ship in a series of five OPVs being built by Goa Shipyard Limited for ICG.
These OPVs are multi-mission platforms that can carry out multiple missions at the same time.
The ICGS is a 2,450-ton ship with a length of 105 meters. It is powered by two diesel engines with a combined output of 9,100 kilowatts.
The ship is capable of reaching a top speed of 26 knots.
The ship is equipped with cutting-edge technology, machinery, weapons, and sensors, allowing it to serve as a command platform.
ICG is maritime law enforcement and search & rescue agency, operating under the Ministry of defense of India.
Its jurisdiction is over the territorial waters of India, including the contiguous zone & exclusive economic zone.
The agency was established on February 1, 1977, under the Coast Guard Act, 1978.
National Unity Day Commemorated On 31 October - 02 Nov 21
Highlights:
The National Unity Day is also known as Rashtriya Ekta Diwas was commemorated on 31 October.
Since 2014, India has celebrated Rashtriya Ekta Diwas, or National Unity Day, on October 31 to commemorate the birth anniversary of India's Iron Man, Sardar Vallabhbhai Patel.
This year celebrates the 146th birthday of the great statesman who was a key figure in India's war for independence and later during the country's integration.
Sardar Vallabhbhai Patel was born in Nadiad, Gujarat, on October 31, 1875.
He served as India's first Home Minister and Deputy Prime Minister.
He was instrumental in bringing numerous Indian princely states together to form an Indian federation.
He was instrumental in persuading numerous princely nations to join the Indian Union at the time of independence.
He also put in a lot of effort as a social leader in the fight for India's freedom.
Vallabhbhai Patel was given the title 'Sardar' by the women of Bardoli, which means 'chief or leader.'
The Statue of Unity at Kevadiya in the Narmada district of Gujarat was built in his honor.
World Vegan Day Celebrated On 1 November - 02 Nov 21
Highlights:
Every year on November 1st, the world celebrates World Vegan Day.
This day is observed to raise awareness of the advantages of veganism for humans, non-human animals, and the environment.
Vegan Day is a chance to raise awareness about the advantages of a vegan diet and veganism in general.
Louise Wallis, then-Chair of The Vegan Society in the United Kingdom, launched the day in 1994 to honor the 50th anniversary of the organization's inception and the coining of the terms "vegan" and "veganism."
The Vegan Society's President chose November 1st as the date for the event.
Vegan Day is now commemorated on this date, which is also the date on which the Vegan Society was founded.
Ahmad Shah Ahmadzai - Afghanistans Former PM Passes Away - 02 Nov 21
Highlights:
The former Prime minter of Afghanistan Ahmad Shah Ahmadzai Passed away at the age of 77.
Former Afghan Prime Minister and famous jihadi leader Ahmad Shah Ahmadzai died in Kabul, Afghanistan, at the age of 77.
Prior to the Taliban's takeover of Afghanistan in 1996, Ahmad Shah Ahmadzai served as the country's acting Prime Minister.
From 1995 to 1996, he worked for President Burhanuddin Rabbani.
On March 30, 1944, Ahmad Shah Ahmadza was born.
He belonged to the Ahmadzai sub-tribe of the Pashtun ethnic group.
Ahmad Shah Ahmadzai was born in Malang, a hamlet in Kabul Province's Khaki Jabbar district.
He went to Kabul University to study engineering and subsequently worked for the Ministry of Agriculture.
He was awarded a scholarship to study at Colorado State University in the United States in 1972.
He received a master's degree in 1975 and became a professor at King Faisal University in Saudi Arabia.
World Deaf Judo Championship: J&K Team Won First Place - 03 Nov 21
Highlights:
The First Place for the World Deaf Judo Championship was won by the Jammu and Kashmir team.
The deaf team from Jammu and Kashmir took first place in the World Deaf Judo Championships held in Paris Versailles, France.
Rakshanda Mehak, a member of the Indian deaf team, won the bronze medal in the semifinals by defeating the South Korean team.
The event was contested in the French city of Versailles.
The International Committee of Sports for the Deaf is in charge of organizing the event.
The International Committee of Deaf Sports is a non-profit organization that promotes deaf sports around the world.
Rebecca Adam is the president of the International Committee of Sports for the Deaf, which was founded in 1924.
National Ayurveda Day observed On 2 November - 03 Nov 21
Highlights:
The Ministry of AYUSH commemorated National Ayurveda Day on November 2, 2021, across the country.
Ayurveda is an important part of India's healthcare system.
The World Health Organization recognizes it as a traditional medicine system (WHO).
In 2016, the Union Ministry of AYUSH declared Dhanvantari Jayanti (commonly known as Dhanteras) Ayurveda Day.
The day was first commemorated with the goal of nationalizing and globalizing the ayurvedic medical system.
Theme : "Ayurveda for Poshana (Nutrition)."
Every year on the auspicious date of Dhanteras, India commemorates Ayurveda Day.
On the festival of Dhanvantari Jayanti, this day has been observed since 2016.
New Zealand won "Bird Of The Year Award" - 04 Nov 21
Highlights:
Forest & Bird, an independent conservation organization, organized its annual Bird of The Year Award.
The Pekapeka-tou-roa, a New Zealand native bat species, took up the annual bird of the year award in 2021.
Despite not being a bird, the species was declared the winner of the competition.
Long-tailed bat is another name for Pekapeka-tou-roa.
It is one of two land animals found in New Zealand.
Forest and Bird named this bat to their Bird of the Year list because both bats and native birds are endangered by the same issues such as habitat loss, predators, and climate change.
The 'Forest and Bird group' launched the Bird of the Year competition to increase awareness of New Zealand's natural animals, their habitats, and the problems they face.
New Zealand's long-tailed bat
The long-tailed bat of New Zealand is one of just two endemic or native species still living in the country.
They can be found on the mainland as well as on several of the country's offshore islands.
This type of bat is modest in size and has a long tail.
In Australia, the long-tailed bat is related to five other wattled or lobe-lipped bats
Telangana state Invites for International Seed Conference - 04 Nov 21
Highlights:
Telangana is invited to a virtually held International seed Conference by Food and Agricultural Organization (FAO).
The International Seed Conference takes place over two days. It will take place in Rome on November 4 and 5, 2021.
The conference is being held to examine the seed industry's progress.
Dr. Keshavulu, the Managing Director of Seed Corporation, will speak at the conference on the topic of "Quality Seed Production System: A Success Story of India: Telangana as a Seed Hub."
FAO: A Fact File
FAO is a United Nations specialized agency. It works to end hunger and increase nutrition and food security.
It was established in October of 1945.
The FAO has 197 member countries.
The company's headquarters are in Rome, Italy.
In addition, the organization has regional and field offices all around the world.
It has a global presence in 130 countries.
FAO assists governments and development organizations in coordinating their efforts to improve and develop fisheries, agriculture, forestry, and land and water resources.
It also collects statistics on agricultural output, productivity, and development, as well as conducting research and providing technical help to projects.
The FAO is administered by a biennial conference that includes representatives from each member country as well as the European Union (EU).
A 49-member executive council is elected by the EU.
The Director-General is the FAO's chief administrative officer.
Damon Galgut won Booker Prize - 05 Nov 21
Highlights:
Damon Galgut, a South African playwright and writer, has won the 2021 Booker Prize.
He is honored with the award for "The Promise," his third shortlisted novel about a family in his nation from the end of apartheid to the election of Jacob Zuma.
The book spans several decades and depicts the family's gradual disintegration as the country transitions to democracy.
Mr. Galgut won his third medal as a finalist for a novel that the judges described as a "tour de force."
He had previously been nominated for "The Good Doctor" in 2003 and "In a Strange Room" in 2010, but both times he was unsuccessful.
World Bank And Niti Ayog Ready Electric Vehicles Financing Push - 05 Nov 21
Highlights:
The World Bank and Niti Ayog are ready to financially push the EV's in India.
The World Bank (WB) and the NITI Aayog (National Institution for Transforming India) are collaborating to support a scheme for faster and easier financing of electric vehicles (EVs).
The State Bank of India (SBI) will serve as the program manager for a $300 million 'first loss risk sharing instrument' set up by NITI Aayog and the World Bank.
The present rate of interest on electric two-wheelers and electric three-wheelers, which is at 20-25 %, is likely to drop to 10-12 %.
The World Bank is a multilateral financial institution founded in July 1944, the World Bank is headquartered in Washington, DC, and is led by David R. Malpass.
Unmukt Chand First Indian Male To Sign Up For BBL - 06 Nov 21
Highlights:
Unmukt Chand has signed up for the Big Bash League, becoming the first Indian male cricketer to do so.
He will play for the Melbourne Renegades in the 2019 season.
The 28-year-old has played for India A as well as the Delhi Daredevils, Mumbai Indians, and Rajasthan Royals in the IPL. In 2012, he led India to the Under-19 World Cup victory.
In August of this year, he announced his retirement from Indian cricket, indicating that he will pursue "greater chances from around the world."
Chand's base of operations has now migrated to the United States of America (USA).
His team, Silicon Valley Strikers, recently won the Minor League Cricket (MCL) title, and he was recently named "Player of the Tournament."
Later this month, the right-handed batter will travel to Australia and will be available for the remainder of the competition
Assam state govt. approved Industrial Relation Rules - 06 Nov 21
Highlights:
The Assam cabinet enacted the "Industrial Relation Rules, 2021" on November 4, 2021, with the goal of protecting the rights of companies and employees.
The purpose of the Industrial Relation Rules is to combine, simplify, and rationalize the rules of three core labor codes that deal with industrial relations.
The Cabinet also authorized the "Assam Migrant Workers' Food Security Scheme," which will offer dry rations to migrant workers.
Data about migrant workers accessible on the e-SHRAM portal and other resources will be used to distribute rations to them under this plan.
deputy commissioners of Kamrup (Metro) and Kamrup (Rural) have also been authorized by the Assam cabinet to provide authorization to transfer land in protected areas or blocks without the state government's previous approval.
Mission Basundhara: A Fact File
This platform, dubbed "Mission Bashundhara," was also created by the state government.
Conversion of allotment certificate to periodic patta was added as a service on this webpage.
Within three years of allotment, the Cabinet approved the conversion of allotment certificates to periodic patta in rural regions.
The state government has determined that special seats in the state's medical and dental colleges will be proportionately allocated between two areas for students from the tea garden community in the Brahmaputra and Barak valleys.
Global Drug Policy Index: India Ranked 18th position - 07 Nov 21
Highlights:
The inaugural Global Drug Policy Index was released by the Harm Reduction Consortium, on November 7, 2021.
In this index, Norway, New Zealand, Portugal, the UK and Australia are the five leading countries with respect to humane and health-driven drug policies.
Five lowest-ranked countries are Brazil, Uganda, Indonesia, Kenya, and Mexico.
India has been ranked at 18th position out of 30 countries.
India got an overall score of 46/100.
On "use of extreme sentencing and responses" criteria, India scored 63/100.
On health & harm reduction, it scored 49/100.
On proportionality of criminal justice response, it got 38/100.
On availability & access of internationally controlled substances for relief of pain & suffering, India scored 33 /100.
What is Global Drug Policy Index?
The Global Drug Policy Index is a data-driven analysis of drug policies and their implementation across the world.
The index comprises of 75 indicators and it run across five broad dimensions of drug policy namely- criminal justice, health & harm reduction, access to internationally controlled medicines, extreme responses, and development.
It is noted that the project was developed by 'Harm Reduction Consortium'.
National Cancer Awareness Day Observed On 7 November - 07 Nov 21
Highlights:
On November 7, India commemorates National Cancer Awareness Day to raise awareness about cancer, its symptoms, and treatment options.
According to the World Health Organization (WHO), Cancer is the second biggest cause of mortality worldwide.
In 2018, there were around 18 million cases worldwide, including 1.5 million cases in India alone.
In India, roughly 0.8 million people died of cancer in 2018, compared to 9.5 million worldwide.
Dr. Harsh Vardhan, the former Union Minister for Health and Family Welfare, announced on November 7, 2014, will be observed as National Cancer Awareness Day
It was established to honor the contributions of an eminent scientist who is important and a role model for all those fighting cancers.
Wang Yaping become First Chinese Woman to Walk in Space - 07 Nov 21
Highlights:
Astronaut Wang Yaping has become the first Chinese woman to walk in space.
As a part of ongoing construction, team of Wang Yaping completed a six-hour stint outside Tiangong space station.
Wang and her colleague Zhai Zhigang stepped out of Tiangong on November 7, 2021.
They installed a suspension device and transfer connectors. This was the first extravehicular activity of Shenzhou-13 crew.
They will spend six months at the space station.
Tiangong, means heavenly palace, is the latest achievement in China's move to become a major space power.
China has landed a rover on Mars and is sending several probes to the Moon.
Core module of the Tiangong entered orbit earlier in 2021.
This station is expected to be operational by 2022.
Tiangong is expected to operate for around 10 years.
Their work includes setting up equipment and testing technology for future construction.
Mission commander Zhai is the former fighter pilot, who performed the first spacewalk of China in 2008. The previous crew, who made first mission to Tiangong Space Station, returned back to Earth in September 2021.
They spent three months there.
Tiangong: A Fact File
Tiangong is a space station being constructed in low Earth orbit by China.
It is being constructed between 340 and 450 km above the surface.
It is China's first long-term space station.
Construction of the space station is the goal of "Third Step" of the China Manned Space Program.
It will have a mass between 80t and 100t, which is about one-fifth the mass of International Space Station. First module, Tianhe core module, was launched on April 29, 2021.
International Day Of Radiology Observed On 8 November - 08 Nov 21
Highlights:
Every year , Nov. 8 marks as International Day of Radiology (IDoR).
It celebrated around the world in recognition of the remarkable contributions made by medical imaging to health care, and the role of radiology professionals in providing quality care to patients. The day is sponsored by the Radiological Society of North America (RSNA), the European Society of Radiology (ESR), and the American College of Radiology (ACR).
Detailed Analysis:
Held each year on Nov. 8, the anniversary of the discovery of the X-ray by German physicist Wilhelm Roentgen - IDoR is building greater awareness of the value that radiology research, diagnosis and treatment contribute to safe and effective patient care.
IDoR recognizes the many innovations in radiology research that have revolutionized modern medicine, produced great technological advances and saved countless lives.
Radiology professionals are working together throughout the year to inform patients about the valuable role medical imaging plays in patient care.
RSNA and ACR jointly sponsor RadiologyInfo.org, an important patient resource that explains medical imaging tests and treatments in detailed, easy-to-understand language, helping patients to understand and prepare for imaging procedures.
The site contains explanations of hundreds of radiology procedures.
It also provides information on diseases and conditions, screening and wellness, and safety topics.
For this year's celebration, ESR launched a new sports imaging microsite to show the general public how radiology is used in the diagnosis and management of sports injuries with reference to the real-life experience of 28 athletes from a selection of the world's most popular sports.
WTT Contender tournament : India clinches women's doubles title - 08 Nov 21
Highlights:
Manika Batra and Archana Girish Kamath from India have won the women's doubles title at World Table Tennis Contender Lasko 2021.
Both, Batra & Kamath, are ranked at 36th.
They beat 23rd ranked Puerto Rico's Diaz sisters, Adriana and Melanie, in three games at the final on November 7, 2021.
Indian duo saved four-game points in third set to won the match.
Manika Batra is an Indian table tennis player.
She is the top-ranked female table tennis player from India.
As of July 2021, she has been ranked 62nd in the world.
In 2020, she was awarded the Major Dhyan Chand Khel Ratna.
World Table Tennis Championships : A Fact File
World Table Tennis Championships were started in 1926.
Tournament have been held biennially since 1957.
Under this, five individual events namely, men's singles, men's doubles, women's singles, women's double and mixed doubles, are currently held in odd numbered years.
The World Team Table Tennis Championships, consisting of men's team events and women's team events, were first held in 2000.
The Team Championships are organised in even numbered years.
In earlier tournaments, Hungary's men's team was a dominant force.
They won championships 12 times.
During 1950s, Japan was the dominating force.
However, 1960s onwards, China emerged as the new dominant power.
China's men's team is holding a record 20 world team championship titles.
World Urbanism Day observed On 8 November - 08 Nov 21
Highlights:
The 8th of November is World Urbanism Day, often known as "World Town Planning Day."
Its goal is to acknowledge and promote the importance of planning in the development of livable communities.
World Urbanism Day is an occasion to examine planning from a global perspective in order to raise awareness of the environmental consequences of urban and territorial development.
The International Society of City and Regional Planners hosts WUD (ISOCARP).
Professor Carlos Maria della Paolera of the University of Buenos Aires inaugurated the day in 1949 to promote public and professional interest in planning.
ISOCARP was founded in 1965 and is headquartered in The Hague, Netherlands.
India's First-ever Bamboo Made Cricket Bat, Stumps made in Tripura - 09 Nov 21
Highlights:
The First-ever Bamboo Made Cricket Bat, Stumps were made in the state of Tripura.
Tripura's Bamboo and Cane Development Institute (BCDI) and the North East Centre of Technology Application and Reach (NECTAR) claimed to have created the country's first-ever bamboo-made cricket bat, following all of the industry's established protocols. T
These bats are suitable for all forms of cricket.
Willow is the most common type of wood used to make cricket bats.
Biplab Kumar Deb was recently given a demonstration of the product by the company's CEO.
The bats' development has been aided by the use of hard Boom (local name) bamboo.
Kanakaich (a native type of bamboo) has also been utilized to construct bamboo wickets that are nearly impenetrable.
We used our own bamboo blue board technology to produce this product.
Four to five months ago, a Cambridge university paper published a lengthy article on the use of bamboo as an alternative for traditional bat-making methods.
The project was then taken up by NECTAR, with the BCDI taking on the remaining work, according to BCDI-NECTAR chairman Dr. Abhinab Kant.
Priyanka Mohite Awarded Tenzing Norgay National Adventure Award 2020 - 09 Nov 21
Highlights:
The Prestigious Tenzing Norgay National Adventure award 2020 was awarded to Priyanka Mohite, a 28-year-old climber from Maharashtra by the Ministry of Youth Affairs and Sports.
She was chosen for her excellent contribution to the field of land adventure.
She climbed Mt. Everest, Mt. Lhotse, and Mt. Makalu, the world's highest peaks.
She is the first Indian woman to summit Mt Annapurna, the world's tenth highest Himalayan peak.
Priyanka Chopra is one of seven recipients of the 2020 Tenzing Norgay National Award, which she will receive from President Ram Nath Kovind during the 2021 National Sports Award.
Tenzing Norgay National Award: A Fact File
The 'National Adventure Award' was established in 1994 and was later renamed the 'Tenzing Norgay National Award' in 2002.
Tenzing Norgay is credited as becoming the first person to reach the summit of Mount Everest.
It is the equivalent of the Arjuna Award in the sphere of adventure on land, sea, and air.
Srinagar joins UNESCO Creative Cities Network 2021 - 09 Nov 21
Highlights:
Srinagar city has joined the UNESCO's network of creative cities on November 8, 2021.
Prime Minister Narendra Modi hailed the inclusion of Srinagar as a fitting recognition for vibrant cultural ethos of this old city.
UNESCO has designated Srinagar as a creative city of craft and folk arts.
Detailed Analysis:
There are as many as 49 new cities worldwide have joined the UNESCO Creative Cities Network (UCCN). These cities were included in the list in recognition of their commitment of placing culture & creativity at the heart of their development as well as for sharing knowledge & good practices.
Indian cities like Chennai and Varanasi are included in UNESCO Cities of music.
Jaipur is included in UNESCO city of crafts and folk arts.
Mumbai is included in UNESCO city of film.
Hyderabad is included in UNESCO City of gastronomy.
With the inclusion of 49 new cities this year, total numbers of cities in this network stands at 295 from across 90 countries.
These cities have been included to the list as they invest in culture & creativity like crafts & folk art, film, design, literature, gastronomy, music and media arts, in order to advance sustainable urban development.
By joining UCCN, cities commit for sharing their best practices and developing partnerships among public sectors, private sectors and civil society for strengthening the creation, production and distribution of cultural activities, goods & services. Cities also pledge for developing hubs of creativity & innovation.
IRCTC starts Shri Ramayana Yatra Special Train - 10 Nov 21
Highlights:
The Indian Railway Catering and Tourism Corporation (IRCTC) has started first tour of Shri Ramayana Yatra Special train on November 7, 2021.
This train was launched in order to promote religious tourism and 'Dekho Apna Desh' initiative of the central government.
IRCTC commenced the first 17-day tour from Safdarjung Railway Station in New Delhi, with full occupancy.
Next package on the list is 13 nights/14 days Shri Ramayana Yatra Express Madurai. It will depart on November 16.
Detailed Analysis:
Shri Ramayana Yatra Express-Madurai will be operated to meet the requirement of the pilgrim tourist market of south India. It will be a budget-segment train comprising of sleeper class coaches.
Shri Ramayana Yatra Express-Madurai special train
This will be 13 nights / 14 days special train. It will depart on November 16, and complete its tour on November 29.
The train will cover the destinations including- "Hampi – Nasik – Chitrakut Dham – Varanasi – Gaya – Sitamarhi – Janakpur (Nepal) – Ayodhya – Nandigram – Prayagraj – Shringaverpur" in that order.
Travel cost for one person would be Rs 14,490.
Boarding Points are- Madurai, Dindigul, Thanjavur, Tiruchchirappalli, Chidambaram, Kumbakonam, Mayiladuthurai Jn, Villupuram Jn., Cuddalore Port, Davangere, Chennai Egmore, Katpadi Jn, Jolarpettai Jn, Yesvantpur, Arsikere Jn., Gadag and Hubballi Jn.
Shri Ramayana Yatra Train covers a religious journey.
It was launched in November 2021 to resume domestic tourism in India after improved covid-19 situation.
It covers prominent places related with Lord Ram's life.
It provides 12 nights/13-day and 16 nights/17 day packages.
Hill state Uttarakhand observed Statehood Day on November 9 - 10 Nov 21
Highlights:
Uttarakhand Foundation Day is being observed on November 9.
The day is celebrated annually to mark the formation of 27th state of India.
Uttarakhand was created in 2000 by joining some districts from the North-western part of Uttar Pradesh and some portion of the Himalayan Mountain range.
This state was earlier known as Uttaranchal.
It was renamed in 2007 to Uttarakhand.
Year 2021 marks the 21st Uttarakhand Foundation Day.
State of Uttarakhand is known as 'Land of Gods'.
It also has four most sacred and revered Hindu temples called as Char Dham of Uttarakhand namely Badrinath, Kedarnath, Gangotri and Yamunotri.
Uttarakhand is the amalgamation of culture, ethnicity and religion. It is one of the most visited tourist spots in India.
It is noted that in 2019, state government celebrated a week-long "Foundation Week" from November 3 to November 9.
Mentorship Programme for Young Innovators launched - 10 Nov 21
Highlights:
Union Minister Dr Jitendra Singh launched the first-ever Mentorship programme on November 8, 2021.
The mentorship programme was launched for Young Innovators for marking 75th Year of India's independence.
This mentorship programme will help in promoting scientific temper among masses, by strengthening scientific research & innovation efforts in India.
The programme is a pan India Scheme, which envisages Star College in every district supported by Department of Biotechnology (DBT).
DBT-Star College Mentorship Programme : A Fact File
This programme will help towards the concept of networking, outreach and hand holding.
It seeks to organize workshops, handhold at colleges particularly in rural areas, meetings per month and conduct outreach activities in government schools.
These activities will enable new colleges that have started their journey under the scheme to come up in line with the mandate of Star college scheme.
Star Status Colleges will help in incorporating the vision of DBT for strengthening UG Science Courses by mentoring new colleges through hand-holding and peer learning.
It will bring these colleges under the aegis of Star College Scheme.
Mentorship Programme of the Star Status Colleges under Star College Scheme is being organised in line with Prime Minister's vision that "roadmap for the next 25 years will be determined by scientific & technological innovations and scientific prowess" across all walks of life.
It is noted that, currently, 278 undergraduate colleges in India are being supported under the DBT Star College Scheme.
Ayushman Bharat-Digital Mission: Digital registration of all medical facilities starts - 11 Nov 21
Highlights:
The Union Health Ministry has launched digital registration of all medical facilities and all doctors under the Ayushman Bharat-Digital Mission in order to digitise health records.

Ayushman Bharat Digital Mission

Under this initiative, government hospitals have been asked to procure Hospital Information Management System software.
Ayushman Bharat Digital Mission: A fact file
Ayushman Bharat Digital Mission was launched by Prime Minister Narendra Modi on September 27, 2021.
Under this mission, every Indian will be provided a unique health ID which will also work as a health account, with which personal health records can be linked.
Mission will create interoperability within digital health ecosystem, on the lines of role played by the Unified Payments Interface in revolutionizing payments.
Citizens would be able to access healthcare facilities by a single click.
Features:
1.Health ID
Under this mission, health ID will be issued for every citizen, which will work as their health account.
Their health account will contain details of test, disease, doctors visit, medicines taken and diagnosis.
It will be provided free of cost and will be voluntary.
This card will help in conducting analysis of health data and lead to better planning, budgeting and implementation.
2. Healthcare Facilities & Professionals' Registry
This programme will create Healthcare Professionals' Registry (HPR) and Healthcare Facilities Registry (HFR), in order to allow easy electronic access to health infrastructure and medical professionals.
3. Ayushman Bharat Digital Mission Sandbox
Under the mission, Sandbox mission will be crated.
It will act as a framework for technology and product testing.
World Science Day For Peace and Development observed on November 10 - 11 Nov 21
Highlights:
Every year on November 10th, World Science Day for Peace and Development is commemorated.
This day is commemorated to emphasize the importance of science in society and the necessity to involve the general people in discussions about rising scientific challenges.
World Science Day for Peace and Development will be held for the 20th time in 2021
This year's commemoration will emphasize the need for "Building Climate-Ready Communities," as climate change has become a severe danger to the lives of billions of people and the planet.
The United Nations Educational, Scientific, and Cultural Organization (UNESCO) declared World Science Day in 2001, and it was honored for the first time in 2002.
Audrey Azoulay is the Director-General of UNESCO.
UNESCO was founded on November 4, 1946, and is headquartered in Paris, France.
Legal Services Day observed in India on November 9 - 11 Nov 21
Highlights:
The National Legal Services Authority (NALSA) celebrates Legal Services Day on November 9 annually in India.
The Day is celebrated to commemorate the enactment of Legal Services Authorities Act 1987 in India.
Detailed Analysis:
This day is significant for raising awareness among people regarding several provisions under the Legal Services Authorities Act.
It also raises awareness on rights of the litigants.
The Day keeps citizens informed and works for encouraging free proficient legal services for the people belonging to weaker section of the society.
It provides a perfect opportunity for raising issues and problems with the justice system of India.
On October 11, 1987, the Legal Services Authorities Act, 1987 was enacted and it came into force on November 9, 1995.
Accordingly, Legal Services Day was commenced by the Supreme Court of India in 1995 in order to assist and provide help & support to the weaker sections of the society as well as to commemorate the enactment of the Act.
The National Legal Services Day was established with a mandate for offering support and help to the weaker and poor groups including women, disabled persons, Scheduled Tribes, Scheduled Castes, victims of natural calamities and victims of human trafficking.
NALSA: A Fact File
NALSA was constituted in 1995 in accordance with the Legal Services Authorities Act 1987.
It undertook the activities like free legal aid and advice to the needy.
It disposes off the cases through mediation and amicable settlement.
NALSA was set up with the objective of minimizing the backlogs of courts in India and afford access to justice for the needy.
National Logistics Index 2021: Gujarat state stood No.1 - 12 Nov 21
Highlights:
The Ministry of Commerce and Industry recently released the Logistics Ease Across Different States 2021 Index in its third version.
Gujarat, Haryana, and Punjab were ranked first, second, and third in the ranking, respectively, for goods mobility and logistics chain efficiency.
This index assigns states a ranking based on their logistics infrastructure.
Gujarat, Haryana, and Punjab are the states with the best results (Top 3 slot respectively)
Tamil Nadu is ranked fourth, and Maharashtra is ranked fifth.
In comparison to the 2019 LEADS rating, Uttar Pradesh, Uttarakhand, and Jharkhand have seen considerable improvements.
These are the states that have improved the most.
Jammu and Kashmir emerged as the highest performers among Himalayan UTs.
Sikkim and Meghalaya came out on top in the North-Eastern States.
Within the "other United Territories" category, Delhi was ranked first.
In 2018, the LEADS (Logistic Ease Across Different States) index was introduced. It was created by the Ministry of Commerce and Industry.
The ranking assigns points to governments based on their logistical support for promoting goods commerce.
The rating is based on factors such as pricing competitiveness, infrastructure availability, and service availability.
Its goal is to urge states to develop policies that would help them strengthen their logistical infrastructure.
Public Service Broadcasting Day Observed On 12 November - 12 Nov 21
Highlights:
Every year on November 12th, Public Service Broadcasting Day is observed.
The day is observed to honor Mahatma Gandhi's first and only visit to the All India Radio studio in Delhi in 1947.
Mahatma Gandhi addressed the displaced people (a Pakistani refugee) who had temporarily moved to Kurukshetra, Haryana, after partition on November 12, 1947.
After Suhas Borker, Convenor, Jan Prasar, conceptualized the day, it was declared Public Service Broadcasting Day or (Jan Prasaran Diwas) in 2000.
Prasar Bharati has been entrusted with the task of public service broadcasting in order to strengthen democratic traditions and provide opportunities to people from all walks of life.
Because he couldn't visit the Partition refugees stationed at Kurukshetra in Haryana, Mahatma Gandhi chose to visit the All India Radio studio to deliver his message via radio.
Shramik Mitra Scheme Launched By Delhi Government - 12 Nov 21
Highlights:
Recently, the Delhi government introduced the 'Shramik Mitra' scheme for construction employees.
Under the programme, 800 'Shramik Mitras' will reach out to construction workers and educate them about government programmes.
The Delhi government has also enhanced the Dearness Allowance for unskilled and semi-skilled workers, resulting in a 1 % boost in their pay.
Shramik Mitras will tell construction workers who have been registered with the Construction Board at the ward level about government support programmes.
Shramik Mitra scheme: A Fact File
The Shramik Mitra plan is a Delhi government initiative that aims to ensure that all government schemes benefit construction workers in the city.
Approximately 800 Shramik Mitras would be hired by the government and trained to walk door-to-door of all construction employees in the national capital to inform them of various government programmes in the workers' interest.
These Shramik Mitras will serve as coordinators at the district, ward, and Vidhan Sabha levels.
Airport In Srinagar Classified As Major Airport - 13 Nov 21
Highlights:
Recently, the Ministry of Civil Aviation designated "Srinagar International Airport" as a "Major Airport."
By exercising the powers provided by Subsection I of Section 2 of the Airports Economic Regulatory Authority of India Act, 2008, the airport was designated as a major airport.
Amit Shah, the Union Home Minister, had earlier inaugurated international flight operations at Srinagar airport on October 23.
The first direct international flight connecting Srinagar, Sharjah, and the United Arab Emirates was launched (UAE).
The Airports Economic Regulatory Authority will set the tariff for aeronautical services at Srinagar Airport as a result of this decision (AERA).
AERA: A Fact File
As a statutory entity, AERA is a regulatory agency under the Government of India.
It sets tariffs, as well as other costs and fees, for major airports.
The Airports Economic Regulatory Authority of India Act (AERA) of 2008 formed it.
Tariffs and taxes charged to airports and passengers are regulated by this agency. It also keeps track of service quality.
Under section 13 of the Airports Economic Regulatory Authority of India Act, 2008, AERA has been tasked with determining tariffs for aeronautical services provided at major airports.
Tariffs at non-major airports are set by the Airports Authority of India (AAI).
The AAI is a department of the Ministry of Civil Aviation.
Chilean President Sebastian Pinera impeached - 13 Nov 21
Highlights:
President of Chile, Sebastian Pinera, was impeached on November 9, 2021 by the lower house of Chile's congress, due to allegations regarding Pandora Papers.
This impeachment has set a trial in the Chile's Senate on whether to remove him because of allegations that he favoured the sale of family property while being in office.
Trial received the bare minimum of 78 votes in favour in the 155-member Chamber of Deputies.
Sixty-seven legislators, including members of the opposition, have voted against the constitutional accusation.
Chilean President have been accused after publication of Pandora Papers, that revealed offshore financial dealings of prominent figures across the world including Sebastian Pinera.
Pandora Papers : A Fact File
Leaked documents revealed that one of his sons used offshore companies in British Virgin Islands to sale Dominga mining project, which is co-owned by his family.
When case was being investigated, Pinera denied his involved in managing the companies and his connection with Dominga.
President's office further noted that, Pinera's first term as president in between 2010-2014, hadn't started when the sale of Dominga mining project was agreed to.
Pinera's holdings are now managed in a blind trust.
However, the case is being investigated once again by national prosecutor's office.
It is noted that Chile is located in western South America ,occupies a long, narrow strip of land in between Andes and Pacific Ocean.
It is the southernmost country of the world, located near Antarctica.
India's first National Yogasana Sports Championships - 13 Nov 21
Highlights:
From November 11 to 13, 2021, the first Physical National Yogasana Championships in India will be held in Bhubaneswar, Odisha.
The National Yogasana Sports Federation (NYSF) has partnered with the state of Odisha to host the National Yogasana Sports Championships 2021-22.
Approximately 560 young Yogasana Sports players from 30 states will compete in the tournament.
The goal of the event is to promote yoga and build a global brand for it by portraying it as a competitive sport with high standards and benchmarks.
Udith Sheth, president of the National Yogasana Sports Foundation (NYSF), and Jaideep Aarya, general secretary of the NYSF, were in attendance, as were Prafulla Kumar Mishra of Umang Dawn and Sasmita Samanta of KIIT University.
The three-day competition, which is being held in collaboration with the Government of Odisha, is a first step toward including Yogasana into the coveted Olympic platform.
The event was created with the goal of building a global brand for Yogasana as a competitive sport and supporting India's aspiration of making Yogasana an Olympic sport.
India launched an electric vehicle awareness e-Amrit portal - 14 Nov 21
Highlights:
India launched an electric vehicle awareness web portal called "e-Amrit Portal" on November 10, 2021.
This portal was launched at the ongoing COP26 Summit in Glasgow, UK.
Launch of e-Amrit portal was attended by NITI Aayog Adviser Sudhendu Jyoti Sinha and UK High-Level Climate Action Champion Nigel Topping.
e-AMRIT Portal: A Fact File
e-AMRIT portal stands for "Accelerated e-Mobility Revolution for India's Transportation".
This web portal was developed by NITI Aayog in association with the UK government as part of India-UK Joint Roadmap 2030.
The e-AMRIT portal was launched with the aim of creating awareness regarding electric mobility in India.
It has been developed as a 'one-stop site' containing all the information regarding adoption of electric vehicles (EVs) in India.
The web portal can be accessed using different devices like PCs, mobile phones, screen readers and tablets.
Object:ives
The e-AMRIT portal aims to assist electric vehicle users or electric vehicle adopters to:
Switch to electric vehicles by offering insights on electric vehicle technologies, insurance options, types of electric vehicles and financing options.
Set up electric vehicle or associated enterprise by means of providing details on key initiatives of central and state governments.
Assess benefits of electric vehicles with designed tools for determining users' savings with electric vehicles as compared to petrol or diesel vehicles.
Get all information regarding Indian electric vehicle market and industry.
The e-AMRIT portal will accelerate initiatives of the government to raise awareness on electric vehicles. It will sensitize people on benefits of adopting electric vehicles. It act as an accelerator of change and influence millions of users.
National Education Day observed on November 11 - 14 Nov 21
Highlights:
National Education Day is celebrated on November 11, to mark the birth anniversary of Maulana Abul Kalam Azad.
This day is usually observed across schools by organising several functions and programs.
The day is celebrated since 2008.
National Education Day: A Fact File
Ministry of Human Resources Development had announced on September 11, 2008 to celebrate the National Education Day, commemorating the birthday of Maulana Abul Kalam Azad by recalling his contribution towards education in India.
Since then, November 11 is observed as National Education Day without any holiday.
This day is celebrated every year in schools by organising several interesting and informative seminars, essay-writing, rallies, symposia, etc.
On this day, students and teaches come together and talk about the significance of literacy and nation's commitment across all aspects of education.
The day is marked as a tribute to contributions of Maulana Abul Azad in education system of Independent India.
Maulana Abul Azad was an Indian independence activist, writer, Islamic theologian, and a senior leader of Indian National Congress (INC).
He became the First Minister of Education of Independent India and served from 1947 to 1958 in Pandit Jawaharlal Nehru's cabinet.
Climate Change Performance Index- India's stood 10th rank - 14 Nov 21
Highlights:
German-watch in collaboration with Climate Action Network (CAN) and New Climate Institute, published the "Climate Change Performance Index 2022" on November 10.
Climate Change Performance Index (CCPI): A Fact File
Report was released on the side-lines of COP26 to the United Nations Framework Convention on Climate Change (UNFCCC).
CCPI 2022 finds that, major emitting economies which announced their Net Zero emission release targets poorly in climate change performance over 2021.
Detailed Analysis:
In the index, India maintained its 10th rank.
The index evaluates 60 countries and European Union, which generate about 90 % of global greenhouse gas emissions.
It analyses countries in four categories comprising of 14 indicators:
Greenhouse gas emissions (40 % of total score),
Renewable energy (20 %),
Energy use (20%) and
Climate policy (20 %).
India continued to be among top-performing countries within G20.
As per report, while United States has been ranked at 55th position among 66 countries with very low rating, despite USA is improving since it re-entered global climate negotiation process after President Joe Biden came to power.
China has moved down four places as compared to 2020 ranking.
It is ranked at 37th
European Union is ranked at 22nd position, six places down as compared to 2020 ranking.
It has been given 'medium' rating.
UK is occupying 7th slot.
Denmark emerged as the topper in the list with 76.92% score.
Denmark is followed by Sweden and Norway.
Egypt to host COP27 Climate Summit in 2022 - 15 Nov 21
Highlights:
During COP26 conference in Glasgow, it was decided that Egypt will host COP27 United Nations Climate Change Conference in 2022.
Egypt will host the conference in Red Sea resort of Sharm El-Sheikh.
This decision was taken after Egypt's President Abdel Fattah al-Sisi showed in September Egypt's interest in hosting COP27 on behalf of the African continent.
Apart from that, the United Arab Emirates (UAE) was selected to host COP28 international climate conference in the year 2023.
UNFCCC
: A Fact File
United Nations Framework Convention on Climate Change (UNFCCC) was signed at the United Nations Conference on Environment & Development in 1992.
United Nations Conference on Environment & Development is also known as Rio Summit, Rio Conference or Earth Summit.
India is among few countries to have hosted the COP of all three Rio conventions on climate change, biodiversity and land.
UNFCCC was enforced on March 21, 1994.
Till date, it has been ratified by 197 countries.
UNFCCC is the parent treaty of the 2015 Paris Agreement as well as 1997 Kyoto Protocol.
UNFCCC secretariat is a United Nations entity that has been tasked with supporting global response to the threat of climate change.
It is headquartered in Bonn, Germany.
What is COP ?
COP is the apex decision-making authority of UNFCCC, meets every year.
The first COP meeting was held in March 1995 in Berlin, Germany. COP meets in Bonn, seat if the secretariat.
The office of the COP President rotates among five United Nations regional groups namely, Asia, Africa, Central & Eastern Europe, Latin America & the Caribbean, and Western Europe & Others.
President of COP is usually the environment minister of home country, who is elected by acclamation after opening of COP session.
'Janjatiya Gaurav Divas' observed on November 15 - 15 Nov 21
Highlights:
On November 10, 2021, Union Cabinet chaired by PM Narendra Modi approved declaration of November 15 as Janjatiya Gaurav Divas.
The day was declared as a part of year-long celebration of 75 years of India's independence, in a bid to commemorate brave tribal freedom fighters.
November 15 also marks the birth anniversary date of Birsa Munda who is considered as God by tribal communities across India.
Birsa Munda had made significant contributions in India's Independence by fighting against exploitative system of British colonial system.
He belonged to the Munda tribe and spearheaded an Indian tribal religious Millenarian movement in late 19th century across the tribal belt of present-day Bihar and Jharkhand.
The Janjatiya Gaurav Divas: A Fact File
The Janjatiya Gaurav Divas will be observed to commemorate tribal freedom fighters.
It will make the coming generations aware of sacrifices made by tribal freedom fighters during India's independence movement.
The day will be celebrated every year to recognize the efforts made by tribals in preserving cultural heritage and promoting Indian values of national pride & hospitality.
The Janjatiya Gaurav Divas will acknowledge the cultural heritage and glorious history of tribal communities.
To mark this day, Indian government will launch a week-long celebration to commemorate 75 years of history of tribal people.
It will start from November 15 and will conclude on November 22, 2021.
PM Narendra Modi launches two RBI initiatives for investors - 16 Nov 21
Highlights:
Prime Minister Narendra Modi launched two customer-centric initiatives of the Reserve Bank of India (RBI) for investors on November 12, 2021.
The two initiatives are- RBI Retail Direct Scheme and Reserve Bank - Integrated Ombudsman Scheme.
With the launch of these scheme, India has opened up Government bond market for retails investors.
RBI Retail Direct Scheme will act as a safe medium of investment for small investors in government securities.
Both the innovative customer-centric initiatives will help in increasing investment avenues and thus make accessing capital market easier & safer.
Under this scheme, retail investor will get access to the government securities market. It offers a new avenue for investing directly in securities issued by Centre and state governments.
Investors will be able to open and maintain government securities account online easily & free of cost, with the RBI.
RBI Integrated Ombudsman Scheme:
This scheme was launched to help in improving grievance redress mechanism to resolve customer complaints against regulated entities of RBI.
It will do away with the jurisdictional limitations and limited grounds for complaints.
This scheme based on the principle of 'One Nation-One Ombudsman' comprising of "one portal, one email, and one address" for customers to file their complaints.
PM Modi to inaugurate Kashi Corridor project - 16 Nov 21
Highlights:
Prime Minister Narendra Modi will be inaugurating Kashi Vishwanath Temple Corridor project in Varanasi on December 13, 2021.
The project will be inaugurated before the scheduled Uttar Pradesh Assembly polls and is significant in terms of cultural politics for the State.
For this project, around 400 families were asked to vacate the area.
Several encroachments surrounding the historic temple were also cleared to make way for this project.
Detailed Analysis:
This project encapsulates the vision of Ahalya Bai Holkar, the Holkar queen of Indore.
She created a series of temples and vistas that lead towards Ganga ghat.
Kashi Vishwanath Temple Corridor project connects Kashi Vishwanath temple with the ghats of Holy Ganga.
It comprises of a paved walkway of about 320 metres long and 20 metres wide.
It also has facilities for a museum, library, a Mumuksha Bhawan (salvation house) and a facilitation centre for pilgrims.
Cost of the project has been pegged at Rs 600 crore.
It was launched in March 2018.
Around Rs 300 crore was spent to purchase land and buildings around temple complex, as well as to resettle compensation alone.
Kashi Vishwanath Temple is among most famous Hindu temples located in Vishwanath Gali of Varanasi.
Main deity of the temple is known by names like Shri Vishwanath and Vishweshwara, which means 'Lord of the Universe'.
52nd International Film Festival of India (IFFI) to be from Nov. 20 -28 - 17 Nov 21
Highlights:
The 52nd International Film Festival of India (IFFI) will be held from November 20 to November 28, 2021 hosted in Goa.
Fifteen films including 'Land of Dreams, directed by Shoja Azari and Charlotte directed by Simon Franco' will vie for the top awards.
Golden Peacock Award:
The golden peacock award will be earmarked for best film at the IFFI.
It comprises of a cash prize of Rs 40 lakh. Award will be shared equally by producer and director of the best film.
Silver Peacock Award:
Silver Peacock award will be given to Best director.
It carries a cash prize of Rs.15 lakh.
It's jury comprises of renowned Iranian filmmaker Rakhshan Banietemad, Sri Lankan filmmaker Vimukthi Jayasundara, British film producer Stephen Woolley, Indian producer-director Nila Madhab Panda and Colombian filmmaker Ciro Guerra.
IFFI : A Fact File
It is one of the most significant film festivals of Asia, founded in 1952.
The festival is held annually with the aim of providing a common platform for cinemas across the world to project excellence of film art.
It contributes towards understanding & appreciation of film cultures of different nations with respect to their social and cultural ethos.
It promotes friendship and cooperation among people worldwide.
IFFI is conducted jointly by the state government of Goa and Directorate of Film Festivals, working under Ministry of Information and Broadcasting.
Celebration of First Audit Diwas on November 16 - 17 Nov 21
Highlights: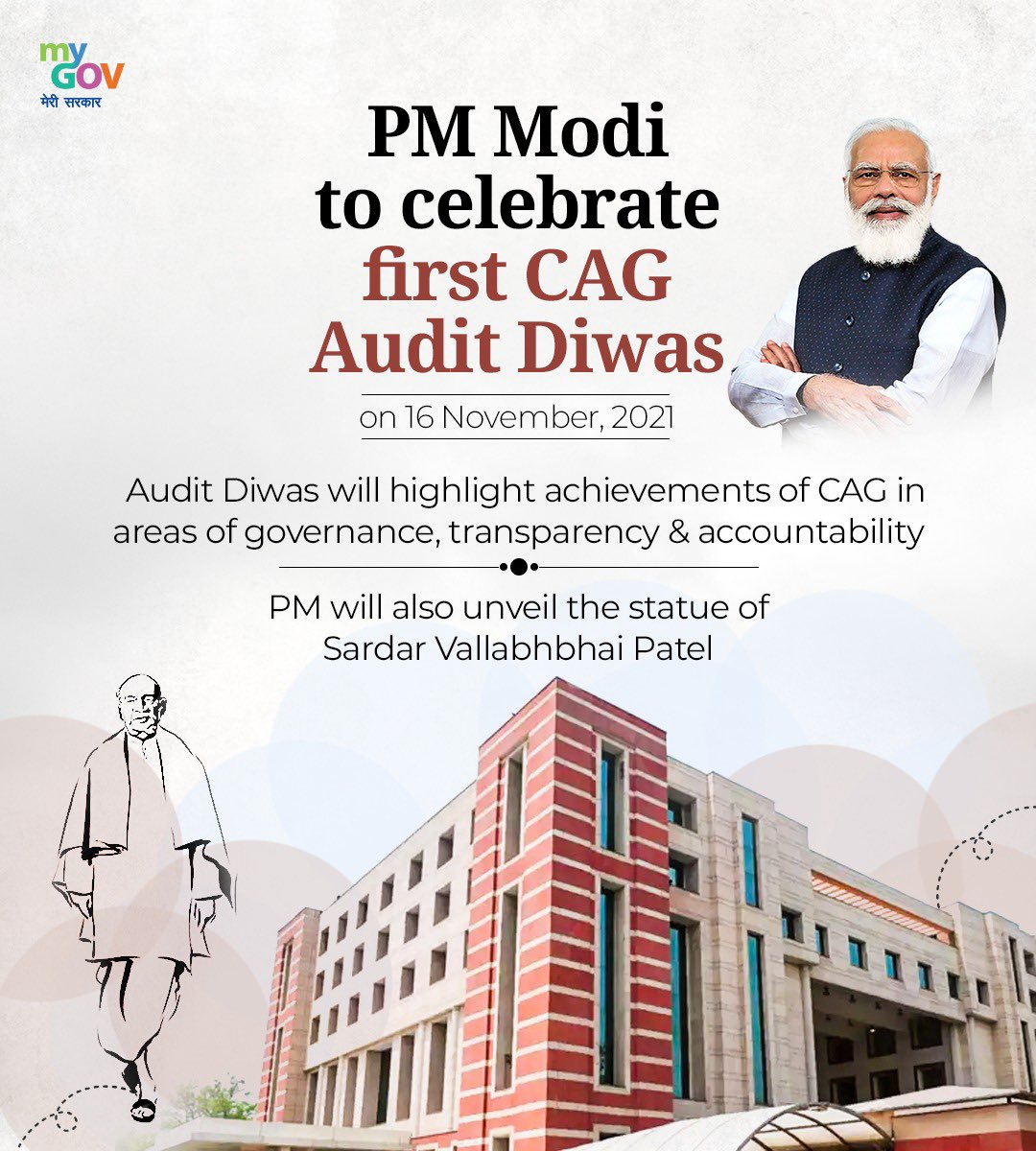 Prime Minister, Narendra Modi, is set to address the event of first Audit Diwas on November 16, 2021.
The event will be held at CAG office premises.
On the occasion, PM will also unveil the statue of Sardar Vallabhbhai Patel.
First edition of the Audit Diwas will be celebrated to mark the historic origins of the institution of CAG and the contribution made by it to the governance, transparency and accountability.
CAG: A Fact File
CAG is the Constitutional Authority in India.
It was established in accordance with Article 148 of the Constitution of India.
CAG is empowered to Audit all receipts and expenditure of the central as well as state governments.
The CAG is the statutory auditor of Government-owned corporations.
It conducts supplementary audit of government companies, where Government is having an equity share of 51%.
Reports of the CAG are laid before Parliament or Legislatures.
They are being taken up for discussion by Public Accounts Committees (PACs) and Committees on Public Undertakings (COPUs).
Currently, former Lt. Governor of UT of Jammu Kashmir G. C. Murmu is serving as CAG of India.
He is the 14th CAG of India since August 2020.
India launched 41st Scientific Expedition to Antarctica - 17 Nov 21
Highlights:
India successfully launched the 41st Scientific Expedition to Antarctica, recently.
The first batch of Indian contingent arrived at the southern white continent.
First batch comprises of 23 scientists and support staff.
They reached the Indian Antarctic station Maitri recently.
Four more batches will land in Antarctica by air using DROMLAN facility.
They will land by mid-January 2021, onboard chartered ice-class vessel MV Vasiliy Golovnin.
Major Programs of 41st expedition
41st expedition comprises of two major programs:
The first program is "geological exploration of Amery ice shelf" at Bharati station.
This programme will help in exploring the link between India and Antarctica in past.
The second program is "reconnaissance surveys and preparatory work" to drill 500 meters of ice core near Maitri.
This programme will help in improving the understanding of Antarctic climate, sea-ice, greenhouse gases from a single climate, and westerly winds.
Apart from accomplishing scientific programs, 41st expedition will replenish annual supplies of fuel, food as well as provisions & spares for operation & maintenance of life support systems set up at Maitri & Bharti.
The ice core drilling will be done in association with British Antarctic Survey and Norwegian Polar Institute.
Indian Antarctic programs started in 1981.
It has completed 40 scientific expeditions.
The programs helped in building three permanent research base stations in Antarctica:
Dakshin Gangotri in 1983,
Maitri in 1988 and Bharati in 2012.
The entire Indian Antarctic program is managed by "National Centre for Polar and Ocean Research (NCPOR), Goa".
NCPOR is an autonomous institute working under Ministry of Earth Sciences.
World Philosophy Day 2021 Observed On 18 November - 18 Nov 21
Highlights:
Every year on the third Thursday in November, World Philosophy Day is commemorated.
The date for 2021 is November 18th.
World Philosophy Day 2021 kicks off a conversation on how humans interact with their social, cultural, geographical, and political environments, with the overarching goal of better understanding the role of philosophy in modern societies and the issues they face, including pandemics.
UNESCO established World Philosophy Day in 2002.
The UNESCO General Conference in 2005 declared that World Philosophy Day will be observed on the third Thursday of November every year.
Philosophy is the study of the nature of reality and existence, as well as what it is possible to know and what constitutes good and bad behaviour.
It is derived from the Greek term phlosopha, which means 'love of wisdom.'
It is one of the most significant branches of human thought since it aims to discover the purpose of existence.
Naturopathy Day Celebrated On 18 November - 18 Nov 21
Highlights:
The 4th Naturopathy Day is commemorated, on November 18th.
Every year on November 18th, India celebrates National Naturopathy Day to promote healthy mental and physical health via a drug-free system of treatment known as Naturopathy.
On November 18, 2018, the Ministry of AYUSH (Ayurveda, Yoga and Naturopathy, Unani, Siddha and Homeopathy) of the Government of India announced the day.
Mahatma Gandhi became the lifelong Chairman of the All India Nature Cure Foundation Trust on this day in 1945, signing the deed with the goal of making the advantages of Nature Cure available to all classes of people.
Sarbananda Sonowal is the Minister of AYUSH, while Munjapara Mahendrabhai is the Minister of State (IC) for the Ministry of AYUSH.
National Epilepsy Day Observed On 17 November - 18 Nov 21
Highlights:
The 17th of November is National Epilepsy Awareness Day.
The Epilepsy Foundation in India observes National Epilepsy Day on November 17 each year to raise awareness about epilepsy.
Epilepsy is a persistent brain illness marked by recurrent 'fits' or seizures.' 'National Epilepsy Awareness Month' is held in November.
The Epilepsy Foundation of India launched the Nationwide Epilepsy Day as a national initiative to lower the prevalence of epilepsy in India.
Dr Nirmal Surya founded the Epilepsy Foundation of India in Mumbai, Maharashtra, in 2009.
The Epilepsy Foundation of India is a non-profit charitable organisation dedicated to assisting persons with seizures in leading more satisfying lives and changing society's perceptions about epilepsy.
What is Epilepsy ?
Epilepsy is a varied set of persistent neurological disarray and causes sudden seizures and fits.
The seizures of epilepsy result due to the unusual and extreme activities in the brain and the seizures also result from hypersynchronous neuronal brain activity.
According to the World Health Organisation(WHO), more than 50 million people across the globe have epilepsy, which makes it one of the most common neurological diseases.
Russia tested Direct-Ascent Anti-Satellite (DA-ASAT) Test - 19 Nov 21
Highlights:
Russia tested a direct-ascent anti-satellite (DA-ASAT) missile on 15 November.
The DA-ASAT missile collided with the Russian spacecraft COSMOS 1408, resulting in a debris field in low-Earth orbit.
So far, this test has produced around 1500 pieces of trackable orbital debris.
In subsequent experiments, it will create hundreds of thousands of particles of smaller orbital debris.
According to USSPACECOM's first estimate, the debris will linger in orbit for years.
As a result, the crew of the International Space Station is in grave danger.
The trajectory of debris is constantly monitored by USSPACECOM.
It will ensure that all space-faring nations have access to the information they need to protect their on-orbit operations.
The PL-19 Nudol, Russia's first direct ascent anti-satellite missile, was successfully test-fired on November 18, 2015.
It is noted that , in May 2016, Russia tested the Nudol for the second time.
The "Plesetsk cosmodrome test launch site," located 805 kilometres north of Moscow, launched Nudol.
World COPD Day 2021 Observed On 17 November - 19 Nov 21
Highlights:
Every year on the Third Wednesday of November, World COPD Day is commemorated.
It is commemorated to increase awareness of chronic obstructive lung disease (COPD) and to enhance COPD treatment throughout the world.
The date for World COPD Day 2021 is November 17th, 2021. Healthy Lungs - Never More Important is the topic for 2021.
The Global Initiative for Chronic Obstructive Lung Disease (GOLD) is organising the day in partnership with health care professionals and COPD patient groups all across the world.
In 2002, the inaugural World COPD Day was organised.
What is COPD ?
Chronic obstructive pulmonary disease (COPD) is a lung illness that causes difficulty breathing by blocking airflow.
COPD is a lung condition that causes airflow to be obstructed, making it difficult to carry out regular tasks.
The airways constrict as a result of a variety of factors. According to the WHO, portions of the lung may be destroyed, mucus may obstruct the airways, and the airway lining may be inflamed and swollen (World Health Organization).
First Grass Conservatory Launched In India
Pochampally in Telangana Selected As Best Tourism Villages - 19 Nov 21
Highlights:
Pochampally in Telangana has been chosen as one of the top tourism villages in the state.
The United Nations World Tourism Organization named Pochampally hamlet in Telangana's Yadadri Bhuvanagiri district as one of the top tourism villages.
Pochampally is recognised for its famous hand-woven Ikat saris (UNWTO).
The prize will be presented on December 2 at the UNWTO's 24th General Assembly in Madrid.
The UNWTO pilot initiative's finest tourism villages aims to recognise villages that are great examples of rural destinations and demonstrate best practises in accordance with its evaluation criteria.
It also intends to help villages increase their rural tourism potential by providing training and access to improvement possibilities.
Pochampally is roughly 50 kilometres from Hyderabad and is known as India's silk metropolis because of the gorgeous sarees woven in a distinctive manner known as Ikat.
Pochampally Ikat was designated as a Geographical Indicator (GI) in 2004 and is also known as Bhoodan Pochampally in honour of Acharya Vinobha Bhave's founding of the Bhoodan movement from this hamlet on April 18, 1951.
World Toilet Day Commemorated On 19 November - 20 Nov 21
Highlights:
On November 19, 2021, World Toilet Day will be recognised as an official United Nations international day all over the world.
The day is commemorated to encourage people to take action to address the worldwide sanitation challenge.
The purpose of the day is to "Ensure availability and sustainable management of water and sanitation for everyone," and it is observed to inform, engage, and inspire people to take action toward accomplishing the goal of improving sanitation.
The topic for World Toilet Day 2021 is "valuing toilets."
The inaugural World Toilet Summit was held on the same day as World Toilet Day, which was founded by the World Toilet Organization in 2001.
Twelve years later, in 2013, the UN General Assembly designated World Toilet Day an official UN day.
World Children's Day Celebrated On 20 November - 20 Nov 21
Highlights:
The 20th of November is World Children's Day around the world to promote international unity, awareness among children.
Every year on November 20th, the Universal/World Children's Day is observed to promote international unity, awareness among children worldwide, and improvements in children's welfare.
The UN General Assembly enacted the Declaration of the Rights of the Child on November 20, 1959, which is a significant occasion.
The Convention on the Rights of the Child will celebrate its 32nd anniversary in 2021.
Theme : A Brighter Future for All Children
World Children's Day, also known as Universal Children's Day, was first observed on November 20th, 1954.
The Declaration of the Rights of the Child was approved by the United Nations General Assembly in 1959.
The UN General Assembly approved the Convention on the Rights of the Child on this day in 1989.
Delhi has committed to cleaning up the Yamuna by 2025 - 20 Nov 21
Highlights:
Arvind Kejriwal, the Delhi Chief Minister, recently committed to entirely clean the Yamuna River by 2025.
To clean the sacred river, he proposed a six-point action plan.
He also pledged that by 2025, the Yamuna River will be safe to drink and bathe in.
The Delhi government has also begun de-silting and repair of the sewage system.
Six Point Action Plan:
Sewage Treatment- The government plans to build additional sewage treatment facilities.
Existing wastewater treatment plants will have their capacity boosted.
This initiative will raise sewage treatment capacity from 600 million gallons per day to 750-800 million gallons per day.
The Yamuna is being treated in-situ with waste water from four main drains: Najafgarh, Badshahpur, Supplementary, and Ghazipur.
The technology of old treatment facilities will be replaced and modernised.
Industries that dump rubbish into the Yamuna will be closed down.
Currently, waste from "jhuggi jhopri clusters" travels through rainwater and into the Yamuna.
These drains will now be linked to the sewer system.
RBI has approved NSDL e-Governance as an Account Aggregator - 21 Nov 21
Highlights:
As an account aggregator, the Reserve Bank of India (RBI) has certified the "NSDL e-Governance Infrastructure."
The NSDL e-Governance Infrastructure is a provider of IT-enabled services.
It received RBI's in-principle clearance to start an account aggregator business through NSDL e-Governance Account Aggregator Ltd, a fully owned subsidiary.
Account Aggregator (AA) model The Account Aggregator (AA) model, with its unique architecture for consent-based data exchange, has the potential to alter the way financial services are delivered.
It's a financial data-sharing system that has the potential to transform investing and lending.
The Account Aggregator is a key component in enabling data democracy.
It's a first-of-its-kind permission system designed to give people control over their data.
PM Modi To Launch 1st Global Innovation Summit Of Pharmaceuticals Sector - 21 Nov 21
Highlights:
Prime Minister Narendra Modi will open the "First Global Innovation Summit of the Pharmaceuticals Sector."
The virtual kickoff of the global innovation summit will take place at 4 p.m.
It is a two-day Summit with twelve sessions.
Around 40 national and international speakers will talk at the summit on a variety of topics, including the regulatory environment, industry-academic collaboration, innovation finance, and innovation infrastructure.
Leading representatives of the local and worldwide pharmaceutical industries, as well as investors, government officials, and researchers from institutions such as the Massachusetts Institute of Technology, IIM Ahmedabad, and the John Hopkins Institute, will attend the Summit.
This summit is a one-of-a-kind event that will bring together major Indian and international players from government, academia, business, investors, and researchers to debate and strategize priorities for fostering an innovation ecosystem in India's pharmaceuticals industry.
The conference will also focus on the prospects in India's pharmaceutical business, which has enormous development potential.
Andhra Leads IPF Smart Policing Index 2021 - 21 Nov 21
Highlights:
Andhra Pradesh is ranked first on the IPF Smart Policing Index for 2021.
The Indian Police Foundation's 'IPF Smart Policing' Index 2021 ranked Andhra Pradesh Police first out of 29 states and union territories (IPF).
With an overall score of 8.11 out of ten, Andhra Pradesh has taken first place.
Telangana Police is in second place with 8.10 points, while Assam Police is in third place with an aggregate rating of 7.89.
Uttar Pradesh is in 28th place with a score of 5.81, while Bihar is in last place with a score of 5.74.
IPF Smart Policing Survey 2021: A Fact File
Prime Minister Narendra Modi envisioned, articulated, and introduced the SMART Policing concept at the Conference of DGPs of State and Central Police Organizations in Guwahati in 2014.
It envisioned systemic changes to transform the Indian police force into one that was strict and sensitive, modern and mobile, alert and accountable, reliable and responsive, techno-savvy and trained.
The IPF poll was designed to gather information on people' impressions of the SMART policing initiative's impact, as well as public perceptions of policing quality in India and public faith in the police.
World Television Day Observed On 21 November - 22 Nov 21
Highlights:
Every year on November 21, World Television Day is observed.
The day serves as a reminder of the importance of visual media in moulding public opinion and affecting global politics.
For many years, television has played an important part in people's lives.
It is a media that transmits moving pictures in two or three dimensions as well as sound and provides entertainment, education, news, politics, and gossip, among other things.
The United Nations hosted the inaugural World Television Forum on November 21 and 22, 1996.
This day provides a forum for the media to debate the role of television in conveying information and how it fits into a changing world. It is by far the most popular way to watch videos.
The organisation arranged a summit of all major media leaders on the 21st and 22nd of November 1996, under the auspices of the United Nations, to debate the rising importance of television in today's changing world and to determine how they may improve their mutual collaboration.
World Fisheries Day Observed On 21 November - 22 Nov 21
Highlights:
Every year on November 21, fishing communities all across the world commemorate World Fisheries Day.
It emphasises the necessity of maintaining healthy ocean ecosystems and ensuring global fisheries stocks are sustainable.
The fifth World Fisheries Day will be held in 2021. On November 21, 2015, the inaugural World Fisheries Day was observed.
On the same day, the International Fishermen's Organization staged its grand opening in New Delhi.
Around 1997, a forum for the World Fisheries Consortium was founded, and it was dubbed WFF (World Fisheries Forum).
Several users from all across the world actively participated in this forum. A worldwide consensus agreement, signed by around 18 nations, indicated the standardisation of processes.
WFF's 1997 recollections are carved in history since it ushered in a new type of working pattern for the fishing community.
Best Marine State Award Won By Andhra Pradesh - 23 Nov 21
Highlights:
Andhra Pradesh wins the award for Best Marine State in the country by the Department of Fisheries.
The Department of Fisheries has rated Andhra Pradesh the greatest marine state in the country.
On the occasion of World Fisheries Day on November 21, 2021, the Department of Fisheries, under the Ministry of Fisheries, Animal Husbandry, and Dairying, recognised top-performing States for 2021-22 to recognise their achievements in the area and commitment to the sector's growth.
Parshottam Rupala, Union Minister for Fisheries, Animal Husbandry, and Dairy, presented the prizes in Bhubaneswar.
States at the top for Marine state is Andhra Pradesh; Inland State is Telangana and Hilly and North-East states were awarded to Tripura
Balasore in Odisha is the best marine district; Madhya Pradesh's Balaghat is the best inland district and Bongaigaon in Assam is the best hilly and NE district.
President will honour Swachh Survekshan Awards-2021 - 23 Nov 21
Highlights:
In 'Swachh Survekshan 2021,' President Ram Nath Kovind will honour 342 cities that have received a star rating for being garbage-free and clean.
To honour cities, the Union Ministry of Housing and Urban Affairs (MOHUA) hosts "Swachh Amrit Mahotsav."
The event will take place in the national capital's Vigyan Bhawan.
Under the 'Safaimitra Suraksha Challenge,' the Swachh Amrit Mahotsav will also honour sanitation workers by recognising top-performing cities.
Swachh Survekshan is a government initiative that aims to improve sanitation in India. By assessing roughly 4320 cities, the year 2021 has become the world's largest cleanliness survey.
In 2016, it conducted a study of 73 large cities. Despite on-the-ground hurdles caused by the COVID-19 epidemic, the 2021 edition was completed in just 28 days.
The government introduced the Safaimitra Suraksha Challenge to encourage mechanised cleaning of septic tanks and sewers while also preventing "hazardous cleaning" in which a human penetrates them.
States And UTs Performances:
According to the government, six states and six UTs have improved their ground level performance between 5% to 25%.
A total of 1100 new cities have begun to separate their rubbish at the source.
Around 1800 municipal governments in the United States have granted welfare benefits to sanitation workers.
Non-biodegradable plastic bags are prohibited from being sold, used, or stored in more than 1500 localities. It has been applied by 3000 city governments thus far.
The citizen response in all of the North Eastern states improved significantly.
Indian Navy commissioned INS Visakhapatnam - 23 Nov 21
Highlights:
Indian Navy formally commissioned INS Visakhapatnam at the Naval Dockyard in Mumbai.
On the occasion, Prime Minister Narendra Modi noted that India's efforts towards defence modernisation is on full swing and it is a proud day to become Atma Nirbhar in defence sector.
INS Visakhapatnam : A Fact File
According to Defence Ministry, INS Visakhapatnam is 163m in length and 17m in breadth. It has a displacement of 7,400 tonnes.
The ship can be regarded as one of the significant potent warships to have been constructed in India.
It is propelled by four powerful Gas Turbines, in a Combined Gas and Gas (COGAG) configuration.
The warship is capable of achieving speeds of 30 knots.
It has been named after the historic coast called Visakhapatnam, in Andhra Pradesh.
Enhanced Stealth Features:
INS Visakhapatnam has enhanced stealth features which results into a reduced Radar Cross Section (RCS).
It is achieved through efficient shaping of hull, plated masts, use of radar transparent materials on exposed decks and full beam superstructure design.
Weapons and sensors:
The ship comprises of sophisticated state-of-the-art weapons as well as sensors like Surface-to-Surface missile and Surface-to-Air missiles.
It is equipped with a modern surveillance radar, that provides target data to gunnery weapon systems in ship. Indigenously developed rocket launchers, ASW helicopters and torpedo launchers provide Anti-submarine warfare capabilities to it.
INS is also fitted to fight under Nuclear, Biological and Chemical (NBC) warfare conditions.
Major indigenised equipment or system
The ship is equipped with major indigenised equipment or systems such as Combat Management System, Torpedo Tube Launcher, Rocket Launcher, Automated Power Management System, Integrated Platform Management System, Helo Traversing system, Foldable Hangar Doors, Bow mounted SONAR and Close-in Weapon System.
Balasore district of Odisha Received Best Marine District Award - 24 Nov 21
Highlights:
Balasore district in Odisha got India's "Best Marine District" title on November 21, 2021, in honour of World Fisheries Day.
The ministry of fisheries, animal husbandry, and dairying hosted the award event.
Union minister for fisheries, animal husbandry, and dairying Parshottam Rupala presented the award to Odisha government director of fisheries Smruti Ranjan Pradhan.
Odisha is India's fourth-largest fish-producing state.
It produced 8.73 lakh metric tonnes of fish in 2020-21, contributing 2.33 % to the state GDP.
In the previous five years, the fishing industry in Odisha has risen at an average annual rate of 13%.
In Odisha, there is a high need for fish. Around 94 % of the state's 45 million residents eat fish.
Apart from that, fishing goods from Odisha are in high demand in worldwide markets.
India's goal for the fisheries industry, which includes marine goods, is to generate Rs 1 lakh crore in income. By 2024-25, India wants to produce 22 million metric tonnes of fish.
Every year on November 21, World Fisheries Day honours the efforts of fishermen, fish producers, and everyone involved in the fisheries trade across the world.
India wins seven medals at 2021 Asian Archery Championships - 24 Nov 21
Highlights:
At the Asian Archery Championships in 2021, India won seven medals in Dhaka, Bangladesh.
Dhaka, Bangladesh hosted the Asian Archery Championships in 2021.
Indian archers took home seven medals at the competition, placing them second in the medal table.
One gold, four silver, and two bronze medals were awarded. South Korea took home 15 medals to take first place in the medal standings, while Bangladesh finished third with three medals.
List of Indian winners:
Gold medal -
Silver medal -
Men's team recurve event: Pravin Jadhav, Kapil, and Parth Salunkhe
Women's team recurve event: Ankita Bhakat, Ridhi and Madhu Vedwan
Men's individual compound event: Abhishek Verma
Mixed Team compound event: Rishabh Yadav and Jyothi Surekha Vennam
Bronze medal-
Mixed team recurve event: Ankita Bhakat, Kapil
Men's team compound event: Aman Saini, Abhishek Verma and Rishabh Yadav
UK to host G7 foreign, development ministers' summit - 24 Nov 21
Highlights:
The United Kingdom (UK) is going to host a summit of Foreign and Development Ministers from G7 in December 2021, in the city of Liverpool.
Foreign Secretary of UK, Liz Truss will welcome counterparts from leading economies like US, Germany, France, Canada, Italy, EU and Japan.
The summit will be held from December 10 to 12, 2021.
It will be second in-person gathering of G7 Foreign Ministers in 2021.
South-East Asian countries will also attend upcoming G7 Foreign Ministers' meetings for the first time.
These meetings highlight the growing Indo-Pacific tilt of UK.
ASEAN Foreign Ministers from Malaysia, Indonesia and Thailand will be attending the G7 Summit.
The G7 Foreign Ministers meeting will be held at the Museum of Liverpool, located on famous waterfront of the city.
City of Liverpool: A Fact File
City of Liverpool is located in Merseyside, England.
It is a metropolitan borough and the tenth largest English district by population.
The metropolitan area of Liverpool is the fifth largest in UK.
The city is located on the eastern part of Mersey Estuary.
The city is noted for its culture, transport links & architecture and is closely associated with music.
Metropolitan borough is type of local government district and a subdivision of a metropolitan county in England.
It was established in 1974 by the Local Government Act 1972.
In English Law, metropolitan boroughs are defined as metropolitan districts.
BSE and NSE launched World Investor Week 2021 - 25 Nov 21
Highlights:
Stock exchanges, BSE and NSE launched the celebrations of globally popular event "World Investor Week 2021".
Under the event, they will conduct several educational activities.
Central Depository Services (India) Ltd (CDSL) is also celebrating the World Investor Week (WIW).
During November 21-28, 2021 under the aegis of SEBI and International Organisation of Securities Commissions (IOSCO).
World Investor Week (WIW): A Fact File
WIW is a week-long global celebration, which is promoted by the IOSCO.
It is observed to raise awareness on the importance of investor education and protection across India.
During the week-long celebrations, market infrastructure institutions (MIIs) like stock exchanges, clearing corporations and depositories will conducts educational activities.
National Stock Exchange (NSE) took part in 'Ring the Bell for Financial Literacy' with the objective of raising awareness on importance of investor education and protection.
The week also highlight several initiatives of securities regulators across these two critical areas.
NSE rang the closing bell, as part of this initiative, to mark the beginning of WIW 2021.
During this week, NSE will conduct more than 600 events such as physical and digital mediums.
During the event, focused awareness sessions will also be conducted, along with trading members for new investors in securities markets in past two years.
Event will also be amplified on digital platform of NSE, for investor education.
All India Survey on Domestic Workers kick-started - 26 Nov 21
Highlights:
Union Labour Minister, Bhupender Yadav, started India's first survey of domestic workers on November 22, 2021.
The survey of domestic workers is latest among a group of five national jobs enumeration campaigns, launched with the aim of discerning data on vast informal workforce in India.
India's informal workforce will feed a forthcoming national employment policy in the third-largest economy in Asia.
Domestic workers are considered to be a million strong.
However, there is little official information available on their actual numbers & parameters, such as their work conditions and average pay.
Lack of these data leaves them out from any formal policy that governs India's informal workers.
Thus, this survey was launched to fill this gap and offer "time-series data on domestic workers.
This survey will be conducted periodically to provide crucial data for national employment policy, which is being planned by government.
All India Survey on Domestic Workers:
All India Survey on Domestic Workers will provide a headcount of domestic workers and their employers based on nationwide household survey.
Under it, specific features of domestic work like living conditions, their employment relationships, will be looked at extensively.
India's first survey of domestic workers is part of five other annual surveys conducted by Labour Bureau.
All-India Survey of Migrant Workers.
All-India Survey of Domestic Workers.
All-India Survey of Employment Generated by Professionals.
All-India Survey of Employment Generated in the Transport Sector.
All-India Quarterly Establishment-based Employment Survey (AQEES).
It is noted that AQEES, Labour Bureau had released the results of first All-India Quarterly Establishment-based Employment Survey (AQEES), in September 2021, for April-June 2021 quarter.
Indian Railways has launched 'Bharat Gaurav' scheme - 26 Nov 21
Highlights:
Indian Railways has launched a new scheme called "Bharat Gaurav Scheme" on November 23, 2021.
Under this scheme, private tour operators can take trains on lease from railways and run these trains on any circuit of their choice.
Private operators would also get the freedom to decide routes, fares and quality of services on the trains.
For this purpose, railways have earmarked 3033 ICF coaches, roughly equal to 150 trains.
Anyone including from trusts, societies, consortia and even state governments can apply to lease these trains and run them on special theme-based tourism circuits.
Theme-based Tourism:
Theme-based tourism circuit means, trains like:
Guru Kripa which goes to all places linked to Guru Nanak
Ramayan-themed train which goes to all places related to Lord Ram.
Any interested party can apply online to lease the train, by registering with a one-time fee of Rs 1 lakh.
This arrangement can be made for two to 10 years.
Operators will also require to give a security deposit of Rs 1 crore per rake.
Size of each train will be 14-20 coaches, including two guard vans.
Railways will just look after haulage charges and Right to Use fee.
Parameters:
Parameters of the Bharat Gaurav scheme are that, Operator will have to offer sightseeing, local transport (taxi etc), food, onboard entertainment, hotels at stopover places etc.
The railways will set up special units across the zones, in order to facilitate and handhold the operators.
Railways has also allowed branding and advertisement inside and on the exterior of such trains.
Pratham NGO awarded Indira Gandhi Peace Prize 2021 - 26 Nov 21
Highlights:
Pratham NGO has been awarded with the Indira Gandhi Peace Prize 2021 for its work on expanding the scope for education in India.
The Indira Gandhi Prize for Peace, Disarmament & Development for 2021 was awarded to Pratham NGO for its pioneering work for more than a quarter century in ensuring that every child has access to quality education, innovative use of digital technology to deliver education ,regular evaluation of quality of education,and timely response in making children to learn amid Covid-19 restrictions.
About Pratham NGO:
Pratham NGO is an innovative learning organization, which was created to improve education quality in India.
The NGO was co-founded by Farida Lambay and Madhav Chavan.
It is one of the largest non-governmental organisations in India.
It focuses on high-quality, low-cost, and replicable interventions for addressing the gaps in education system.
It was established in 1994 in Mumbai to give pre-school education for children in slums.
Indira Gandhi Peace Prize: A Fact File
The Indira Gandhi Peace Prize is an annual prestigious award.
It has been named after former prime minister Indira Gandhi.
It is conferred every year since 1968 by Indira Gandhi Memorial Trust.
It comprises of a monetary award of Rs.25 lakh and a citation.
It recognizes creative efforts by individuals or organizations which are working for:
Creating new international economic order
Promoting international peace & development
Ensuring that scientific discoveries are used for enlarging the scope of freedom and for larger good of humanity.
World Investor Week 2021 launched by BSE and NSE - 27 Nov 21
Highlights:
Stock exchanges, BSE and NSE launched the celebrations of globally popular event "World Investor Week 2021".
Under the event, they will conduct several educational activities.
Central Depository Services (India) Ltd (CDSL) is also celebrating the World Investor Week (WIW). during November 21-28, 2021 under the aegis of SEBI and International Organisation of Securities Commissions (IOSCO).
World Investor Week (WIW): A Fact File
WIW is a week-long global celebration, which is promoted by the IOSCO.
It is observed to raise awareness on the importance of investor education and protection across India.
During the week-long celebrations, market infrastructure institutions (MIIs) like stock exchanges, clearing corporations and depositories will conducts educational activities.
National Stock Exchange (NSE) took part in 'Ring the Bell for Financial Literacy' with the objective of raising awareness on importance of investor education and protection.
The week also highlight several initiatives of securities regulators across these two critical areas.
NSE rang the closing bell, as part of this initiative, to mark the beginning of WIW 2021.
During this week, NSE will conduct more than 600 events such as physical and digital mediums.
During the event, focused awareness sessions will also be conducted, along with trading members for new investors in securities markets in past two years.
Event will also be amplified on digital platform of NSE, for investor education.
Events announced by BSE's Investor Protection Fund (IPF)
"National Milk Day" observed on November 26 - 27 Nov 21
Highlights:
The National Milk Day is celebrated on November 26, every year.
The National Milk Day is observed with the objective of providing information regarding the need and importance of milk in human's life.
To celebrate the National Milk Day, College of Dairy Science & Technology (CODST) and Guru Angad Dev Veterinary & Animal Sciences University (GADVASU) is organizing "Milk Adulteration Testing Camp" on 25 and 26 November 2021.
The day is celebrated to honor Dr. Verghese Kurien, who is the father of India's White Revolution.
It marks his birth anniversary.
All the dairy majors of India along with Indian Dairy Association resolved in 2014, to observe National Milk Day on November 26, to pay tribute to Dr. Verghese Kurien.
November 26 is the birthday of Dr Kurien.
Dr Verghese Kurien: A Fact File
Dr Verghese Kurien is known as 'Father of the White Revolution' in India and was a social entrepreneur.
He led Operation Flood, which is the largest agricultural dairy development programme worldwide.
This operation made India the largest milk producer of the world, from a milk-deficient country.
This movement doubled the milk available per person as well as increased milk output four-time, in some 30 years.
Dr Kurien played a significant role in formation of Amul.
5th World Congress on Disaster Management (WCDM) inaugurated - 28 Nov 21
Highlights:
Defence Minister, Rajnath Singh, virtually inaugurated the "5th World Congress on Disaster Management (WCDM)" on November 24, 2021.
WCDM conference is being organised at IIT Delhi, in between November 24-27, 2021.
It is being organised under the theme of "Technology, Finance and Capacity for Building Resilience to Disasters in the context of COVID-19".
Detailed Analysis:
The conference is an initiative of Disaster Management Initiatives & Convergence Society (DMICS).
India's vision for the Indian Ocean, summarized by the concept of SAGAR (Security and Growth for All in the Region).
SAGAR comprises of both distinct and inter-related elements like:
Deepening economic & security cooperation among littoral states
Enhancing capacities to safeguard land & maritime territories
Working towards sustainable regional development & Blue Economy
Promoting collective action for dealing with non-traditional threats such as piracy, terrorism and natural disasters.
He also appreciated the Armed Forces for being first responders in region for Humanitarian Aid and Disaster Relief (HADR) operations.
He highlighted, India's unique position in the IOR along with the capability of Armed forces, enables it to contribute significantly during HADR situations.
India's assistance in IOR
One of the notable HADR missions in IOR that India undertook in recent years was "Operation Rahat" in Yemen in 2015.
In this operation, India rescued and evacuated over 6700 persons, comprising of more than 1940 citizens from 40 other countries.
India also provided assistance during 2016 cyclone in Sri Lanka, 2019 earthquake in Indonesia, flooding & landslides in Madagascar in January 2020 and Cyclone Idai in Mozambique.
India also responded promptly during Oil Spill in Mauritius in August 2020 as well as Oil tanker fire in September 2020 in Sri Lanka.
E-portal of accreditation scheme being inaugurated - 28 Nov 21
Highlights:
Minister of Coal and Mine, Pralhad Joshi, inaugurated the "E-portal of accreditation scheme" for minerals exploration on November 23, 2021.
Minister also handed over 52 mines block to the government representatives from 15 state.
This scheme was launched at the 5th National Conclave on Mines and Minerals at New Delhi.
On the occasion, minister facilitated 149 awards for last 3 years to the coal and mine sector.
These sectors have been awarded for their 5-star rating performance and sustainable mining.
He also handed over 52 mines blocks to 15 states including two north-eastern states.
As many as 52 blocks have been approved by Geological Survey of India for minerals mining.
Significance of the E-portal of accreditation scheme
Launch of the portal help in simplifying the application process for mining blocks exploration.
It will also help in ensuring transparency during the auction of coals.
The portal will bring all the stakeholders together on this digital platform, in order to work for the country.
GSI: A Fact File
GSI is a scientific agency of India, which was founded in 1851.
It is an agency under Ministry of Mines organisation.
It conducts geological surveys and studies of India.
GSI works as the prime provider of basic earth science information to general public, industry and government besides official participant in coal, steel, cement, metals, power industries and international geoscientific forums.
India-ADB sign USD 300 million loan to improve healthcare access in urban areas - 28 Nov 21
Highlights:
Indian government and Asian Development Bank (ADB) signed a loan agreement of 300 million U.S. dollars in order to improve primary health care in urban areas.
This agreement was signed by Rajat Kumar Mishra, who is a senior official of the department of economic affairs and Takeo Konishi who is country director of ADB in India.
The loan agreement will help in strengthening and improving access to comprehensive primary health care across urban areas in 13 states.
It will benefit more than 256 million urban dwellers including 51 million from slum areas.
This loan amount will be used for the program in order to strengthen pandemic preparedness and comprehensive primary health care in the urban areas.
It also complements the government's efforts of bridging health care gaps by strengthening operations, institutional capacity and management of urban health & wellness centers at municipal, state and central levels.
This program will be implemented across urban areas in 13 states including Assam, Andhra Pradesh, and Chhattisgarh.
It is noted that ADB is a regional development bank, established on December 19, 1966, headquartered in Manila, Philippines.
Indian Navy to commission indigenously built Scorpene-class submarine INS Vela - 29 Nov 21
Highlights:
The Indian Navy is set to commission INS Vela, on November 25, 2021, which is the fourth stealth Scorpene class submarine under Project 75.
Induction of INS Vela will boost its combat capability.
Project 75 comprises of construction of six submarines of Scorpene design.
Out of six, three submarines namely Karanj, Kalvari, Khanderi, have already been commissioned.
What is NS Vela ?
INS Vela has been built by Mumbai-based Mazagon Dock Shipbuilders Ltd in association with M/s Naval Group of France.
Earlier version of INS Vela was commissioned on August 31, 1973, rendering its yeoman service to the nation for 37 eventful years.
It was finally decommissioned on June 25, 2010.
INS Vela is a potent man of war. It is capable of offensive operations which span across entire spectrum of maritime warfare.
Induction of Vela consolidates position of Indian Navy as a builder's Navy significantly.
It will add sharpness and strength to the combat capability of Indian Navy.
Features:
The submarine is equipped with C303 anti torpedo countermeasure system.
It can carry up to 18 torpedoes or 30 mines in place of torpedoes or Exocet anti-ship missiles.
It is a diesel-electric powered attack submarine.
It is 67.5 metres in length and 12.3 metres in height while its beam measures 6.2 metres.
Vela can reach a top speed of 20 knots when submerged while its surface top speed is up to11 knots.
It comprises of four MTU 12V 396 SE84 diesel engines along with 360 battery cells for power.
It also has a silent Permanently Magnetised Propulsion Motor.
It is noted that the Project 75 was conceptualised during IK Gujral government for acquisition of 25 submarines.
India & France signed a $ 3.75 billion contract to build six Scorpene class submarines in 2005.
NBFID to start operations in India - 29 Nov 21
Highlights:
The National Bank for Financing Infrastructure and Development (NBFID) is set to start its lending operations with 190-200 big infrastructure projects in roads, railways, and energy sector.
This announcement was made by newly appointed Chairman of NBFID, K V Kamath.
Central government had announced the appointment of K V Kamath as the chairperson of the newly set up NBFID.
NBFID was set up with the aim of catalysing investment in fund-starved infrastructure sector in India.
Under the National Infrastructure Pipeline (NIP), there are 193 projects above Rs. 1,000 crore each.
NIP with an ambition of USD 1.5 trillion covers key sectors like roads, metro, railways, and energy. It also includes some social projects like irrigation projects.
NAFID: A Fact File
NBFID was set up as a corporate body, with an authorised share capital of one lakh crore rupees. It was set up with following objectives:
To directly or indirectly lend, attract investment or invest for infrastructure projects that are located entirely or partly in India.
To facilitate the development of market for loans, bonds, and derivatives for infrastructure financing.
Functions:
To extend loans and advances for infrastructure projects.
To take over or refinance such existing loans.
To attract investment from private sector investors as well as institutional investors for infrastructure projects.
To organise and facilitate foreign participation in infrastructure projects.
To facilitate negotiations with several government authorities for dispute resolution with respect to infrastructure financing.
To provide consultancy services in infrastructure financing.
Vivek Johri appointed CBIC chairman - 30 Nov 21
Highlights:
Senior bureaucrat Vivek Johri was appointed as the chairman of Central Board of Indirect Taxes and Customs (CBIC) on November 28, 2021.
Vivek Johri is a 1985-batch Indian Revenue Service (Customs and Indirect Taxes) officer.
He is currently working as the member in the CBIC.
His appointment was approved by the Appointments Committee of the Cabinet.
He was appointed as tenure of former chairman M Ajit Kumar ends in the month of November 2021.
CBIC: A Fact File
CBIC is the nodal national agency to administer GST, Customs, Central Excise, Service Tax & Narcotics in India.
The Customs & Central Excise department was established by the British Governor General of India in 1855, for administering customs laws and for collecting import duties or land revenue.
CBIC is one of the oldest government departments in India.
CBIC is staffed by ministerial staff who are selected through Staff Selection Commission (SSC) exams and IRS officers through Civil Services Examination.
They start their careers as Assistant Commissioners or Directors in the field. After 20-25 years, they rise to the post of Chief Commissioners.
CBIC is headed by a chairperson and comprises of six members.
Union Govt. launched WISER program - 30 Nov 21
Highlights:
Women's Involvement in Science & Engineering Research (WISER) program was launched on November 26, 2021.
This is a first-of-its-kind programme, launched to promote women in the field of research and development by lateral entry.
It was launched by Indo-German Science & Technology Centre (IGSTC) to encourage women researchers in R&D projects.
WISER programme will enable gender equality as well as participation of women in Science & Technology through IGSTC's program.
This programme was launched in addition to the ongoing flagship 2+2 program of the IGSTC.
This program of IGSTC is a joint initiative of Department of Science & Technology (DST), India and Federal Ministry of Education & Research (BMBF) of Germany.
Features:
This programme will support women scientists who are holding regular or long-term research positions in academia or research institutes or industry.
Women can involvement in this program through lateral entry.
There is no requirement of break-in-career or any age limit.
This programme will enable easy participation.
IGSTC will support the awardees with a maximum amount of Rs. 39 Lakh from the Indian side and 48000 Euro from German side. WISER program will offer 20 awards per year.
Second Global Chemicals & Petrochemicals Manufacturing Hub inaugurated - 30 Nov 21
Highlights:
2nd edition of the summit on Global Chemicals & Petrochemicals Manufacturing Hub (GCPMH) was inaugurated on November 25, 2021.
Organizer:
The summit is being organised by the Department of Chemicals & Petrochemicals, Ministry of Chemicals & Fertilizers in association with the Federation of Indian Chambers of Commerce and Industry (FICCI), in hybrid format.
Summit on "India: GCPMH 2021" is one of the significant events in the Chemical and Petrochemical Industry.
The summit highlights the potential of Indian Chemicals and Petrochemicals Sector to the world.
Second edition of the GCPMH will provide a grand overview of the chemical & petrochemical sector of the Indian economy, which is surging rapidly.
It will act as a platform for investors & other stakeholders to interact & make alliances.
It will also promote and highlight segment-wise investment opportunities in respective investment regions. Thus, it will provide huge potential for trade & investment, in a mutually beneficial way.
Partner states:
Andhra Pradesh, Odisha, Gujarat, Rajasthan and Tamil Nadu are participating as Partner States in the event.
Federation of Indian Chambers of Commerce & Industry (FICCI)
It is noted that FICCI was established in 1927,a non-governmental trade association and advocacy group in India.
Its headquarter in is New Delhi and has set up offices across 12 states in India and 8 countries worldwide.