Monthly Current Affairs for all banking PO,Clerk,IBPS PO,Railway,SSC,IAS,OAS Exams
More Visit www.isbtonline.com
National Science Day observed on 28 February - 01 Mar 21
Highlights:
National Science Day is celebrated all over India on 28th February.
On this day, Sir CV Raman had announced the discovery of the Raman Effect for which he was awarded the Nobel Prize in 1930.
The government of India designated 28 February as National Science Day (NSD) in 1986.
The theme for this year's National Science Day is 'Future of STI: Impact on Education Skills and Work'.
The National Science Day 2021 aims to motivate the students to gain hands-on experience in the field of science.
Dr CV Raman was a renowned scientist who had a bachelors' and masters' in Physics from the Presidency College in Madras.
He took part in numerous science competitions along with the government job. Afterwards, he received a scholarship from the Indian government.
Fino Payments Bank upgraded to scheduled commercial bank status - 01 Mar 21
Highlights:
Fino Payments Bank is now a scheduled commercial bank and will explore new growth opportunities.
The Reserve Bank of India has announced through a notification issued dated February 22that Fino Payments Bank has been included in the Second Schedule to the Reserve Bank of India Act, 1934.
The scheduled commercial bank status allows Fino Payments Bank to enhance its banking position in the treasury and participation in LAF (Liquidity Facility) window, as per the RBI.
It also helps the bank strengthen its business proposition on liabilities generation.
It provides strategic impetus for Fino Payments Bank to enhance its scope on balance sheet management and explore additional avenues for business.
As a scheduled commercial bank, Fino Payments Bank will be better positioned to explore and manage government businesses, it said, adding that mandates to pensions, provident funds, and various welfare schemes under the direct benefit transfer (DBT) will help enhance its foot print in the financial inclusion space.
Reserve Bank of India has notified that it has included Fino Payments Bank in the Second Schedule of the Reserve Bank of India Act, 1934.
All banks which are included in the Second Schedule to the Reserve Bank of India Act, 1934 are Scheduled Banks.
These banks comprise Scheduled Commercial Banks and Scheduled Co-operative Banks.
Scheduled Commercial Banks in India are categorised into five different groups according to their ownership and/or nature of the operation.
Chairman of Fino Payments Bank: Prof Mahendra Kumar Chouhan.
Fino Payments Bank established on 13 July 2006.
Headquarters of Fino Payments Bank located at Mumbai, Maharashtra.
Rare Disease Day observed on February 28, 2021 - 01 Mar 21
Highlights:
Rare Disease Day is observed every year on the last day of February.

This year in 2021 it falls on February 28, 2021.

The day is observed to raise awareness for rare diseases and improve access to treatment and medical representation for individuals with rare diseases and their families.
Details Analysis:
Rare Disease Day was first launched by

European Organisation for Rare Diseases (EURORDIS) and its Council of National Alliances in 2008.

Rare Disease Day is an annual awareness day dedicated to elevating public understanding of rare diseases and calling attention to the special challenges that "rare" persons encounter in their daily lives.

It takes place every year on the last day of February (February 28 or February 29 in a leap year) - the rarest date on the calendar - to underscore the nature of rare diseases and the particular challenges that patients face in their daily lives.

As a vulnerable and neglected population, the 300 million people living with a rare disease around the world and their families are disproportionally affected by stigma, discrimination and social marginalization, within their social environment as well as society at large.

There are over 6.000 rare diseases that are chronic, progressive, degenerative, disabling and frequently life threatening.

Among them is

B

-thalassaemia, still considered a rare disease in certain regions of the world such as Europe, despite its being one of the most common autosomal recessive disorders in the world.

Due to the rarity of each individual disease and scattered populations, expertise and information is scarce.

In health and support systems designed for common diseases people living with a rare disease face inequities in accessing diagnosis, care and treatments.

It is noted that EURORDIS founded:in1997.

Its headquarters located at Paris, France.
Dr Harsh Vardhan inaugurates Global Bio India 2021 - 01 Mar 21
Highlights:
The Union Minister for Science & Technology, Earth Sciences and Health & Family Welfare Dr Harsh Vardhan inaugurated the second edition of Global Bio-India-2021 in New Delhi through virtual mode.
The three-day event will be held from March 01 to 03, 2021, on a digital platform.
The purpose of the event is to showcase the strength and opportunities of the biotechnology sector of India at the national as well as international level.
The Government of India has a target of building a USD 150 billion bio-economy by 2025.
The theme of Global Bio-India-2021: "Transforming lives" with the tag line "Biosciences to Bio-economy".
The event is co-organised by the Department of Biotechnology under the Ministry of Science & Technology along with its Public Sector Undertaking, and Biotechnology Industry Research Assistance Council (BIRAC) in partnership with industry association Confederation of Indian Industry (CII), Association of Biotechnology Led Enterprises (ABLE) and Invest India.
Vinesh Phogat wins gold in Ukraine wrestling event - 01 Mar 21
Highlights:
India's star wrestler Vinesh Phogat defeated 2017 world champion V Kaladzinskay of Belarus to win the gold medal at the Outstanding Ukrainian Wrestlers and Coaches Memorial tournament.
The XXIV Outstanding Ukrainian Wrestlers and Coaches Memorial tournament, held in Kiev, Ukraine.
Haryana's Bhiwani-based Vinesh won in the 53kg bout with a 10-8 lead.
She is the only Indian woman wrestler to have qualified for the Tokyo Olympics Games in the 53 kg category.
UN body recommends Bangladesh graduation from LDC - 02 Mar 21
Highlights:
The United Nations Committee for Development Policy (CDP) has recommended the graduation of Bangladesh from the category of Least Developed Country (LDC).
Details Analysis:
Bangladesh has fulfilled the eligibility criteria in terms of per capita income, human assets and economic and environmental vulnerability.
This is the second consecutive time since 2018 that the CDP has made the recommendation for Bangladesh for graduation from the LDC category.
Myanmar and Lao PDR also met the criteria for the 2nd time.
The decision was taken during the triennial review meeting of the CDP held between 22-26 February.
The announcement was made by the Chief of the CDP subgroup on LDCs Taffere Tesfachew.
The CDP decides on the LDC status of a country based on three criteria- per capita income, a human assets index and an economic vulnerability index.
A country must achieve at least two of the three criteria at two consecutive triennial reviews to be considered for graduation.
It has met for the second time all the three eligibility criteria for graduating from the LDC category to the category of developing nations.
The proposal will be sent to the United Nations Economic and Social Council (ECOSOC) for endorsement in June to be finally approved by the UN General Assembly (UNGA) in September this year.
Bangladesh will get time up to 2026 to prepare for the transition to the status of a developing country. Usually countries are given three years for transition but this year due to the Corona pandemic, Bangladesh has been given five years for the process.
Graduation from LDC has double edged impact on countries. On the one hand certain preferential provisions in export, provision of subsidy to agriculture and infant industries and access to climate finance are likely to cease after transition from LDC.
On the other hand, enhanced confidence of international financial bodies, improved credit rating and higher FDI are expected to benefit Bangladesh after the transition period is completed.
Zero Discrimination Day observed on 01 March - 02 Mar 21
Highlights:
Zero Discrimination Day is an annual day celebrated on 1 March each year by the United Nations and other international organisations.
Zero Discrimination Day was launched by UNAIDS director Michel Sidibe on World Aids Day in December 2013.
It was first observed on March 1, 2014.
Zero Discrimination Day is significant to organizations such as UNAIDS that work in combating discrimination against people living with HIV/AIDS.
The Day is celebrated to promote and celebrate everyone's right, regardless of age, gender, sexuality, nationality, ethnicity, skin colour, etc.
Zero Discrimination Day aims to raise the voice for the right to live life with dignity, despite one's choices, beliefs, profession, education, disability or even illness.
The Theme of Zero Discrimination Day 2021: "End Inequalities".
UNAIDS was founded on 26 July 1994.
United Nations Programme on HIV/AIDS (UNAIDS) headquarters located at Geneva, Switzerland.
Golden Globes 2021: 'Nomadland,' 'Borat Subsequent Moviefilm' win top awards - 02 Mar 21
Highlights:
The biggest winners of the 78th Golden Globes were "Nomadland" and "Borat Subsequent Moviefilm."

The two films earned awards for best picture; "Nomadland" for the drama category and "Borat Subsequent Moviefilm" for the comedy or musical division.

Among notable achievements of the night, Chloe Zhao, the director behind "Nomadland," became the first woman to win the best director award since 1984 when Barbara Streisand secured an award for "Yentl."

Despite nominations for Black actors and filmmakers being sparse, winners were not in short supply.

John Boyega, Daniel Kaluuya, Andra Day and the late Chadwick Boseman were all honored for their work during Sunday's ceremony.

Additionally, Jon Batiste secured a best score win alongside Trent Reznor and Atticus Ross. "Soul" took home the award for best animated film, earning co-directors Kemp Powers and Pete Docter trophies.

For the television awards "Schitt's Creek," "Queen's Gambit" and "The Crown" dominated across acting and best series categories.

The Golden Globe Awards 2021 was held to recognise excellence in film, both American and international, and American television.

American TV series "The Crown" won the most awards for the ceremony with four awards.
Late American actor Chadwick Boseman won the Golden Globe award for Best Actor in Drama category, posthumously, for his portrayal of Levee Green in Ma Rainey's Black Bottom.
Ghana becomes the world's first nation to receive COVAX vaccines - 02 Mar 21
Highlights:
Ghana has become the first country in the world to receive vaccines acquired through the United Nations-backed COVAX initiative with a delivery of 600,000 doses of the AstraZeneca vaccine made by the Serum Institute of India.
Ghana is among 92 low-and middle-income countries that are receiving vaccines for free through COVAX. Another 90 countries and eight territories have agreed to pay if they choose to receive vaccines through COVAX.
The vaccines, delivered by UNICEF, arrived at Accra's international airport and are part of the first wave of Covid-19 vaccines being sent by COVAX, an international cooperative program formed to make sure low- and middle-income countries have fair access to COVID-19 vaccines.
COVAX is led by the United Nation's World Health Organization; Gavi, a vaccine group; and the Coalition for Epidemic Preparedness Innovations, or CEPI.
Current President of Ghana- Nana Akufo-Addo.
Russia launches first Arctic-monitoring Satellite 'Arktika-M' to track climate changes - 02 Mar 21
Highlights:
The Russian space corporation Roscosmos successfully launched its first satellite to monitor the Arctic's climate and environment.
Details Analysis:
The satellite called "Arktika-M", was launched on February 28, 2021, onboard Soyuz-2.1b carrier rocket, from the Baikonur Cosmodrome in Kazakhstan.
This satellite will help to collect information to solve operational meteorology and hydrology problems, and monitoring the climate and environment in the Arctic region.
The creation of a satellite system in highly elliptical orbits is necessary for information collection to solve operational meteorology and hydrology problems, and monitoring the climate and environment in the Arctic region.
The Arktika-M will provide round-the-clock continuous monitoring of the northern territory of Russia and the seas of the Arctic Ocean, Roscosmos.
The satellite will be able to transmit overview images of the Earth's northern polar region and the adjacent areas at least every 15-30 minutes.
Mumbai City FC win ISL League Football Winners Shield - 03 Mar 21
Highlights:
Mumbai City FC has scripted a 2-0 triumph over ATK Mohun Bagan (ATKMB) at the GMC Stadium in Goa to bag the ISL League Winners Shield.
A victory over ATK Mohun Bagan was all that they needed to secure their first League Winners Shield and a place in the AFC Champions League.
Mumbai and ATKMB finished level on 40 points, but the former claimed first place with a better head-to-head record.
Mumbai City FC became the second-ever Indian club to qualify to the group stages of the AFC Champions League.
Odisha to Host Indian Womens League Football - 03 Mar 21
Highlights: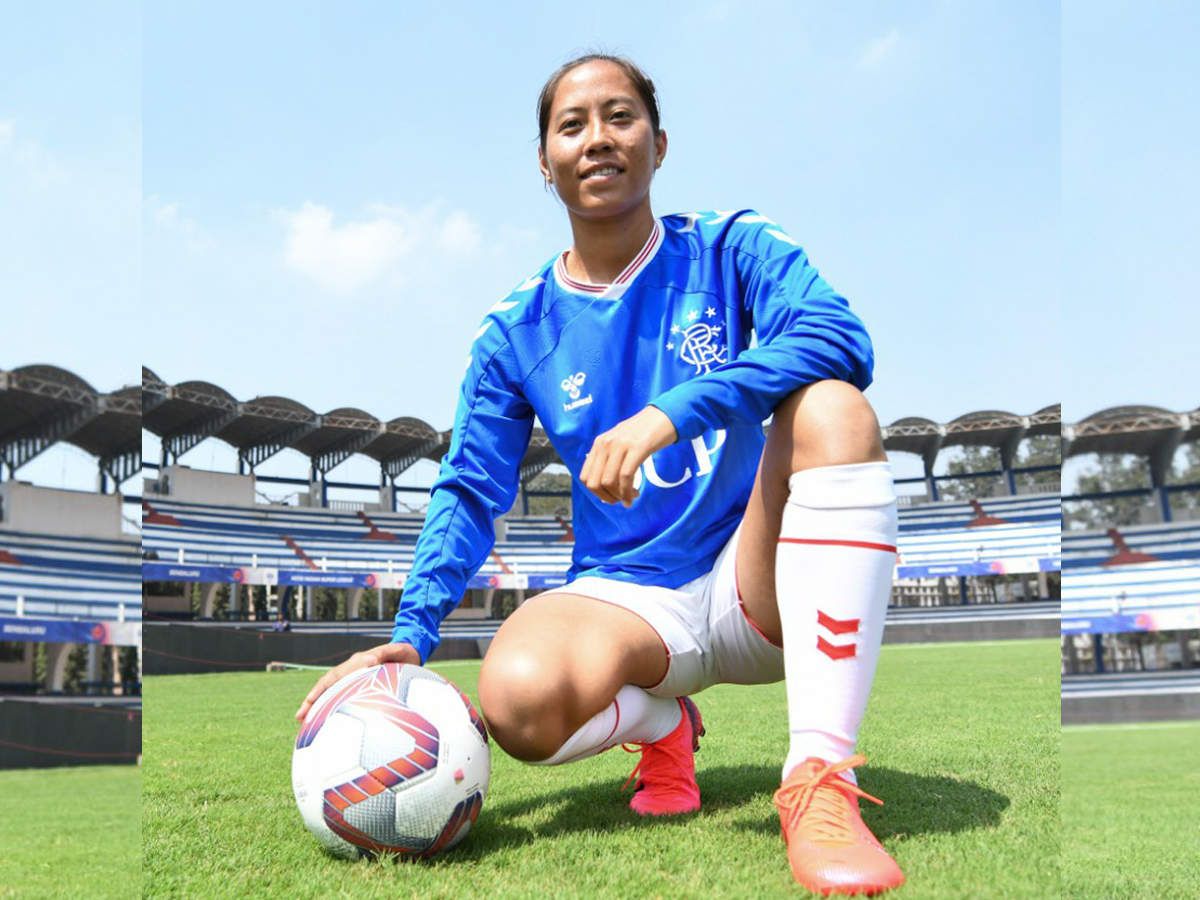 According to the All India Football Federation,Odisha will host the Indian Women's League (IWL). However, the date will be announced at a later stage.
The game starts from the I-League qualifiers. Followed by the Indian Super League (ISL) and I League. The two leagues, ISL and I-League, are currently in competition..
The Indian senior team will gather in Goa on December 1, 2021 for a two-month training camp.
They will also play three games in Turkey against Russia, Serbia and Ukraine.
Indian Women's League is the top women's professional football league organized in India. The first meeting of the league was held in Cuttack in October 2016.
It is organized by the All India Football Federation (AIFF).
The game provides a platform for many budding football players to showcase their talents. It also provides them with opportunities to pursue a career in football.
AIFF: A Fact File
The All India Football Federation (AIFF) is the governing body that manages the Indian Football Association.
It is part of the South Asian Football Federation.
It was established in 1937.
AIFF is also a founding member of the Asian Football Federation, which is the supervisor of Asian football.
The governing body sanctions and manages all competitive football matches and leagues nationwide, such as the Indian Super League, Super Cup and I League.
It also manages local football matches with the state government.
It also manages the Indian national football team, women's football team and several youth national teams.
Sugamya Bharat App Launched by ministry of Social justice and Empowerment - 03 Mar 21
Highlights: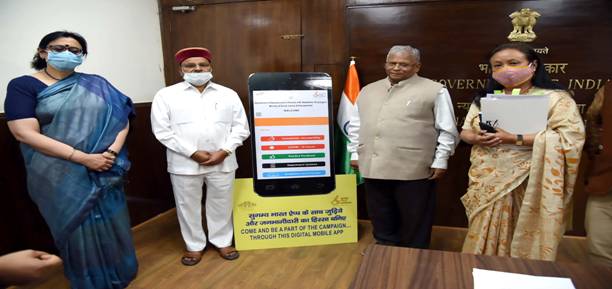 The Union Minister for Social justice and Empowerment, Shri Thaawarchand Gehlot will launch the "Sugamya Bharat App" in virtual mode on March 2, 2021.
The Minister will also release a handbook called "Access-The Photo Digest".
What is Sugamya Bharat APP ?
It is a Crowd sourcing Mobile Application is a means for sensitising and enhancing accessibility in the 3 pillars of the Accessible India Campaign i.e. built environment, transportation sector and ICT ecosystem in India.
The app provides five main features, 4 of which are directly related to enhancing accessibility, while the fifth is a special feature meant only for Divyangjan for COVID related issues.
The accessibility related features are:the registration of complaints of inaccessibility across the 3 broad pillars of the Sugamya Bharat Abhiyaan; positive feedbackof examples and best practices worth emulating being shared by people as jan-bhagidhari; Departmental updates; and guidelines and circulars related to accessibility.
In order to take accessibility to the public domain by involving the people, the Prime Minister envisioned a Mobile Application wherein the issues related to accessibility being faced by Divyangjan and others can be crowd sourced through Jan-Bhagidhari.
This crowd sourcing will serve two-fold purpose of generating sensitisation and awareness about the need for accessibility and also bring in a perceptible change in accessible features being provided in built-up spaces, the transportation sector and other services.
Implementation of accessibility related activities across the country would help towards the vision of creating an universally accessible and inclusive India under the Accessible India Campaign.
The Sugamya Bharat App is a simple to use Mobile App with an easy registration process, requiring only 3 mandatory fields, namely, Name, Mobile number and Email-id.
Registered users can raise issues related to accessibility being faced.
The App has been provided with several user-friendly features like easy drop-down menus, videos in Hindi and English, along with sign language interpretation have been added demonstrating the process of registration and uploading complaints with photographs.
The App is made accessible for ease of use for persons with disabilities also with features such as font size adjustment, color contrasting option, text to speech, and having an integrated screen reader in Hindi and English.
It is available in 10 regional languages, namely, Hindi, English, Marathi, Tamil, Odiya, Kannada, Telugu, Gujarati, Punjabi, and Malayalam.
The App also has provision of easy photo uploads with geo tagging option of the premise where accessibility intervention is required.
The App has provision for providing notifications to the users at the time of registration, regular status updates as well as at the time of resolution and closure of the complaint.
The handbook entitled "Access - The Photo Digest" is a collection of photographs from across different States and UTs.
This Book is envisaged as a tool and guide to sensitise stakeholders about 10 basic features of accessibility and related good-bad practices in easy to understand pictorial form.
The electronic version of this handbook will also be available on the App and the website of the Department.
The Sugamya Bharat APP is envisaged not only as a tool to help improve accessibility of the public infrastructure and services across India but also to act as a nudge campaign to sensitise people about the importance of Sugamyata in all walks of life.
This Mobile App is an endeavour and a step towards achieving accessibility as mandated in Sections 40-46 of the RPwD Act, 2016.
Israel officially receives first-ever UAE ambassador - 03 Mar 21
Highlights:
Israel's president has formally received the first-ever ambassador from the United Arab Emirates, following last year's historic agreement between the countries to normalise ties.
UAE envoy Mohamed Al Khaja, who arrived in Israel, delivered his credentials to Israeli President Reuven Rivlin at a ceremony in Jerusalem.
The UAE was the first country to agree to establish full diplomatic relations with the Jewish state under the Abraham Accords, a pact brokered by former US President Donald Trump.
The agreement made the UAE only the third majority Arab country to form official ties with Israel, following Egypt in 1979 and Jordan in 1994.
Bahrain, Morocco and Sudan have subsequently joined the Abraham Accords.
The agreements broke with the longstanding Arab consensus that there should be no normalisation with Israel until it reaches a comprehensive peace deal with the Palestinians.
Israel opened its UAE embassy in January, with veteran diplomat Eitan Naeh heading the Abu Dhabi mission.
Israel and the UAE have already signed treaties on direct flights and visa-free travel, along with accords on investment protection, science and technology.
World Wildlife Day observed globally on 3rd March - 03 Mar 21
Highlights:
World Wildlife Day is observed globally on the 3rd of March every year to celebrate the beautiful and varied forms of wild fauna and flora present on earth.
World Wildlife Day also raise awareness about the benefits that the conservation of wild fauna and flora provides to people living on earth.
The day also reminds us of the need to fight against wildlife crime and human-induced reduction of species causing various wide-ranging economic, environmental and social impacts.
World Wildlife Day will be celebrated in 2021 under the theme "Forests and Livelihoods: Sustaining People and Planet", as a way to highlight the central role of forests, forest species and ecosystems services in sustaining the livelihoods of hundreds of millions of people globally, and particularly of Indigenous and local communities with historic ties to forested and forest-adjacent areas.
World Wildlife Fund Headquarters: Gland, Switzerland.
It is noted that World Wildlife Fund was founded on 29 April 1961, Morges, Switzerland.
Current President and CEO of World Wildlife Fund is Carter Roberts.
Indian shuttlers Varun, Malvika win Uganda International titles - 03 Mar 21
Highlights:
India's Varun Kapur and Malvika Bansod clinched the men's and women's singles titles respectively at the 2021 Uganda International Badminton tournament in Kampala.
Varun beat compatriot Sankar Muthusamy 21-18, 16-21, 21-17 in the men's singles final.
Malvika beat compatriot Anupama Upadhyaya in the women singles summit clash 17-21, 25-23, 21-10.
The junior world no. 2 Varun, who has been a consistent performer on the junior circuit and clinched his sixth title earlier this year, won the first game convincingly before losing the second.
Sankar and Anupama had to settle for silver medals in the four-day tournament which saw participation of shuttlers from India, Germany and African countries.
World Hearing Day observed on 3 March - 04 Mar 21
Highlights:
World Hearing Day observed on 3 March like each year by the World Health Organisation (WHO).
The main aim is to raise awareness on how to prevent deafness and hearing loss and promote ear and hearing care across the world.
The theme of World Hearing Day 2021- Hearing care for ALL!: Screen, Rehabilitate, Communicate.
World Hearing Day 2021 will mark the launch of the first-ever World Report on Hearing.
For the first time ever, a 'World Report on Hearing' has also been launched a day before World Hearing Day 2021.
It has been estimated in the report that by 2050, one in four people will have a hearing problem.
This means that around 2.5 billion people around the world will face some kind of hearing loss.
WHO has planned a social media Hear-a-thon, World Hearing Forum to mark the occasion.
Those who want to participate through social media can create content around the issue of ear and hearing care and post it online with the hashtag #hearathon2021
Central Govt ponders to hike MSP for jute - 04 Mar 21
Highlights:
Recently, the Center has nodded to kike MSP of Jute in India.
However, it could not be ascertained whether a decision has been taken on hiking the MSP.
The Union Cabinet is believed to have considered a proposal to raise the support price for procuring raw jute during its meeting on Wednesday, according to sources.
The Minimum Support Price (MSP) of raw jute is Rs 4,225 per quintal for the 2020-21 season.
The government had proposed to set up a database of informal sector employees including gig and platform workers which may help in offering social security and welfare benefits to them.
50 lakh gig workers under ESIC to be brought under social security net
The proposal to increase the MSP of raw jute for 2021-22 was on the agenda of the Cabinet Committee on Economic Affairs (CCEA).
However, it could not be ascertained whether a decision has been taken on hiking the MSP.
An official announcement about the decision is unlikely to be made because of the model code of conduct being in place for the assembly election in West Bengal, which is a major jute producing state.
The Jute corporation of India (JCI) is the central government's nodal agency to undertake price support operations.
New Chairperson of AIBAs Champions & Veterans Committee Mary Kom - 04 Mar 21
Highlights:
Indian boxer Mary Kom was appointed as the Chairman of the International Boxing Association (AIBA) Champion and Veterans Committee on March 3, 2021.
Mary Kom will make a significant contribution to the success of the committee with his wealth of knowledge and experience.
AIBA Champions and Veterans Committee:
The committee was established in December 2020.
It is made up of the most respected boxing veterans and champions from all over the world who have achieved some important goals and are ready to share their experiences.
Presently, the AIBA Chairman - Umar Kremlev .
Mary Kom : A Fact File
Mary Kom is an Indian boxer.
She is also a current member of the Indian Parliament (MP).
The boxer was nominated by President Ram Nath Kovind as a member of the House of Lords Rajya Sabha on April 25, 2016.
She has made a lot of history for India in the field of boxing. She is the only female boxer who has won the "World Boxing Champion" six times.
She was also marked as the only boxer to win eight world championship medals.
In addition, Mary is the only female boxer who has won medals in the previous seven world championships.
Mary Kom is considered the only Indian female boxer to qualify for the 2012 Summer Olympics and won the 51kg lightweight bronze medal.
She has won the Padma Vibhushan award in 2020, which is the second highest civilian award in India.
In 2006, she won the Padma Shri Award, which is the fourth highest civilian award in India.
She also received the 2013 Padma Bhushan honor, which is the third highest civilian award.
International Year of Millets Declared by UNGA - 04 Mar 21
Highlights:
The United Nations General Assembly (UNGA) declared 2023 the "International Year of Millets."
It was announced that this year's resolution was proposed by India.
The resolution was passed by consensus and was supported by more than 70 of the 193 countries.
This is a big step that will promote the ecological and nutritional benefits of millet worldwide.
Xiaomi will now be promoted as a key component of the food basket and effective policy changes.
The ambassador also expressed his gratitude to all the co-sponsors of the Indian resolution, especially countries other than the UN member states, such as Bangladesh, Senegal, Nepal, Russia and Nigeria.
A resolution initiated by India declared 2023 the International Year of Millet.
With the passage of this event, this day now invites the United Nations, United Nations member states and other world organizations to commemorate this year through several activities, with the purpose of raising people's awareness of the health and other nutritional aspects of using millet and arousing people's awareness Policy concerns.
These activities should also highlight that millet is suitable for cultivation even in unfavorable weather conditions.
Indian resolution:
India proposed a resolution to commemorate the Year of Millet, considering that it is necessary to promote a diverse, balanced, diverse and healthy diet by increasing the consumption and sustainable production of millet.
Also recognize the diversity and adaptability of Xiaomi.
The United Nations General Assembly announced the United Nations Decade of Action on Nutrition 2016-2025 in April 2016.
The declaration recognizes the need to eradicate hunger and prevent all forms of malnutrition in the world.
The announcement provides a comprehensive platform for a wide range of groups dedicated to solving nutritional problems.
In the context of this resolution, India proposed a resolution on the "International Year of Millet" to promote a sustainable food system.
India and France signed an MoU - 04 Mar 21
Highlights:
The Union Cabinet, chaired by the Prime Minister, Narendra Modi was apprised of the signing of Memorandum of Understanding (MoU) between India and French Republic in the field of renewable energy cooperation.

The MoU was signed in January 2021.
Details Analysis:
The objective of the MoU is to establish the basis for promotion of bilateral cooperation in the field of new and renewable energy on the basis of mutual benefit, equality and reciprocity.

It covers technologies relating to solar, wind, hydrogen and biomass energy.

The MoU entails exchange and training of scientific and technical personnel, exchange of scientific and technological information and data, organization of workshops and seminars; transfer of equipment, know-how and technology and development of joint research and technological projects.

This MoU will help in the development of technological know-how in the field of Renewable Energy and thereby aid the process of attaining the target of 450 GW of installed Renewable Energy capacity by 2030.

The Cabinet approved a memorandum of understanding on Renewable Energy Cooperation between India and France.

MoU requires exchange and training of scientific and technical personnel, exchange of scientific and technical information and data, orga

nization of workshops and seminars, transfer of equipment, expertise and technology; and development of joint research and technology projects.
Govt launches drive to ensure FPO scheme's success - 05 Mar 21
Highlights:
The government has launched a drive to ensure the farmers producer organisations (FPOs) scheme becomes successful to unite mainly the small and marginal farmers, estimated at 12 crore, amid the stand-off over the three farm laws that allowed freedom of choice to farmers and traders in buying-selling of agri produce.
Details Analysis:
The implementing agencies like Nabard and government agencies to focus on the scheme - National Cooperative Development Corporation (NCDC) - so that collectivisation of farmers help improve their bargaining power.
A seminar on development support to promote agri-business cluster and credit enhancement instruments, jointly organised by Asia Pacific Rural and Agricultural Credit Association (APRACA) and Nabard.
Several initiatives have brought the unbanked into the net of basic banking and social and economic security to the underprivileged sections of the society that further accelerated financial inclusion in the country.
In the budget for 2021-22, the government had proposed to set up a database of informal sector employees including gig and platform workers which may help in offering social security and welfare benefits to them.
Fifty lakh gig workers under ESIC to be brought under social security.
The FPOs are going to help improve returns of the farmers and also increase the investment.
The Cabinet in February 2020 had approved the Rs 6,865-crore scheme to be spent for setting up of 10,000 new FPOs and ensuring their growth by FY28.
While budgetary support of Rs 4,496 crore will be spent by FY24, an additional Rs 2,369 crore has been estimated for hand-holding of these FPOs until FY28.
The finance minister has allocated Rs 700 crore for FY22, up by 40% from FY21 for the FPO scheme.
So far, Rs 102 crore has been disbursed under the scheme. Under the scheme, FPOs will be provided direct financial assistance up to Rs 18 lakh each over 3 years.
The Centre also will contribute a matching equity grant up to Rs 2,000/farmer member of each FPO with a limit of Rs 15 lakh per organisation and a credit guarantee facility up to Rs 2 crore per FPO to help them access credit from banks and other agencies.
The apex rural sector lending institution Nabard has been taking a lead role in collectivisation of farmers and making finance accessible for agriculture and various start-ups and FPOs to achieve economies of scale.
Center has approved Nag River project - 05 Mar 21
Highlights:
Union Minister Nitin Gadkari announced that the Nag River pollution reduction project has been approved, costing more than 21.17 billion rupees.
The Nag River, which passes through the city of Nagpur, is named after the city and has now become a highly polluted waterway for sewage and industrial waste.
The project approved under National River Conservation Plan will be implemented by the National River Conservation Directorate, (NRCD).
From the perspective of untreated sewage, solid waste and other impurities flowing into the Nag River and its tributaries, this will reduce pollution levels.
National River Conservation Directorate:
National River Conservation Directorate (NRCD) is implementing the Centrally Sponsored Schemes of National River Conservation Plan (NRCP) and the National Plan for Conservation of Aquatic Eco-systems (NPCA) to protect the country's rivers, lakes and wetlands.
NRCD is under Ministry of Environment, Forests and Climate Change.
NRCD only provides financial assistance to state governments/local bodies for the establishment of infrastructure to reduce river pollution in the river section under the National River Conservation Plan (NRCP).
The goal of NRCP is to improve the water quality of rivers (the country's main water source) by implementing pollution reduction projects.
India and Fiji Signed an MoU - 05 Mar 21
Highlights:
The Union Cabinet chaired by the Prime Minister, Shri Narendra Modi has approved the signing of a Memorandum of Understanding (MoU) between the Ministry of Agriculture and Farmers' Welfare of the Republic of India and Ministry of Agriculture of the Republic of Fiji for cooperation in the field of Agriculture and Allied Sectors.
The MoU between India and Fiji provides for cooperation in the following areas:
Exchange of research personnel, scientific experts, specialists, and technical trainees;
Enhancement and transfer of technology;
Development of infrastructure for agriculture development;
Development of human resources through training of officers and farmers by conducting seminars and workshops;
Promotion of joint ventures between private sectors of both countries;
Promotion of investment in marketing and value addition/downstream processing of agricultural commodities;
Promote capacity development in all areas of agriculture;
Promotion of direct trade of agriculture products through market access;
Joint planning and development of research proposals and execution of research projects and programmes;
Establishment of Indo - Fiji Working Group for dealing phytosanitary issues, and any other form of cooperation which will be mutually agreed by the Parties.
Under the MoU, a Joint Working Group (JWG) will be constituted to set down procedures and plan and recommend programs of cooperation towards achieving its aims through the Executing agencies of the two countries.
The JWG will hold its meeting alternately in India and Fiji once in every two year.
This MoU will come into effect on the date of its signing and will remain in force for a period of 5(five) years.
QS World University Rankings: 12 Indian Universities are in Top 100 lists - 05 Mar 21
Highlights: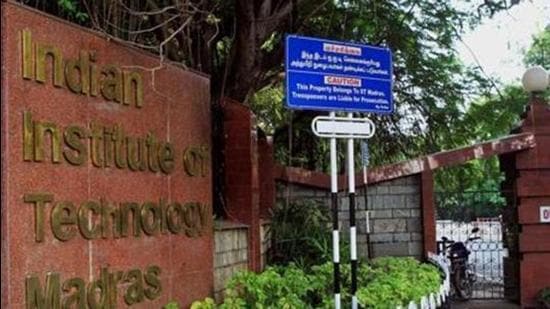 The Union Education Minister delivered a speech at the Unveiling of QS World University Rankings by Subject 2021.
In the 2021 QS World University Rankings, 12 Indian colleges and universities have won the top 100 positions.
The 12 institutions includes Bombay IIT, Delhi IIT, Madras IIT, Kharagpur IIT, Bangalore IISC, Guwahati IIT, Bangalore IIM, Ahmedabad IIM, JNU, Anna University, Delhi University and O.P Jindal University.
Three Indian Institutes of Technology entered the ranks of the top 100 engineering institutes, and Bombay IIT ranked first in the engineering and technology category.
In the same category, Bombay IIT ranked 49th, Delhi IIT ranked 54th, and Madras IIT ranked 94th.
The MIT in the United States continues to maintain its top position.
QS World University Rankings:
QS World University Rankings by Subjects 2021 covers 51 disciplines, divided into five main subject areas.
These rankings are aggregated every year to help prospective students identify leading universities in specific subject.
Use research citations and key global surveys of employers and scholars to rank universities.
The institute has also been ranked among India's top five in the disciplines including Engineering and Technology, Computer Science and Information Systems, Civil and Structural, Electrical and Electronics, Mechanical, Aeronautical and Manufacturing, Earth and Marine Sciences, Materials Science and Accounting and Finance.
Dr. Harsh Vardhan launches "CSIR Floriculture Mission - 05 Mar 21
Highlights:
Union Minister launches CSIR Floriculture Mission.
Under this mission, the available knowledge base in the CSIR Institute will be used and utilized to help Indian farmers and industries reposition themselves to meet import requirements.
The mission has been approved for execution in 21 States and Union Territories.
Collaboration wi
th the following organizations:
1. Indian Council of Agricultural Research -Directorate of Floriculture
2. Khadi and Village Industries Commission
3. Agricultural and Processed Food Products Export Development Authority
4. Tribal Cooperative Marketing Development Federation of India Ltd
5. Fragrance and Flavour Development Centre, Kannauj
6. Small and Medium Enterprises (MSME) and Universities.
The CSIR Floriculture Mission is expected to create opportunities for the development of floral entrepreneurs.
CSIR can successfully guide the injection of the latest technology in the field of floral art.
The mission will focus on the cultivation of commercial floral crops, seasonal/annual crops, wild ornaments and cultivation of flower crops for beekeeping.
Since 1953, CSIR has been developing new floral varieties and several value addition technologies.
Through Floriculture Mission of CSIR, agro-technologies, new varieties and value addition technologies available with the CSIR institutions, efforts are being made to take these to farmers and entrepreneurs, and help them in multiplying their income".
"Market linkage and trade issues will be solved with partnership of APEDA, state horticulture departments and TRIFED"The CSIR Floriculture Mission is expected to create opportunity for entrepreneurship development in floriculture . Infusion of latest technologies in the field of floriculture can be successfully led by CSIR.
The mission will focus on commercial floral crops, seasonal/annual crops, wild ornaments and cultivation of flower crops for honey bee rearing.
Some of the popular crops include Gladiolus, Canna, Carnation, Chrysanthemum, Gerbera, Lilium, Marigold, Rose, Tuberose etc.
The Indian floriculture market was worth Rs 15700 cr in 2018.
The marketis projected to reach Rs47200 cr by 2024 during 2019-24.
PM Narendra Modi to confers CERAWeek Award - 06 Mar 21
Highlights: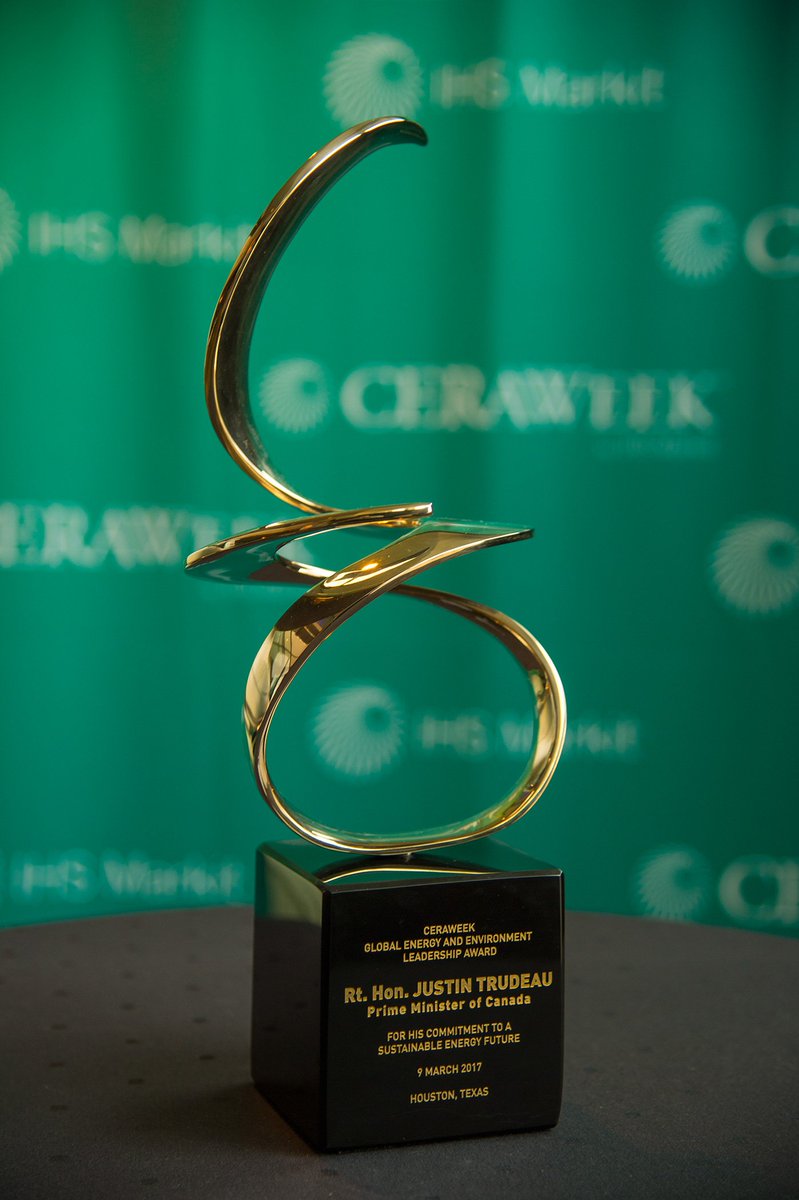 Prime Minister Narendra Modi will receive the CERAWeek Global Energy and Environmental Leadership Award.
CERAWeek Award: A fact File
The CERAWeek Global Energy and Environmental Leadership Award was established in 2016 to recognize leaders' commitment to the future of global energy and the environment and to provide solutions and policies for energy access, affordability and environmental management.
CERA: Cambridge Energy Research Associates Week
CERA Week was founded in 1983 by Dr. Daniel Yergin.
Since 1983, it has been held in Houston every March and is considered the most important annual energy platform in the world.
Readiness Index :Technology and Innovation Report 2021 - 06 Mar 21
Highlights:
According to a recent country-readiness index released by the United Nations Conference on Trade and Development (UNCTAD), India was the biggest 'overperformer' in frontier technologies than the country's per capita gross domestic products (GDP) would suggest.
Frontier technologies include artificial intelligence, the internet of things, big data, blockchain, fifth-generation mobile telephony, three-dimensional printing, robotics, drones (remotely controlled flights), gene-editing, nanotechnology and solar power - the ones that take advantage of digitalisation and connectivity.
Details Analysis:
The index analysed progress of countries in using frontier technologies, considering their national capacities related to physical investment, human capital and technological effort.
Not only India, but several developing countries showed stronger capabilities to use and adapt frontier technologies above their GDPs, the report highlighted.
And yet, most of the 158 countries assessed were lagging behind.
India's actual index ranking was 43, while the estimated one based on per capita income was 108.
This meant that India overperformed other countries by 65 ranking positions.
It was followed by the Philippines, which overperformed by 57 ranking positions.
China was at position 25; both India and China performed well in research and development.
This was reflective of their abundant supplies of qualified and highly skilled human resources available at a comparatively low cost.
The Philippines has a high ranking for industry-because of high levels of foreign direct investment in high-technology manufacturing, especially electronics.
Frontier Tech Market:
The report shows that frontier technology represents a $350 billion market, which may grow to $3.2 trillion by 2025.

International cooperation calls

for strengthening international cooperation to build innovation capabilities in developing countries and promote technology transfer.

Inclusive: Imagine increasing women's participation in the digital sector, conducting technology assessments, and engagi

ng in inclusive debates on the impact of frontier technologies on sustainable development.

Humans and Machines At Work: Technological changes affect inequality by affecting jobs, wages and profits.
UNCTAD:
United Nations Conference on Trade and Development (UNCTAD) was established in 1964 to promote the integration of developing countries into the world economy in a development-friendly way.
UNCTAD is a permanent intergovernmental body headquartered in Geneva, Switzerland.
Indi's Ligia Noronha appointed UN Assistant Secretary-General - 06 Mar 21
Highlights:
UN chief Antonio Guterres has appointed leading Indian economist Ligia Noronha as Assistant Secretary-General and Head of the New York Office of the United Nations Environment Programme (UNEP).
Prior to joining the UNEP, Noronha worked at The Energy and Resources Institute (TERI) in New Delhi as Executive Director (Research Coordination) and as Director of the Division on Resources, Regulation and Global Security.
She will succeed Satya Tripathi of India to whom the Secretary-General is grateful for his leadership and dedicated service during his tenure.
Ms. Noronha: A Fact File
Ms. Noronha is an economist with over 30 years of international experience in the field of sustainable development. She has worked since 2014 as Director of UNEP's Economy Division based in Nairobi, leading UNEP's work on climate mitigation and energy transitions; on inclusive green economies, sustainable consumption and production, as well as on trade and sustainable finance, and the nexus of environment, pollution and health.
She served as Secretary of the Asian Energy Institute and as Coordinator of the Renewable Energy and Energy Efficiency Partnerships (REEEP), South Asia and worked with the International Development Research Centre (IDRC), Canada on ecosystem approaches to human health.
Ms. Noronha has served on various boards, expert panels and advisory committees on ecosystems, natural resources and minerals and metals, and served Inter alia on the National Security Advisory Board of the Government of India on matters relating to resources, energy and climate security.
She holds a Master's degree in Economics from the University of Mumbai, as well as a Master's degree in Sea Use Law, Economics and Policy and a PhD from the London School of Economics.
UNDP : A a nut-shell
United Nations Environment Programme (UNDP) was founded on 5 June 1972.
The organisation was founded by Maurice Strong.
Its headquarter's located at Nairobi, Kenya.
Bihari Puraskar 2020 to be awarded to Mohankrishna Bohara - 06 Mar 21
Highlights:
The 30th Bihari Puraskar for 2020 to be given to Mohankrishna Bohara for his Hindi book of Criticism, titled Taslima: Sangharsh Aur Sahitya.
The award is to be given by K.K. Birla Foundation in New Delhi.
The book was published in 2016.
Bihari Puraskar carries award money of Rs.2.5 lakh, a Citation and a Plaque.
The award is one of the three literary awards instituted by the K.K. Birla Foundation in 1991.
The award is given every year for an outstanding work published in the last 10 years by a Rajasthani author in Hindi or Rajasthani.
The recipient is chosen by a selection committee, whose present chairman is Om Thanvi.
After considering the works published during 2010-2019, 'Taslima: Sangharsh aur Sahitya' by Bohra was selected for the Bihari Puraskar, 2020.
Mohankrishna Bohara: A Fact File
Born on July 27, 1939 in Rajasthan's Jodhpur, Bohara has written critical pieces across mediums in a literary career spanning decades.
He has a master's degree in Hindi and English from SM College, Jodhpur.
In 'Taslima: Sangharsh aur Sahitya', published in 2016, Bohara reflects on the personal life and literary career of author Taslima Nasreen, giving details of both her personality and works.
HDFC ERGO launches Business Kisht Suraksha cover - 06 Mar 21
Highlights:
HDFC ERGO General Insurance has launched the "Business Kisht Suraksha" cover.
It is a unique cover that was launched with the aim of protecting the balance sheet of Microfinance Institutions (MFIs), financial institutions and banks if any catastrophe or a natural disaster occurs.
This was launched with the aim of limiting the impacts on the balance sheet of financial institutions which occurs because of non-payment of EMIs by borrowers or because of several calamities like earthquakes, floods, cyclones.
The Business Kisht can be customised as per the needs of the individual MFI or financial institution (FI).
It can also be tailor-made based on the geographical presence of the borrower, MFI or any FIs.
The MFIs or FIs would also be given the option to select the number of EMIs which might need insurance coverage.
HDFC ERGO was founded in the year 2002.
It's headquarters is located at Mumbai.
NPCI Partners SBI Payments to launch "RuPay SoftPoS" for Merchants - 06 Mar 21
Highlights:
National Payments Corporation of India (NPCI) and SBI Payments have partnered to launch "RuPay SoftPoS" for Indian merchants.
The RuPay SoftPoS solution will provide a cost-effective acceptance infrastructure to retailers at a nominal cost. This innovative solution has the capability to transform NFC enabled smartphones into merchant Point of Sale (PoS) terminals for the retailers.
RuPay SoftPoS is expected to provide seamless, cost-effective acceptance infrastructure to retailers at a nominal cost, and help deepen the digital payment acceptance among millions of underserved Indian MSMEs.
RuPay SoftPoS will enable merchants to use their near-field communication (NFC)-enabled smartphones as the point of sale (PoS) terminals and accept payment up to Rs 5,000 through a simple tap and pay mechanism.
Merchants can convert their existing android smartphone devices into a payment terminal by simply downloading a supported app.
This solution will revolutionise the way micro and small merchants receive payments and create a demarcated shift in their tendency to deal in cash to accepting secure, contactless digital payments instead.
NPCI was founded in the year 2008.
It's Headquarters: Mumbai.
Kotak Mahindra Bank tie-up with Indian army to handle salary accounts - 07 Mar 21
Highlights:
Private sector lender Kotak Mahindra Bank will handle the salary account of the Indian army personnel.
Details Analysis:
The bank has signed a memorandum of understanding (MoU) with the Indian Army here for a salary account.
The MoU enables Kotak to offer its salary account proposition, combined with exclusive benefits for the Indian Army, to all army personnel - both active and retired.
The salary account will cover other benefits such as a bespoke salary account for the army personnel, enhanced complimentary personal accident insurance cover - for both on-duty and off-duty incidents.
It covers accidental death for total or partial permanent disability.
It will also offer special education benefit for children and additional girl child benefit by covering dependent children of up to 22 years in the event of an accident claim by the salary account holder.
It is noted that Kotak Mahindra Bank Establishment in 2003.
Its Headquarters: located at Mumbai, Maharashtra.
Australia building world's first platypus sanctuary - 07 Mar 21
Highlights:
Australian conservationists have unveiled plans to build the world's first refuge for the platypus, to promote breeding and rehabilitation as the duck-billed mammal faces extinction due to climate change.
The Taronga Conservation Society Australia and the New South Wales State government would build the specialist facility, mostly ponds and burrows for the semi-aquatic creatures, at a zoo 391 km from Sydney, by 2022.
Concerns about the platypus going extinct have been heightened since once-in-a-generation wildfires devastated 12.6 million hectares (31 million acres) of bush, nearly the size of Greece, in late 2019 and early 2020.
Scientists estimate nearly three billion animals died in what the prime minister called the country's "black summer".
Unlike other famous Australian animals such as the koala or kangaroo, the beaver-like platypus is rarely seen in the wild due to its reclusive nature and highly specific habitat needs.
The furry, web-footed animal, along with the echnidna, is one of just two egg-laying mammals, and generally lives around small streams and slow-moving rivers in cooler temperatures.
Ease of Living Index (EoLI):Bengaluru emerged as the top city - 07 Mar 21
Highlights:
Bengaluru emerged as the top city on the government's Ease of Living Index 2020 that was released by Housing and Urban Affairs Minister Hardeep Singh Puri.
Pune was second and Ahmedabad was ranked third among 111 cities.
A total of 111 cities under the Smart Cities Program, participated in the assessment exercise that was conducted in 2020.
Million+ category
Bengaluru emerged as the top performer in this category.
This was followed by Pune, Ahmedabad, Chennai, Surat, Navi Mumbai, Coimbatore, Vadodara, Indore, and Greater Mumbai respectively.
Less than Million category
In this group, Shimla was ranked the highest in ease of living.
This was followed by Bhubaneshwar, Silvassa, Kakinada, Salem, Vellore, Gandhinagar, Gurugram, Davangere, and Tiruchirappalli.
The Ease of Living Index (EoLI):
The EoLI 2020 strengthens its scope by consolidating the framework with the addition of a Citizen Perception Survey in the index, holding a weightage of 30%.
It, therefore, examines the outcomes that lead to existing living conditions through pillars of Quality of Life, Economic Ability, Sustainability, spanning across 13 categories of -Education, Health, Housing and Shelter, WASH and SWM, Mobility, Safety and Security, Recreation, Level of Economic Development, Economic Opportunities, Environment, Green Spaces, and Buildings, Energy Consumption, and City Resilience, that account for 70% of the overall outcome.
The Citizen Perception Survey (CPS) was undertaken to help validate citizens' experience of their city in terms of service delivery.
The assessment was conducted from 16th January 2020 till 20th March 2020.
A total of 32.2 lakh citizens from 111 cities participated in the survey.
Bhubaneshwar had the highest CPS score, followed by Silvassa, Davangere, Kakinada, Bilaspur and Bhagalpur.
The methodology and approach for the revised edition of EoLI and MPI were released by MoHUA in February 2019.
Essentially, the EoLI report aims to measure the well-being of Indian citizens in 111 cities, across the pillars of Quality of Life, Economic-ability, and Sustainability, with 49 indicators under 13 categories.
The EoLI primarily seeks to accelerate India's urban development outcomes, including the achievement of the Sustainable Development Goals.
The findings from the index can help guide evidence-based policymaking.
It also promotes healthy competition among cities, encouraging them to learn from their peers and advance their development trajectory.
Municipal Performance Index (MPI) 2020:Indore and NDMC tops rank - 07 Mar 21
Highlights: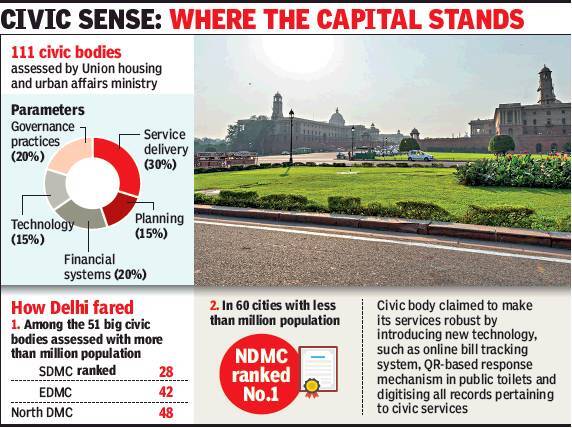 The Ministry of Housing & Urban Affairs has released the final rankings of the Municipal Performance Index (MPI) 2020.
The ranking has classified municipalities into two categories based on their population which are: million-plus category and the less than million categories.
The Municipal Performance Index will help Municipalities in better planning and management, filling the gaps in city administration, and improving the liveability of cities for its citizens.
Million plus population category:
Indore has topped this list, followed by Surat and Bhopal.
Less than a million category:
New Delhi Municipal Council (NDMC) emerged as the leader, followed by Tirupati and Gandhinagar.
The Municipal Performance Index 2020 (MPI):
Expanding the scope for the EoLI framework in order to make it more robust, a Municipal Performance Index assessment was also undertaken for the first time in the country.
Municipal Performance Index focuses on the factors that produce those outcomes.
The Municipal Performance Index is an effort to assess and analyse the performance of Indian municipalities based on their defined set of functions.
The responsibilities of a municipality span across a range of verticals that include provision of basic pubic services to more complex domains like urban planning. The salient features of MPI are given below.
The Municipal Performance Index provides a granular understanding of a municipalities' functionalities and the extent of their development and capabilities.
Through the index, citizens can better understand their local government administration, which in turn builds transparency and generates trust among key stakeholders.
The framework covers 20 varied sectors vis. Education, Health, Water & Wastewater, SWM & Sanitation, Registration & Permits, Infrastructure, Revenue Management, Expenditure Management, Fiscal Responsibility, Fiscal Decentralisation, Digital Governance, Digital Access, Digital Literacy, Plan Preparation, Plan Implementation, Plan Enforcement, Transparency & Accountability, Human Resource, Participation and Effectiveness.
Mary Kom appointed chairperson of AIBA's champions and veterans committee - 07 Mar 21
Highlights:
Six-time world champion boxer Mary Kom has been appointed as the Chairperson of the International Boxing Association's (AIBA) Champions and Veterans Committee.
The 37-year-old was voted to the post by AIBA's board of directors on March 03, 2021.
The Committee was formed in December 2020.
It consists of the most respected worldwide boxing veterans and champions who have achieved significant results and who are ready to share their experience.
Mary Kom: a Fact file
Mary Kom was born on 24 November 1982.
She is an Indian amateur boxer, politician, and incumbent Member of Parliament, Rajya Sabha.
She is the only female to become World Amateur Boxing champion for a record six times, the only female boxer to have won a medal in each one of the first seven World Championships, and the only boxer (male or female) to win eight World Championship medals.
Kom was born in Kangathei village, Moirang Lamkhai in Churachandpur district of rural Manipur in India.
Awards:
Padma Vibhushan (2020), Padma Bhushan (2013) and Padma Shri (2006).
AIBA : A Fact file
The International Boxing Association or AIBA, originally the Association Internationale de Boxe Amateur, is a sport organization that sanctions amateur boxing matches and awards world and subordinate championships.
AIBA founded in the year 1946.
It's headquarters located at Lausanne, Switzerland.
President: Umar Kremlyov
Kieron Pollard becomes 3rd Man to Hit 6 Sixes in an over - 07 Mar 21
Highlights:
West Indies superstar cricketer and captain Kieron Pollard has become just the third batsman in international cricket to hit 6 sixes in an over.
Pollard achieved the feat when he hit Sri Lanka's Akila Dananjaya out of the park 6 times in the 6th over of West Indies' successful chase in the first T20I at the Coolidge Cricket Ground in Antigua.
KIeron Pollard joins World Cup-winning former India all-rounder Yuvraj Singh as the only other batsman to hit 6 sixes in an over in T20I cricket.
At the international level, it was former South Africa opener Herschelle Gibbs who achieved the feat first - in a World Cup 2007 match against the Netherlands.
Yuvraj Singh had become the first player to hit 6 sixes in an over in T20I cricket against England's Stuart Broad in the inaugural edition of the T20 World Cup in 2007.
Kieron Pollard becomes 3rd Man to Hit 6 Sixes in an over - 07 Mar 21
Highlights:
West Indies superstar cricketer and captain Kieron Pollard has become just the third batsman in international cricket to hit 6 sixes in an over.
Pollard achieved the feat when he hit Sri Lanka's Akila Dananjaya out of the park 6 times in the 6th over of West Indies' successful chase in the first T20I at the Coolidge Cricket Ground in Antigua.
KIeron Pollard joins World Cup-winning former India all-rounder Yuvraj Singh as the only other batsman to hit 6 sixes in an over in T20I cricket.
At the international level, it was former South Africa opener Herschelle Gibbs who achieved the feat first - in a World Cup 2007 match against the Netherlands.
Yuvraj Singh had become the first player to hit 6 sixes in an over in T20I cricket against England's Stuart Broad in the inaugural edition of the T20 World Cup in 2007.
Google Launched "Women Will" Web Platform - 08 Mar 21
Highlights:
On March 8 Google announced a new web platform Women Will to support 1 million rural women in India to become entrepreneurs through accelerator programmes, mentorship, business tutorials, etc.
The announcement was made on the occasion of International Women's Day at the virtual Google for India event.
It will be accessible in English and Hindi.
Details Analysis:
The the web portal will offer guidance to aspiring women in villages on how to turn an interest or a hobby such as tailoring, beauty services, home tuition, food processing, etc. into a business, manage and promote it.
Google will work initially with 2,000 'Internet Saathis' to help other women turn entrepreneurs.
Google and Alphabet CEO Sundar Pichai had launched the Internet Saathi programme in 2015 to impart digital literacy training to women in villages.
Among other initiatives announced by Google included committing a $500,000 grant to Nasscom Foundation, which will reach out to 1 lakh women agri-workers based in Bihar, Haryana, Himachal Pradesh, Rajasthan, Uttarakhand, and Uttar Pradesh, to offer digital and financial literacy training.
A global Google.org Impact Challenge for Women and Girls, under which the company will offer $25 million in grants to non-profits and social enterprises in India and other countries that are supporting women and girls reach their full potential.
Google will also enable search in English for "women-led" - "women-led restaurants," "women-led clothing stores" and other keywords on Google Search and Maps to support women entrepreneurs.
This is based on an opt-in feature on Google My Business where women-led businesses can identify as such on their Business Profiles.
This will not only enhance the online presence of hundreds of women-owned businesses but customers can easily extend their support by purchasing from them, leaving a great review, and sharing their Business Profile,.
Earlier, in February 2021, Google announced that it would invest $15 million to support Indian small and micro enterprises in India amid the Covid impact.
In 2020, Pichai had announced a Google for India digitisation fund to invest Rs 75,000 crore over the following five to seven years towards digitization efforts in India.
Google CEO: Sundar Pichai.
Google was founded on 4 September 1998, California, United States.
Google Founders: Larry Page, Sergey Brin.
India's first forest healing centre inaugurated in Uttrakand's Ranikhet - 08 Mar 21
Highlights:
The First Forest Healing centre of the country was inaugurated at Ranikhet in Kalika Uttarakhand.
The forest healing centre has been developed by the Research Wing of Uttarakhand Forest Department after research on the healing properties of the forests and its revitalizing impact on overall health and well being. It is spread over an area of around 13 acres.
This healing centre has been established in a pine-dominated forest as it has been found in various studies that coniferous like Pine trees emit certain oil compounds to safeguard themselves from various microbes and pathogens, which are called phytoncides.
It has been found in various researches that these compounds help to multiply natural killer (NK) cells in our blood, which help in fighting infections and cancerous growth and enhance overall immunity.
It has been found that because of typical molecular vibration patterns of trees, tree-hugging has a beneficial impact on the increase in the level of feel-good hormones like oxytocin, serotonin and dopamine, creating the pleasant effect and in countries like Iceland forest department has been making efforts to facilitate this activity for benefit of health purpose of local citizens.
Alliance Insurance launches insurance portal 'SMEInsure' - 08 Mar 21
Highlights:
Alliance Insurance has launched the insurance portal 'SMEInsure' in order to provide financial security to Micro, Small and Medium Enterprises (MSMEs), small shop and business owners Alliance.
It is a portal to insure 5 crores Small and Medium Enterprises (SMEs) under the insurance category.
Notably, the portal will provide insurance services in a phygital formate. physical, through individual personal assistance and digital insurance through the portal.
The target of Alliance Insurance is to reach more than 5 crore SMEs in the first year and expect revenue of Rs 10 crore. Approximately 97% of the SMEs in India are not insured.
Alliance Insurance CEO & Principal Officer : S. V. Thakkar.
Alliance Insurance Headquarter: Mumbai, Maharashtra.
HDFC Bank launches SmartUp Unnati programme - 08 Mar 21
Highlights:
HDFC Bank on International Women' Day announced the launch of SmartUp Unnati, a dedicated programme for mentoring women entrepreneurs by women leaders at the bank.
As a part of the programme, over the next one year, senior women leaders from HDFC Bank with expertise spanning domains will mentor women entrepreneurs in helping them achieve their goals.
This programme is available only to existing customers and will initially target more than 3,000 women entrepreneurs associated with the Bank's SmartUp programme.HDFC Bank's SmartUp Unnati is the perfect platform for them to benefit from the experience of our women leaders.
It will provide them access to mentorship, expand their vision, and enable them to scale up their businesses by widening their horizons.
This is a programme by women for women.
Under this programme, the bank is working with various state governments, incubators and accelerators to promote entrepreneurship. It recognises the challenge that entrepreneurs face be it accessing credit or formulating strategy in a dynamic business environment.
It is noted that headquarters of HDFC Bank: Mumbai, Maharashtra.
MD and CEO of HDFC Bank: Sashidhar Jagdishan(Succeeds Aditya Puri).
The tagline of HDFC Bank: We understand your world.
Khelo India Winter National Games :J&K tops medals at tally - 08 Mar 21
Highlights:
Union Territory of Jammu and Kashmir topped the medals tally in the second edition of the Khelo India Winter National Games. J&K won 11 gold, 18 silver and 5 bronze medals.
The five-day mega sports event which began on the 26th of February concluded in the famous ski resort of Gulmarg in north Kashmir's Baramulla district.
The event was e-inaugurated by Prime Minister Narendra Modi.
The second edition of the Khelo India winter games is a major step towards making Jammu and Kashmir a hub of the winter games.
In the event, more than 1,000 athletes from 27 states and union territories took part.
The event was organised by the Union Ministry of Youth Affairs and Sports in collaboration with the J&K Sports Council and the Winter Games Association of Jammu and Kashmir.
Lieutenant Governor of Jammu and Kashmir- Manoj Sinha.
UNEP Food Waste Index Report 2021 released - 09 Mar 21
Highlights:
The United Nations Environment Programme (UNEP) and WRAP released the Food Waste Index Report 2021 and highlights that food wastes by different countries in 2019.
As per the report, Over 931 million tonnes of food were wasted globally in 2019.
In India, the household food waste estimate is 50 kg per capita per year, or 68,760,163 tonnes a year.
The household food waste estimate in the US is 59 kg per capita per year, or 19,359,951 tonnes a year.
China these estimates are 64 kg per capita per year or 91,646,213 tonnes a year.
UNEP : A Fact File
The United Nations Environment Programme is responsible for coordinating responses to environmental issues within the United Nations system.
It was established by Maurice Strong, its first director, after the United Nations Conference on the Human Environment in Stockholm in June 1972.
UNEP Headquarters: Nairobi, Kenya.
UNEP Head: Inger Andersen.
UNEP Founder: Maurice Strong.
G R Chintala takes charge as chairman of APRACA - 09 Mar 21
Highlights:
NABARD chairman, G R Chintala has assumed charge as the chairman of APRACA (Asia Pacific Rural and Agricultural Credit Association).
He has taken over from DPK Gunasekera, who is also the Chief Executive Officer of Bank of Ceylon.
Chintala, in his address as APRACA Chairman, appreciated the role of the members of APRACA in promoting the development of rural finance in Asia Pacific.
India has taken several initiatives to mitigate its impact on the rural poor and the National Bank for Agriculture and Rural Development (NABARD) has played a lead role in implementing them
What is APRACA ?
It is an international organisation, which does a lot of information exchange, takes capacity building initiatives, and creates new institutions.
APRACA, established in 1977, is an association of institutions involved in agricultural, rural and microfinance policy and development, representing 21 countries in the Asia-Pacific region.
APRACA is a body of 24 nations with close to 88 members.
The last chairmanship India got was in 1999, which is almost 19 years back.
This is a very big thing for the nation and proud day for an institution to head the international body.
The 73rd EXCOM and 22nd General Assembly Meeting of the APRACA was held in New Delhi.
Bajrang Punia bags gold in Matteo Pellicon World ranking series - 09 Mar 21
Highlights:
The World Championship bronze medallist Bajrang Punia won a gold medal at the Matteo Pallicone ranking series in wrestling, held in Rome, Italy.
He defeated Mongolia's Tulga Tumur Ochir 2-2 by criteria in the 65kg freestyle event final.
This is Bajrang's second consecutive gold medal at the Matteo Pellicone event as he had finished on the top of the series in January 2020 as well by beating Jordan Oliver of the USA in the final..
Returning to the international wrestling mat after over a year's gap due to COVID-19 restrictions, Bajrang Punia had advanced to the final of the Matteo Pallicone series after recording a 6-3 win over Joseph Christopher of the USA in the semi-final.
Apart from this, the ace India woman wrestler Vinesh Phogat won the gold medal in the 53kg title.
The 26-year-old Vinesh beat Canada's Diana Weicker 4-0.
India qualify for ICC World Test Championship Final - 09 Mar 21
Highlights:
Indian Cricket Team have qualified for the inaugural ICC World Test Championship final.
India qualified for final after beating England in an innings and 25 runs in the fourth and final Test in Ahmedabad on 6th March.
New Zealand had already qualified for the WTC final with 420 points from 11 Tests with 7 wins and 4 losses.
The World Test Championship final will be played at the Lord's Cricket Ground in London from June 18.
ICC World Test Championship:
The 2019-21 ICC World Test Championship is the inaugural edition of the ICC World Test Championship of Test cricket.
It started on 1 August 2019 with the first Test of the 2019 Ashes series, and will finish with the Final at the Rose Bowl, Southampton in June 2021.
Veteran Indian Athlete Ishar Singh Deol passes away - 09 Mar 21
Highlights:
Veteran Indian athlete Ishar Singh Deol, a recipient of the Dhyan Chand National Sports Award, has died at the age of 91.
Deol had won many medals for the country and the state since 1951 and was awarded the Dhyan Chand National Award in 2009 for his lifelong contribution towards sports.
Deol was General Secretary of the Punjab Athletes Association for 30 consecutive years and Vice President of the Athletic Federation of India and a member of the Selection Committee for many years.
Deol had competed in the first three Asian Games and won a a bronze medal in the second Asian Games held in Manila, Philippines in 1954.
During the International Athletic Meet-1957 in Montgomery, Pakistan, he set a new Asian record in Shot-put with 46 feet 11.2 inches throw.
Deol continually participated in shot-put and discus throw events from 1951 to 1960.
He won gold medals in the All India Police Meet for five consecutive years from 1952 to 1957 besides clinching gold at the first Asian Veteran Athletic Meet in Singapore in 1982.
Pradhan Mantri Jan Dhan Yojana: More than 50% account holders under PMJDY women - 09 Mar 21
Highlights:
The Jan Dhan Yojana, which was announced by Prime Minister Narendra Modi in his Independence Day address in 2014, was launched on August 28 in the same year.
In 2018, the government launched PMJDY 2.0 with enhanced features and benefits.
About 55 % of the total account holders under the Pradhan Mantri Jan Dhan Yojana (PMJDY), a flagship scheme of the government to promote financial inclusion, are women.
These plans have financially empowered women to lead a better life and chase their dreams of being an entrepreneur.
As of February 24, 2021, 23.21 crore accounts, out of the total 41.93 crore accounts opened under the PMJDY scheme, belong to women account holders.
With regard to the Pradhan Mantri MUDRA Yojana (PMMY), about 68 per cent or 19.04 crore accounts with an amount of Rs 6.36 lakh crore (as of February 26, 2021) have been sanctioned to women entrepreneurs under the scheme since its inception.
Jan Dhan Yojana : A Fact File
The Jan Dhan Yojana, which was announced by Prime Minister Narendra Modi in his Independence Day address in 2014, was launched on August 28 in the same year.
The scheme envisages universal access to banking facilities with at least one basic banking account for every household, financial literacy, access to credit, insurance and pension.
In 2018, the government launched PMJDY 2.0 with enhanced features and benefits. Under the new version, the government decided to shift focus from 'Every Household' to 'Every Unbanked Adult' and free accidental insurance cover on RuPay cards doubled to Rs 2 lakh for PMJDY accounts opened after August 28, 2018.
At the same time overdraft (OD) limit too doubled to Rs 10,000 and the facility of OD up to Rs 2,000 without conditions was brought in.
As per extant RBI guidelines, a PMJDY account is treated as inoperative if there are no customer induced transaction in the account for over a period of two years.
The PMMY was launched on April 8, 2015, for providing loans up to Rs 10 lakh to non-corporate, non-farm small/micro-enterprises. These loans are given by Commercial Banks, RRBs, Small Finance Banks, MFIs and NBFCs.
Under the aegis of PMMY, MUDRA has created three products namely, 'Shishu', 'Kishore' and 'Tarun' to signify the stage of growth or development and funding needs of the beneficiary micro unit or entrepreneur.
As far as Stand-Up India Scheme is concerned, the statement said, more than 81% or 91,109 accounts with an amount of Rs 20,749 crore have been sanctioned to women entrepreneurs under the scheme.
Stand Up India Scheme was launched on April 5, 2016, to promote entrepreneurship at the grass-root level for economic empowerment and job creation.
This scheme seeks to leverage the institutional credit structure to reach out to the underserved section of people such as Scheduled Caste, Scheduled Tribe and Women Entrepreneurs so as to enable them to participate in the economic growth of the nation.
The objective of this scheme is to facilitate bank loans between Rs 10 lakh and Rs 1 crore to at least one Scheduled Caste (SC) or Scheduled Tribe (ST) borrower and at least one woman borrower per bank branch of banks for setting up a greenfield enterprise,.
Former Rajasthan Governor Anshuman Singh Passes Away - 10 Mar 21
Highlights:
Former Rajasthan Governor Anshuman Singh passed away at the age of 86 at Sanjay Gandhi Post Graduate Institute of Medical Sciences in Lucknow.
Brief History:
Justice Shri Anshuman Singh was the former Governor of Rajasthan & Gujarat.
Anshuman Singh was a retired Justice who served as the Governor of Rajasthan from January, 1999 till 2003
He was born in 1935 in Allahabad and pursued arts and law.
He was also appointed as the governor of Gujarat state in 1998.
Born in 1935 in Allahabad (now Prayagraj) he studied Arts and Law and became an advocate in Allahabad district court in 1957.
He was appointed judge of the Allahabad High Court in 1984 and later became acting Chief Justice of the Rajasthan High Court.
Trivendra Singh Rawat quits as Uttarakhand CM - 10 Mar 21
Highlights: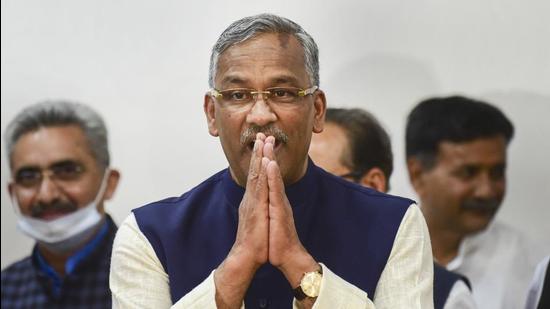 Trivendra Singh Rawat has resigned as the chief minister of Uttarakhand, a year before the hill state is scheduled to go to polls.
He resigned nine days before the Bharatiya Janata Party (BJP) government completes four years in power.
The resignation followed a rebellion in the ranks against Rawat's decision to announce Gairsain as a new administrative division.
The political upheaval in the state started when Rawat announced Gairsain as the third administrative division in the state without consulting even his cabinet colleagues.
A minister called it a unilateral announcement which had huge political ramifications as people in Kumaon were against such a move.
Rawat, who became the CM after the BJP swept the assembly elections here in early 2017, tendered his resignation after meeting governor Baby Rani Maurya.
According to reports, the party is mulling bringing in a deputy chief minister, the frontrunners for the post include State Education MinisterDhan Singh Rawat, MP Ajay Bhatt and Satpal Maharaj.
E-invoice mandatory for businesses with over Rs 50 crore turnover from April 1 - 10 Mar 21
Highlights:
According to the Central Board of Indirect Taxes and Customs (CBIC), the e-invoicing has been made mandatory for businesses for Rs 50 crore plus turnover from April 1, which showcases the proactiveness and the intent of the government to wider the net of digitisation.
Details Analysis:
E-invoice mandatory for businesses with over Rs 50 crore turnover from April 1
The IRP will validate the information provided in the invoices and return the digitally signed e-invoices with a unique 'Invoice Reference Number (IRN)' along with a QR Code to the taxpayer.
The government has made it mandatory for businesses with over Rs 50 crore turnover to generate e-invoices for B2B transactions from April 1.
Under Goods and Services Tax (GST) law, e-invoicing for business-to-business (B2B) transactions has been made mandatory for companies with turnover of over Rs 500 crore and Rs 100 crore from October 1, 2020, and January 1, 2021, respectively.
Under e-invoicing, taxpayers have to generate invoices on their internal systems (ERP/accounting/billing software) and then report them online to the Invoice Registration Portal (IRP).
The IRP will validate the information provided in the invoices and return the digitally signed e-invoices with a unique 'Invoice Reference Number (IRN)' along with a QR Code to the taxpayer.
As limited time is left, industry players in this segment will need to proactively map out the IT and process changes and start implementing the same.
Cabinet gives green signal to amend the Insurance Act : Insurance FDI hiked, health fund created - 10 Mar 21
Highlights:
The Cabinet has cleared amendments to the Insurance Act to pave the way for raising the foreign direct investment (FDI) limit up to 74% from 49%, as proposed in the Budget for FY22.
The amendments will have to be ratified by Parliament to take effect.
It also approved the Pradhan Mantri Swasthya Suraksha Nidhi (PMSSN) as a single non-lapsable reserve fund created from the share of health in the health and education cess proceeds.
Pradhan Mantri Swasthya Suraksha Nidhi (PMSSN):
This fund will be utilised for the health ministry's flagship schemes, including Ayushman Bharat, National Health Mission and Pradhan Mantri Swasthya Suraksha Yojana.
The proposal to hike the FDI limit in insurance is expected to open up new avenues of funding at a time when some players are struggling with solvency issues.
The move, along with the decision to launch the IPO of LIC and privatise one of the government-owned general insurers, would bring more efficiency to the market, analysts say.
Apart from drawing new foreign investors, the hike in FDI limit will also allow foreign partners, currently in joint ventures, to raise their stake and control the Indian insurance firms.
Over a dozen insurance companies in India are formed of joint ventures between domestic and foreign partners, including ICICI Prudential, HDFC Standard Life, Bajaj Allianz and Star Union Daiichi Life Insurance.
Many of the existing domestic partners of private-sector insurance companies are unable to infuse fresh capital into their firms; higher FDI limit could help these firms to bolster their capital base and business.
Against the minimum regulatory requirement of 1.5 times, National Insurance's solvency ratio languished at just 0.02 at the end of FY20, while United India's hit 0.3 and Oriental Insurance's 0.92. Thanks to initial infusion this fiscal, National's solvency improved to 0.2 time at the end of September 2020 - still way below the requirement. United's solvency rose a tad to 0.7 as of June 2020.
Sensing the insurers' urgent need, the Cabinet in July 2020 approved higher capital (Rs 9,950 crore) for this fiscal than the budgetary allocation of Rs 6,950 crore.
The move to raise the FDI limit will also help improve insurance penetration and herald consolidation in the sector, analysts have said. Domestic insurers would also gain from the sharing of best practices of risk management.
Finance Ministry Decisions :
While presenting the Budget 2021-22, finance minister Nirmala Sitharaman had proposed to amend the Insurance Act, 1938, to increase the FDI limit in insurance companies and allow foreign ownership and control with safeguards.
Under the new structure (for building in safeguards), the majority of directors on the board and key management persons would have to be resident Indians, with at least half of directors being independent ones, and specified percentage of profits being retained as general reserve.
The life insurance sector in India was liberalised in 2000 after the government had allowed foreign companies to own up to 26% in domestic insurers.
The sector was opened up further in 2014 when the FDI limit was hiked to 49%.
As for the Pradhan Mantri Swasthya Suraksha Nidhi, it will be a non-lapsable reserve fund for health in the Public Account.
It can also be tapped to roll out various programmes under the National Health Mission and also for emergency and disaster preparedness.
In the Budget for 2018-19, the government had announced the replacement of a 3% education cess by a 4% health and education cess.
Analysts had estimated a mop-up of Rs 11,000 crore a year more through this additional 1% cess.
Over 500 non-coal mineral blocks, partially or minimally explored under current leases, but are entangled in legacy issues and litigation, will be up for grabs.
The Cabinet is learnt to have approved a supplementary proposal on mining reforms from the ministry of mines to allow transfer of letter of intent (LOI) handed out to a successful bidder to the acquirer of the bidder through the insolvency route.
Currently, the Minerals (Other than Atomic and Hydro Carbons Energy Mineral) Concession Rules, 2016, provides provision for transfer of mining lease or prospecting license-cum-mining lease granted through auction route.
However, the rule is silent on transfer of LOI.
The Cabinet also gave its nod to the Minerals (Other than Atomic and Hydro Carbons Energy Minerals) Concession (Amendment) Rules, 2021, so that the lessee will still have to pay statutory dues equal to the minimum dispatch stipulated in a quarter even if dispatch falls short.
The move comes in the backdrop of production and dispatch shortfall of important mineral such as iron ore in recent times which not only led to their price hike but also affected manufacturing of iron and steel in the country.
In January this year, the Cabinet had approved a proposal to amend the relevant law for their re-allocations through competitive bidding.
Also, the employment-intensive, but highly under-invested sector, was given a fillip by doing away with end-use restrictions for miners. Those with captive leases will be allowed sell the minerals in the open market.
The Cabinet also have the the go-ahead for reallocation of several non-producing blocks of the state-run companies, a move that could also enthuse the private players as many of these blocks have abundant proven resources.
The moves are in sync with the National Mineral Policy, which aims to increase the domestic production of non-coal, non-fuel minerals by 200% in seven years with greater private-sector participation.
Government revises downwards 2020-21 sugar output estimate to 30.2 mt - 10 Mar 21
Highlights:
The country's sugar production is expected to be 30.2 million tonnes in the ongoing 2020-21 marketing year, about 800,000 tonne lower than the initial estimate.
However, the sugar production is estimated to be higher than 27.4 million tonne achieved during the 2019-20 marketing year (October-September).
Already, mills have manufactured 23.4 million tonnes of sugar. Crushing operation will be over in Maharashtra and Karnataka this month; while in Uttar Pradesh, it will continue till May.
Based on the inputs from cane-producing states, the government had pegged sugar production initially at 31 million tonnes for the current year.
But, the production is expected to be slightly lower at 30.2 million tonne because of damage to the cane crop owing to unseasonal rains in some parts of Uttar Pradesh.
The sugar production would be slightly lower than the initial estimate in both Uttar Pradesh and Maharashtra, the country's top two sugar-producing states.
Production in Uttar Pradesh is expected to be 10.2 million tonnes in the current 2020-21 year, lower than 12.6 million tonnes last year.
Amitabh Bachchan to be Honoured in FIFA Award - 11 Mar 21
Highlights:
The International Federation of Film Archives (FIAF) and the organization of global film archives and museums will present the prestigious 2021 FIAF Award to Amitabh Bachchan on the virtual showcase on March 19, 2021.
The 78-year-old actor was nominated by the FIAF-affiliated Film Heritage Foundation, a non-profit organization founded by filmmaker and archivist Shivendra Singh Dungarpur.
The foundation is dedicated to preserving, restoring, documenting, displaying and researching the Indian film heritage.
The award will be awarded by filmmakers Martin Scorsese and Christopher Nolan.
Both are previous winners of the award. Amitabh Bachchan will be honored for his dedication and contribution to film heritage protection.
FIAF: A Fact file
FIAF was established in Paris in 1938 by the Cinematheque Francaise and the Museum of Modern Art in New York. It brings together leading institutions working in the field of global film heritage.
Its affiliates describe these institutions as "the defenders of their own art forms in the twentieth century." FIAF is committed to collecting, rescuing, preserving and screening dynamic images that are regarded as artistic and cultural works and historical documents.
As of November 2020, it is composed of 172 film heritage institutions in 80 countries.
The FIAF Awards are designed to recognize personalities outside the FIAF archive community.
It pays tribute to those whose experience in cinemas is in line with federal purposes and goals.
The award was created in 2001.
World Kidney Day being observed on 11th March - 11 Mar 21
Highlights:
World Kidney Day is celebrated globally on the second Thursday of March every year.
The kidney is an important organ in our body.
The function of the kidney is to remove waste and excess fluid from the body.
Theme: Living Well with Kidney Disease.
In 2006, 66 countries/regions around the world celebrated World Kidney Day for the first time, and an increase of 88 in two years.
The World Kidney Day was initiated by the joint committee of the International Society of Nephrology and the International Federation of Kidney Foundations.
Every year, the health organization celebrates its prevention of kidney disease and educates people on preventive measures and how to live a healthy life.
In addition, the health organization organizes campaigns to disseminate information about kidney diseases, complications, and their prevention and treatment.
INS Karanj commissioned into the Indian Navy - 11 Mar 21
Highlights:
The third Scorpene-class submarine INS Karanj of Project-75 was commissioned into the Indian Navy, after two years of rigorous sea trials.
NS Karanj served in the Indian Navy.
INS Karanj : A Fact file
This is the third stealth Scorpene class submarine to be introduced to the Navy.
This is the third submarine of the first six Kalvari-class submarines of the Indian Navy.
INS Karanj will become part of the Western Naval Command's submarine fleet and will become another important part of the Command's arsenal.
It is based on the Scorpène class diesel-electric attack submarine, designed by the French naval defense and energy group DCNS, and manufactured by the shipyard Mazagon Dock Limited in Mumbai, India.
INS Karanj is part of Project 75.
Project 75 is an indigenous project aimed at building 6 attack submarines for the Indian Navy.
This $3.75 billion project is supported by the Department of Defense, which is part of the Ministry of Defence.
The French Naval Group applied its technical expertise to the project.
Schemes of WCD Ministry- Umbrella Schemes - 11 Mar 21
Highlights:
All major schemes of the Ministry of Women and Child Development are classified as "3 Umbrella Schemes", ie. Mission Poshan 2.0, Mission Vatsalya and Mission Shakti.
Mission Poshan 2.0:
The Government is merging the Supplementary Nutrition Program with Poshan Abhiyan to launch the Mission POSHAN 2.0.
This will include Umbrella ICDS - Anganwadi Service, Poshan Abhiyan, Scheme for Adolescent Girls, National Creche Scheme.
Mission Shakti:
This will include schemes and policies to empower and protect women.
It will include a One-Stop Centre, Mahila Police Volunteer, Beti Bachao Beti Padhao, Women's service helpline and Pradhan Mantri Matru Vandana Yojana.
Mission Vatsalya will study national child welfare services and child protection services.
Cabinet Approved Pradhan Mantri Swasthya Suraksha Nidhi - 11 Mar 21
Highlights:
The Cabinet approved the creation of Pradhan Mantri Swasthya Suraksha Nidhi (PMSSN).
What is PMSSN ?
The Cabinet has approved Pradhan Mantri Swasthya Suraksha Nidhi as a single non-lapsable reserve fund for the health share of the proceeds from the Health and Education Cess levied under Section 136-b of Finance Act, 2007.
It is a non-lapsable reserve fund for health in public accounts.
The health benefits shared in "Health and Education Cess" will be recorded in the PMSSN.
The accrued expenses of PMSSN will be used for the following flagship schemes of the Ministry of Health & Family Welfare :
i) Ayushman Bharat - Pradhan Mantri Jan Arogya Yojana
ii) Ayushman Bharat – Health and Wellness Centres
iii) National Health Mission
iv) Pradhan Mantri Swasthya Suraksha Yojana (PMSSY)
v) Emergency and disaster preparedness and response in health emergencies
Any future schemes/programs aimed at achieving the Sustainable Development Goals and the goals set in the National Health Policy (NHP) in 2017.
The main benefit of the scheme will be to increase access to universal and affordable health care by providing dedicated resources, while ensuring that this amount is not lost at the end of the financial year.
Xcelerator Bengaluru Initiative unveiled in Bengaluru - 12 Mar 21
Highlights:
Karnataka has launched the "Xcelerator Bangalore Initiative" to support women-owned micro-enterprises.
The state submitted its 2021-2021 budget on March 8, 2021, which allocated 371.88 billion rupees for women-centered programs.
Similarly, the government has also adopted some initiatives, such as the famous "Promotion of Women" program, to encourage small-scale or micro-entrepreneurs, employees, professional women, and rural self-help groups.
What is "Xcelerator Bangalore" ?
"Xcelerator Bangalore" is a carefully planned six-month accelerator program.
It seeks to provide support to women to help expand micro-enterprises owned by women.
This plan is jointly organized by the UBUNTU Association of Women Entrepreneurs Consortium, the Global Alliance of Large Entrepreneurs (GAME) and the Karnataka Federation of Industry and Commerce (FKCCI).
"Xcelerator Bangalore" seeks to reach and expand 50,000 women-led enterprises.
It was co-designed and co-created with the help of practitioners, successful entrepreneurs and scholars from the Women Entrepreneur Development Organization.
It was designed and executed in cooperation with the Karnataka Association of Women Entrepreneurs (AWAKE), which has a history of 37 years and is committed to empowering women through entrepreneurship.
FKCCI : A Fact File
The Mysore Chamber of Commerce was founded by Sir Bharat Ratna Sir M. Visvesvaraya, who was an engineering genius and politician on May 8, 1916.
Visionaries and great institution builders.
Ross was the first Chamber of Commerce chairman until 1920.
Later the chamber of commerce was renamed Karnataka Federation of Industry and Commerce (FKCCI).
It is the highest organization of the trade and service sector and industry in Karnataka.
National Gestational Diabetes Awareness Day observed on 10th March - 12 Mar 21
Highlights:
National Gestational Diabetes Awareness Day observed on March 10.
India held the world's first National Gestational Diabetes Awareness Day on March 10, 2019.
The aim of the day is to raise national awareness of the link between maternal health and diabetes, and invite pregnant women to hospitals and clinics for free screening.
The idea of observing the commemoration dates back to 2016, when the Colombo Declaration was endorsed by more than 300 leaders of South Asian countries.
India's National Health Mission is the first government ministry to make this day official.
To celebrate the day, there were trainings for healthcare professionals, press conferences, awareness-raising activities, seminars for women's groups, and extensive screenings.
Selected as the birthday of Dr V Seshiah, a diabetes expert, on March 10th.
He has made great contributions to the research, policy and implementation of gestational diabetes.
Gestational Diabetes : A Fact File
Gestational Diabetes Mellitus (GDM) is defined as Impaired Glucose Tolerance (IGT) that begins or is first recognized during pregnancy.
GDM is also called Hyperglycemia in Pregnancy (HIP).
Gestational diabetes is a disease in which blood sugar levels rise in the time pregnancy.
Among the 3 million women suffering from GDM, 30% of them tend to develop type 2 diabetes within 5-10 years after pregnancy, which further increases the number of diabetes patients in the country.
India's GDM rate is 26.3%, the highest in the world.
UNSC hints Somalia To Organize Elections UN - 12 Mar 21
Highlights: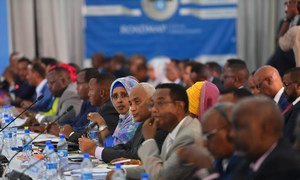 United Nations Security Council (UNSC) has asked the Somali government to immediately organize elections in the country on March 12, 2021.
The UN Security Council made this request in a resolution that emphasized the urgent threat to Somalia's security from Al-Shabaab and armed opposition groups.
The adopted UN Security Council resolution authorized the African Union to maintain a strong force of approximately 20,000 people in Somalia until the end of 2020.
The purpose of this is to reduce the threat of extremist groups and make federal, sovereignty, unity and stability possible.
Objectives:
The purpose of the resolution is to hand over security to the Somali authorities so that the country can play a leading role in 2021 and assume full responsibility by 2023.
The UN Security Council resolution also emphasized the importance of capacity building between Somali forces and agencies, and authorized the AU forces.
After failing to conduct the scheduled elections in February 2021, Somali President Mohamed Abdullahi Mohamed (Mohamed Abdullahi Mohamed) was under increasing pressure and the resolution was passed.
The election could not be held because no agreement has been reached on how to vote. Critics also accused Muhammad of delaying the election because he is seeking a second four-year term.
Somalia is in the Horn of Africa.
The country borders Ethiopia to the west, Djibouti to the northwest, the Gulf of Aden to the north, the Indian Ocean to the east, and Kenya to the southwest. Somalia has the longest coastline on the Africa.
The country has an estimated population of 15 million and is the most culturally unified country in Africa.
85% of the residents are Somalis.
The official languages of Somalia include Somali and Arabic.
Historical "Dandi March" to mark 75 years of Independence - 12 Mar 21
Highlights:
Prime Minister Narendra Modi will flag off a commemorative 'Dandi March' on March 12 (Friday) to launch the celebrations of the 75th year of Independence.
The Prime Minister is expected to flag off the 21-day long Dandi March from a ground beside the Abhay Ghat, the resting place of late Prime Minister Morarji Desai near the Sabarmati Ashram, thus launching the Azadi Ka Amrit Mahotsav celebrations.
What was the original Dandi March ?
The Dandi March or Salt March was part of Mahatma Gandhi's non-violent protest against the British monopoly on production of salt.
Led by Gandhi, 78 people started the 24-day march on March 12 and reached Dandi on April 5, 1930.
After making salt at Dandi, Gandhi headed to Dharasana Salt Works, 40 km south, but was arrested on May 5.
World's Most Powerful Supercomputer Fugaku is ready for use - 12 Mar 21
Highlights:
The Japanese scientific research institute called RIKEN and Fujitsu started developing the "Fugaku" six years ago.
It is the world's most powerful supercomputers.
Fugaku has been named after an alternative name for Mount Fuji.
Now, this supercomputer is fully ready and developed in Japan and is now available for research use.
This supercomputer has been developed with the aim of making the device core of the computing infrastructure of Japan.
The computer comprises 100 times the application performance of the K supercomputer.
It has been developed to implement high-resolution, large-scale and long-duration simulation.
It started development in the year 2014 as the successor to the K computer.
It is built with the Fujitsu A64FX microprocessor.
India Chaired the First Meeting Of BRICS CGETI - 12 Mar 21
Highlights:
The First Meeting of the BRICS Contact Group on Economic and Trade Issues (CGETI) was held from 9th March 2021 to 11th March 2021,under the chairmanship of India.
The 2021 theme of the BRICS is "BRICS@15: Intra BRICS Cooperation for Continuity, Consolidation, and Consensus".
India presented the calendar of events for BRICS CGETI 2021, this includes the priority areas for deliverables, schedule and scope of the MSME roundtable conference workshop on Services Statistics, and the BRICS Trade Fair.
A series of presentations on the proposed deliverables during India's chairmanship under the BRICS CGETI track was made in a separate session by the concerned departments of the government of India.
BRICS: A Fact File
BRICS is the acronym coined to associate five major emerging economies: Brazil, Russia, India, China, and South Africa.
The BRICS members are known for their significant influence on regional affairs.
Since 2009, the governments of the BRICS states have met annually at formal summits.
BRICS was founded in 2006 and formed in the year 2009.
The First BRICS Ministerial Meeting was held on 20th September 2006.
IBM signs MoU with U'khand Government to introduce STEM for Girls - 13 Mar 21
Highlights:
IBM has announced a collaboration with Samagra Sikhsha Uttarakhand, the Government of Uttarakhand's education mission, to introduce the 'IBM STEM for Girls' program in 130 secondary and higher secondary schools across five districts in the state.
The collaboration is part of a three-year program between IBM and Uttarakhand State Government with the American India Foundation as the implementation partner to increase the participation of girls and women in STEM careers.
The program will advance the skills and careers of close to 25,600 students in the Science, Technology, Engineering, and Math (STEM) fields.
The 'IBM STEM for Girls' program features a comprehensive approach that builds technical capabilities as well as life and self-actualization skills.
'STEM for Girls' is an IBM Corporate Social Responsibility initiative primarily aimed at improving education-to-work and career pathways for girls who are studying in Government schools.
International Business Machines (IBM):
International Business Machines Corporation is an American multinational technology company.
The company's headquartered located in Armonk, New York, with operations in over 170 countries.
The company was founded by Charles Ranlett Flint on 16 June 1911, Endicott, New York, United States
Union Government appoints Dr. GP Samanta as new Chief Statistician of India - 13 Mar 21
Highlights:
The Central Government has appointed Dr G P Samanta as the new Chief Statistician of India (CSI) for a period of two years.
Samanta would be replacing Dr Kshatrapati Shivaji, the 1986-batch IAS officer who was holding the additional charge of CSI since September 2020 after the post fall vacant.
Samanta, as part of the new deputation, would also hold the post of Secretary in the Ministry of Statistics and Programme Implementation.
Dr G P Samanta : A Fact File
Samanta was currently deputed as an advisor in the Reserve Bank of India's (RBI) department of statistics and information management.
The new CSI, notably, holds of a Masters degree from the Indian Statistical Institute and a PhD in Economics from the University of Mumbai.
For his academic work, the RBI had felicitated Samanta with the prestigious Prof. P. C. Mahalanobis award in August 2010.
Dr. Samanta's primary research interest includes inflation and monetary policy issues, economic modeling, forecasting (including applied time series analysis, neural networks, etc.), derivatives and risk management, financial risk modeling (credit risk and ratings, Value-at-Risk, etc.), risk-based banking regulation, measurement of economic variables/parameters, etc,.
Union Minister Anurag Thakur promoted as Captain in Territorial Army - 13 Mar 21
Highlights:
Union Minister Anurag Thakur has become the first serving MP to be appointed as Captain in the Territorial Army.
Thakur has been promoted to the rank of Captain at 124 Infantry Battalion Territorial Army (Sikh).
The four-time BJP MP from Himachal Pradesh's Hamirpur was commissioned into the Territorial Army as a Lieutenant by then Chief of Army Staff (COAS) General Dalbir S Suhag TA in July 2016.
His grandfather and great-grandfather had served in the Army.
Thakur joined the Army after clearing the SSB exam and a personal interview conducted in Chandigarh. He underwent over two weeks of pre-qualification training held in Bhopal.
The Territorial Army, the second line of defence in the hierarchy, comprises volunteers who are imparted military training for about a month in a year.
The Territorial Army can be pressed into national service in case of any emergency.
Tata Motors launches 'Wheels of Love' to support parenthood - 13 Mar 21
Highlights:
Tata Motors has launched 'Wheels of Love', a holistic programme that supports new parents in the workforce.
This is a move to promote a progressive culture of care, inclusion and sensitization within the organization across levels.
A specially curated book, also aptly titled, Wheels of Love, puts forth various beliefs to enable new and expectant parents to successfully manage the needs of a growing family while also fulfilling their career goals.
Details Analysis:
This guide book also provides valuable insights for managers to support their team members as they progress through the various stages of parenthood.
The programme covers several key aspects such as announcing pregnancy at the workplace, understanding the manager's dilemma, effective management of work deliverables, job handover, maternity leave management and transition back to work.
It also includes Mother and Manager guides to help navigate through the various phases of maternity, becoming a parent and transitioning back to work.
It will offer 'Dedicated Counselling Sessions' for new parents to address emotional and psychological challenges that may arise
Besides, the program will provide one-to-one coaching sessions for pregnant/new mothers and their managers to manage work transitions and assign a Buddy to the new mothers to keep in touch with her workplace during the maternity break.
Central Govt launches Mera Ration Mobile App - 13 Mar 21
Highlights:
In order to facilitate the 'One Nation-One Ration Card' system in the country, the government has launched 'Mera Ration' mobile app to benefit citizens in identifying the nearest fair price shop.
This app will benefit especially those ration card holders who move to new areas for livelihoods.
The app is developed by the government in association with NIC "to facilitate various "One Nation-One Ration Card" related services among the National Food Security Act (NFSA) beneficiaries, particularly migrant beneficiaries, fair price shop dealers and other relevant stakeholders.
With the help of the app, the beneficiaries can easily check details of food grain entitlement, recent transactions and the Status of their Aadhaar seeding.
The migrant beneficiaries can also register their migration details with the help of the application. Beneficiaries can also enter their suggestions or feedback.
Agriculture Voltage Technology by Agricultural Ministry - 14 Mar 21
Highlights:
Union Minister of Agriculture informed Lok Sabha of the Agriculture Voltage Technology.
The ICAR-Central Arid Zone Research Institute in Jodhpur has developed an Agri-voltaic system with a capacity of 105 kW.
This technology can increase farmers' income through power generation and the cultivation of cash crops.
In the KUSUM Part I (Kisan Urja Suraksha Utthan Mahabhiyan) scheme, there is a clause stipulating the installation of agri-voltaic systems in farmland, with capacities ranging from 500 kilowatts to 2 megawatts.
The National Solar Energy Federation of India (NSEFI) also recorded 13 agri-voltaic systems in India.
International Day of Action For Rivers is Designated on 14th March - 14 Mar 21
Highlights:
Celebrate International River Action Day on March 14 to raise awareness of the importance of rivers and climate change.
Theme 2021: Rights of Rivers.
On this day, communities and individuals around the world work together to express their opposition to destructive water development projects, health and sustainable management of watersheds.
The day was earlier known as "International Dam Day" to commemorate rivers, water and life.
In India, some projects to protect rivers or oppose the construction of dams have also been initiated.
Narmada Bachao Andolan is one of them.
Participants of the First International Conference of Dam Influencers, held in Curitiba, Brazil in March 1997, passed the "International Day of Action on Dams and Rivers, Water and Life".
Representatives of 20 countries decided to designate the International Day of Action as the "Day of Action Against Large Dams" in Brazil on March 14.
The main purpose of facilitating this day is to make a concerted voice to oppose destructive water development projects, restore the health of the basin, and demand fair and sustainable management of our rivers.
Hamed Bakayoko Prime Minister,Ivory Coast passes away - 14 Mar 21
Highlights: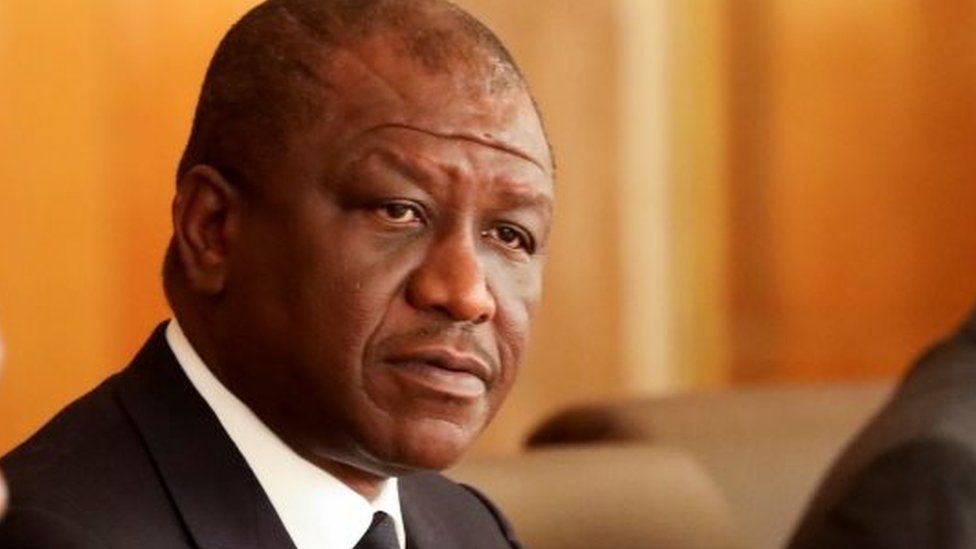 The incumbent Prime Minister of Ivory Coast, Hamed Bakayoko, has passed away due to cancer.
He was appointed prime minister in July, following the sudden death of his predecessor Amadou Gon Coulibaly.
Mr Bakayoko was flown to France in February for medical tests and was later transferred to Germany due to his deteriorating health.
A former media executive who turned to politics, he played a prominent mediation role in Ivory Coast's civil war during the first decade of the century.
Aside from his role as prime minister, Mr Bakayoko was also the country's defence minister.
Patrick Achi has been appointed as interim prime minister, while Tene Birahima Ouattara, a younger brother of the president, has been named interim defence minister.
President of Ivory Coast, Alassane Ouattara, has named Patrick Achi as interim prime minister in place of Bakayoko.
ISRO And Japan's JAXA made Cooperation in Earth Observation - 14 Mar 21
Highlights:
ISRO-NASA Joint Working Group on Human Spaceflight Programme (HSP) is exploring collaboration opportunities.
The Indian Space Research Organization (ISRO) & the Japan Aeronautics and Space Administration (JAXA) reviewed cooperation in Earth observation, lunar cooperation and satellite navigation.
ISRO and JAXA are specifically working on sharing earth observation data and to carry out calibration/validation experiments, and establishing ISROs NavIC reference station in Japan.
These institutions signed the "Implementation Arrangement" to use satellite data to cooperate in the monitoring of rice crop area and air quality.
India and Japan are already conducting a joint Lunar Polar Exploration (LUPEX) mission.
LUPEX's goal is to send the lander and rover to the South Pole of the Moon around 2024.
Italy and India have decided to explore opportunities in Earth observation, space science, and robotic and human exploration.
India and Australia signed an amendment to a memorandum of understanding, which will be based on a comprehensive strategic partnership.
Mithali Raj,First Indian Woman Cricketer To Score 10000 International Runs - 14 Mar 21
Highlights:
The veteran Indian female cricket player Mithali Raj became the first Indian female cricket player to complete 10,000 international cricket matches.
She also became the second female cricket player to complete 10,000 runs at the international level. Mithali Raj led the Indian One Day International (ODI) team to join the elite club of Charlotte Edwards in England.
In the third ODI match against South Africa, she hit the border of Anne Bosch in 28th place in the Indian round, after which she reached the milestone of 10,2000.
She is also the only female cricket player to score more than 6,000 ODI points. This cricketer is the first player to score 50 points in 7 consecutive ODI cricket matches.
Since 2005, Mithali Raj has been the captain of the Indian women's cricket team.
She is the only female cricket player and she participated in several ICC ODI World Cup finals in 2005 and 2017.
She also became the first 20-year-old woman to complete the 2019 international cricket competition for 30 years.
Cricket players have won many national and international awards.
Mithali Raj won the Arjuna Award in 2003 and Padma Shri in 2015.
International Day of Action For Rivers observed on 14th March - 14 Mar 21
Highlights:
Celebrate International River Action Day on March 14 to raise awareness of the importance of rivers and climate change.
Theme 2021: Rights of Rivers
On this day, communities and individuals around the world work together to express their opposition to destructive water development projects, health and sustainable management of watersheds.
The day was earlier known as "International Dam Day" to commemorate rivers, water and life. In India, some projects to protect rivers or oppose the construction of dams have also been initiated. Narmada Bachao Andolan is one of them.
Participants of the First International Conference of Dam Influencers, held in Curitiba, Brazil in March 1997, passed the "International Day of Action on Dams and Rivers, Water and Life".
Representatives of 20 countries decided to designate the International Day of Action as the "Day of Action Against Large Dams" in Brazil on March 14.
The main purpose of facilitating this day is to make a concerted voice to oppose destructive water development projects, restore the health of the basin, and demand fair and sustainable management of our rivers.
Prime Minister Narendra Modi's Principal Advisor P K Sinha resigns - 15 Mar 21
Highlights:
Former Cabinet Secretary and Principal Advisor in the Prime Minister's Office (PMO) P.K. Sinha has relinquished his high-profile position on personal grounds.
He was appointed in the PMO first as Officer on Special Duty (OSD) briefly and then as Principal Advisor, a specially created position for him, in September 2019 after the 2019 parliamentary polls.
Besides him, two senior officials are serving as Advisors in the PMO: Bhaskar Khulbe and Amarjit Sinha, both 1983 batch retired IAS officials.
Mr. Sinha is a retired 1977 batch IAS officer of Uttar Pradesh cadre and served in various capacities during the UPA and the NDA regimes.
His is the second high profile exit from the PMO after PM's Principal Secretary Nripendra Misra had resigned after the last Lok Sabha polls.
Earlier, he was Secretary, Ministry of Power in the government of India and served as Cabinet Secretary for four years from 2015.
India surpass Russia's to become world's 4th biggest forex reserves - 15 Mar 21
Highlights:
India's foreign-exchange reserves surpassed Russia's to become the world's fourth-largest, as the South Asian nation's central bank continues to hoard dollars to cushion the economy against any sudden outflows.
Reserves for both countries have mostly flattened out this year after months of rapid increase.
Details Analysis:
India pulled ahead as Russian holdings declined at a faster rate in recent weeks.
India's foreign currency holdings fell by $4.3 billion to $580.3 billion as of March 5, edging out Russia's $580.1 billion pile.
China has the largest reserves, followed by Japan and Switzerland on the International Monetary Fund table.
India's reserves, enough to cover roughly 18 months of imports, have been bolstered by a rare current-account surplus, rising inflows into the local stock market and foreign direct investment.
Analysts say a strong reserves position gives foreign investors and credit rating companies added comfort that the government can meet its debt obligations despite a deteriorating fiscal outlook and the economy heading for its first full-year contraction in more than four decades.
The healthy FX reserves position should give enough comfort to RBI for dealing with any potential external shock-driven capital-stop or outflows in the period ahead.
The RBI bought a net $88 billion in the spot forex market last year, central bank data show.
That helped make the rupee the worst performer among Asia's major currencies last year and earned India a place on a US Treasury watchlist for currency manipulation.
A recent RBI report recommended further strengthening of foreign-exchange reserves, citing swings in the rupee around the time of the global taper tantrum in 2013.
Emerging market central banks need to build reserves to prevent any external shocks, irrespective of being put on watch by the US.
Indus Commissioners of India, Pakistan to meet in New Delhi - 15 Mar 21
Highlights:
The Indus Commissioners of India and Pakistan will meet on March 23 and 24 to discuss a host of issues, including Islamabad's concerns to the design of Indian hydropower projects on the Chenab River.
This will be the annual meeting of the Permanent Indus Commission.
Details Analysis:
Under the provisions of the Indus Water Treaty, both the commissioners are required to meet at least once a year alternately in India and Pakistan.
This will also be the first meeting between the two commissioners after the nullification of special provisions under Article 370 that gave special status to Jammu and Kashmir.
The state was later carved into two union territories - Ladakh, and Jammu and Kashmir.
Since then, India has cleared several hydropower projects in Ladakh.
They are Durbuk Shyok (19 MW), Shankoo (18.5 MW), Nimu Chilling (24 MW), Rongdo (12 MW), Ratan Nag (10.5 MW) for Leh, while Mangdum Sangra (19 MW), Kargil Hunderman (25 MW) and Tamasha (12 MW) have been cleared for Kargil.
India had conveyed the projects to Pakistan and the issue is expected to come for discussion during the meeting. Saxena said that Pakistan's concerns to the design of Indian hydropower projects on the Chenab river will also be discussed.
The last year's meeting, which was earlier scheduled to be held in New Delhi in March 2020, was cancelled for the first time since the signing of the Treaty, in view of the pandemic situation.
India in July 2020 had proposed to Pakistan that the meeting to discuss pending issues pertaining to the Indus Water Treaty be held virtually in the wake of the coronavirus pandemic, but Pakistan insisted on holding the talks at the Attari check post.
The meeting will take place after a gap of nearly two-and-half years. The last meeting took place in Lahore in August 2018.
The Indian delegation will be led by Saxena with his advisors from the Central Water Commission, Central Electricity Authority and National Hydroelectric Power Corporation.
The Pakistani delegation will be led by Syed Muhammad Meher Ali Shah, Pakistan Commissioner for Indus Waters and his eight advisors.
Under the provisions of the Indus Waters Treaty, signed between India and Pakistan in 1960, all the waters of the eastern rivers - the Sutlej, Beas, and Ravi - amounting to around 33 million acre-feet annually is allocated to India for unrestricted use and the waters of western rivers - Indus, Jhelum, and Chenab - amounting to around 135 MAF annually largely for Pakistan.
Under the Treaty, India has been given the right to generate hydroelectricity through a run of the river projects on the western rivers subject to specific criteria for design and operation. It also gives the right to Pakistan to raise concerns on the design of Indian hydroelectric projects on western rivers.
India is committed towards full utilisation of its rights under the Treaty and believes in an amicable solution of issues through discussion.
ISRO launches sounding rocket from Sriharikota spaceport - 15 Mar 21
Highlights:
The Indian Space Research Organisation (ISRO) has launched a sounding rocket to study attitudinal variations in the neutral winds and plasma dynamics from Sriharikota spaceport.
ISRO has developed a series of sounding rockets called Rohini series, important among them being RH-200, RH-300 and RH-560, number in the name indicating the diameter of the rocket in mm, according to the Bengaluru-headquartered space agency.
Launch of sounding rocket (RH-560) to study attitudinal variations in the neutral winds and plasma dynamics carried out at SDSC SHAR, Sriharikota.
Sounding rockets are one or two stage solid propellant rockets used for probing the upper atmospheric regions and for space research.
They also serve as easily affordable platforms to test or prove prototypes of new components or subsystems intended for use in launch vehicles and satellites.
Bhavani Devi scripts history, becomes first Indian fencer to qualify for Olympics - 15 Mar 21
Highlights:
Fencer Bhavani Devi has scripted history by becoming the first fencer from India to qualify for the Tokyo Olympics.
Union Sports Minister Kiren Rijiju congratulated Devi on her achievement.
The 27-year-old has qualified for the Olympics through the Adjusted Official Ranking (AOR) method.
Tokyo Olympics are set to take place from July 23 to August 8 this year.
Whereas, the Paralympics will take place from August 24 to September 5.
The Games were scheduled to be held last year, but it was postponed due to the Covid-19 pandemic.
Presently, the International Olympic Committee President is Thomas Bach.
WHO declares El Salvador malaria-free - 15 Mar 21
Highlights:
El Salvador today became the first country in Central America to be awarded a certification of malaria elimination by the World Health Organization (WHO).
El Salvador is first Central American country to achieve this status, third in all of the Americas in recent years.
The certification follows more than 50 years of commitment by the Salvadoran government and people to ending the disease in a country with dense population and geography hospitable to malaria.
Certification of malaria elimination is granted by WHO when a country has proven, beyond reasonable doubt, that the chain of indigenous transmission has been interrupted nationwide for at least the previous three consecutive years.
With the exception of one outbreak in 1996, El Salvador steadily reduced its malaria burden over the last three decades.
Between 1990 and 2010, the number of malaria cases declined from more than 9000 to 26. The country has reported zero indigenous cases of the disease since 2017.
El Salvador is the third country to have achieved malaria-free status in recent years in the WHO Region of the Americas, following Argentina in 2019 and Paraguay in 2018.
Seven countries in the region were certified from 1962 to 1973. Globally, a total of 38 countries and territories have reached this milestone.
El Salvador's endeavors for Elimination:
El Salvador's anti-malaria efforts began in the 1940s with mechanical control of the malaria vector- the mosquito - through construction of the first permanent drains in swamps, followed by indoor spraying with the pesticide DDT.
In the mid-1950s, El Salvador established a National Malaria Program (CNAP) and recruited a network of community health workers to detect and treat malaria across the country.
By the late 1960s, progress had slowed as mosquitoes developed resistance to DDT.
Throughout the 1970s, there was a surge of migrant laborers on cotton estates in coastal areas near mosquito breeding sites, in addition to discontinued use of DDT.
El Salvador experienced a resurgence of malaria, reaching a peak of nearly 96 000 cases in 1980.
The government also decentralized its network of diagnostic laboratories in 1987, allowing for cases to be detected and treated more rapidly.
These factors and the collapse of the cotton industry led to a rapid decline of cases in the 1980s.
Hurun India Wealth Report 2020 released - 16 Mar 21
Highlights:
The Hurun India Wealth Report, 2020 was released on March 16, 2020.
The report identifies a novel household category in India called the 'New Middle Class' which accounts for an average savings of Rs 20-lakh per annum.
The report highlights that these households have a major allocation towards physical assets like primary residential property and automobiles.
As per the report, the total number of such cumulative households in India stands at 633,000.
According to Hurun, there are 412,000 dollar-millionaire households / affluent households in India with a networth of at least Rs 7 crore.
As per the report, the Hurun Rich Listers comprise a wealth of Rs 1,000 crore.
This category of the report comprises 3000 number of cumulative households in India.
The 'Indian middle class' has earnings of over Rs 2.5-lakh per annum while they have a net worth of less than Rs 7 crore.
The 'Indian Middle Class' category accounts for 56400,000 families in India.
Virat Kohli becomes the first player to score 3000 runs in men's T20I - 16 Mar 21
Highlights:
Indian captain Virat Kohli has breached the 3000-run mark in Twenty20 Internationals with his last shot in the second T20I against England.
Kohli's knock of 73 runs, which came off 49 balls, also helped India to level the five-match T20I series.
He also became the third captain in international cricket to score 12000 runs as a captain.
He joined legendary captains Ricky Ponting and Graeme Smith in the elite list.
He is also the leading run-scorer in the Indian Premier League with 5878 runs from 192 matches.
Kohli now has 6001 runs from 87 T20Is since making his debut in the format in Zimbabwe in 2010.
Audio cassette tape inventor Lou Ottens passes away - 16 Mar 21
Highlights:
The Dutch inventor of audio cassette tapes, Lou Ottens passed away.
Dutch engineer credited with inventing the cassette tape and playing a major role in the development of the first CD.
In 1963, Ottens presented the first cassette tape at the Berlin Radio Show electronics fair.
After the fair deal signed between Sony and Philips to patent his creation that gained worldwide popularity. Ottens also worked on the CD development project.
World Consumer Rights Day observed on 15th March - 16 Mar 21
Highlights:
World Consumer Rights Day was celebrated globally to protect the rights of consumers on March 15, 2020.
The purpose of this day is to raise people's awareness of consumer needs and rights, and to ensure that they will not suffer from social injustice or market abuse that may undermine their rights.
Theme for 2021 is: Tackle Plastic Pollution.
Countries around the world commemorate World Consumer Rights Day by holding human rights conferences and discussing various ways to protect consumer rights.
World Consumer Rights Day: Fact File
World Consumer Rights Day was commemorated for the first time on March 15, 1983.
Since then, this day of the year has been called World Consumer Rights Day.
The theme of World Consumer Rights Day (2019) is "Trusted Smart Products".
This theme emphasizes consumer demand for IoT products such as smart phones and wearable devices.
The theme of World Consumer Rights Day 2020 is "Sustainable Consumers".
Parliament passed the Consumer Protection Act 2019 in the month of August 2019 which replaces the 1986 Consumer Protection Act. India celebrates December 24th every year as National Consumer Day.
The inspiration for World Consumer Rights Day came from US President John F Kennedy. He sent a special message to the US Congress on March 15, 1962, in which he formally talked about consumer rights.
The consumer movement originally set this date in 1983 and at present uses this day every year to mobilize action on important issues and activities.
WEF honours ReNew Power named as Global Lighthouse Network - 16 Mar 21
Highlights: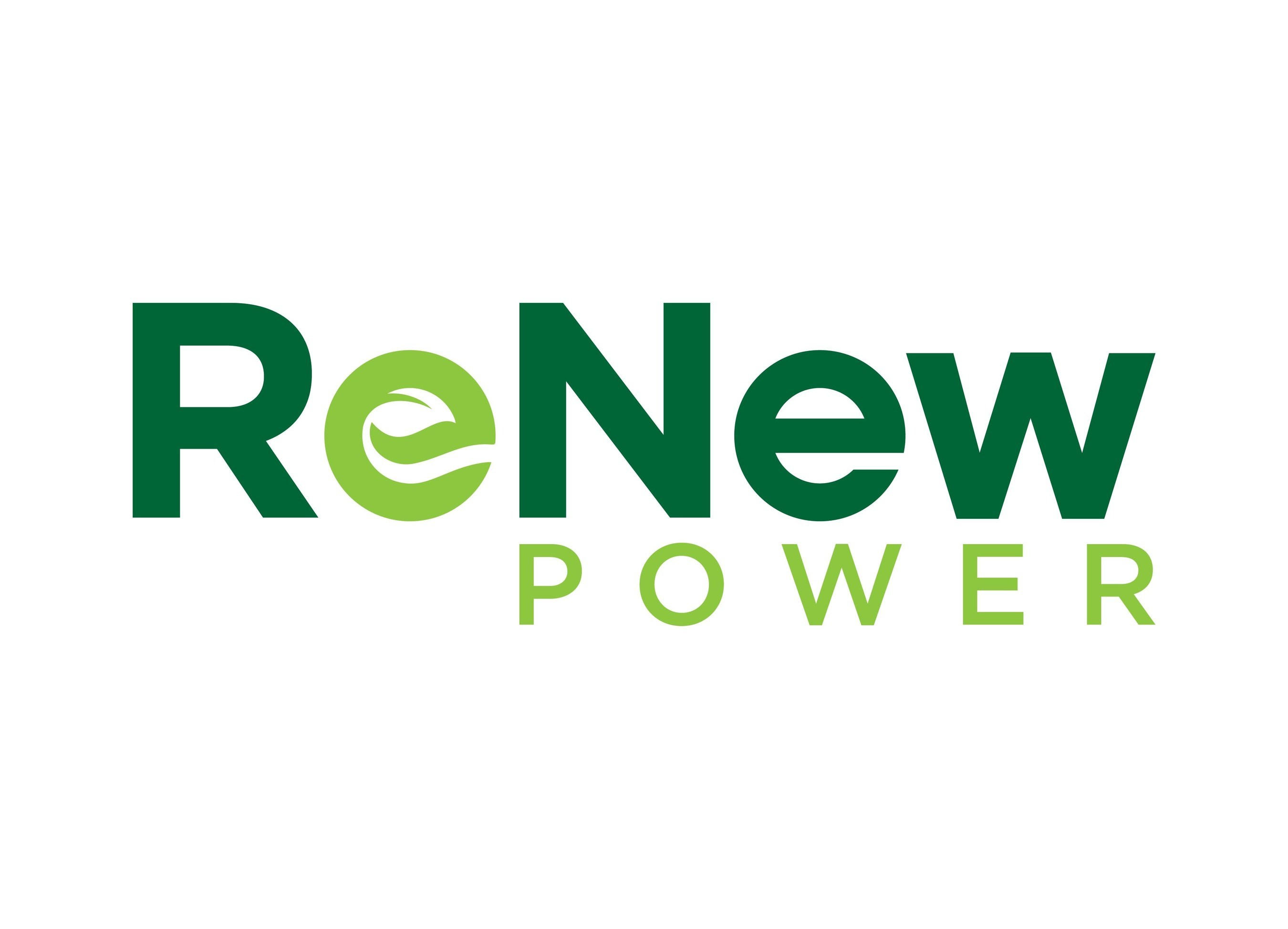 "ReNew Power has been named to the World Economic Forum's (WEF) Global Lighthouse Network, which recognises companies using new technologies to achieve environmentally sustainable, community supportive, profitable growth.
The WEF specifically noted the company's recent investments in digital analytics and machine learning to increase the power yield and decrease the downtime of its solar and wind generation assets.
ReNew Power is one of the two Indian companies to be recognised by the Global Lighthouse Network this year.
ReNew's Hubli facility was specifically nominated as a Global Lighthouse for its groundbreaking work in development and deployment of advanced analytics and machine learning solutions to increase the yield of ReNew's wind and solar assets.
The technology deployment helped ReNew improve employee productivity by 31% and reduce downtime for its assets by 31%, without incurring any additional capital expenditure.
WEF Global Lighthouse Network: A Fact file
It is a group of 69 factories which serve as a platform to develop, replicate, and scale innovations, creating opportunities for cross-company learning and collaboration while setting new benchmarks for the global manufacturing community.
Last month, ReNew Power entered into definitive agreement for a business combination with RMG Acquisition Corporation II, a publicly-traded special purpose acquisition company.
This would result in ReNew becoming a publicly-listed company.
Sahitya Akademi Awards 2020 Announced - 16 Mar 21
Highlights:
The National Academy of Letters announced the name of the "2020 Sahitaya Akademi Award" on March 12, 2021.
These names were announced during the opening of the annual "Literature Festival" event.
The award will be awarded to politician writer M Veerappa Moily, poet Arundhathi Subramaniam and 20 other writers.
Subramaniam's collection of poems "When God is a Traveler" won the grand prize in English.
Veerappa Moily was named Kannada for his epic poems, named "Sri Bahubali Ahimsa Digvijayam".
This list includes seven poems, five short stories, four novels, two plays, one memoir, and one epic, including 20 Indian languages.
The awards for Nepali, Malayalam, Odiya and Rajasthani languages will be announced later.
In the "Poetry Category", the award was organized by Harish Menaksi (Gujarati), RS Bhaskar (Konkani), Anamika (Hindi), Irungbam Deven (Manipuri), Nikhileshwar (Thailand). Lugu) and Rupchand Hansda (Santali) awarded.
In the "novelty category", Imaiyam (Tamil), Nanda Khare (Marathi), Mahesh Chandra Sharma Gautam (Sanskrit) and Sri Hussain-ul-Haque were named the winners.
Apurba Kumar Saikia (Assamese), Hiday Koul Bharti (Kashmiri), Dharanidhar Owari (Bodo), Gurdev Singh Rupana (Punjabi) and Kamakant Jha (Maithili) won the short story award.
Sahitya Akademi Award : A Fact File

The Sahitya Akademi Award is a literary honor in our country India.
It was awarded by Sahitya Akademi, the National Writing Institute of India.
The award is given to the most outstanding literary achievement books, which are published in any of the 24 major Indian languages, including Hindi, English and the other 22 languages of the Eighth Schedule to the Constitution.
The award includes a casket, which consists of an engraved bronze plaque and a shawl, in the amount of 1,00,000 rupees.
Mera Ration Mobile App Launches - 17 Mar 21
Highlights:
The government of India has just launched the Mera Ration app that's going to help migrant workers.
Mera Ration has been launched by the ministry of consumer affairs, food and public distribution and the app is a part of the government's One Nation One Ration Card (ONORC) system.
Ration card holders can use the app to identify the nearest fair price store.
Features:
The card holders can use the app to identify the nearest fair price store, view their rights and details of recent transactions.
This is particularly advantageous for cardholders to move to a new living area.
Immigration beneficiaries can register their migration details through the mobile app.
They can register before starting the journey, and the system will automatically allocate eligible food grains.
NGT sets up Committee to prevent unscientific mining in Meghalaya - 17 Mar 21
Highlights:
The National Green Tribunal (NGT) have established an oversight committee on March 15, 2021 comprising of twelve members in order to prevent the unregulated and Unscientific mining in Meghalaya.
The committee was established after the NGT observed that rat-hole mining is so often in Meghalaya despite the government has put ban on it.
The bench headed by NGT Chairperson, Justice Adarsh Kumar Goel, highlighted that the state authorities are bound to work for the protection of scarce natural resources in accordance with the "Public Trust Doctrine".
The tribunal also highlighted that, the monitoring cannot continue forever, so task needs to be taken by the executive authorities which will then be overseen by the oversight committee.
Oversight Committee:
It will be headed by Additional Secretary of the Ministry of Environment and Forests.
The Regional Officer of the MoEF of Shillong will act as the Member Secretary of this Committee.
The member secretary will coordinate with the working of Committee and will deal with day-to-day issues as per the decisions of Committee.
This committee will be meeting within one month to take report of the situation and plan for the future actions.
The committee will take forward the compliance of the judgment given by the Supreme Court.
The committee will also order the Tribunal to prevent the unscientific & unregulated mining.
It will also involve in handling the materials which are already mined and other incidental issues.
It might undertake necessary measures in order to rejuvenate the contaminated streams and rivers.
Rat Hole Mining:
The digging of narrow horizontal tunnels which is usually 3-4 feet in height through which the workers can enter and extract coal is called as the "Rat Hole Mining".
Each hole just fits one person.
World's Largest Floating Solar Farms being built in Singapore - 17 Mar 21
Highlights:
The largest floating solar farm of the world is being built in Singapore.
The country has resorted to set up the energy plants off the coasts and reservoirs across it.
This floating solar farm is being set up in the light that despite being one of the smallest countries across the world, it is one of the biggest per capita carbon dioxide emitters in India.
Thus, to cater to the issue of climate change and to cut the greenhouse gas emission it is building the floating solar farm.
This project is being built by Sembcorp Industries.
Renewable Energy in Singapore:
The renewable energy is a challenge for Singapore because the country has no rivers for hydro-electricity. The wind is also not that strong to power the turbines.
Thus, with the setting up of the floating solar farms the authorities seek to change that notion.
So, this tropical country has turned to the solar power.
Since, it has little land space, equal to the half the size of Los Angeles, the country has decided to setting up energy plants off its coasts and on reservoirs.
Threat to the country:
The island nation is threatened by the rising sea levels as a result of the climate change.
So, the country is aware of urgency to cut down the emissions.
In the light, the government of Singapore unveiled several "green plans" including the steps like building more charging points to encourage the electric cars uses, reducing the amount of waste sent to landfills and planting more trees.
The country has also target to increase its solar energy use by four times amounting to two percent of the power needs of the country by 2025 and then to three percent by 2030.
KRAS releases First batch of MRSAM Missiles - 17 Mar 21
Highlights:
The Kalyani Rafael Advanced Systems (KRAS), which is a joint venture between the Kalyani Group of India and Rafael Advanced Defence Systems of Israel, have released the first batch of Medium Range Surface to Air Missile (MRSAM) kits.
The missile was released for Indian Army and Indian Air Force.
The release of the MRSAM Missile also marked the KRAS' commitment to deliver more than 1000 MRSAM missile kits to India in near future.
These missile sections will then be sent for further and future integration to the Bharat Dynamics Limited (BDL).
The Kalyani Group has infused the "State-of-the-art technology with the engineering excellence in the company.
KRAS: A Fact File
It is the private sector MSME of India comprising of advanced manufacturing capabilities and facilities which is specially dedicated to address the assembly, integration and testing (AIT) of the state-of the-art weapon systems which are being inducted in the India's defence forces.
KRAS also address the Maintenance and Repair Operations (MRO) of the major in-service Air Defence Missile System in the Indian Air Force.
Medium-Range Surface-to-Air Missile (MRSAM):
The MRSAM was developed by the Defence Research and Development Organization (DRDO) in association with the Israel Aerospace Industries (IAI).
The missile was handed over to India in August 2019.
The missile provides the air defence capability to the Indian Armed forces against a several aerial threats at medium ranges.
The MRSAM weapon system comprises one command & control system, one tracking radar, Mobile launcher systems and missiles.
Mobile launcher system is used to transport and launch up to eight canisterised missiles.
It is 4.5m-long and weighs 276kg.
The weapon is also equipped with the canards and fins to control & manoeuvrability.
It is also equipped with the advanced active radar radio frequency (RF) seeker and an advanced rotating phased array radar.
Union Cabinet clears DFI with capital infusion of Rs 20000 crore - 17 Mar 21
Highlights:
The Finance Minister, Nirmala Sitharaman, announced on March 16, 2021 that the Union Cabinet chaired by Prime Minister, Narendra Modi, has cleared the proposal of setting up of the "Development Finance Institution (DFI) with the capital infusion of rupees 20,000 crore.
This proposal was approved in a bid to boost the infrastructure development in country.
The announcement for this legislation was made by the finance minister during the Union Budget 2021-2022 speech on February 1, 2021.
After the announcement, some 7,000 projects have been identified under National Infrastructure Pipeline (NIP).
The government has projected the investment of Rs 111 lakh crore for the period 2020-25.
What is DFI ?
A development finance institution also known as a development bank or development finance company is a financial institution that provides risk capital for economic development projects on non commercial basis. As of 2005, total commitments of the major regional, multilateral and bilateral DFIs totaled US$45 billion.
The Development Finance Institution will be set up in order to raise long-term funds.
There will also be some tax benefits on DFI for a period of 10-years. DFI would comprise of a professional board in which 50 % of the members will be non-official directors.
Under it, the initial grant will be Rs.5,000 crores.
Later, additional increments of grant will be made in to effect within the limit of Rs. 5,000 crore.
In the initial phase, new institution will be owned by government while in the later phase, the government's stake will be cut to 26%.
Significance of DFI:
The government is also planning to issue securities to DFI which in turn will help in lowering the cost of funds.
This will help the institution to leverage the initial capital and drawing funds from several sources.
It will also positively impact the bond market in India.
The institution also seeks to raise the funds from global pension and insurance sectors in order to invest in new projects.
DFI would also help the banks to cater the issue of asset-liability mismatch in the bank which are lending to infrastructure.
Nokia to Develop New 5G Radio Solutions - 17 Mar 21
Highlights:
The Finnish telecom equipment maker, Nokia, announced on March 16 that it has partnered with the Microsoft, Amazon web services and Google so as to develop a new cloud-based 5G radio solution.
This solution will be developed with its radio access network (RNA) technology.
This partnership was gone with objective of developing a new business cases, in three separate statements.
RAN is the part of a mobile telecommunication system.
This system implements a radio access technology.
RAN resides between a device like computer, mobile phone or any remotely controlled machine.
It also provides connection with the core network.
Based on the standard mobile phones and other wireless connected devices are called as user equipment, terminal equipment or mobile station etc.
The functionality of RAN is typically provided by the silicon chip which resides in both the core network and the user equipment.
Features of RAN:
The single handset or phone can be connected to multiple radio access networks simultaneously.
The Handsets which are capable of this feature are called as the dual-mode handsets.
For example, a handset can commonly support both GSM and UMTS or "3G" radio access technologies.
Such devices also transfer the ongoing call across different radio access networks without any disruption to users.
SBI and IOCL to ink India's First Libor Alternative Rate Deal - 18 Mar 21
Highlights:
The State Bank of India (SBI) and Indian Oil Corporation Limited (IOCL) will be sign the first Secured Overnight Financing Rate (SOFR) linked external commercial borrowing (ECB) deal.
The deal will be signed because the de facto international benchmark reference rate called the London Interbank Offered Rate (LIBOR) will no longer work as the benchmark after December 2021.
The state Bank of India highlighted that, it will be arranging $100 million linked to SOFR for 5 years.
The LIBOR will no longer work as the benchmark after December 2021.
Thus, the Secured Overnight Financing Rate (SOFR) and Sterling Overnight Interbank Average Rate (SONIA) are the most potential alternatives.
But only a few swap deals are linked to these alternatives at the international level.
Libor is still used extensively specially for loans which are getting matured within the year.
What is LIBOR ?
LIBOR is an interest-rate average which is calculated with the help of the estimates which is submitted by leading banks in London.
Under it, each bank estimates what it would be charged to borrow from other banks.
The rate was formerly known as British Bankers' Association Libor (BBA LIBOR) before the responsibility of the administration was transferred to Intercontinental Exchange.
It is a primary benchmark for the short-term interest rate across the world, along with the Euribor.
However, this interest rate average will not be published any after December 2021 and the market participants are being encouraged to transition towards other risk-free rates.
These rates are calculated on five currencies and seven borrowing periods which ranges from overnight to one year.
The rates are published each business day by the Thomson Reuters.
India leads m-cap gains in world's top 10 nations - 18 Mar 21
Highlights:
Indian stocks have gained the most across the world's top 10 nations by market value in the fiscal year 2021-2022.
This has underscored the strength of rally which was not affected by the covid-induced economic uncertainties.
The data from the Bloomberg highlights that, India's aggregate market capitalization has reached to 88% in dollar terms in the current fiscal.
This was recorded as the sharpest increase in the aggregate market capitalization since the financial year 2011.
In the fiscal year 2019-2020, the market capitalization of India reached to 31% following the nationwide lockdown wrecked investor sentiment.
Despite witnessing the sharp rise, India was ranked at the eighth position among countries with the market capitalization of $2.8 trillion.
The United States saw the aggregate market capitalization expansion of 67% with the market capitalization of $45.83 trillion while China saw the expansion of 52% with the market capitalization at $10.57 trillion from April 2020 till date.
Canada saw the expansion of 78% with market capitalization of $2.89 trillion.
The lowest growth of 28% was witnessed in Saudi Arabia where the market capitalisation was $2.53 trillion
What is Market Capitalization ?
It is commonly known as the market cap. Market cap is defined as the market value of the outstanding shares of any publicly traded company.
It is equal to the share price multiplied by the number of shares outstanding.
The capitalization can also be used as the indicator of the public opinion since the outstanding stock is bought and sold in the public markets. It only shows the equity value of the company.
Mathematics And Physics Not Mandatory For Engineering - AICTE - 18 Mar 21
Highlights:
The All India Council for Technical Education (AICTE) has issued an approval process manual for the 2021-22 academic year.
The "AICTE Handbook" emphasizes this point; Physics, Chemistry, and Mathematics will continue to be important subjects in core engineering streams such as mechanical engineering.
However, for courses such as Textile engineering, Agriculture or Biotechnology, students may choose not to study these three subjects in class 12.
Those who do not choose these courses will have to make up for it through university bridge courses.
This rule will be implemented from the 2021-22 academic year.
According to regulations, students who want to apply for certain engineering courses (such as Textile engineering, etc.) must pass Physics, Chemistry, Biology, Mathematics, Electronics and IT, Computer science, Technical Vocational Subjects, Information practice, and Biotechnology , Agriculture, Engineering and Business research.
The new rules also stipulate that students in the non-reserved category must score 45%, and students in the reserved category must score 40% in order to pass the 12th level.
AICTE : Fact File
AICTE is a statutory body and a national technical education council.
It operates under the Department of Higher Education.
The council was established in November 1945.
In 1987, statutory status was granted to council in accordance with the Parliamentary Act.
US Becomes Second Biggest Oil Supplier of India - 18 Mar 21
Highlights:
The United States has surpassed Saudi Arabia to become India's second largest oil supplier.
This shift came after refineries increased their purchases of cheaper U.S. crude oil to record levels to offset OPEC+ production cuts.
The shift in supply was triggered by lower crude oil demand in the United States.
It coincided that Saudi Arabia voluntarily cut its output by 1 million barrels per day in accordance with an agreement between the Organization of Petroleum Exporting Countries and its allies (OPEC+) to maintain a low output.
India's oil imports from the United States, the world's largest oil producer, increased to 48%, reaching a record 545,300 barrels per day (barrels/day) in February 2021, accounting for 14% of India's total imports in February.
On the other hand, since January 2021, India's imports from Saudi Arabia have decreased by 42%, falling to a 10-year low of 445,200 barrels per day.
As a result, Saudi Arabia, which has always been one of India's two largest oil suppliers, fell to fourth place for the first time since 2006.
India is the world's third largest oil importer and consumer.
The country has repeatedly called on major oil producers to ease supply constraints and help the global economy recover.
India also pointed to Saudi Arabia's voluntary cuts to promote the rise of global oil prices.
According to data, Iraq is still India's largest oil seller.
Even though oil purchases fell by 23% from a five-month low to 867,500 bpd, they maintained their highest position.
Iraq has also cut its annual oil supply to Indian refineries by 20% in 2021 to fulfill its obligations under the OPEC production agreement.
New Delhi is World's Most Polluted City: IQAir Study - 18 Mar 21
Highlights:
According to "2020 World Air Quality Report", the capital city of India, New Delhi, is the world's most polluted capital across the world for the third straight year in the year 2020.
The Swiss group "IQAir" measures the air quality levels on the basis of concentration of lung-damaging airborne particles.
India is home to 35 of the polluted cities out of world's 50 most polluted cities.
Details Analysis:
IQAir Study had prepared the report by collecting data across 106 countries.
The findings of the report were based on annual average of particulate matter PM2.5 and the airborne particles having diameter less than 2.5 microns.
The Prolonged exposure to PM2.5 results into the deadly diseases like cancer and cardiac problems.
The report highlights that, in the year 2020, the average annual concentration of PM2.5 of New Delhi was 84.1 cubic meter of air.
This figure was more than double the level of PM 2.5 concentration in Beijing with the average of 37.5 in 2020.
Thus, it was the 14th most polluted city across the world.
The study by Greenpeace Southeast Asia Analysis & IQAir states that, the air pollution resulted into an estimated 54,000 premature deaths in New Delhi in the year 2020.
The report further highlights that, amid the covid-19 led lockdown had resulted into 11 % reduction in annual average of the PM 2.5 levels.
Despite that, India become the world's third most polluted country.
The top polluted countries include Bangladesh and Pakistan. Report also stated that, the average PM 2.5 levels was 144 micrograms per cubic metre in November 2020 and in December it increased to 157 micrograms per cubic metre because of stubble burning.
This was 14 folds greater than the annual exposure guidelines of the World Health Organisation.
Dr. Harsh Vardhan appointed as Chairman of 'Stop TB Partnership Board' - 19 Mar 21
Highlights:
The Union Health Minister, Dr. Harsh Vardhan, has been appointed as the chairman of "Stop TB Partnership Board" on March 18, 2021.
This appointment was made to recognise his outstanding contribution towards the movement of eradicating Tuberculosis (TB) from India by 2025.
He will be serving the global body for a three-year term from July 2021.
It is an international body which is having the power to align the nations to fight against TB.
The body observes the participation of a wide range of constituencies which provides credibility to this body.
With the participation of several constituencies, the body gets a broad range of medical, social and financial expertise which is required to defeat TB.
The body works with the vision of a "TB-free world".
Stop TB Partnership Board: A Fact File
Stop TB Partnership was established in 2000.
The body has been mandated to eliminate Tuberculosis as a public health problem.
The organization was established after the meeting of First Session of Ad Hoc Committee on Tuberculosis Epidemic which was held in London in 1998.
The organisation called for collaborative action from ministerial delegations through the Amsterdam Declaration.
The ministerial delegations were to be participate from the 20 countries which is having the highest burden of TB.
The body has 1500 partner organizations including the international, non-governmental and governmental organizations. It is based at Geneva, Switzerland.
India's commitment against TB:
India has committed to eliminating TB by 2025.
India's deadline is five years ahead of global deadline of 2030.
The Government has also out forward the National Strategic Plan for TB Elimination for the year 2017-2025.
It highlights the ambitious agenda and targets of ending TB Strategy.
Italy joins International Solar Alliance - 19 Mar 21
Highlights:
The Ministry of External Affairs of India has informed that Italy has signed a framework agreement with India on March 17, 2021 to join the International Solar Alliance (ISA).
The Italian Republic signed the framework agreement of ISA following the amendment made to the framework agreement of ISA which came in to effect on January 8, 2021.
This amendment had opened the membership in the Solar Alliance to all the members of the United Nations.
The ISA Framework Agreement was signed by Ambassador of Italy, Vincenzo De Luca.
The Foreign Secretary of India, Harsh Vardhan Shringla had met the Ambassador of Italy, Vincenzo De Luca on March 17, 2021.
During the meeting, Indian secretary welcomed the accession of Italy to the International Solar Alliance. During the meeting, both the sides also discussed the G20 Presidency of Italy which Italy is currently holding.
Both the countries also discussed the vaccine maitri initiative.
Under the vaccine maitri initiative, India is using the vaccine production and delivery capacity to export the covid-19 vaccine to other countries so as to fight the pandemic induced crisis.
International Solar Alliance (ISA): A Fact file
ISA is a treaty-based intergovernmental alliance comprising of 121 countries.
The establishment of the alliance was initiated by India.
Most of the member countries are the sunshine countries.
These countries are located either completely or partly in between Tropic of Cancer and Tropic of Capricorn. However, the countries falling outside the tropics can also join the alliance and avail all the benefits which are available to the members except the voting rights.
ISA works with the objective of working for the efficient consumption of the solar energy to reduce the dependency on the fossil fuels.
This initiative was first proposed Narendra Modi in November 2015 at the Wembley Stadium, London.
During the address, the Indian Prime Minister had referred the sunshine countries as Suryaputra meaning Sons of the Sun.
World Bank approved to provide USD 200 million to Bangladesh - 19 Mar 21
Highlights:
The World Bank has approved USD 200 million in order to help Bangladesh.
This amount will be used to provide support and services to low-income urban youths who have been impacted by COVID 19 pandemic and the migrants who lost their jobs or had to return to the country involuntarily amid the covid-19 pandemic.
The World Bank has come up with the Recovery and Advancement of Informal Sector Employment (RAISE) project.
This project aims to benefit around 1.75 lakh poor urban youth by apprenticeship programme, training, micro & self-employment support, and counselling.
This project will help around 2 lakh migrants who returned to Bangladesh to reintegrate in domestic labour migrate.
It will also help them to prepare for re-migration.
Under the project, they will get the cash grants and counselling services on the basis of their needs and aspirations.
The project will be benefiting the migrants as well as the urban informal sector to overcome the structural barriers and to gain employment.
To provide the support and services, 32 district welfare centres will be set up across Bangladesh.
The concessional lending will be provided by the World Bank's' International Development Association (IDA) over a 30-year term with the grace period of 5 years.
International Development Association (IDA): nA Fact file
It is an international financial institution.
The institution offers the concessional loans and grants to poorest developing countries across the world.
IDA is a member of World Bank Group.
It is headquartered in Washington D.C. in United States.
IDA was set up in the year 1960.
The organisation complements the existing International Bank of Reconstruction and Development.
It lends the developing countries which are suffering from the lowest gross national income.
Russia deploys Giant Space Telescope in Lake Baikal - 19 Mar 21
Highlights:
Russian scientists have launched one of the biggest underwater space telescopes of the world on March 13, 2021.
This underwater space telescope was deployed deep into universe from pristine waters of Lake Baikal.
The deep underwater telescope was under construction since the year 2015.
The telescope has been designed to observe the smallest known particles called neutrinos.
The telescope has been named as "Baikal-GVD".
It was submerged to the depth of 750-1300 meters across the four kilometres from the shore of Lake Baikal.
The floating observatory comprises of strings along with the spherical glass and the attached stainless-steel modules.
The Baikal telescope will rival Ice Cube which is a giant neutrino observatory under the Antarctic ice at the US research station located at the South Pole.
Government to establish Women Helpline Centres in Foreign Countries - 19 Mar 21
Highlights:
The central government will soon establish a women helpline centres in foreign countries which will look after the distressed overseas residents.
These Women Helpline Centres are being set up with the help of Ministry of external affairs in other countries.
This is being done to ensure safety and security of Indian women across the world.
The union minister also informed that the government has associated with NIMHANS for the mental health outreach of the children and has launched project SAMVAD.
This project is providing the psychological help to the children in distress.
The centre has also collaborated with NALSA and the Ministry of Home Affairs to ensure a fair compensation for the acid attack victim.
The Ministry of Women and Child Development is funding the project SAMVAD which is led by NIMHANS.
This project aims for mental health outreach for the Child Survivors of trafficking, Child in conflict with law or the children who are abandoned and orphaned.
Project SAMVAD:
This project is called "Support, Advocacy and Mental Health Interventions for Children in Vulnerable Circumstances and Diseases".
This project was launched in June 2021.
It is being run in association with the Panchayati Raj Ministry.
The total cost of the project is Rs.56 crore for the period of five years.
Till date, a total of 41,000 personnel has come in contact with the children in need of care and protection.
These personnel were trained across 28 States to screen the children having mental concerns to ensure the early intervention.
What is NIMHANS ?
NIMHANS is "National Institute of Mental Health and Neuro-Sciences".
It is a premier medical institution located in Bengaluru.
It is the apex centre of mental health and neuroscience education.
It operates autonomously under Ministry of Health and Family Welfare.
It has been ranked 4th best medical institute across India.
Government has set up 11 committees to drive country to Circular Economy - 19 Mar 21
Highlights:
The government has set up 11 committees which will be led by the concerned line ministries apart from officials from Ministry of Environment, Forest and Climate Change (MoEFCC) and NITI Aayog.
The committee will expedite the transition India from a linear to a circular economy across the 11 focus areas.
These committees will be preparing the comprehensive action plans to help in transitioning from the linear to the circular economy in the respective focus areas.
The committee will also carry the necessary modalities which in turn will ensure the effective implementation of findings and recommendations.
The government has selected 11 focus area to move from linear economy to the circular economy.
The areas include: Municipal Solid Waste & Liquid Waste, Electronic Waste, Scrap Metal (Ferrous & Non-Ferrous), Solar Panels, Gypsum, Lithium-Ion Batteries, Agriculture Waste, Toxic Hazardous Industrial Waste, Used Oil Waste, Tyre and Rubber Recycling and End-of-life Vehicles (ELVs).
What is the need of transition?
Sustainable growth is the key element of the Aatma-Nirbhar Bharat initiative.
So, India needs a development model for the optimum utilization of