Monthly Current Affairs for all banking PO,Clerk,IBPS PO,Railway,SSC,IAS,OAS Exams
More Visit www.isbtonline.com
PCC Meet on Climate Change begins in New Delhi - 01 Oct 19
Highlights:
India is hosting the Second Lead Author Meeting of the Intergovernmental Panel on Climate Change (IPCC) Working Group III Sixth Assessment Report at New Delhi.
The IPCC authors and scientists are working to deliver the most relevant and up-to-date research on climate change mitigation.
More than 200 experts/authors including 12 from India and others from around 65 countries are expected to participate in this week-long meeting at New Delhi.
The Building on previous Working Group III assessments, this report will emphasize what can be done in the near term to mitigate climate change, and how mitigation actions can be enabled through policy, institution-building and finance.
Sixth Assessment Report (AR6):
Sixth Assessment Report (AR6) examine topics such as the link between consumption and behaviour and greenhouse gas emissions, and the role of innovation and technology.
The report will assess the connection between short to medium-term actions and their compatibility with the long-term temperature goal in the Paris Agreement.
It will assess mitigation options in sectors such as energy, agriculture, forestry and land use, buildings, transport and industry.
The First Order Draft will be available for Expert Review from 13 January to 8 March 2020.
The Second Order Draft will be open for Government and Expert Review from 13 July to 13 September 2020.
The IPCC Working Groups will release their contributions to the Sixth Assessment Report in 2021.
The United Nations Framework Convention on Climate Change (UNFCCC) countries will review progress towards the Paris Agreement goal of keeping global warming to well below 2°C while pursuing efforts to limit it to 1.5°C.
IPCC:
The IPCC is the UN body for assessing the science related to climate change.
It was established by the United Nations Environment Programme (UNEP) and the World Meteorological Organization (WMO) in 1988
To provide political leaders with periodic scientific assessments concerning climate change, its implications and risks, as well as to put forward adaptation and mitigation strategies.
It has total 195 member states.
The IPCC has three working groups: Working Group I, dealing with the physical science basis of climate change; Working Group II, dealing with impacts, adaptation and vulnerability; and Working Group III, dealing with the mitigation of climate change.
State Bank of India becomes first Indian bank to have office in Australia's Victoria - 01 Oct 19
Highlights:
State Bank of India opened its Melbourne office to become the first Indian bank to have a branch in the Australian state of Victoria.
The Melbourne office will assist the growing trade and investment relations between Victoria and India and is the outcome of the state's 10-year India Strategy our shared future.
This investment by India's largest commercial bank is a testament to our thriving financial services sector and our highly skilled workforce.
The two-way merchandise trade between Victoria and India was to the tune of 1.76 billion Australian dollars in 2018.
The presence of leading Indian businesses, including Cipla, Cyient, HCL, Infosys, Ramco, Samvardhana Motherson Group, TCS, Tech Mahindra, Ugam Solutions, Wipro, Zoonga and Zomato.Victoria's financial sector employs more than 122,000 people and generates around 40 billion Australian dollars every year.
Presently,State bank of India is the oldest and largest public sector bank in India.
Justice Rajendra Menon will be the new Chairperson of Armed Forces Tribunal - 01 Oct 19
Highlights:
Justice Rajendra Menon will be the Chief Justice of India (CJI) Ranjan Gogoi as the Chairperson of the Armed Forces Tribunal (AFT).
Justice Rajendra Menon is the former Chief Justice of Delhi High Court.
The current Chairperson Justice Virender Singh is retiring on October 6.
The provisions of Finance Act related to the appointment procedure to members of The Tribunals is under challenge delayed until the matter is decided.
Justice Rajendra Menon: A brief History
Justice Rajendra Menon born on 7 June 1957.He is the former Chief Justice of the Delhi High Court.
He was appointed as an Additional Judge to the Gwalior Bench of the Madhya Pradesh High Court. He became Chief Justice of the Patna High Court.
He was appointed as Chief Justice of the Delhi High Court and retired on June 6, 2019.
Armed Forces Tribunal (AFT):
The Armed Forces Tribunal (AFT) established in 2009 under the Armed Forces Tribunal Act 2007 at New Delhi.
The AFT has a power of adjudication or trial of disputes and complaints with respect to appointments, commission, enrolments and conditions of services.
It has a principal bench at New Delhi while regional benches have been established at Jaipur, Lucknow, Chandigarh, Kolkata, Chennai and Guwahati.
Retired High Court Judges are judicial members of the AFT.
Ayushmann named Actor of the Year at GQ Men of the Year Awards 2019 - 01 Oct 19
Highlights:
Ayushmann Khurrana won the Actor of the Year award at the 11th edition of GQ Men of the Year Awards held in Mumbai.
Shahid Kapoor won the Ultimate GQ Man award and the Rule Breaker of the Year award went to Katrina Kaif.
Hrithik Roshan was given the Game Changer of the Year award.
The theme for this year's Men of the Year awards was Aqua.
Actor Shahid Kapoor deservedly took home the Ultimate GQ Man award
The environmentalist Afroz Shah presented with Eco-Warrior award for his efforts at cleaning the beaches of Mumbai.
Niti Aayog's School Education Quality Index:Kerala tops, U.P. is worst performer - 01 Oct 19
Highlights: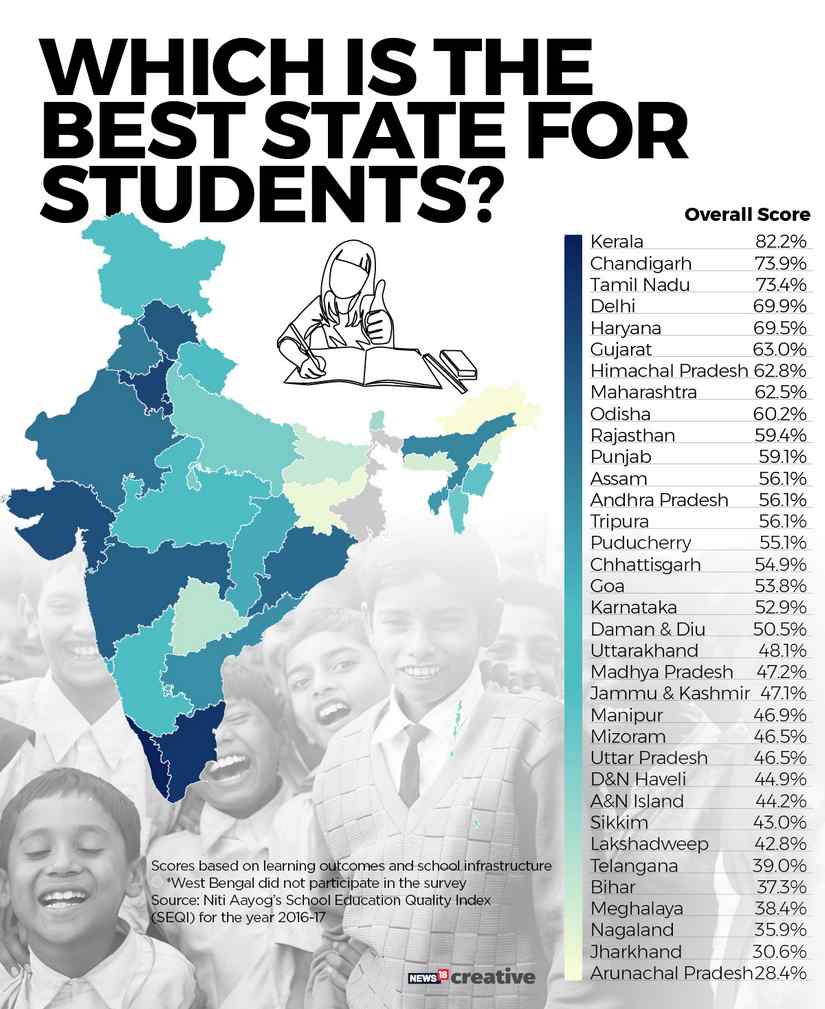 According to the Niti Aayog's School Education Quality Index ranking,there are huge differences in the quality of school education across the country,
Among 20 large States, Kerala was the best performer with a score of 76.6%, while Uttar Pradesh came in last with a score of 36.4%.
However, Haryana, Assam and Uttar Pradesh showed the most improvement in their performance in 2016-17, in comparison to the base year of 2015-16.
The School Education Quality Index assesses States on the basis of learning outcomes, access, equity and infrastructure and facilities, using survey data, self-reported data from States and third-party verification.
Tamil Nadu was the top performer in access and equity outcomes, while Karnataka led in learning outcomes.
Haryana had the best infrastructure and facilities.
Among smaller States, Manipur emerged as the best performer, while Chandigarh topped the list of Union Territories.
West Bengal refused to participate in the evaluation process and has not been included in the rankings.
Scientists excavate 'ancient river'in Uttar Pradesh - 02 Oct 19
Highlights:
The Union Water Ministry has excavated an old, dried-up river in Prayagraj (formerly Allahabad) that linked the Ganga and Yamuna rivers.
The aim is to develop it as a potential groundwater recharge source.
The National Mission for Clean Ganga (NMCG) is a body under the Union Jal Shakti Ministry that coordinates the cleaning of the Ganga.
The "ancient buried river" as it was described at a conference organised by the Ministry, is around 4 km wide, 45 km long and consisted of a 15-metre-thick layer buried under soil.
The discovery was made last December by a team of scientists from the CSIR-NGRI (National Geophysical Research Institute) and the Central Groundwater Board during a helicopter-borne geophysical survey covering the Prayagraj and Kaushambi region in Uttar Pradesh.
These paleochannels reveal the course of rivers that have ceased to exist.
The newly discovered river was a "buried paleochannel that joins the Yamuna river at Durgapur village, about 26 km south of the current Ganga-Yamuna confluence at Prayagraj.
The genesis of the palaeochannel's discovery followed a 2016 report of a seven-member committee, headed by Professor K.S. Valdiya of the Jawaharlal Nehru Centre for Advanced Scientific Research (JNCASR), commissioned by the Water Resources Ministry.
This report concluded that evidence from palaeochannels suggested that the mythological Saraswati river did indeed exist.
They claimed to have based their conclusions on reports and maps of palaeochannels in north India and a separate, ongoing project by the Central Groundwater Board to map the aquifers (extremely deep stores of groundwater) of India.
Knowledge on subsurface connectivity between Ganga and Yamuna rivers will play a very crucial role in planning of Ganga cleaning and protecting safe groundwater resources.
Assam's NRC: law schools launch legal aid clinic for excluded people - 02 Oct 19
Highlights:
Law schools across India on launched a collaborative legal aid clinic for people excluded from the updated National Register Citizens (NRC) in Assam.
More than 19 lakh out of a total of 3.3 crore applicants were left out of the Supreme Court-monitored NRC that was published on August 31.
Those who were left out are required to file appeals against their exclusion within 120 days of receiving their rejection order from the NRC authority.
The clinic is named Parichay (Identity) and to be headquartered in Guwahati, is envisaged to function as a "clearing house of litigation and research assistance for lawyers filing appeals against exclusion from the NRC".
The institutes include Assam's National Law University and Judicial Academy (NLUJA), the Kolkata-based West Bengal National University of Juridical Science, Hyderabad's National Academy of Legal Studies and Research (NALSAR), Delhi's National Law University and National Law University of Odisha.
Other law schools are also in the process of formalising their collaboration with Parichay.
Parichay will assist lawyers in drafting appeals, conduct research on pertinent questions of the law, assist in training lawyers and paralegals, and generate documentation on the functioning of Foreigners' Tribunals.
Law students will work with lawyers to ensure that they are able to file effective appeals before the Foreigners' Tribunals.
Parichay will also collaborate with civil society to provide legal aid to communities.
Parichay as an unprecedented collaboration among law schools in the country.
After the NRC, absence of effective legal aid would mean that many persons would be rendered Stateless without due process. An innovative collaboration like Parichay is essential to prevent such a humanitarian crisis.
The founding team of the clinic includes National Law University's assistant professor Anup Surendranath, Jindal Global Law School's assistant professor M. Mohsin Alam Bhat and Kolkata-based lawyer and research Darshana Mitra.
Parichay will work with teams of student volunteers across the country.
Students will be selected through a selection process to constitute a core team and a pool of volunteers for research and drafting.
The core team will work with the programme director to coordinate Parichay's activities between lawyers and student volunteers, the statement said.
Each collaborating university has appointed a faculty adviser who will coordinate on behalf of the university with Parichay.
Parichay is an extension of the commitment of the National University of Juridical Sciences to the provision of legal aid, to fulfil the constitutional mandate under Article 39A of the Constitution of India.
While the Assam government has assured that legal aid will be provided to all, an exercise of this scale requires the participation of law schools and civil society.
Tripura govt to move apex court over HC ban on animal sacrifice - 02 Oct 19
Highlights:
The Tripura government would soon file a special leave petition (SLP) in the Supreme Court over the Tripura High Court ban on animal sacrifice in all the temples of the state.
The High Court judgment has evoked a mixed response from the people in the state, so the state government has decided to move to the apex court.
Tripura govt claims religion is a personal matter. There are many sects among the Hindus, who can opt for any choice. Tantriks believe that no puja is complete without sacrifice.
A division bench of the Tripura High Court comprising Chief Justice Sanjoy Karol and Justice Arindam Lodh had pronounced on September 27 that "no person including the state shall be allowed to sacrifice any animal or bird within the precincts of any of the temples within the state of Tripura."
However, despite the Tripura High Court banning sacrifice of animals and birds for religious reasons in all temples of the state, the practice continues unabated in the renowned Tripureswari temple in Gomati district.
The High Court bench had directed all the district magistrates and superintendents of police of the state to ensure implementation of the order forthwith.
It also directed the state chief secretary to install CCTV cameras at two major temples of the state Devi Tripureswari temple and Chaturdas Devata temple - where a large number of animals are sacrificed.
The bench had also asked the chief secretary to obtain soft copies of the CCTV recordings every month.
Air Chief Marshal Bhadauria takes charge as new IAF chief/ - 02 Oct 19
Highlights:
Air Chief Marshal Rakesh Kumar Singh Bhadauria on September 30 took charge as the 26th chief of the Indian Air Force.
He succeeds Air Chief Marshal B.S. Dhanoa, who retired after 41 years of service in the IAF. Air Marshal Bhadauria was commissioned in the fighter stream of the Indian Air Force in June 1980, and has held various command, staff and instructional positions.
An alumnus of the National Defence Academy, Air Marshal Bhadauria was commissioned into the fighter stream of the IAF in June 1980 and won the coveted 'Sword of Honour' for standing first in the overall order of merit.
During his nearly four-decade career, Air Marshal Bhadauria commanded a Jaguar squadron and a premier Air Force Station.
He devised a method for carrying bombing from the Jaguar aircraft using the Global Positioning System (GPS). This was especially relevant for the bombing role of Jaguar aircraft in Operation Safed Sagar in 1999.
The new IAF chief also has 4,250 hours of flying experience on 26 types of fighters and transport aircraft.
Air Marshal Bhadauria is one of the few Air Force pilots to fly a Rafale jet. In July, during Exercise Garuda between the Air Forces of India and France, he had flown the Rafale aircraft.
He was the Air Attache at the Indian Embassy in Moscow, Assistant Chief of the Air Staff (Projects), Commandant of the National Defence Academy, Deputy Chief of the Air Staff at Air Head Quarter and Air Officer Commanding-in-Chief of Southern Air Command.
Uzbekistan, Turkey issue stamps in memory of Mahatma Gandhi - 03 Oct 19
Highlights:
The government of Uzbekistan has issued a special postage stamp to mark the 150th birth anniversary of Mahatma Gandhi.
The stamp is part of the "Outstanding personalities" series of its Postal department.
A similar stamp was issued by Turkey's Postal department.
The size of the stamp is 52 x 37 mm and that of the block 100 x 90 mm.
The stamp bearing the image of the Mahatma with the backdrop of Indian historic monuments was designed by Sulaimonova U and the image was sketched by Farmonova S.
This is one of the first reports of commemorative stamps from the Central Asian region which has received continued attention from the government of Prime Minister Modi.
Similar stamps had been issued by several other countries in the past.
It is noted that Gandhi pioneered the independence of the Indian subcontinent, dedicated his life to eradicating racism and discrimination, reducing poverty, making everyone equal and free.
Jaipur become cleanest railway station in India - 03 Oct 19
Highlights:
According to the Ministry of Railways, pink city Jaipur topped the list of cleanest railway stations in the country, as per a report 'Swachh Rail, Swachh Bharat 2019'.
The Indian Railways has a network of about 8,000 stations and for this report, however, 720 stations were taken into consideration.
These stations were divided into three categories - non-suburban, suburban and halt stations, on the basis of footfalls and earnings.
Among the over 610 stations in the non-suburban category, Jaipur topped the list with a total score of 931.75, followed by Jodhpur, Durgapura, Jammu Tawi, Gandhinagar-Jp, Suratgarh, Vijayawada, Udaipur city, Ajmer and Haridwar.
Of the top 10, seven stations fall under North Western Railway, two under Northern Railways (Jammu Tawi and Haridawar) and one under South Central railway (Vijayawada).
Perungalathur station, near Chennai, came at the bottom of the list with a total score of 258.50. Other stations at the bottom of the list were Delhi Sadar Bazar, Guduvancheri, Singaperumalkoil (both near Chennai) and Ottappalam (Kerala).
Expect for Delhi Sadar Bazar, the other four come under Southern Railway.
Likewise, Andheri station topped the list ranking over 105 suburban station with a score of 728.52, followed by Virar, Naigaon, Kandivli and Santragachi.
All stations in the top 5, expect Santragachi, which comes under south Eastern Railway, belong to Western Railway.
At the bottom of suburban station list are four stations from Southern Railways - Guindy, Velacheri, Pazhavanthangal (flag) and Chennai Road.
In the Station Cleanliness Survey, it was found that among the NSG category stations, 2% stations have scored above 90% of the total score whereas 5% stations fall below 50%.
While among the SG category stations, 4% of stations have scored within the range of 70%-80% whereas 14% of stations fall below 50%," the report stated.
Among the 16 geographic zones, North Western Railways (which has about 33 stations) continued to top the list with an average score of 848.76 while North Central Railways (which has 29 stations) remained on the bottom with an average score of 631.43.
As per the report, East Central Railway (52 stations) showed maximum improvement over previous year jumping 12 places to finish at number three this year.
North Korea successfully test fired a new type of SLBM - 03 Oct 19
Highlights:
North Korea successfully test-fired Pukguksong-3, a new type of a submarine-launched ballistic missile (SLBM) on 2 October.
State-run Korea Central News Agency (KCNA) said that the new-type ballistic missile was fired in a vertical mode in the waters off the eastern city of Wonsan.
The move comes after a day Pyongyang and Washington agreed to resume nuclear talks.
The launch marks a departure from the tests of shorter-range missiles North Korea has carried out in recent months.
The Pukguksong-3 test caused no adverse impact on the security of neighbouring countries.
Earlier the United Nations Security Council (UNSC) passed a resolution to ban Pyongyang from using ballistic missile technology.
The ballistic missile technology is an infringement of its right to self-defence and tested the new technology SLBM.
India first toilet college trains 3,200 workers - 03 Oct 19
Highlights:
India first toilet college trains 3,200 workers launched in Aurangabad, Maharashtra .
Around 3,200 sanitation workers have been trained in a year at what has been dubbed as the country's first 'toilet college' and secured placement under a private sector initiative.
The 'Harpic World Toilet College' located in Aurangabad, Maharashtra is helping sanitation workers by uplifting their work quality, educating them about the hazards that they are exposed to and eliminating these inhuman practices.
The college, set up in August 2018, is run by British consumer goods major Reckitt Benckiser.
Since its launch, the college has successfully trained 3,200 sanitation workers and helped secure sustainable employment opportunities for 100 per cent of the candidates.
The trained workers have secured jobs in reputed and recognised national and local organisations and companies.
The Harpic World Toilet College offers three hours of daily classes to each batch of 25-30 for five days a week.
The classes for women are conducted in the afternoon (1-4pm), while for men in the evening (4-7pm).
The community and thereby create a favourable domino effect to thousands of sanitation workers and families.
Meghalaya state government signed agreement with Dalmia Cement - 04 Oct 19
Highlights:
The Meghalaya government inked an environment-friendly deal with a cement company, Dalmia Cement, to help make the state plastic-free by 2022.
Dalmia along with Topcem Cement, one of Northeast's leading cement brands, announced that they have decided to buy plastic waste to be used as fuel, instead of coal.
The State govt. aims to achieve it's goal to make the plastic-free state by 2022.
The government plans various methods to recycle plastic and recover waste or scrap plastic.
It is also taking measures to reprocess it into operational or useful products without causing pollution.
The move by the State govt. is a part of the state government's Plastic Challenge.
It is organized in different villages of the State.
The challenge aims to encourage effective plastic waste management among people through the involvement of local organizations and tribal bodies.
In the State, volunteers purchased plastic waste to build the road in Tura.
Scrap plastic was recovered from the Rongkhon Songital dumping ground after a process of Segregation, Washing, Drying, and Shredding.
The plastic waste was then converted into a mixture that was added to the Bitumen which is used for road construction.
Seven High Courts get new Chief Justices - 04 Oct 19
Highlights:
Chief Justices have been appointed to Kerala, Andhra Pradesh, Punjab and Haryana, Gauhati, Rajasthan, Himachal Pradesh and Sikkim High Courts.
The government on Thursday appointed new Chief Justices for seven High Courts.
Four of the new Chief Justices would fill the vacancies left by Justices V. Ramasubramanian, Krishna Murari, S. Ravindra Bhat and Hrishikesh Roy, who were elevated to the Supreme Court recently from the Himachal Pradesh, Punjab and Haryana, Rajasthan, and Kerala High Courts, respectively.
Justice Lingappa Narayana Swamy, Karnataka High Court judge, has been appointed as Chief Justice of the Malachi Pradesh High Court in place of Justice Ramasubramanian.
Justice Ravi Shanker Jha, Acting Chief Justice of the Madhya Pradesh High Court, has been appointed as Chief Justice of the Punjab and Haryana High Court. Justice Jha will replace Justice Krishna Murari.
Justice Indrajit Mohanty of the Bombay High Court will take over as the Chief Justice of the Rajasthan High Court from Justice Bhat.
Justice Arup K. Goswami, Gauhati High Court judge, has been appointed as Sikkim High Court Chief Justice and Justice Ajai Lamba, Allahabad High Court judge, has been appointed as Chief Justice of the Gauhati High Court.
Justice J.K. Maheshwari of the Madhya Pradesh High Court has been appointed as Andhra Pradesh High Court Chief Justice.
Justice S. Manikumar of the Madras High Court has been appointed as the Chief Justice of the Kerala High Court in place of Justice Hrishikesh Roy.
CISF to set up permanent deployment at Baglihar Hydro Electric Power plant - 04 Oct 19
Highlights:
Central Industrial Security Force (CISF) has announced its plan to set up a permanent deployment at Baglihar Hydro Electric Power plant in Jammu and Kashmir.
Currently, CISF is guarding the plant on a temporary basis.
Baglihar Hydro Electric Power plant is situated in the Ramban district, Jammu and Kashmir.
More than 300 highly-trained personnel headed by a Commandant rank officer will be looking after the security of one of the most sensitive hydroelectric plants.
The construction of the plant was objected by Pakistan.
10% of the total deployment of CISF in Jammu and Kashmir has been given to the Baglihar dam project due to its sensitive location.
Odisha State launched Mo Sarkar initiative - 04 Oct 19
Highlights:
The Odisha government has launched Mo Sarkar (or My Government) initiative on 3 October 2019.
It was launched by Odisha Chief Minister Naveen Patnaik. He also released the official logo and charter of the programme
The Odisha government has launched an initiative in which ministers would dial common citizens to seek feedback on the kind of response they get during recent visits to police stations and district headquarter hospitals (DHH).
Objective:
Mo Sarkar aimed at making governance people-centric.
It is an initiative under the 5T model of governance to herald a transformation in government office
Under the programme, feedback will be collected on government officers from the public.
The Chief Minister, Departmental Minister, Director General of Police (in case of police stations) and Departmental Minister, Secretary, and Director (in case of hospitals) would dial common citizens to get the feedback on the kind of response they get during recent visits to police stations and district headquarter hospitals (DHH).
The employees will be ranked as good or bad on the basis of the feedback and those with good rank will get out-of-turn promotion and action will be taken against employees with bad rank.
Katarina Johnson won Heptathlon gold at the World Championships - 04 Oct 19
Highlights: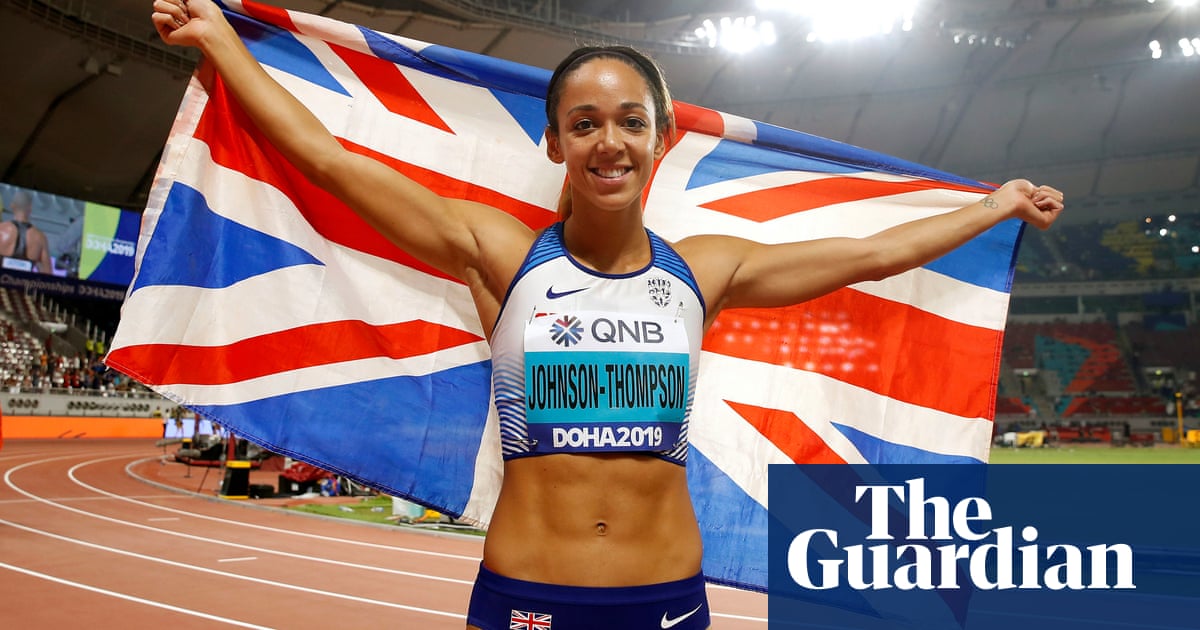 Katarina Johnson-Thompson won Heptathlon gold at the World Championships 2019 in Doha, Qatar.
She won with a British record of 6,981 points.
She defeated 2017 champion Nafissatou Thiam by 304 points.
Austria's Verena Preiner took third.
2019 World Athletics Championships:A fact -file
This is the 17th edition of World Championships.
Venue: Khalifa International Stadium, Doha, Qatar
Dates: 27 September-6 October
Events: 49 (24 men, 24 women, 1 mixed)
Organized by: IAAF, Qatar Athletics Federation
Individual prize money (US$): 60,000 (gold), 30,000 (silver), 20,000 (bronze)
Team prize money (US$): 80,000 (relay gold), 40,000 (silver), 20,000 (bronze)
Shanti Raghavan, Dipesh Sutariya won Social Entrepreneur of theYear Award - 05 Oct 19
Highlights:
Shanti Raghavan and Dipesh Sutariya of EnAble India awarded the 10th Social Entrepreneur of the Year Award, 2019, for building an ecosystem of skilling, employment, and entrepreneurship for persons with disabilities (PwDs).
EnAble India changed the mindset of 729 business houses and built frameworks of inclusion in universities and government agencies, thus creating a robust business case for employing PwDs in formal and informal sectors across India.
The non-profit organization is bringing changes to the lives of PwDs through technology innovations, breakthroughs in skill trainings, new workplace solutions and behavioural change tools.
Over the past 20 years, Raghavan, Sutariya and their teams have transformed the lives of 220,000 individuals with disabilities and their families, community leaders, and employers across all the states.
All EnAble India trainees work across a wide spectrum of 14 disabilities, perform at par and receive salaries at par with their non-disabled peers.
The organization aims to transform one million PwDs as confident taxpayers, active citizens, and nation-builders over the next three years through partnerships with 200 non-profit organizations.
The PwDs leads to 5-7% loss in India's GDP.
It starts with when the parent, who first thought that their child .
Jubilant Bhartia Foundation, established in 2007, is the not-for-profit organization of the Jubilant Bhartia Group.
It focuses on conceptualizing and implementing the corporate social responsibility initiatives for the group.
The Jubilant Bhartia Foundation's activities include various community development works, healthcare programmes, cultural and sports events, an environmental preservation initiative, vocational training, women empowerment and educational activities.
World Animal Day is celebrated on 4 October - 05 Oct 19
Highlights:
World Animal Day is celebrated on 4 October every year.
The day aims to raise awareness about the protection of animals all over the globe.
On that day, the feast day of Francis of Assisi, the patron saint of animals, is also celebrated.
World Animal Day is dedicated to spread awareness and improve the welfare standards of animals around the world. It also aims to educate the world and full regard to their welfare.
The day was first organized by Heinrich Zimmermann on 24th March 1925, at Sports Palace in Berlin, Germany.
More than 5,000 people attended the first event.
Initially, it was scheduled for 4th October to align with Saint Francis of Assisi feast day.
In 1929, World Animal Day was celebrated on 4th October for the first time.
Ben Stokes won PCA Players Player of Year award - 05 Oct 19
Highlights:
Ben Stokes voted Players Player of the Year at the Professional Cricketers Association awards.
Stokes played a starring role in England's first 50-over World Cup triumph culminating in his dynamic man-of-the-match display in their dramatic final win against New Zealand in July.
The 28-year-old then repeated his heroics with a superb match-winning 135 not out in the third Ashes Test against Australia.
He was honored for those achievements by scooping the Reg Hayter Cup ahead of fellow nominees Simon Harmer, Ryan Higgins, and Dom Sibley.
He picked up the PCA young player of the year, while England bowler Sophie Ecclestone collected the women's player of the summer.
Other award winners included ODI player of the summer Chris Woakes, Test player of the summer Stuart Broad, and County Championship player of the year Harmer.
Indian Railways unveiled Sarbat Da Bhala Express - 05 Oct 19
Highlights:
Indian Railways unveiled the Sarbat-Da-Bhala Express on the occasion of the 550th Birth Anniversary of Shri Guru Nanak Dev Ji.
The train was flagged off by Minister of Railways and Commerce & Industry, Shri Piyush Goyal, Minister for Health and Family Welfare, Science and Technology and Earth Sciences, Dr. Harsh Vardhan, Minister for Food Processing Industries, Smt. Harsimrat Kaur Badal.
The new train will serve the Sikh pilgrims visiting Sultanpur Lodhi on 550th Birthday of Guru Nanak ji.
It will provide connectivity from New Delhi to Sultanpur Lodhi.
The train no. 22479/22480 Sarbat-Da-Bhala Express will start from New Delhi at 07.00 hrs and reach Lohian Khas at 14.55 hrs.
The train will have stoppages at Shakurbasti, Bahadurgarh, Rohtak Jn, Jind, Narwana, Tohana, Jakhal, Sangrur, Dhuri, Jalandhar City, Kapurthala, Sultanpur Lodhi
In return, the train will start from Lohian Khas at 15.35 hrs and reach at New Delhi at 23.35 hrs.
The train will run on Sunday, Tuesday, Wednesday, Thursday, Friday.
The composition of the train is AC Chair Car coaches- 2, Second class sitting coaches- 6, General Coaches- 7.
Inter State portability for ration cards has been launched - 05 Oct 19
Highlights:
The government has launched inter-State portability for ration cards for Rajasthan and Haryana.
The scheme aims to facilitate the distribution of food-grains to beneficiaries of the National Food Security scheme.
The move by the govt. aims to link both the states initially.
It will be implemented in the country later.
Rajasthan was chosen because of the State's online distribution system facility that made the work easier. There are states that are not completely digitalized in the country.
The central government is taking efforts to make the system online in all states.
The government's inter-State portability for ration cards will allow labourers, who migrate from one State to the other in search of work, in the unorganized sector will mainly benefit from the scheme.
The beneficiaries would be able to purchase their quota of wheat from the fair price shops in either of the States on one ration card.
Currently, such labourers are required to make a new ration card to get the benefit of the public distribution system when they change states.
Once the scheme is implemented across the nation, one card will be enough to avail the benefits.
The scheme will be introduced in Rajasthan and Haryana will be expanded to cover essential commodities in addition to wheat in the forthcoming period.
Bandhan Bank and Gruh Finance to merge on 17 October - 06 Oct 19
Highlights:
Kolkata-based Bandhan Bank and Ahmedabad-based Gruh Finance announced that it will be merged on 17 October 2019.
The National Company Law Tribunal (NCLT) has cleared the scheme of amalgamation for the merger.
The scheme has been approved by NCLT's Kolkata and Ahmedabad benches.
The merger aims to help the Bandhan Bank diversify its loan portfolio of Rs.45,400 crore.
Currently, it is heavily skewed towards microloans with 85% share.
Gruh Finance is the housing finance arm of HDFC Ltd.
It has a loan portfolio of Rs.17,700 crore.
Bandhan Bank also believes that affordable housing will be another major growth area for the bank to go forward. Also, micro small and medium enterprises (MSMEs) will be a focus area of the bank.
Acquisition:
In the month of January 2019, Gruh Finance was taken over by Bandhan Bank in a share-swap deal. and in March 2019, the Bandhan Bank has received a no-objection certificate from the Reserve Bank of India (RBI) for the acquisition of Gruh Finance.
World Space Week is observed from 4 to 10 October - 06 Oct 19
Highlights:
World Space Week is observed from 4 October to 10 October 2019.
It is the largest space event on Earth.
Theme:
The 2019 theme for the week is The Moon: Gateway to the Stars.
The week showcases some of the creative, innovative and popular events that brought people together to celebrate space.
The World Space Week was declared by the United Nations General Assembly (UNGA) on 6 December 1999.
It passed the resolution and declared that the week will be observed each year from 4-10 October.
The week celebrates science and technology and their contribution to the betterment of the human condition.
These days commemorate the following two events:
On 4 October 1957, Sputnik 1, the first human-made Earth satellite was launched.
The way for space exploration was thus started.
On 10 October 1967, the signing of the Treaty on Principles Governing the Activites of States in the Exploration and Peaceful Uses of Outer Space, including the Moon and Other Celestial Bodies was held.
Uber launched helicopter services in New York - 06 Oct 19
Highlights:
Uber Technologies Inc (UBER.N) has launched Uber Copter, the helicopter services, in New York.
The users will soon be able to book helicopter flights to John F. Kennedy (JFK) International airport through their apps.
The flights are operated by HeliFlite Shares, a licensed company.
Uber Copter:
The company announced its Uber Copter offer on 3 October 2019.
It said that the flights to and from Lower Manhattan will become available to all Uber users on October 3.
This feature was made available to the Uber premium members in June 2019.
The 8-minute flight will cost between $200 and $225 per person.
The fare will include ground transportation on either side of the trip. Passengers can bring along a small suitcase with them.
They have to watch a safety video, similar to that on an airplane, before takeoff.
Initially, Uber rides shuttling passengers to the heliport in Manhattan are only available from the southern tip of the island.
Harmanpreet became the first Indian cricketer to play 100 T20Is - 06 Oct 19
Highlights:
Harmanpreet Kaur became the first Indian cricketer to play 100 Twenty20 Internationals (T20Is).
Kaur achieved the milestone before MS Dhoni and Rohit Sharma, who has played 98 T20Is for India.
She played her 100th T20I against South Africa in Surat, Gujarat on 4 October.
Harmanpreet Kaur: Brief History
Harmanpreet Kaur is an Indian cricketer.
She plays as an all-rounder for the Indian women's cricket team
She was born on 8 March 1989.
In June 2009, the all-rounder made her debut against England in Taunton.
Kaur has taken 27 wickets and scored 2,003 runs at an average of 28.61 in T20Is so far.
In 2017, she was awarded the prestigious Arjuna Award for Cricket by the Ministry of Youth Affairs and Sports.
In 2018 November, she became the first woman for India to score a century in a Women's T20I match.
Her ODI debut on 7 March 2009 v/s Pakistan.
Alice Walton topped as the richest woman in the world in the Forbes 400 list - 06 Oct 19
Highlights:
Forbes released its 2019 edition of the Forbes 400 list that ranks the wealthiest people in America.
Alice Walton of the Walmart dynasty topped as the richest woman in the world.
She has a net worth of $51.4 billion.
She is the only daughter of Walmart founder Sam Walton.
The Waltons are the wealthiest family dynasty in the US. To make it into the list, the individuals need a minimum net worth of $2.1 billion.
Top 10 richest woman in the world in the Forbes 400 list:
Alice Walton topped as the richest woman in the world in the Forbes 400 list
Julia Koch stood second with a net worth of $41 billion
MacKenzie Bezos stood 3rd with a net worth of $41 billion
Jacqueline Mars stood 4th with a net worth of $41 billion
Laurene Powell stood 5th with a net worth of $21.3 billion
Abigail Johnson stood 6th with a net worth of $14 billion
Blair Parry-Okeden stood 7th with a net worth of $9.6 billion
Christy Walton stood 8th with a net worth of $8.5 billion
Ann Walton stood 9th with a net worth of $7.5 billion
Marijke Mars, Pamela Mars, Valerie Mars, Victoria Mars stood 10th with a net worth of $7.4 billion
Ravindra Jadeja became the quickest left arm bowler to 200 Test wickets - 07 Oct 19
Highlights:
India's Ravindra Jadeja became the fastest left-arm bowler to claim 200 Test wickets.

He set the record on the third day of the first Test in Visakhapatnam.

Ravindra Jadeja dismissed South Africa's opener Dean Elgar to become the fastest left-arm bowler to claim 200 Test wickets, on the third day of the first Test in Visakhapatnam.

Jadeja is now the second-fastest to 200 Test wickets among Indian spinners, after team-mate Ravinchandran Ashwin.

Ashwin had taken just 36 Tests to get to the mark; on the other hand, Jadeja had to wait until his 44th Test.

Among Indians, the three fastest to 200 wickets after Jadeja are all spinners.

Harbhajan Singh got there in his 46th Test, against Zimbabwe in Bulawayo in 2005; Anil Kumble in his 47th Test, against Zimbabwe in Harare in 1998; and B. S. Chandrasekhar in his 48th Test, against Australia in Melbourne in 1977.

Kapil Dev comes next; he took 50 Tests to get there.

The fastest bowler to take 200 Test wickets is Pakistan's Yasir Shah - 33 Tests.

Ashwin is third in the list.

Among left-arm bowlers, Sri Lanka's Rangana Herath is second, after Jadeja.

Herath took 47 Tests to get there while Australian speedster Mitchell Johnson is third in the list with 49 Tests above fellow Australian Mitchell Starc has took 50 Tests to get to the landmark.
India to set up coastal surveillance system in Bangladesh - 07 Oct 19
Highlights:
PM Modi and his Bangladesh counterpart signed several MoUs that included connectivity, trade, transport and defense on 5th October.
The agreements include:
A Coastal Surveillance system.
Standard Operating Procedure on the use of Chattogram and Mongola ports
Withdrawal of 1.82 cusec of water from Feni river for drinking water scheme for Sabroom town, Tripura.
Implementation of Line of Credit committed committed by India to Bangladesh
Renewal of Cultural Exchange program - Cooperation in Youth Affairs.
MoU between University of Dhaka and University of Hyderabad.
The leaders also inaugurated three bilateral development projects
Import of LPG from Bangladesh
Inauguration of BIPSDI – Bangladesh – India Professional Skill Development Institute
Inauguration of Vivekananda Bhaban, students hostel at Ramakrishna mission in Dhaka.
Highlights of the meet
Under India's Act East Policy, Bangladesh is provided opportunities to expand connectivity corridors.
Both India and Bangladesh are set to increase air, water and rail connectivity to enhance trade between Bangladesh and North Eastern India. As part of this decision, the countries decided to operationalize
Dhulian - Gadagari - Rajshahi - Daulatida - Aricha route.
Daukandi - Sonamura route.
The BBIN Vehicles motor agreement was agreed to operate early.
This will encourage other partner countries of BBIN to join the agreement.
The leaders jointly agreed that the Indo - Bangla coastal Shipping Agreement should be taken as template for BIMSTEC.
This will enhance the security of the Indo - Pacific region.
39th World Congress of Poets organized in Bhubaneswar - 07 Oct 19
Highlights:
The 39th World Congress of Poets was inaugurated at the Kalinga Institute of Industrial Technology.
Theme: Compassion through Poetry.
The theme aims to promote peace and brotherhood through poetry.
The event was inaugurated by the Odisha Chief Minister.
Vice President Venkaiah Naidu attended the event.
The congress is essential to achieve SDG 4 - Quality Education.
World Congress of Poetry (WCP): A fact file
The WCP was founded in 1969.
It was held at Manila, Philippines the first time.
It is being organized by WAAC - World Academy of Arts and Culture.
The WAAC conducts poetry workshops, art exhibits, dance, music, cultural exchange programs.
The organization maintains a library at Taipei, Taiwan.
WAAC serves UIA - Union of International Associations.
UIA is a research institute and documentation center headquartered at Brussels.
It was founded in 1907.
It monitors international organizations, association and their challenges.
Scotland becomes the first country in the UK to ban the smacking of children - 07 Oct 19
Highlights:
Scotland has become the first part of the UK to make it a criminal offence for parents to smack their children.
The move, passed overwhelmingly by the Scottish Parliament, will give children in Scotland the same protection from assault as adults when it comes into force.
Parents and carers in Scotland are currently allowed to use "reasonable" physical force to discipline their children.
The ban on all physical punishment was backed by 84 votes to 29 by the Parliament.
The law will come into force within 12 months after Queen Elizabeth II gives her consent.
Sweden became the first country in the world to ban smacking in the home when it outlawed corporal punishment in 1979 - with Scotland becoming the 58th to do so.
Wales is also on the verge of introducing a ban - but there are not currently any plans for England or Northern Ireland to follow suit.
In Scots Law, all physical attacks on adults can be treated as assault - but children do not have the same protection.
All physical punishment in schools and other education settings is already completely banned.
The bill uses the same definition of physical punishment, sometimes referred to as corporal punishment, used by the UN Committee on the Rights of the Child.
Parents in England and Wales can currently face criminal charges if they hit a child so hard that it leaves a mark, or causes bruising, swelling, cuts, grazes or scratches.
Northern Ireland has similar legal provisions to those in England and Wales, while Ireland banned smacking in 2015.
The 50th IFFI to be held in Goa from 20th to 28th November - 08 Oct 19
Highlights:
The 50th International Film Festival of India (IFFI) has been scheduled to be held from 20th November to -28 November 2019 in Goa.
Over 250 films from various countries are to be screened at the premiere movie festival.
Nearly, 12 films that were made in different languages about 50 years ago will also be screened at the golden jubilee festival of IFFI.
Russia will partner India at the IFFI film festival.
International Film Festival of India (IFFI):
IFFI was founded in 1952.
It is one of the most significant film festivals in Asia.
IFFI is being organized in Goa since 2004 under the leadership of the Chief Minister of Goa.
From the 35th edition, the International Film Festival of India became globally competitive.
Novak Djokovic won Japan Open 2019 - 08 Oct 19
Highlights:
World No.1,lawn tennis ace Novak Djokovic won the 2019 Japan Open title on 6 October.
He defeated the Australian qualifier John Millman to win the title.
Djokovic secured 6-3, 6-2 and marked his 10th win in a tournament main draw debut in his celebrated career.
It was his first competition after pulling out of the US Open due to a left shoulder injury.
Result:
Singles: Serbia Novak Djokovic
Doubles: France Nicolas Mahut / Edouard Roger-Vasselin
2019 Japan Open Tennis Championships:
Date: 30 September–6 October
Edition: 46th
Location: Tokyo, Japan
The 2019 Japan open is a part of the ATP Tour 500 series of the 2019 ATP Tour.
The men's tennis tournament is played on outdoor hard courts.
World Habitat Day observed on October 7 - 08 Oct 19
Highlights:

The World Habitat Day is organized by the United Nations.
The organization has designated the first Monday of every October to commemorate the day.
Theme: Frontier Technologies as an innovative tool to transform waste to wealth.
The theme is built based on last year's theme "Municipal Solid Waste Management".
The focus of this year World Habitat Day (WHD) is to promote contribution of FRONTIER TECHNOLOGIES towards sustainable waste management that helps to achieve SDG 11.
The SDGS 11 is about building inclusive, safe, resilient and sustainable cities.
The 2019 WHD is to be observed in Mexico
The Frontier technologies include robotics, automation, renewable energy technologies, Artificial Intelligence and bio technologies. Some of the top frontier technologies are Big Data Analysis, Sustainable polymers, Internet of Things, Artificial Intelligence, 3D printing, Nanotechnology, renewable energy technologies, drones and customized satellites.
They are technologies that offer potential for cheaper, faster, scalable and easy to use solutions for every day problems. It includes waste management as well.
The world's cities produce 7 to 10 billion tons of waster per year.
Low income countries spend around 20% of their budget on waste management.
In most of the countries this allocated budget is not sufficient to finance waste and sanitation management systems.
In most of the urban areas of developing countries, around 16% of urban dwellers lack access to basic sanitation services.
The lack of waste management has led to air, soil and water pollution that in turn threaten public health. Another biggest challenge is dumping of waste in the oceans.
The plastics from these wastes are killing around 100,000 marine animals annually.
The SDG goals 6, 11, 12 and 14 and the Paris Agreement all focus on waste management and considers it as an urgent and issue to be addressed.
How can Frontier technologies help ?
The use of sustainable polymers reduces waste generation and also reduces the need of recyclable wastes
The technology of 3D printing has the potential of creating less waste during production.
Smart bins using AI can help in garbage sorting.
UN Habitat Strategic Plan 2020 - 2023
The plan reinforces all the global agendas on waste management.
Under the plan the UN is to focus on Frontier Technologies that help in safe, resilient, sustainable and smart cities.
India gets first tranche of Swiss account details - 08 Oct 19
Highlights:
India received its first tranche of Swiss Bank Account details under the new Automatic Information Exchange pact.
India hence is legally one among 75 countries with which the Switzerland Federal Tax Administration (SFTA) has exchanged information.
The next exchange of information will take place in September 2020.
According to international agreement, the information exchange has to happen within nine months after the end of the calendar year.
The next information exchange will take place by September 2020.
The SFTA has collected information from around 7,500 institutions.
It has the largest exchange program with Germany of all other countries.
Automatic Information Exchange Pact:
The pact was a major milestone in Indian Government's fight against black money.
The pact came into existence in 2017.
The Swiss banks through the pact agreed to exchange information with countries abroad.
The objective of the pact is to make tax evasion possible.
The member countries OECD, G20 and other important financial centers were committed to implement the pact.
According to the pact, the Swiss bank shares the information of the accounts to the domestic tax officials.
They then share the information to the pact's partner country.
Significance of the pact:
The data received will help India establishing strong prosecuting cases against those who have unaccounted wealth.
There are minimum of 100 cases that were closed before 2018 for which Swiss will now share details with India.
It is believed that many Indians have closed their accounts after Swiss Government adopted the law due to international pressure.
The details that are to be collected from Swiss Government includes mostly of business men who have now settled in South – East Asian, African, UK and other South American countries.
SBI launches debit card EMI on POS loans for consumer durables - 08 Oct 19
Highlights:
State Bank of India launched a debit card EMI facility under which consumers can opt for a monthly installment tenure of 6 to 18 months.
The installments will begin a month after the transaction is complete.
The customers having a clean financial and credit history are eligible for availing the loans.
Consumers can buy the products at over 40,000 merchants and stores in more than 1,500 cities having point-of-sale (POS) machines totalling over 4.5 lakh.
The benefits of new facility include zero documentation, no processing fee, no branch visit, instant disbursal and zero cost EMI on select brands.
SBI commitment towards customers' convenience and satisfaction, we believe the introduction of this new product is a step forward by the bank to offer delight of hassle-free purchases and paper-less loans.
SBI's headquarters is located in Mumbai.
IIT Guwahati developed AI based tool for EV motor - 09 Oct 19
Highlights:
The Indian Institute of Technology-Guwahati (IIT-G) unveiled the development of Smart-Engineer, an Artificial Intelligence (AI)-assisted engineering system design tool to develop the motor of an electric vehicle (EV).
Smart-Engineer aims to address the lack of trained human resources in engineering design and system integration.
It is one of the primary hurdles in indigenizing the electric vehicle (EV) technology.
Smart-Engineer Tool:
Smart-Engineer was developed by the e-mobility lab (EML) of the institute by a team of four Ph.D. and post-graduate students named Ankit Vishway, Rajendra Kumar, Bikash Sah, and Rajendra Kumar.
The tool will help a novice design engineer to design a motor for EV application in the first phase without the need for much intervention from experts.
It enables fresh engineers to learn from the collective knowledge and wisdom of the experts without necessarily having to interact with them.
By enhancing the Smart-Engineer tool, the other domains of EV such as power electronics, control systems, battery management systems among others can also be addressed.
Nagpur to host the 5th international conference on sleep disorders - 09 Oct 19
Highlights:
The fifth international conference on sleep disorders is being hosted in Nagpur from 12 October to 13 October 2019. The conference is held under the aegis of the Southeast Asian Academy of Sleep Medicine(SEAASM).
The 5th international conference on sleep disorders is conducted by the Department of Respiratory, Critical Care, Sleep Medicine & Interventional Pulmonology at Getwell Hospital & Research Centre at Chitnavis Centre in Nagpur.
Experts in sleep medicine from the US, the UK, France, Australia, and Sri Lanka will be participating in the two-day international conference on sleep disorders
In the conference, the delegations will share valuable insights on how to sleep better.
Skill enhancing workshops will also be organized during the conference for doctors on polysomnography, pediatric sleep medicine, dental sleep medicine and non-invasive ventilation where experts in the field will guide the participants on hands-on workstations to enable them to learn new skills in their field.
Surender Singh won gold in 2019 World Power-lifting Championship - 09 Oct 19
Highlights:
Surender Singh of India won gold in 110 kg category, Classic Raw and the Best Lifter Award in Classic Raw and Single Ply at the 2019 World Powerlifting Championship in Berlin, Germany.
He created three world records at the event.
Also, 3-time World Champion Mukesh Singh won gold only to be known as 4-time World Champion.
On the first day of the championship, Indian players bagged a total of 4 gold and 1 silver medal.
Naomi Osaka won the 2019 China Open title - 09 Oct 19
Highlights:
Japanese Tennis player Naomi Osaka won the 2019 China Open title. She defeated world number one Ashleigh Barty to win her second Women's Tennis Association (WTA) Tour 2019 title.
Result:
Men's Singles: Dominic Thiem, Austria
Women's Singles: Naomi Osaka, Japan
Men's Doubles: Ivan Dodig / Slovakia Filip Polášek, Croatia
Women's Doubles: Sofia Kenin / United States Bethanie Mattek-Sands, the United States
2019 China Open:
Date: 30 September - 6 October
Held at: Beijing, China
2019 China Open is the 21st edition for the men and the 23rd for the women.
The championship is a part of the Association of Tennis Professionals (ATP) Tour 500 series on the 2019 ATP Tour.
2019 Nobel Prize Medicine shared to Peter Ratcliffe,William Kaelin and Gregg Semenza - 09 Oct 19
Highlights:
Britain's Peter Ratcliffe and William Kaelin and Gregg Semenza of US shared the 2019 Nobel Medicine Prize for their work on how cells sense and adapt to oxygen availability.
The team revealed the understanding of how oxygen levels affect cellular metabolism.
Kaelin works at Howard Hughes Medical Institute, US. Semenza is the director of Vascular Research program at Hopkins Institute of Cell Engineering. Ratcliffe is the director of Francis Crick Institute in London.
The trio will share prize money of 914,000 USD.
The team identified the molecular machinery that regulates the activity of genes to varying levels of oxygen.
It has paved way to understand the strategies to fight cancer, anemia and other diseases.
Based on their findings,many laboratories and pharmaceutical companies are now on the path of developing drugs that can interfere with disease states by activating or blocking the oxygen - level in the cells.
What is the research about ?
Oxygen levels vary in different parts of the body at different instances after a wound, while exercising or during a brisk walk. Based on the availability of oxygen, the metabolism of these cells differ.
The cells produce new RBC or construct new blood vessels in a wound based on the oxygen levels.
The trio found 'how to adapt to changes in oxygen levels'.
The fundamental job of cells is to convert oxygen into food.
The drawback is that these cells experience constant variations in availability of oxygen.
When the level of oxygen in the cells drops, HIF in the cells increases.
HIF is Hypoxia – Inducible Factors and are protein complexes.
This increases the activity of gene that are used in production of Erythropoietin Hormone.
This increases the production of RBC.
Hence, the research aids in treating anemia and cancer by controlling RBC growth.
Ganga Aamantran initiative launched by Jal Shakti Minister - 10 Oct 19
Highlights:
Ganga Aamantran is an initiative to connect stakeholders of the Ganga river.
It is the first effort of National Mission for Clean Ganga.
It is an open – water rafting and kayaking expedition that is to be held on the Ganges between 10th October 2019 and 11th November 2019.
The expedition starts at Devprayag and ends at Ganga Sagar covering 2,500 km in the Ganges
This is the first and largest campaign in Indian history to create awareness about River Rejuvenation and Water Conservation on a large scale.
Swimmers and rafters from all three services of Indian Armed forces will join as 9 member teams.
The teams will also be joined by members from CSIR – IITR (Indian Institute of Toxicology Research) and NDRF. The team from CSIR – IITR will collect samples from different ranges of the river.
The team will conduct public awareness campaigns in locations they stop.
They will organize mass cleaning drives. The team will also interact with students of villages and cities alongside of the journey.
The initiative is joined by the Wildlife Institute of India to conduct flora and fauna census of 2019.
The initiative encompasses 5 Ganga basin states that include UP, Jharkhand, Bihar and West Bengal.
The complete program is to be headed by Paramvir Singh from IAF (Indian Air Force).
He is the only person who swum the entire length from Devprayag to Gangasagar.
Awareness exercises and programs:
i) Painting and slogan competitions on the theme "Water Conservation and Ganga Rejuvenation"
ii) Test water samples
iii) Educate students and youth on wetlands, bio diversity conservation
iv) Celebrate festivals
v) Public outreach
The objective of the initiative is to draw attention of the citizens of the country towards ecological challenges faced by the river.
Government launches eDant Seva - 10 Oct 19
Highlights: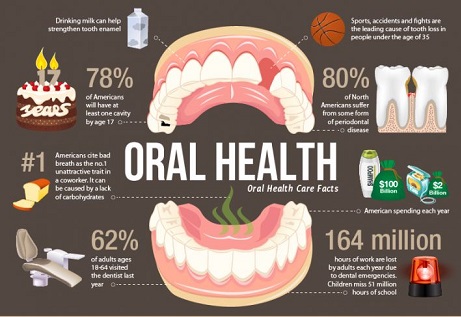 The eDant Seva was launched by the Ministry of Health and Family welfare on October 7, 2019.
It is an initiative under the National Oral Health Program.
The initiative aims to sensitize the importance of maintaining oral health.
It provides information about nearest oral health service facility.
It also provides oral health information collected from authentic scientific sources.
Objectives of e-Dant Seva:
To improve determinants of oral health.
It includes oral hygiene improvement, healthy diet and also to reduce disparity in oral health accessibility.
It intends to integrate oral health promotion and preventive services of the general health care systems.
It aims to promote PPP – Public Private Partnership to achieve public health goods.
History:
The first National Oral Health Policy was launched in 1986.
It was drafted by the Indian Dental Association.
In 1999, the first National Oral Health Care Program was launched.
In the 11th five-year plan, between 2007 and 2012, under National Rural Health Mission a token amount was allocated for research in oral health.
In 12th five-year plan, National Oral Health Cell was set up under Ministry of Health and Family Welfare
National Oral Health Program:
In 2014, the National Oral Health Program was launched.
It operated under two components namely
National Health Mission - Under the mission, the states and UTs can seek permission to set up Dental care units in district level hospitals.
Mithali Raj becomes first woman cricketer to complete 20 years in ODI - 10 Oct 19
Highlights:
Indian cricketer and the former captain of the Indian women's national cricket team Mithali Raj completed 20 years in international cricket on 8 October 2019.
She became the first-ever woman cricketer to achieve the milestone.
She achieved this feat in the first One-day International (ODI) against South Africa at the Reliance Stadium in Vadodara, Gujarat.
Mithali Raj: A Fact-file
Mithali Raj is the current captain of the ODI side.
She made her international debut against Ireland on 26 June 1999.
The 36-year-old holds the record for playing the maximum number of ODIs in women's cricket.
She has played 204 ODIs so far.
She is followed by England's Charlotte Edwards, Jhulan Goswami of India, Alex Blackwell of Australia.
The right-handed batter has represented India in 10 Tests and 89 T20Is as well. In September, Mithali retired from T20I cricket.
Simone Biles won the 21st World Gymnastics Championships medal - 10 Oct 19
Highlights:
Simone Biles, 22, set the record by clinching the World Gymnastics Championships 2019 in Stuttgart, Germany.
This is Simone Biles' 21st medal at the championships. With this title, she became the most decorated women's gymnast in history.
She defeated Russia's Svetlana Khorkina to win the title.
The USA won the women's team won gold with a tally of 172.330 for the fifth time.
Russians won the silver medal with a tally of 166.529 and Italy won bronze with a tally of 164.796.
2019 World Artistic Gymnastics Championships:
Held at: Stuttgart, Germany
Date: 4 October - 13 October 2019
Competitors: 548 from 92 nations
Global Competitiveness Index - 2019:India ranked 68th - 10 Oct 19
Highlights:
Singapore topped the 2019 Global Competitiveness Index (GCI) and pushed the US to the second place. India ranked 68th on the GCI.
The list is compiled by the Geneva-based World Economic Forum (WEF).
Top 5 countries of the list:
1) Singapore
2) The US
3) Hong Kong SAR
4) Netherlands
5) Switzerland
India
Report
:
India ranked 58th in the 2018 GCI report.
It is among the worst-performing BRICS nations.
The reports suggested that India should grow its skills base.
India's product market efficiency has been undermined by a lack of trade openness.
About Indian's labour market, WEF said that it is characterized by a lack of worker rights' protections, insufficiently developed active labour market policies and critically low participation of women.
In the innovation area, India has proved above its development status with several advanced economies.
Limited information, communications, and technology (ICT) adoption, poor health conditions and low healthy life expectancy are among the major shortcomings of the country.
What is Global Competitiveness Index (GCI) ?
GCI is defined by the World Economic Forum.
It is a set of institutions, policies, and factors which determine the level of productivity of a country, conditions of public institutions and technical conditions.
GCI was launched in 1979.
It analyzes the competitiveness landscape of 141 economies.
It measures through 103 indicators including inflation, digital skills, life expectancy and trade tariffs.
Surakshit Matritva Aashwasan launched - 10 Oct 19
Highlights:
SUMAN scheme - Surakshit Matritva Aashwasan scheme was launched by the Union Minister Dr Harsha Vardhan at the conference of Central Council of Health and Family Welfare.
The scheme provides free medicines for pregnant women.
It focuses to bring down the Maternal Mortality Rate (MMR) and Infant Mortality Rate (IMR) in the country.
Under the scheme the mother up to 6 months after delivery and the sick new born will be able to avail free health care benefits
All the beneficiaries visiting the health care under the scheme are entitled to free services.
It includes:
At least four ante – natal check up
One check up during the 1st trimester
One check up under Pradhan Mantri Surakshit Matritva Abhiyan
Iron Folic acid supplementation
Tetanus Diphtheria injection
Six home based new born care visits
Free transport will be provided from home to the health institutions by GoI.
Referral services are to be offered under the scheme with the scope of reaching the health facilities within an hour of critical emergencies
Zero expenses for C – section facilities in case of complications during pregnancy.
India's maternal mortality rate has declined from 254 per 1 lakh births in 2004 - 06 to 130 per 1 lakh births in 2014 - 16.
The IMR has come down as well.
It was 66 per 1,000 live births in 2001 and is now 34 in 2016.
9th RCEP Inter-sessional Ministerial Meeting to be held in Thailand - 11 Oct 19
Highlights:
The 9th Regional Comprehensive Economic Partnership (RCEP) Intersessional Ministerial meeting will be held in Bangkok in Thailand.
India will be represented by Union Commerce Minister Piysuh Goyal.
This will be the last Ministerial before 3rd Leaders Summit to be held on 4 November 2019 in Bangkok.
It also comes at a crucial stage where RCEP is scheduled to be announced as concluded in November 2019.
So far 21 chapters out of total 25 chapters of RCEP negotiations have been concluded.
Crucial chapters of Investment, Electronic Commerce, Rules of Origin and Trade Remedies are yet to be settled.
Recently, 28th round of negotiations for RCEP at the expert level was concluded at Da Nang in Vietnam in September 2019.
In this round of negotiations meeting of the Trade Negotiating Committee was held in which senior officials participated in negotiations regarding market access on Trade in Goods, Trade in Services and Investment as well as on other areas like Rules of Origin, Intellectual Property and Electronic Commerce.
What is RCEP ?
It is a proposed free trade agreement (FTA) between 10 member states of Association of Southeast Asian Nations (ASEAN) and its six free-trade agreement (FTA) partners- India, China, Australia, New Zealand, Japan and South Korea.
RCEP negotiations were formally launched in November 2012 at 21st ASEAN Summit held in Phnom Penh, Cambodia.
10 ASEAN Members countries: Cambodia, Brunei, Indonesia, Vietnam, Laos, Malaysia, Philippines, Singapore, Thailand and Myanmar.
Indian Railways launched Sahyatri app - 11 Oct 19
Highlights:
The Indian Railways has launched a website and mobile app that will facilitate the passengers to register their complaints online.
The website was launched by the Union minister Nityanand Rai.
The passengers can login to the website www.railways.delhipolice.gov.in and the mobile app Sahyatri can file their complaints regarding the issues they face in the railway.
This will facilitate the railway police to address the complaints of passengers from across India and crime detection by integrating the criminal database online.
The app will help railway passengers to find out the jurisdiction of a police station and the details of GRP officials.
The passengers can download the app on Android and iOS mobile phones.
Using the app, the passengers can not only share information among GRP but will certainly benefit as citizen services have also been provided on the website.
National Diabetes and Diabetic Retinopathy Survey, 2019 - 11 Oct 19
Highlights:
On October 10, 2019, at the Conference of Central Council of Health and Family Welfare, Union Minister Harsha Vardhan released National Diabetes and Diabetic Retinopathy survey, 2019.
The survey was conducted between 2015 and 2019. Diabetes and Diabetic retinopathy have been emerging as significant non – communicable diseases that lead to ocular morbidity.
The survey was conducted by Rajendra Prasad Center for Ophthalmic sciences and AIIMS, New Delhi
Key points of the survey – Diabetes:
One in 46 diabetic patients in India become visually impaired due to diabetes. And one in 7 diabetic patients have vision impairment
The prevalence of Diabetes has remined at 11.8% in the last four years. Prevalence of known diabetes cases were 8% and new cases were 3.8%
Males showed prevalence of 12% and females 11.7%
The highest prevalence was observed in the age group of 70 – 79 years
Around 5.3% of the patients were diagnosed in past one year.
While, 5.3% of cases were known diabetic cases.
Key findings of the survey – Diabetic Retinopathy (DR).
DR was prevalent in diabetic population aged up to 50 years. Around 16.9% of the population suffered from DR
Among males DR was prevalent among 17% of males and 16.7% of females
DR among different age groups were observed as follows
60 – 69 years – 18.6%
70 – 79 years – 18.3%
Above 80 years – 18.4%
Prevalence of blindness among diabetic patients was 2.1% and visual impairment was 13.7%
The report says that lack of data on DR is a major concern in India.
This is the first survey to include DR along with diabetes.
Diabetic Retinopathy:
It is a diabetic eye disease. It affects 80% of those who have diabetes. DR is a condition in which damage occurs in retina due to diabetes mellitus.
The longer a person suffers from diabetes higher are his chances to develop DR.
WHO on Diabetes:
The WHO estimated that in 2014 around 8.4% were diabetic globally.
In India around 72.96 million diabetes cases were identified.
It was between 10% and 14% in urban areas and between 3% and 7% in rural areas.
Poor Awareness is the major cause of diabetes in India.
Around 60% of Indians have poor control over their sugar level according to the survey
Majority of the diabetic patients never sought an eye check up
90% of diabetic patients never gone for fundamental evaluation for diabetic retinopathy
The main reason for diabetes leading to vision impairment or blindness is mainly due to poor blood sugar control.
Around 85.7% of surveyed patients were on oral tablets while only 39.5% had controlled blood glucose level.
Ramesh Pandey selected for UNEP's Asia Environmental Enforcement Award - 11 Oct 19
Highlights:
Senior Indian Forest Service (IFS) officer Ramesh Pandey was selected by United Nations Environment Programme (UNEP) for prestigious Asia Environmental Enforcement Award.
This is the fourth time the Awards will be given and there will be also a separate category for Africa-Asia cooperation in the area of illegal trade in wildlife.
The selection panel of Asia Environmental Enforcement Award recognised the excellent work done by Ramesh Pandey in combating trans-boundary environmental crime.
He will receive the award on 13 November 2019 at the United Nations Conference Centre in Bangkok, Thailand.
Asia Environmental Enforcement Awards is publicly recognise excellence in enforcement and outstanding achievements made by public organisations/individuals in Asia in combating transboundary environmental crime like illegal trade in wildlife, chemicals or waste, in Asia.
The 2019 Awards are presented by UNEP in partnership with United Nations Development Programme (UNDP), USAID, United Nations Office on Drugs and Crime (UNODC), INTERPOL, Freeland Foundation, and Government of Sweden.
Categories: The 5 categories in which award will be given are-
(1) Collaboration
(2) Impact
(3) Innovation
(4) Integrity
(5) Gender leadership.
Ramesh Pandey is a 1996-batch IFS officer.
He is posted as Chief Conservator Forests in Lucknow and Secretary, Uttar Pradesh State Bio-diversity Board.
He is known for his investigation and intelligence gathering on poachers.
The 13th CCHFW was held in New Delhi - 11 Oct 19
Highlights:
The 13th Conference of the Central Council of Health and Family Welfare (CCHFW) was held in New Delhi on 10 October 2019.
The conference was inaugurated by the Union Health and Family Welfare Minister Harsh Vardhan.
The Minister also released the National Diabetes and Diabetic Retinopathy Survey India 2015-19 at the conference.
The discussion aimed to increase the healthcare to spend a minimum of 8% of the States' budget, with an aim to meet the goals of National Health Policy 2017.
It is expected that this would increase health spending to 2.5% of GDP by 2025.
Plans were suggested to improve the Eat Right and Fit India movements.
The conference aimed to build consensus on national health priorities including Universal Health Coverage (UHC) through Ayushman Bharat, eliminating TB and other priority agenda such as strengthening medical infrastructure.
UNICEF launched the Cryptocurrency Fund - 11 Oct 19
Highlights:
United Nations International Children's Emergency Fund (UNICEF) launched the Cryptocurrency Fund. This new venture of UNICEF will now be able to receive, hold and disburse donations of cryptocurrencies ether and bitcoin.
For the first time ever the United Nations organizations, UNICEF will use cryptocurrencies.
Cryptocurrency Fund:
The aim of the UNICEF's Cryptocurrency Fund is to fund open source technology benefiting children and young people around the world.
Under the structure of the UNICEF Cryptocurrency Fund, contributions will be held in their cryptocurrency of contribution and granted out in the same cryptocurrency.
Ethereum Foundation is the first contributor to the UNICEF Cryptocurrency Fund.
This fund will benefit 3 grantees of the UNICEF Innovation Fund and also a project coordinated by the Global Imaging Genetics of Adolescents (GIGA) initiative to connect schools across the world to the internet.
UNICEF:
UNICEF-United Nations International Children's Emergency Fund
UNICEF was formed on 11 December 1946.
It is headquarters in New York City, U.S. Henrietta H. Fore is the Executive Director of the United Nations Children's Fund.
It functions under the United Nations General Assembly (UNGA) and the United Nations Economic and Social Council (UNSC).
The organization aimed to provide emergency food and healthcare to children.
World Sight Day 2019 is observed on 10 October 2019 - 12 Oct 19
Highlights:
World Sight Day 2019 is observed annually on 10 October.
The day aims to create awareness to focus global attention on blindness and vision impairment.
World Health Organization (WHO) launched the first World report on vision on 8 October 2019.
The report said that more than 1 billion people are living with vision impairment due to lack of care they need for conditions like short and far sightedness, glaucoma and cataract.
Also, that the change in lifestyles and limited access to eye care are the major cause of visual impairment, particularly in low- and middle-income countries.
Other mains reasons are Myopia (near-sightedness), Diabetic retinopathy, Late detection.
It that all people living with severe vision impairment can still be treated if they access rehabilitation services.
Optical magnifiers and reading use Braille, to smartphone wayfinders and orientation and mobility training with white canes will make it possible.
Kerala govt gets RBI's nod for formation of Kerala Bank - 12 Oct 19
Highlights:
The Reserve Bank of India (RBI) has given its final nod to Kerala Government for the formation of Kerala Bank.
The final nod by RBI was subjected to certain conditions.
RBI's approval is valid only till 31 March 2020.
The proposed Kerala Bank would be formed by merging 13 District Co-operative Banks (DCBs) with Kerala State Co-operative Bank.
With its formation, the proposed Kerala Bank will be the largest banking network in the state.
The setting up of new bank would also be in accordance with final verdict of some cases pending before a court in this regard.
As per the state government the objective behind formation of Kerala Bank was to strengthen cooperative sector.
However it is also suspected that the move would destroy the traditional cooperative sector
International Day of Girl Child observed on October 11 - 12 Oct 19
Highlights:
Every year, October 11 is commemorated as International Day of Girl Child by the United Nations.
The day is important as it raises awareness of issues faced by girls internationally.
The major problems faced by girls includes forced child marriage, legal rights, medical rights, education, nutrition.
Theme: Girl force – Unscripted and unstoppable.
The day is being observed all over the world since October 11, 2012.
The proposal for the day was initiated by Canada.
In 1995, at the fourth World Conference of Women in Beijing, around 30,000 women and men from 200 countries determined to recognize the rights of women and girls as human rights.
The movement has expanded today supporting adolescent girls, tackling issues like child marriage, gender-based inequality, gender-based violence and girls rights to enter places of worship during menstruation.
Girls are proving they are unscripted and unstoppable !
The day began as a project called "Plan International" by a Canada based NGO that operated worldwide.
The campaign of the NGO, "Because I am a Girl" raised awareness about the importance of nurturing girls globally.
Chhattisgarh launched the first Garbage Cafe in Ambikapur - 12 Oct 19
Highlights:
Chhattisgarh State government has launched India's first-of-its-kind Garbage Cafe in Ambikapur, North Chhattisgarh.
The cafe was inaugurated by State Health Minister T S Singh Deo.
The Cafe was set up by the Ambikapur municipal corporation of Chhattisgarh.
The initiative aims to make the state plastic-free.
With this iniitiative the poor people and rag pickers will be fed.
The Garbage Cafe will provide food to the citizens in exchange for plastic waste.
Citizens will get free food in exchange for 1kg of plastic while breakfast will be provided in exchange for half a kilogram of plastic.
The Cafe will sell the collected garbage at Solid-Liquid Resources Management Centre.
The plastic waste will be turned into granules and used in the construction of roads in the city.
Ambikapur is Chhattisgarh's first dustbin-free city.
Noted saxophone exponent Kadri Gopalnath passes away - 12 Oct 19
Highlights:
Noted saxophone exponent Kadri Gopalnath passed away at a private hospital on October 11. 2019 at the age of 69.
A Padmashree awardee, Gopalnath is survived by his wife Sarojini and two sons, Manikanth Kadri who is a noted music director, Guruprasad Kadri, who is now in Kuwait, and a daughter Ambika Mohan.
Eminent saxophone player Kadri Gopalnath receiving Padma Shri award from then-President Dr. A.P.J. Abdul Kalam at Rashtrapati Bhavan in New Delhi in 2004.
One of the pioneers of Carnatic music on the saxophone in the country he had the distinction of being the first Carnatic musician to be invited in the BBC Promenade concert in the Royal Albert Hall at London in 1994.
Brief History:
Mr. Gopalnath was born in Mittakere in Sajeepa Mooda village in Bantwal taluk of Dakshina Kannada on December 6, 1949.
His father Taniyappa was a Nagaswara artiste.
At his young age, Mr. Gopalnath got a chance to listen to the saxophone recital in the band set of the then Mysore Palace.
Developing a passion for it later, he learnt playing Carnatic music on the saxophone from N. Gopalakrishna Iyer of Kalaniketan.
He presented his first concert in the All India Radio, Mangaluru in 1978. Later he came into contact with well known carnatic musician T. V. Gopalakrishnan in Chennai, who promoted him.
Mr. Gopalnath has performed in many places across the world including in Europe, United States, Canada, Australia, Sri Lanka, and West Asia.
Mangalore and Bangalore universities had conferred him their honorary doctorates.
A winner of Kendra Sangeet Natak Academy Award and a number of other awards his was a household name especially in South India.
Saudi Arabia allows women to serve in Armed Forces - 13 Oct 19
Highlights:
As the Kingdom of Saudi Arabia embarks on a broad programme of economic and social reforms, the country announced that it will allow women in kingdom to serve in armed forces.
This move is the latest in a series of measures aimed by country towards women empowerment and increasing the rights of women in kingdom, even as rights groups accuse Saudi Arabia of cracking down on women activists.
Presntly, Saudi Arabia is the world's largest crude exporter.
It is now pushing to improve its image and attract tourists as part of a plan to diversify its economy away from oil.
Crown Prince Mohammed bin Salman, the kingdom's de facto ruler, has also approved a handful of reforms aimed at widening women's rights.
This includes allowing women to drive and to travel abroad without consent from a male 'guardian'. Saudi Arabia has also allowed foreign couples to rent hotel rooms.
Earlier in 2018, Saudi Arabia had authorised women to join its security forces and now it has allowed women in kingdom to serve in armed forces.
The women would now be able to serve as private first class, corporal or sergeant.
High level Panel to review regulations of cooperative banks - 13 Oct 19
Highlights:
The Union Finance Minister on 10th October, 2019 announced that a high level committee will be formed to look into the regulations that govern multi state cooperative banks.
RBI imposed banking restrictions on PMC bank in September.
This has left 1000s of investors and account holders worried.
The amended framework is to be submitted in the winter session of the parliament.
The rural cooperative credit system in India ensures flow of credit to the agriculture sector.
The short-term cooperative structures operate under a three-tire system namely:

Primary Agricultural credit societies (PACS).

They operate at village levels

Central Cooperative Banks (CCB) – they operate at district level.

State Cooperative Banks (SCB) – they operate at state level

The PACS are outside the purview of Banking Regulation act, 1949 and hence is not regulated by RBI
The inspection of CCB And SCB are conducted by NABARD – National Bank for Agricultural and Rural Development.
This is being done according to Section 35 of the Banking Regulation act, 1949. RBI can conduct inspection once a year if in need.
The needs of customers in urban and semi – urban areas are catered by Primary Cooperative bank (PCB) and Urban Cooperative Bank (UCB) respectively.
Multi – State Cooperative Banks:
RBI constitutes state level task forces for cooperative urban banks (TAFCUB).
This is done to bring all the decision makers on one table under the central TASFCUB.
The viable and non – viable UCBs in the state are identified by the TAFCUB.
It suggests a revival path as well.
The exit of non – viable banks are done
Through mergers
Amalgamation with stronger banks
Conversion of these banks into societies
Liquidation, which is the last option.
Section 22 and Section 23 of Banking Regulation act, 1949 regulates the banking functions of UCB, SCB and DCCB.
59th National Open Athletics Championships: Annu Rani won gold - 13 Oct 19
Highlights:
Javelin thrower Annu Rani won a gold medal in the women's javelin throw event at the 59th National Open Athletics Championships on 10 October in Ranchi, Jharkhand.
She defeated Sharmila Kumari to win the title.
She gave a series of throw of 56.97m, 55.97m, 58.31m, 57.29m, 56.86m, 58.60m.
Sharmila Kumari's best throw in the event was 53.28m.
In October 2019, the 25-year-old set the national record at 62.43m at the World Championships in Doha.
Javelin Throw
Result:
1.Annu Rani - 58.60m
2.Sharmila Kumari - 53.28
3.Poonam Rani - 50.67
Union Government launched SUMAN scheme - 13 Oct 19
Highlights:
The government launched the Surakshit Matritva Aashwasan (SUMAN) scheme on 10 October 2019.
The scheme was launched by Union health minister Harsh Vardhan.
Under the under which pregnant women, mothers up to 6 months after delivery, and all sick newborns will be able to avail free healthcare benefits.
What is SUMAN scheme ?
GeM signs MoU with Union Bank of India - 13 Oct 19
Highlights:
Government e-Marketplace (GeM) signed Memorandum of Understanding (MoU) with Union Bank of India (UBI).

Through this partnership, UBI will be able to offer array of services including transfer of funds through GeM Pool Accounts (GPA), advising of Performance Bank Guarantees (e-PBG) and Earnest Money Deposit (EMD) to the registered users on the GeM portal.

It will also facilitate cashless, paperless and transparent payment system on GeM portal and will create an efficient procurement system for government entities.

Online integration for payments and various banking services is one of the priorities for GeM.

So far, GeM has signed MoU with 14 Public Sector and private banks to enable this.

It is also working with others banks, TReDs, and SIDBI to provide invoice financing and Bill Discounting to MSMEs registered on GeM.

This will help MSMEs access easy credit and do better business with Government Departments.
Government e-Marketplace (GeM):
It is an online marketplace launched by Union Government in 2018 to facilitate procurement of goods and services by various Ministries and agencies of the Government.
It offers online, end to end solution for procurement of commonly used goods and services for all central government and state governments departments, public sector units (PSUs) and affiliated bodies.
Its main aim is to enhance transparency, efficiency and speed in public procurement of goods and services and eliminate corruption.
It provides tools for Direct Purchase, bidding and reverse auction in a transparent manner for government departments.
Nobel Peace Prize - 2019 awarded toEthiopian Prime Minister Abhiy Ahmed Ali - 14 Oct 19
Highlights:
The 100th Nobel Prize for peace has been awarded to the Ethiopian Prime Minister Abhiy Ahmed Ali for his efforts towards peace and international cooperation.
The prize was awarded in particular to honor his initiatives to resolve border conflict with Eritrea.
Abhiy Ahmed Ali:
Ali became the Prime Minister of Ethiopia in 2018.
Since then he was keen in resuming peace talks with Eritrea. He quickly worked out principles of peace agreement with the president of Eritrea Isaias Afwerki and ended the long "no peace no war" stalemate.
Apart from this, he also initiated many reforms in Ethiopia.
He spent his first 100 days of power in lifting the state of emergency in the country.
He granted amnesty to 1000s of political prisoners, legalized outlawed opposition groups, discontinued media censorship, increased the influence of women in Ethiopian political and community life.
The Greta Factor:
There had been great speculation over the prize with the climate activist Greta Thunberg being tipped as the favorite. The 16 year school girl is a Swedish teenager who became famous for her activism in August 2018.
She initiated a mass movement "School strike for climate" where the teenagers quit school demanding for action towards climate change.
She had inspired a number of school children that it is now been addressed as the "The Greta Effect"
West Bengal govt. to set up Kanyashree University in Nadia district to empower girls - 14 Oct 19
Highlights:
The state government of West Bengal is setting up Kanyashree University in Nadia district and Kanyashree colleges across the state so as to empower girls.
The Kanyashree university would be only for women.
Earlier in January 2019, the West Bengal Chief Minister Mamata Banerjee laid the foundation stone of new Kanyashree university at Krishnagar in Nadia district.
What is Kanyashree scheme ?
The Kanyashree scheme was started by state government to empower girls in 2013.
In 2017, the Kanyashree scheme won the first prize in UN award and the state government was awarded by United Nations for Public Service for its Kanyashree scheme.
So far the scheme has been allocated a budget of Rs 7,000 crore and has empowered over 60 lakh girl students.
Objectives:
To ensure that girls study in schools and delay their marriages until they attain 18 years of age.
To empower girls from school to university level so that they can become independent women.
To improve the status and well-being of girls, particularly those from socio- economically disadvantaged families through conditional cash transfers.
An annual incentive of Rs.750 is given to girls in age group 13 to 18 years and studying in Class 8 for every year till they continue their education, the only condition being that they are unmarried at the time.
One-time grant of Rs.25,000 is also given to girls once they attain 18 years of age, provided they are engaged in an academic/occupational pursuit and unmarried.
mHariyali app launched launched by the Ministry of Housing and Urban Affairs - 14 Oct 19
Highlights:
The mHariyali mobile application was launched by the Ministry of Housing and Urban Affairs to encourage public engagement in planting trees and Green drives.
The application provides automatic geo - tagging of plants.
It will hence enable the nodal officers to periodically monitor the plantation.
What is the initiation all about ?
The Ministry of Housing and Urban Affairs in September 2019, had selected 103 Central Government colonies to implement the following:-
Awareness and Construction of Roof top rain water harvesting
Cleaning and Greening of open space through plantation
Sensitization on Source Segregation of household waste
Orientation and Capacity building on Home Composting.
The application is a part of the campaign to keep the participants motivated.
As a part of the campaign the Hariyali Mahostav was also launched
Hariyali Mahotsav:
The Mahotsav is a mass plantation drive that was conducted in Chanakyapuri, New Delhi.
Under the program around 500 plants were planted by 150 people.
Under this mass initiative till date, 25 rain water harvesting structures have been constructed, 21,756 plants have been planted and more than 3800 people participated.
International Day for Disaster Risk Reduction observed on October 13 - 14 Oct 19
Highlights:
International Day for Disaster Risk Reduction observed on October 13 every year.
The International Day of Disaster Risk Reduction (IDDRR) was begun in 1989 by the United Nations General Assembly.
The purpose of the day is to promote global culture towards risk awareness and disaster reduction.
It celebrates how people and communities around the world reduce their exposure to disasters.
Also, the day raises awareness towards the importance of reining in the risks that are faced by the global citizens.
Theme: Reduce disaster damage to critical infrastructure and disruption of basic services
The theme is one of the seven targets of Sendai framework.
It focuses to reduce the disaster damage to infrastructure
Prevent disruption of basic services due to disaster damages, especially health and education.
As the death tolls due to tsunamis and earthquakes is increasing, it becomes essential to ensure if schools and hospitals are following regulations and building codes.
The other areas of critical infrastructure that requires frequent monitoring includes potential life - saving utilities and services like energy, food and water supply, telecommunications and transport.
Dubai to host 2019 First Global DXB Challenge - 14 Oct 19
Highlights:
Dubai will be hosting the 2019 First Global DXB Challenge, a large gathering for creative young minds in the fields of robotics and artificial intelligence.
It will be held for the first time in the region from 24 to 27 October 2019 at the Festival Arena in Dubai, UAE.
Objectives:
To encourage and empower youth with a passion for science, technology, mathematics, engineering, and develop their skills and equip them with tools necessary to contribute to shaping future.
To address the world's most critical environmental issues like sustainability and pollution, wastage of energy and water through a global robotics competition.
Organised by: The Dubai Future Foundation
Theme of the event: 'Ocean Opportunities'.
The event will bring together over 1,500 youth from over 191 countries to collaborate, create and compete for a better future, thus making it one of the largest events of its kind in the Middle East region.
The Challenge focuses on developing robots to clean up millions of tons of pollutants in oceans.
Each team will receive a robotic kit and is tasked with assembling a robot that will be able to address various issues related to ocean and marine life.
World Youth Chess Championship 2019 - 14 Oct 19
Highlights:
The World Youth Chess Championship concluded in Mumbai, Maharashtra on 12 October 2019.
India ended the World Youth Chess Championship by bagging 7 medals including 1 gold and 3 silver and 3 bronze medals.
Only the Under-16 Girls category proved to be elusive for India in the chess championship.
The 14 year old R Praggnanandhaa of India emerged as unconquered king in World Youth Chess Championship by claiming the coveted gold in Under-18 Open category.
The World Youth Chess Championship is a chess competition for boys and girls under the age of 8, 10, 12, 14, 16 and 18. Every year 12 world champions are crowned.
Winners of World Youth Chess Championship 2019:
U18 Open: Praggnanandhaa R. (INDIA) 9.0; Shant Sargsyan (ARMENIA) 8.5; Artur Davtyan (ARM) 8.0
U18 Girls: Polina Shuvalova (RUSSIA) 8.5; Vantika Agrawal (INDIA) 8.0; Alexandra Obolentseva (RUSSIA) 7.5
U16 Open: Rudik Makarian (RUSSIA) 8.5; Stefan Pogosyan (RUSSIA) 8.0; Aronyak Ghosh (INDIA) 8.0
U16 Girls: Leya Garifullina (RUSSIA) 8.5; Nurgali Nazerke (Kazakhstan) 8.5; Anousha Mahdian (IRI) 8.0
U14 Open: Aydin Suleymanli (Azerbaijan) 9.0; Srihari L R (INDIA) 8.0; Sreeshwan Maralakshikari (INDIA) 8.0
U14 Girls: Meruert Kamalidenova (Kazakhstan) 8.5; Divya Deshmukh (INDIA) 8.0; Rakshitta Ravi (INDIA) 8.0
PM Modi chairs meeting on Ek Bharat Shreshtha Bharat programme - 15 Oct 19
Highlights:
Women's World Boxing Championships 2019 - 15 Oct 19
Highlights:
AIBA Women's World Boxing Championships 2019 was hosted by Ulan-Ude, Russia from 3 to 13 October 2019.
The best female boxers in the world competed in 11th edition of the female elite competition for the most prestigious boxing titles in word.
Around 224 competitors from 57 nations participated.
The AIBA Women's World Boxing Championships will be returning to Russia after 2005 when the city of Podolsk hosted the tournament.
India's Performance:
India's Debutant Manju Rani (48kg) scripted history as she became the first Indian woman boxer in 18 years to enter the finals of Women's World Boxing Championship in her maiden appearance.
She stormed to the finals of World Boxing Championships in Russia with a win 4-1 win over her opponent Chuthamat Raksat of Thailand.
In the finals she won silver medal after going down 1-4 against the host nation's second-seeded boxer Ekaterinal Paltceva.
Other three Indian pugilists, includes- Mary Kom, Jamuna Boro and Lovlina Borgohain
M C Mary Kom lost her semi-final bout against Busenaz Cakiroglu of Turkey and won bronze medal in 51 kg category.
India's Debutante Jamuna Boro also had to content with a bronze medal (in 54kg semifinal) after she lost to Huang Hsiao-Wen of Chinese Taipei with an unanimous 5:0.
Lovlina Borgohain won bronze in 69kg after losing in semifinal to Yang Liu of China.
India ADB sign 190 million USD loan - 15 Oct 19
Highlights:
The Government of India have signed a 190 million USD loan with the Asian Development Bank (ADB) to upgrade road transport in the state of Rajasthan on 12 October, 2019.
The project includes upgrading of 754 km of state highways, major district roads to two lane.
The project will benefit 26 million people in 14 districts of Rajasthan.
The project also includes construction of more than 200 bus stops and 2 km of raised side walk.
In 2017, the bank offered 220 million USD of loan to upgrade 1,000 km of road.
India and ADB:
India is one of the founding members of the ADB.
It is the fourth largest shareholder in the bank.
In 1980s and 1990s the bank supported the government's program of industrialization.
India got its first loan from the bank in 1986 as Industrial credit to introduce new technologies and to modernize medium-sized industries.
ADB:A fact file
The bank was established in 1966.
The headquarters of the bank is located in Philippines.
The bank was modeled close to World Bank.
Every year ADB releases an annual report that summarizes its budget, operations and other materials for review by the public.
ADB is a UN observer. Japan and US hold the largest shares of the bank as of 2016.
China is the third largest shareholder followed by India and Australia.
Abhijit Banerjee, Duflo and Kremer win Nobel in Economics - 15 Oct 19
Highlights:
Indian-American Abhijit Banerjee with his Wife Esther Duflo and Michael Kremer won Nobel For Economics for the year 2019.
The award recognized their experimental approach to alleviating global poverty.
The new experiment-based approach has transformed development economics in a flourishing field of research.
Banerjee was educated at the University of Calcutta, Jawaharlal Nehru University, and Harvard University, where he received his Ph.D. in 1988.
He is currently the Ford Foundation International Professor of Economics at the Massachusetts Institute of Technology.
The research conducted by this year's laureates has considerably improved the ability to fight global poverty.
In just two decades, their new experiment-based approach has transformed development economics, which is now a flourishing field of research.
In 2003, Abhijit Banerjee founded the Abdul Latif Jameel Poverty Action Lab (J-PAL), along with Duflo and Sendhil Mullainathan, and he remains one of the lab's directors.
He also served on the UN Secretary-General's High-level Panel of Eminent Persons on the Post-2015 Development Agenda.
India and Sierra Leone sign six agreements for rice cultivation - 15 Oct 19
Highlights:
India and Sierra Leone signed six agreements to achieve self-sufficiency in rice production.
The agreements include extending a credit line of $30 million for rice cultivation.
The agreement was signed by Vice President Venkaiah Naidu during his 5-day visit to the West African countries.
Mr. Naidu and Sierra Leone President Julius Maada Bio reaffirmed to further strengthening bilateral relations.
Both sides agreed that the United Nations need to be reformed to address current global challenges.
India extended concessional lines of credit to Sierra Leone of worth $123 million in various sectors such as agriculture, water, and transmission line.
Sierra Leone has also availed lines of credit worth $49.45 million from ECOWAS Bank for Investment and Development (EBID) for projects in the solar and telecom sector out of Lines of Credit extended by India to EBID.
It is noted that Sierra Leone is the Chairman of the African Union (AU) Committee of ten nations on United Nations Reforms, including UNSC reforms.
International Day for Disaster Risk Reduction observed on 13 October - 16 Oct 19
Highlights:
International Day for Disaster Risk Reduction (IDDRR) is observed on 13 October every year.
The day aims to raise awareness about the importance of reining in the risks that people and communities around the world face due to disasters.
Theme:
The theme for 2019 is "Reduce disaster damage to critical infrastructure and the disruption of basic services."
The day focuses on one Target of the Sendai Framework for Disaster Risk Reduction 2015-2030: Substantially reduce disaster damage to critical infrastructure and disruption of services through developing resilience by 2030.
The United Nations Office launched the Sendai Seven campaign for Disaster Risk Reduction (UNDRR) in 2016.
The campaign has seven targets and 38 indicators to measure progress on reducing disaster losses.
It aims to promote all the sectors to reduce disaster risk and disaster losses.
International Day for Disaster Risk Reduction was initiated in 1989.
The day was established by the United Nations General Assembly (UNGA) to promote a global culture of risk-awareness and disaster reduction.
India ranked 7th most valuable nation brand in the world - 16 Oct 19
Highlights:
According to Brand Finance,India became the seventh most valuable nation brand in the world.
The annual report on the world's most valuable nation brands was compiled by Brand Finance.
The report showed India's brand value increased by 19% in the year 2018-2019 to $2,562 billion.
The Indian economy recovered quickly after the global financial crisis.
The economic growth of India has now reduced by a recent slowdown in both the manufacturing and construction sectors.
The US topped as the most valuable nation brand, with a brand value of $27,715 billion. It is followed by China and Germany ranked third.
Last year, Canada was at the 7th position which has dropped to 8th position.
South Korea, which was at the 10th position last year has managed to jump a level up to reach the 9th position.
Italy, which was at 8th position last year, slipped to the 10th, while the US, China and Germany continued to be the top three nations, respectively even in 2019.
Japan and the UK swapped positions with the former jumping to 4th, while the latter falling to 5th position as against its ranking last year.
World Standards Day observed on 14 October - 16 Oct 19
Highlights:
World Standards Day is observed on 14th October 2019.
The day is observed every year.
The day is observed to raise awareness of the significance of standardization to the global economy.
The day is celebrated globally by the members of the International Electrotechnical Commission (IEC), International Organization for Standardization (ISO) and International Telecommunications Union (ITU), Institute of Electrical and Electronics Employees (IEEE), Internet Engineering Task Force (IETF), etc.
The day aims to pay tribute to the collaborative efforts of the experts all over the world who developed the voluntary technical agreements that are published as International Standards.
It aims to make the world aware of the significance of standardization and its relevance to the global economy.
The theme for 2019 is Video Standards create a global stage.
Advancement in Video technology has revolutionized entertainment, connecting friends and families across the globe.
It also enriches communications experiences and enables major improvements in medical care and education.
The accessibility of video is built on International Standards.
World Standard Day: A fact file
World Standard Day was formed in 1946 when the officials from 25 countries met to create an international organization that will focus to facilitate standardization.
World Standard Day was officially established by the then President of IES (International Organization for Standardization) Mr. Faruk Sünter in 1970.
TCS named India's most outstanding company - 16 Oct 19
Highlights:
Tata Consultancy Services (TCS) has been selected as the overall most outstanding company in India's IT services sector in Asiamoney's 2019 outstanding companies poll.
Asiamoney's various investor surveys recognized TCS as the most awarded company of the decade in India including awards like the best-managed companies award, the corporate governance poll.
Asiamoney's outstanding companies poll has been designed to acknowledge listed companies in 12 countries in Asia.
The companies that have excelled in areas such as financial performance, management team excellence, investor relation activities, and CSR initiatives will be considered.
Around 800 bankers, fund managers, buy-side analysts, and research analysts participated in the 2019 poll, casting over 4,000 votes.
U.S. observes 15 October as White Cane Safety Day - 16 Oct 19
Highlights:
White Cane Safety Day is observed on 15 October in the United States every year.
The day aims to celebrate the success achieved by the blind and visually impaired people. The day stands as a reminder to show the important symbol of blindness and tool of independence, the white cane.
White Cane Safety Day : Brief History
On October 6, 1964, the U.S. Congress passed a joint resolution H.R. 753 and signed into law to observe 15 October to be observed as White Cane Safety Day.
The institution of the day aims to educate the world about blindness and how the blind and visually impaired can live and work independently while giving back to their communities.
The day celebrates the abilities and successes achieved by blind people in a sighted world.
The day also honors the contributions made by the blind and visually impaired.
World Bank forecasts India's GDP forecast to 6 % - 17 Oct 19
Highlights:
According to the World Bank report, India's growth rate is projected to fall to 6% in 2019-20 following the deceleration in the initial quarters of this fiscal.
World Bank said that India is expected to gradually recover to 6.9% in F.Y-2021 and 7.2% in F.Y-2022 in its latest edition of the South Asia Economic Focus.
In April 2019, World Bank projected India's growth rate as 7.5%.
In the first quarter of 2019-20, the Indian economy experienced a significant and broad-based growth deceleration with a sharp decline on the demand side and the weakening of growth in both industry and services on the supply side.
In 2018-19 the headline inflation averaged 3.4%.
It reflected the below-trend economic momentum and low food prices.
It remained well below the RBI's mid-range target of 4% in the first half of 2019-2020.
This also allowed the RBI to ease monetary policy via a cumulative 135 basis points (bps) cut in the repo rate from January 2019.
Justice Narayana Swamy sworn in as Chief Justice of Himachal Pradesh HC - 17 Oct 19
Highlights:
Acting Chief Justice of Karnataka High court (HC) Justice Lingappa Narayana Swamy was appointed as the new Chief Justice of Himachal Pradesh High court.
He took oath as the new Chief Justice of Himachal Pradesh HC on 13 October.
The oath office was administered by the Governor of Himachal Pradesh, Mr. Bandaru Dattatreya.
On 28 August, the former chief justice of Himachal Pradesh V Ramasubramanian was elevated as SC judge.
The Supreme Court Collegium (SCC) had recommended the name of Justice L Narayana Swamy as the new Chief Justice of Himachal Pradesh.
Justice L.Narayana Swamy: Fact File
Justice Lingappa Narayana Swamy enrolled as an Advocate during the year 1987 in the Karnataka High Court. He practiced Writ Petitions, Service Matters, Land Reforms, Land Revenue and Public Interest Litigation (PIL) matters.
From 1995-1995, he worked as High Court Government Pleader.
On 4 July 2007, he was elevated as Additional Judge of Karnataka High court, which eventually became permanent on 17 April 2009.
From 17 January 2019 to 9 May 2019, he served as the Acting Chief Justice of Karnataka HC.
Tribal Affairs Ministry launched Van Dhan Internship Programme - 17 Oct 19
Highlights:
Union Minister of Tribal Affairs Shri Arjun Munda launched the Van Dhan Internship Programme on 16 October 2019.
It was organized by the Tribal Cooperative Marketing Development Federation of India (TRIFED) under the Ministry of Tribal Affairs.
Van Dhan Internship Program:A fact file
The program will help the tribal population to become self-reliant and entrepreneurs.
All the interns will be a part of the National Building Team.
The program will emphasize the need for entrepreneurship
Ministry has selected 18 interns from some of the reputed Institutes of Rural Management/ Management Institutions/ Institutes of Social Work/ Social Services of the country
These interns will be trained to go and work on the Van Dhan program in the field.
These interns have an inclination towards involving in matters related to tribal livelihood.
Kiran Uniyal sets Guinness World record - 17 Oct 19
Highlights:
Kiran Uniyal, the wife of a serving Colonel of Indian Army, has created Individual Guinness World Records for The most full contact knee strikes in three minutes (one leg) (female) with 263 strikes and The most full contact knee strikes alternate legs in one minute(female) with 120 strikes.
The previous records were of 177 strikes and 102 in the female category, respectively.
The aim of her records was to promote martial arts for girls and women's safety and self-defense.
She also surpassed the existing male category record of 226 knee strikes.
Uniyal has achieved 15 World Records, including 10 Guinness World Records in Martial Arts, Fitness, and Social Work, so far.
J. P. S. Chawla appointed as new Controller General of Accounts - 17 Oct 19
Highlights:
Central government appointed Shri J. P. S. Chawla as the new Controller General of Accounts (CGA) for the Department of Expenditure,Ministry of Finance.
The appointment with effect from 15 October 2019 on a regular basis.
Shri J. P. S. Chawla : A fact file
Shri Chawla is a 1985-batch Indian Civil Accounts Service (ICAS) Officer.
He graduated from the Bachelor of Engineering (BE) in mechanical engineering from the Delhi College of Engineering, Delhi.
He has served with the Public Sector Engineering Enterprise, Engineers India Limited (EIL) for four years prior to joining the Civil Services.
In his 34-year career, he has held various cadre posts at different levels in a number of Ministries/Departments with Prasar Bharti, Urban Development, Civil Aviation & Tourism, and Agriculture, to name a few.
He also served as Finance Director in the Indraprastha Power Generation Company Limited (IPGCL) and Pragati Power Limited (PPL).
GoAir received the Best Airline award - 18 Oct 19
Highlights:
GoAir received the Best Airline award by Andaman Tourism Award 2019 in its first edition for its leadership in attaining on-time performance for 12 consecutive months.
The Andaman Tourism Award ceremony was organized at Port Blair in association with the Andaman Ministry of tourism and Andaman Association of Tour Operators.
Directorate General of Civil Aviation (DGCA) reported that GoAir has emerged as the most punctual airline in August 2019.
The airlines created history in the Indian aviation sector.
GoAir has set the record of a consecutive 12th-month achievement of distinction by being on top of on-time-performance (OTP) charts.
The report also said that GoAir registered 85.1% OTP, which is the highest among scheduled domestic airlines in August 2019.
GoAir currently operates over 325 daily flights.
It has also carried around 13.91 lakh passengers in August 2019.
Global Hunger Index-2019:India ranked 102nd - 18 Oct 19
Highlights:
India ranked 102nd in 2019 on the Global Hunger Index (GHI).
It had slipped from 95th rank in 2010. Seventeen countries, including Belarus, Ukraine, Turkey, Cuba, and Kuwait, shared the top rank with GHI scores.
The report said Ethiopia and Rwanda had shown notable progress.
The Global Hunger Index (GHI) 2019 was jointly prepared by Concern Worldwide, an Irish aid agency, and Welt Hungerhilfe, a German organization.
India has shown poor performance with the increase in the prevalence of wasting low weight for height among children under five.
In 2000, India ranked 83rd out of 113 countries.
Apart from the fall, the improvement in India's GHI score has also decelerated.
The improvement from 38.9 in 2005 to 32 in 2010 has been reduced to 30.3 between 2010 and 2019.
IIIT Hyderabad signed MoU with EBTC to establish a Living Lab - 18 Oct 19
Highlights:
International Institute of Information Technology (IIIT) Hyderabad signed a memorandum of understanding (MoU) with the European Business & Technology Centre (EBTC).
The agreement aimed to establish a Living Lab on the institute's campus.
The lab will be set up by the end of 2020.
The agreement will seek help from the Amsterdam Innovation Arena program, Netherlands.
Living Lab:
The lab will help startups gather real-time data on urban infrastructure.
It will help startups to develop Smart Cities products that are on sustainable urban development.
The institute will help the startups to test their products on the campus.
European Business & Technology Centre (EBTC):
EBTC was established in 2008.
It is co-funded by the European Union (EN).
It is headquartered in New Delhi.
It is coordinated by EUROCHAMBRES, the Association of European Chambers of Commerce and Industry.
It aims to promote European technologies and innovations to suit the local needs in India through various projects, programs, and initiatives by enabling Indo-European collaborations.
Air India became the first airline in the world to use a TaxiBot - 18 Oct 19
Highlights:
National carrier Air India (AI) became the first airline in the world to use a TaxiBot on an Airbus A320 aircraft operating a commercial flight with passengers on board.
The aircraft of AI 665 Delhi-Mumbai flight was brought to the runway at Indira Gandhi International Airport (IGI) airport's Terminal 3 using the TaxiBot.
The aircraft was flagged off by Air India Chief Managing Director Ashwani Lohani.
The move of Air India is towards a cleaner environment.
Air India's Taxibot:
AI's TaxiBot can tow an aircraft with its engines switched off.
This will help in saving fuel, bringing down consumption by as much as 85% used during taxiing of aircraft.
It also aims to reduce the wear and tear of the engine and curb carbon emission, thus improving air quality.
The TaxiBots will also help in decongesting boarding gates and apron area by providing efficient pushbacks.
A TaxiBot is a pilot-controlled semi-robotic towbar-less aircraft tractor.
It is used as alternate taxiing equipment.
It is used for taxiing an aircraft from parking bay to runway and vice versa.
World food day is observed on 16 October - 18 Oct 19
Highlights:
World Food Day is observed on 16 October every year.
The day is observed every year by people from around the world.
The day aims to tackle global hunger.
On this day, people reaffirm their commitment to eradicate worldwide hunger for a lifetime.
The theme for 2019 is Our Actions Are Our Future. Healthy Diets for A #ZeroHunger World.
The diet and eating habits of the people have changed because of urbanization and income growth.
It causes obesity and other related diseases among the people. The theme focuses on creating awareness about a healthy and nutritional diet.
FAO reported that 40 million children under 5 are overweight. One hundred twenty million girls and boys of the age group 5 to 18 years, and 670 million adults are obese.
Around 820 million people across the world suffer from hunger.
The World food day was established by the member countries of the Food and Agriculture Organisation (FAO) in November 1979 at the 20th General Conference.
On 16 October 1981, The United Nations General Assembly (UNGA) announced the observation of the World Food Day on 16 October.
The first World food day was observed in 1981.
The day aims to honor the establishment date of FAO.
FAO: A fact file
Food and Agriculture Organisation is a specialized agency of the United Nations, which leads international efforts to defeat hunger.
It was established as a specialized agency in 1945.
FAO aims to provide food security for all the people across the world.
It also ensures that people have regular access to enough high-quality food to lead active, healthy lives.
Indian Railways to become net zero carbon emitter - 19 Oct 19
Highlights:
Indian Railways (IR) has announced that it will become a net-zero carbon emitter by 2030.
The move will be a part of India's strategy to combat climate change.
The announcement was made by railways and commerce minister Piyush Goyal at the India Energy Forum by CERAWEEK in New Delhi.
India stands third as the biggest emitter of greenhouse gases after the US and China.
Also, India is among countries most vulnerable to climate change.
Indian Railways:A fact file
Indian railways is the world's largest railway network.
It has a rail network of around 1,25,000km under single management.
IR is to go green by setting up solar power generation capacities in its large tracts of land along its network.
India's move towards climate change:
India is moving to curb pollution and cut its dependence on foreign oil.
The country has become one of the top renewable energy producers globally with ambitious capacity expansion plans.
India is running the world's largest renewable energy program.
The installed renewable energy capacity of the country is about 80 gigawatts (GW).
As a part of its climate commitments, it also plans to achieve 175GW by 2022 and 500GW by 2030.
World Maths Day was celebrated on 15 October - 19 Oct 19
Highlights:
World Maths Day is celebrated on 15 October every year.
The Day aims to encourage students globally to take part in competitive math-themed games.
The winners of the events will be given an opportunity to win prizes and scholarships.
The World Maths Day first instituted by 3P Learning in 2007.
The 3P Learning company was founded in 2003 and is headquartered in Sydney, Australia.
The company partnered with United Nations International Children's Emergency Fund (UNICEF) to reach children with learning resources and teaching aids across the world.
Global Handwashing Day was observed on 15 October - 19 Oct 19
Highlights:

Global Handwashing Day is celebrated on 15 October every year.
The Day is observed to increase awareness and understanding about the importance of handwashing with soap.
It also encourages people to hand as it is an effective and affordable way to prevent diseases and save lives.
The theme for 2019 Global Handwashing Day is Clean Hands for All.
The theme focuses that no one should be left behind in the Sustainable Development Agenda.
The theme promotes handwashing programs.
It should be known that it can put individuals at higher risk for diseases that impact their health, education, and economic outcomes.
Global Handwashing Day was instituted by the Global Handwashing Partnership.
The first Global Handwashing Day was held in 2008.
Nearly 120 million children around the world washed their hands with soap in more than 70 countries.
Ayushman Bharat crossed the milestone of 50 lakh mark - 19 Oct 19
Highlights:
Ayushman Bharat Pradhan Mantri Jan Arogya Yojana (PM-JAY), Narendra Modi government's flagship program, crossed the milestone of 50 lakh mark.
PM-JAY:
The scheme was launched in September 2018.
Ayushman Bharat is a healthcare scheme.
The scheme aims to provide health assurance to 50 crore poor and deprived people in rural and urban areas.
Under the scheme, there are nine admissions in hospitals every minute across India.
The scheme provides free secondary.
Also, tertiary treatment worth Rs.7,901 crore has been availed in the 32 states and UTs.
The top tertiary specialties are cardiology, orthopedics, radiation, oncology, cardiothoracic and vascular surgery, and urology.
The top-performing states under the scheme are Gujarat, Tamil Nadu, Chhattisgarh, Kerala, and Andhra Pradesh.
Bengaluru to host the 5th Edition of World Coffee Conference - 19 Oct 19
Highlights: