Monthly Current Affairs for all banking PO,Clerk,IBPS PO,Railway,SSC,IAS,OAS Exams
More Visit www.isbtonline.com
Former India opener Madhav Apte dies at 86 - 01 Sep 19
Highlights:
Madhav Apte, the former India Test opener, died in Mumbai's Breach Candy Hospitalat the age of 86.
He was the fourth-oldest living Indian Test cricketer, younger only to DK Gaekwad, CD Gopinath and Chandrakant Patankar.
In his seven Tests for India in 1952-53, Apte averaged 49.27, the highlight being a match-saving, unbeaten 163 against West Indies in Port of Spain.
Five of his seven Tests were played on that tour of the Caribbean, where it seemed he was the next big thing in Indian cricket, averaging over 50 and finishing second on the runs charts for India.
But he never played for India again.
PK Sinha is appointed as OSD in Prime Ministers Office - 01 Sep 19
Highlights:
Former cabinet Secretary PK Sinha has been appointed as the Officer on Special Duty (OSD) in Prime Minister's Office (PMO).
He will replace Nripendra Misra who is the Principal Secretary of PMO.
Sinha's place will be taken by Rajiv Gauba who was appointed as Cabinet Secretary.
PK Sinha :A brief history
Pradeep Kumar Sinha is the 1977 batch IAS officer of Uttar Pradesh cadre.
He is the 31st cabinet Secretary of India. Before this appointment, he served as the Power Secretary of India.
Nripendra Misra:A brief history
Nripendra Misra 1967-batch retired IAS officer.
He has relieved his position as a senior government official.
Mr.Misra was the first senior-level appointment created by Prime Minister Narendra Modi in 2014.
He is an outstanding officer who has an excellent grasp of public policy associate degreed administration.
Mr.Misra had retired as TRAI chairman.
Home Minister Amit Shah flags off India's first battery-operated bus in Ahmedabad - 01 Sep 19
Highlights:
Union Home Minister Amit Shah flagged off battery-operated eco-friendly buses in Gujarat's Ahmedabad while inaugurating the country's first automated battery charging and swapping station for e-buses there.
The main aim is to curb pollution and make India a better place.
He participated in the tree plantation drive organised by the Ahmedabad Municipal Corporation to mark the culmination of the civic body's 3 month-long campaign Mission Million Tree to plant 10 lakh trees in Ahmedabad.
The campaign was launched with an aim to make Ahmedabad the greenest city of India and it will continue till this goal is achieved.
Later in the day, Shah, who represents Gandhinagar Lok Sabha seat, will attend a meeting of 'Disha', formerly known as District Development Coordination and Monitoring Committee.
Disha initiative is meant for the effective implementation of Central schemes at the local level.
He probably is slated to conclude his visit after attending the 7th Convocation ceremony of the Gandhinagar based Pandit Deendayal Petroleum University.
Centre to set up 12,500 Ayush centres across India - 01 Sep 19
Highlights:
The Central government has set a target of setting up 12,500 Ayush centres across India.
The announcement was made by Prime Minister Narendra Modi at the Yoga Award Ceremony held in New Delhi.
The Centre will open 1.5 lakh health, wellness centres.
The prime minister also pitched for linking technology with tradition in the practise of Ayush medicine.
In its first, 4000 Ayush centres will be set up in 2019.
Government is also making efforts to bring in more professionals in the field of Ayush and necessary steps are being taken to that effect.
Centre also plans to create a homogenous system by creating an Ayush grid on the lines of one nation, one tax, and one nation, one mobility card.
Government announced four major bank mergers - 01 Sep 19
Highlights:
The Union Government has announced the mergers of four major nationalized banks .
The merger of 10 public sector banks to be merged into four big banks.
It was recently was announced by Finance Minister Nirmala Sitharaman.
After the merger, there will now be 12 public sector banks after the latest round of consolidation of PSU banks.
Earlier, in 2017, there were 27 public sector banks.
After the amalgamation, the consolidation of public sector banks will be giving the scale.
Under the scheme of amalgamation-
1) Indian Bank will be merged with Allahabad Bank. In this merger, anchor bank will be the Indian Bank.
2) Punjab National Bank (PNB), Oriental Bank of Commerce (OBC) and United Bank will be merged and PNB will be the anchor bank
3) Union Bank of India, Andhra Bank, and Corporation Bank are to be merged and the anchor bank will be Union Bank of India
4) Canara Bank and Syndicate Bank will be merged. Canara Bank will be the anchor bank
The first merger with PNB will create a banking total business of Rs.17.9 lakh crore.
After this merging, PNB entity will have 11,437 branches.
In the second merger, Canara Bank will create the fourth-largest public sector lender with total business size of Rs.15.2 lakh crore and 9,609 branches.
India's First Garbage Cafe to open in Chhattisgarh - 02 Sep 19
Highlights:
India's first 'Garbage Cafe' will soon be opened in Ambikapur city in north Chhattisgarh.
It's main aims is to make Ambikar city plastic-free.
In this unique Cafe, poor people and rag pickers will get free food in exchange for one kilogram of plastic.
Besides they will also provided with breakfast in return for exchanging half a kilogram of plastic brought to the cafe.
The collected garbage through this cafe will be sold at Solid Liquid Resources Management Centre.
It will be further be turned into granules and will then be used in the construction of roads in the city. Ambikapur City and Waste management
It is Chhattisgarh's first dustbin-free city.
It has efficient solid waste management system.
It has been hailed as second cleanest city in the country in Swachhata rankings after Indore.
It also has road made with plastic granules and asphalt.
1st such road in Chattisgarh was made in the city by mixing eight lakh plastic bags. The road constructed by mixing plastic and asphalt is durable, because water does permeate through it.
The opening of garbage cafe is another step towards the city's aim to become free from plastic waste.
The Self Help Groups (SHGs) of women are involved in door to door collection of waste.
India's longest electrified train tunnel inaugurated in Andhra Pradesh - 02 Sep 19
Highlights:
India's longest electrified rail tunnel between Cherlopalli and Rapuru in Andhra Pradesh inaugurated by Vice President M Venkaiah Naidu
He also inaugurated electrified railway line between Venkatachalam and Obulavaripalli at Gudur railway station and also flagged off Gudur-Vijayawada inter-city superfast express.
It is located between Cherlopalli and Rapuru Railway Stations in Andhra Pradesh.
It was built at a cost of Rs. 437 crore and has 44 trolley refuges and 14 cross-passages in a horseshoe design.
New Australian Tunneling Method (NATM) was used to construct this tunnel.
Its total length is 6.3km.
Its height (from rail level to roof) is 6.5 meters and minimum height of contact wire is maintained at 5.2m. LED lightening is provided at 10m intervals inside the tunnel.
It is provided by two traction power supply sub-stations near Cherlopalli and near Rapuru.
It will provide viable rail connectivity between Krishnapatnam Port and hinterland for seamless movement of freight.
It has nine railway stations along the route, 146 bridges, 60 road-under-bridges and two tunnels.
It has no level crossings.
It reduces distance by 72 km for trains coming from Guntakal division to Krishnapatnam and eases traffic density in the Obulavaripalli-Renigunta-Gudur section.
It will facilitate operation of freight trains on Obulavaripalli-Venkatachalam-Krishnapatnam Port route.
It will also provide shortest path on Chennai-Howrah and Chennai-Mumbai rail routes.
It will ease congestion of both freight and passenger carrying trains in Vijayawada-Gudur-Renigunta-Guntakal sections.
Samudrayaan project: NIOT to Launch Deep Sea Exploration & Mining Mission - 02 Sep 19
Highlights:
National Institute of Ocean Technology (NIOT) will launch 'Samudrayaan project by 2021-22 to explore the deep sea region.
It is pilot project of Union Ministry of Earth Sciences as part the Rs 6000 crore 'Deep Ocean' mission for deep ocean mining of rare minerals.
Samudrayaan project:
It proposes to send indigenously developed submersible vehicle with three persons to a depth of about 6000 metres to carry out deep underwater studies.
It will be undertaken by the NIOT, Chennai and is in line with ISRO's ambitious 'Gaganyaan' mission of sending an astronaut to space by 2022.
It is expected to become a reality by 2021-22.
The indigenously developed submersible vehicle developed as part of this project is capable of crawling on sea bed at a depth of 6km for 72 hours.
Whereas, currently submarines deployed can only go about 200 metres deep into the sea.
The project will go deeper in phases with more trials and ocean mining is expected to commence in 2022.
The expenditure of this ambitious project is expected to be around Rs 200 crore.
Significance of Project: If it is successful, India will join selected league of developed nations in the exploration of minerals from deep oceans. Developed countries have already carried out such missions.
India could be 1st developing country to undertake such a project.
International Sea Bed Authority (ISBA) has allocated India 75,000 sq km site in Central Indian Ocean Basin (CIOB) for exploration of polymetallic nodules from seabed.
The estimated resource of polymetallic nodules in this site is about 380 million tonnes, containing 92.59 million tonnes of manganese, 4.29 million tonnes of copper, 4.7 million tonnes of nickel and 0.55 million tonnes of cobalt.
First-ever architectural LED illumination inaugurates at Qutb Minar - 02 Sep 19
Highlights:
The first-ever architectural LED illumination inaugurated at Qutb Minar, the 12th-century monument, in New Delhi by Ministry of State for Culture and Tourism,.
Now with bottom to top illumination, the architectural beauty of historic Qutb Minar will display its historic majesty after sunset.
This step towards promotion of tourism is in line with Prime Minister's goal of doubling foreign and domestic tourists in next 5 years.
A total of 358 technologically advanced LED lights have been used to highlight architectural beauty including arches and minarets of Qutb Minar.
These will consume 62% less electricity than conventional light fixtures.
New illumination comprises lighting that accentuates the silhouette of monument with interplay of light and shade.
The monument will be illuminated from 7 pm to 11 pm.
Qutb Minar complex is a true reflection of India's culture and contains history of several eras, therefore illumination of this magnificent monument will highlight true beauty of its elements and will not only increase the footfall of visitors but also benefit communities around it.
Qutb Minar is a UNESCO World Heritage Site (WHS) and is one of most visited historical site in national capital.
Shooter Yashaswini Singh Deswal won gold at ISSF World Cup - 02 Sep 19
Highlights:
Shooter Yashaswini Singh Deswal won gold at ISSF World Cup 2019 at Rio de Janeiro, Brazil.
She became the world champion in the women's 10m Air Pistol event.
Yashaswini Singh Deswal defeated Olena Kostevyc, 2004 Athens Olympic champion, by finishing 1.9 points ahead of her.
With this win, she has secured India's ninth Olympic quota in shooting.
Yashaswini Singh Deswal: A brief history
Yashaswini Singh Deswal is an Indian sport shooter.
She is the daughter of SS Deswal who is an IPS officer.
He is the deputy general of Indo-Tibetan Border Police.
Her mother Saroj Deswal is the Chief Commissioner of Income Tax in Panchkula.
Howdy Modi Event : Texas gears up for with 50,000 people - 03 Sep 19
Highlights:
India's Prime Minister Narendra Modi is one of the most adored Prime Minister internationally.
Texas is all set to welcome PM Modi for the Howdy Modi event scheduled to take place on September 22 in Houston's NRG Stadium.
Around 50,000 people will be attending the event and they celebrate their tremendous success and the deepening US-India economic and political ties.
The Texas India Forum (TIF), a Houston-based non-profit body organised the event have put up a hoarding for welcoming PM Modi to the region.
Event - Howdy Modi
The event will take place in September 22.
The main aim is to witness the most historic moment with audience of over 50,000 people have already registered for the event to be held at the sprawling NRG Stadium.
It is the largest for any Indian Prime Minister and the largest for a democratically elected foreign leader in America.
The event will showcase the strength and clout of the Indian-American community, dubbed by policymakers as the as model immigrants, highly educated and successful community in the US.
The Howdy, Modi event has been broadly supported by organizations representing various communities in India as well as leading social service organizations, charities, university alumni groups, professional societies, and religious organizations.
It is Modi's third major address to the Indian-American community after he became the prime minister in 2014 and the first after his re-election in May 2019.
The previous two were at the Madison Square Garden in New York in 2014 and the Silicon Valley in 2016.
Both the events were attended by more than 20,000 people.
14th UNCCD COP inaugurated at Greater Noida - 03 Sep 19
Highlights:
The 12-day 14th Conference of Parties (COP14) to UN Convention to Combat Desertification (UNCCD) inaugurated at India Expo Centre & Mart, Greater Noida, Uttar Pradesh.
The mass awareness and public participation is the need of the hour as be it climate change or desertification, human actions have a role in disturbing balance of nature.
Prime Minister Narendra Modi will inaugurate the high-level segment meeting on 9 September 2019.
An estimated 7,200 participants including ministers and representatives of governments, intergovernmental and non-government organizations, scientists, women and youth from 197 Parties are expected.
COP will take around 30 decisions with actions that aim to strengthen land-use policies worldwide and address emerging threats which includes forced migration, sand and dust storms, and droughts.
122 countries which includes Russia, China, Brazil, India, South Africa and Nigeria which are among the largest and most populous nations on Earth have agreed to make Sustainable Development Goal (SDG) of achieving land degradation neutrality a national target.
Significance: Such large scale conferences holds importance as many countries come together at a world platform like this to share good stories and experiences that will help the world.
UNCCD is very important as it is expected that some good outcomes which will be notified in Delhi Declaration, which will form the future course of action.
About UN Convention to Combat Desertification UNCCD is an international agreement on good land stewardship (carefully and responsibly conducting, supervising or managing).
It helps countries, people and communities to create wealth, grow economies and secure sufficient food, water and energy.
It ensures that land users have an enabling environment for sustainable land management.
The 197 Parties to Convention, through partnerships set up robust systems to manage drought promptly and effectively.
Good land stewardship based on a sound policy and science helps integrate and accelerate achievement of the Sustainable Development Goals (SDGs), builds resilience to climate change and prevents biodiversity loss.
In 2019, India being the global host for COP 14 will take over COP Presidency from China for next 2 years i.e. till 2021.
India among selected few countries to have hosted COP of all 3 Rio conventions on climate change, biodiversity and land.
Now by hosting COP 14, India will highlight its leadership in navigating land management agenda at global level and will also provide a stage to mainstream sustainable land management in country's national development policies.
AUMX: 1st ASEAN-US Maritime Exercise begins - 03 Sep 19
Highlights:
The first ASEAN-US Maritime Exercise (AUMX) between regional bloc- Association of Southeast Asian Nations (ASEAN) and United States kicked off at the Sattahip Naval Base in Thailand.
The five day naval exercise is co-led by the navies of US and Thailand.
It will stretch into international waters in Southeast Asia, including Gulf of Thailand and South China Sea and conclude in Singapore.
AUMX 2019.
It will participate of all 10 members of ASEAN - Thailand, Brunei, Cambodia, Indonesia, Laos, Malaysia, Myanmar, Philippines, Singapore and Vietnam and US.
8 warships, 4 aircraft and more than thousand personnel from US and 10 ASEAN countries are taking part.
Navies of these countries will take part in the naval exercises which include boarding of target vessels to simulate search and seizure.
This mega maritime exercise comes at a time of stepped-up US engagement in region and tensions between China, US and Southeast Asian nations over South China Sea (SCS).
China is claiming its sovereignty over much of SCS by invoking its so-called nine-dash line as supposed historical justification to the waters, which are key global shipping route.
Its claim is overlapping parts of SCS are claimed by Brunei, Malaysia, Vietnam and Philippines.
Rishabh Pant: Fastest Indian wicket-keeper to claim 50 dismissals in Test cricket - 03 Sep 19
Highlights:
Rishabh Pant became fastest Indian wicket-keeper to claim 50 dismissals in Test cricket.
He broke previous record held by MS Dhoni for India.
Pant claimed his 50th test dismissal in his 11th test during India vs West Indies.
MS Dhoni had taken 15 tests to get to 50 Test dismissals.
He achieved his 50 dismissals in Test cricket milestone by dismissing West Indies' Kraigg Brathwaite in 2nd innings of West Indies in the second Test.
In December 2018, he had equaled world record for most catches in test cricket by wicket-keeper in Test match against Australia at Adelaide.
In this test match, he had taken 11 catches.
Other cricketers to hold the record include Jack Russell (England) and AB de Villiers (South Africa).
CBDT constitutes five-member Startup Cell for startups - 04 Sep 19
Highlights:
The CBDT notified of a five-member special cell to address grievances of startups with relation to angel tax and other tax-related issues.
The order issued by the Central Board of Direct Taxes (CBDT) the startup cell will be headed by the member (Income Tax and Computerisation) of the board.
The cell will work towards redressal of grievances and mitigate tax-related issues in case of startup entities with respect to the administration of Income-tax Act, 1961.
The startup entities can approach the cell for the speedy resolution of their grievances.
This initiative is the latest amongst the recent initiatives taken by the CBDT to further ease the compliance issues pertaining to startups.
The order also gave out an email id - startupcell.cbdt@gov.in and the postal address of the cell.
The main aim to get ranging from the member, joint secretary (tax policy and legislation-II), commissioner of I-T (ITA), director (ITA-I) and undersecretary (ITA-I).
The cell in the CBDT declared exempting startups from the so-called angel tax.
The genuine difficulties of startups and their investors, it has been decided that section 56(2)(viib) of the Income-Tax Act shall not be applicable to a startup registered with DPI.
World Coconut Day observed on 2nd September - 04 Sep 19
Highlights:
World Coconut Day observed on 2nd September.
Coconut Development Board (CDB) distribute its National Awards in various categories on the season of World Coconut Day celebration at Bhubaneswar, India.
Coconut, the tree of life Sustains family well being is a theme by the Asian and Pacific Coconut Community for the World Coconut Day.
History of World Coconut Day:
The Coconut Development Board celebrated the World Coconut Day at NEDFI Convention Centre, Guwahati, Assam.
Chief Minister Tarun Gogoi awards 15 people have exceeded in coconut farming, industry, and other coconut related activities.
Assam is the next major coconut producing state in India; the CDB decided to hold the national-level function on occasion there this year.
About 33,493 hectares in all seven NE states are under coconut cultivation, Assam alone is cultivating 20,368 hectares.
Coconuts are members of the drupe family, and it is a fleshy fruit that has been planting in tropical regions for millions of years.
On this day, Entire globe celebrates one of nature's healthiest foods.
Country's largest Pvt.bank ICICI Bank installs Robotic-arm to count currency notes - 04 Sep 19
Highlights:
India's largest private sector bank ICICI Bank to be the first bank in the country to deploy industrial robotic arms to count currency notes.
It has deployed 14 machines in 12 cities to help sort more than six million notes on a typical day at its various currency chests.
The main aim is to brings in a friction less and completely mechanized process of note-sorting, leading to higher accuracy and flexibility to handle large volumes continuously.
It has enabled the bank personnel to focus on other value-added and supervisory functions
The robotic arms are used to pick up processed cash from the bank's various branches and then sort them to be reset back to the branches.
They use a combination of sensors to check more than 70 parameters per second, enabling them to operate for long periods without a break, said the bank.
It is the first in India and one of the few globally to have taken such steps.
ICICI's robot deployment does, however, come four years after Japan's Bank of Tokyo Mitsubishi announced plans to deploy mini humanoid robots in its branches.
It is noted that ICICI Bank was founded on 5 January 1994.
Odisha police set up special cell to probe crime against women - 04 Sep 19
Highlights:
The Odisha police started a separate cell to deal with all cases of crime against women including that of dowry death and non-dowry torture.
The Odisha's director general of police (DGP) to headed by an additional superintendent of police will monitor all red flag cases and ensure prompt investigation and finalization of rape cases within 60 days.
A red flag case is defined as an incident of inhumane crime against a woman that are dealt with utmost priority by the police.
Special Cell:
The special cell pursue expeditious prosecution of such cases by appointment of special prosecutor in deserving cases and promote and ensure use of latest technological tools like DNA evidence, cyber forensics and mobile forensics for cases of sexual assault.
The cell will analyse judgments so that appeals can be made in befitting cases.
In rape cases where the accused were acquitted, the cell would analyse judgments for recommending appropriate action against erring officers and prosecutors.
The cell would monitor investigation and prosecution. It would pursue investigation and prosecution of acid attack cases against women and coordinate with SPs for payment of compensation to victims under Victim Compensation Scheme 2017.
The cell would review functioning of 29 investigation units of crime against women functioning in each police districts of the State and look after effective functioning of the Mahila Sishu desks in police stations across the State.
A white paper on the law and order situation in Odisha presented in the State assembly last month said rape cases increased by 13 %in 2018 compared to the previous year.
The cell would be single-point authority regarding correspondence with MHA, BPRD, NCW, State Legal Service Aurhority and state home and women child development department over women-related legislations.
The constitution of the new cell came in the backdrop of rising crimes against women.
The statistics show that as many as 17,528 cases of rape were reported in the state in the last 10 years.
While this year alone 937 cases of sexual assault have been registered so far, the number of such cases in 2018 and 2017 was 2,502 and 2,221 respectively.
According to the National Crime Records Bureau, the conviction rate in Odisha stood at 10.4 % in 2016, the second-lowest among all states.
The conviction rate of crime against women was a measly 6.2 %t against a national average of 18.7 % in 2016.
Similarly, it was second-worst in the conviction of cases of crime against children with 9.2 % rate against the national average of 30 %.
'Ashok Leyland's heavy duty trucks becomes 1st to get BS-VI certification - 05 Sep 19
Highlights:
Commercial vehicle major Ashok Leyland announced that its entire range of heavy duty trucks has been upgraded to meet BS-VI emission norms, which come into force from 1 April 2020.
With this upgradation the leading truck and bus maker Ashok Leyland has become 1st Indian original equipment manufacturer (OEM) to meet BS-VI emission norms across its entire range of heavy duty trucks (gross vehicle weight of 16.2. tonne and above).
(ARAI) : Ashok Leyland is the flagship company of Hinduja Group.
It has received compliance certificates from the Automotive Research Association of India (ARAI).
It has become first Indian commercial vehicle maker to get BS VI certification for its entire heavy trucks range.
Although, Ashok Leyland's heavy trucks are BS-VI ready but they await BS VI-fuel availability.
Ashok Leyland is looking at putting these trucks in some select regions such as NCR-Rajasthan where BS VI-fuel is available.
The new BS-VI trucks are being built on a new modular platform and will offer such trucks in four engine options.
Cabins of BS-VI trucks may also look different due to large cooling systems and other required norms.
The BS-VI trucks will offer telemetric solutions too. BS-VI compliance in the LCV and ICV range is expected to be completed shortly.
ARAI:
It is an autonomous body affiliated to Union Ministry of Heavy Industries and Public Enterprises.
It offers comprehensive certification and homologation services for all kinds of vehicles.
ECI hosts 4th General Assembly of Association of World Election Bodies - 05 Sep 19
Highlights:
Election Commission of India (ECI) has hosted the 4th General Assembly of Association of World Election Bodies (AWEB) for the term 2019-21 at Bengaluru on 3rd September 2019.
On 4 September, an International Conference on Initiatives and Challenges of Social Media and Information Technology in Elections will also be held during the AWEB meeting.
AWEB Centre:
At this conference, India announced that it is to set up an AWEB Centre at the India International Institute of Democracy and Election Management, New Delhi.
This centre will be used for documentation, research, and training.
It will facilitate to share the best practices and capacity building among the members EMBs of the Association.
Participants and appointments:
Around 50 countries across the globe will be participating in the meeting at Bengaluru. The from 2nd to 4th September 2019.
Executive Board members:
In the conference EMBs from Somalia, Democratic Republic of Congo, Dominican Republic, Bosnia, and Herzegovina were added to the Executive Board.
Oversight and Audit Committee:
EMBs from Burkina Faso, Mauritius and Samoa have been admitted to the Oversight and Audit Committee.
New members:
EMBs from countries like Cambodia, Afghanistan, Ukraine, Political Parties Registration Commission of Sierra Leone, Indonesia and Mauritius joined the A-WEB family as Members and the Association of Asian Election Authorities (AAEA) as an Associate Member.
Shri Sunil Arora assumed as Chairman of AWEB:
In this conference, Chief Election Commissioner, Shri Sunil Arora took over the Chairmanship of Association of World Election Bodies (AWEB) for a tenure of 2 years from 2019 to 2021.
He was nominated at the last General Assembly which was held at Bucharest in 2017.
Association of World Election Bodies (A-WEB):
AWEB, the largest association of Election Management Bodies (EMBs) worldwide, was established on 14 October 2013.
The permanent secretariat of A-WEB is located in Seoul.
It aims to foster efficiency and effectiveness in conducting free, fair, transparent and participative elections worldwide. It aims to identify the latest trends, challenges, and developments in democratic electoral management and electoral processes.
The main objective is to strengthen the electoral democracy worldwide which will facilitate the appropriate exchange of experience and expertise among members.
PM Modi to get award from Bill & Melinda Gates Foundation for Swachh Bharat Abhiyaan - 05 Sep 19
Highlights:
Prime Minister Narendra Modi is set to receive an award from Bill and Melinda Gates Foundation for one of his ambitious projects- Swachh Bharat Abhiyaan (SBA).
This award will be conferred to him during his visit to United States in late September 2019.
Swachh Bharat Abhiyaan Swachh Bharat Mission was launched by PM Modi in 2014, to improve the overall cleanliness in the country and eliminate open defecation nationwide in five years.
Its components include construction of household toilets, community and public toilets and solid waste management (SWM).
The mission has two thrusts-
(I) Swachh Bharat Abhiyan (rural): It operates under Union Ministry of Drinking Water and Sanitation (II) Swachh Bharat Abhiyan (urban):
It operates under Union Ministry of Housing and Urban Affairs.
Bill and Melinda Gates Foundation It is a private foundation founded by Bill Gates and Melinda Gates. It was launched in 2000 and is based in Seattle, Washington.
It is reported to be largest private foundation in world, holding $50.7 billion in assets.
Govt. launches updated Credit linked Capital Subsidy Scheme - 06 Sep 19
Highlights:
Union Minister for Micro, Small and Medium Enterprises Nitin Gadkari launched the updated Credit linked Capital Subsidy Scheme (CLCSS) to allow micro, small and medium enterprises (MSMEs) access to capital.
Union Minister re-Launched the Credit Linked Capital Subsidy (CLCS) web portal during the 2-day workshop on 'Credit Linked Capital Subsidy and Delayed Payment of MSMEs' held at New Delhi.
During the course of workshop Memorandum of Understandings (MoUs) was also signed by office of Development Commissioner (MSME), Ministry of MSME with 11 Nodal Banks.
Credit linked Capital Subsidy Scheme :
Due Payments:
Ministry has also notified that all companies who get supplies of goods or services (G&S) from Micro and Small Enterprises and whose payments to suppliers exceeds 45 days from date of acceptance of G&S, shall submit a half yearly (6 months) return of Union Ministry of Corporate Affairs (MCA) stating the amount of payments due and reason of delay.
Prof Muhammad Yunus conferred Lamp of Peace of Saint Francis award by Vatican - 06 Sep 19
Highlights:
Bangladesh's Nobel Laureate Prof Muhammad Yunus awarded prestigious 'Lamp of Peace of Saint Francis ' award for his contribution towards establishing peace and harmony by Vatican.
Prof Muhammad Yunus :
He is Bangladeshi social entrepreneur, banker, economist, and civil society leader.
He was awarded the Nobel Peace Prize (2008) for founding Grameen Bank and pioneering concepts of microcredit and microfinance.
Lamp of Peace of Saint Francis Award :
It aims to honour those who work towards promoting peace and harmony.
It was first presented by Vatican in 1981 to Polish trade union leader Lech Walesa.
Some of its recipients include Pope John Paull II, Dalai Lama, Mother Teresa and former Russian leader Mikhail Gorbachev.
Its last two winners were Angela Merkel and King Abdullah II of Jordan.
International Day of Charity observed on 5 September - 06 Sep 19
The 5th Eastern Economic Forum (EEF) held in Vladivostok - 06 Sep 19
Highlights:
The fifth edition of Eastern Economic Forum (EEF) was held in Vladivostok, Russia from September 4 to 6, 2019.
It was aimed at roviding a platform for discussing issues aimed at expanding international cooperation in Asia-Pacific region and developing the economy of Russias Far East.
The participants in Summit were India, Malaysia, Japan, Australia, and South Korea.
India's Prime Minister Narendra Modi was Chief Guest at the event being hosted by Russian President Vladimir Putin.
Summit India's Line of Credit (LoC): PM Modi while addressing Plenary Session of 5th EEF announced LoC worth $1 billion for the development of the Far East region of Russia.
This is the first-ever region-specific LoC extended by India in a foreign country.
PM Modi also announced launching of India's "Act Far East" policy. Russia's Far East is rich in resource, but is sparsely populated region.
This policy aims to tap this region's resources potential and also find opportunities for skilled workers to find employment in this region.
It also ties in well with Indo-Pacific concept, and opens up possibilities for India to use Arctic route to connect with northern Europe.
EEF:
It is annual event held at Vladivostok, Russia to encourage foreign investment in the Russian Far East. It was established by decree of Russia President Vladimir Putin in 2015.

It is aimed at supporting economic development of Russia's Far East and to expand international cooperation in Asia-Pacific region.
Objectives:
(i) Strengthening ties between Russian business and federal, regional, and local government bodies on side and international investment community on other side.
(ii) Conducting comprehensive expert assessment of Russia's Far East economic potential and improving its competitiveness and attractiveness to investors.
(iii) Showcasing new investment and business opportunities such as advanced special economic zones (SEZs), Vladivostok Free Port, and state support for high-potential investment projects.
Events at this Forum:
These are held in the form of panel sessions, roundtables, business breakfasts, televised debates and business dialogues devoted to Russia's relationships with various countries.
Rashid Khan of Afghanistan becomes the youngest Test captain - 07 Sep 19
Highlights:
At the age of 20 years & 350 days, the spinner of Afghanistan, Rashid Khan has becomes the youngest captain in test cricket.
He led Afghanistan for the first time in a Test Match and is now the youngest skipper ever in the history of Test Cricket.
Afghanistan had named Rashid as captain for all formats of game following the team's disappointing World Cup campaign in England and Wales in early 2019 as the team was not able to win a single match in tournament.
Rashid has broken a 15-year-old record set by Tatenda Taibu of Zimbabwe in 2004, to become youngest cricketer to lead a side in longest format of game.
He broke record during the one-off Test match between Afghanistan against Bangladesh.
Rashid achieved the youngest Test captain feat at 20 years 350 days old whereas Tabu had earlier scripted the record at age of 20 years 358 days.
When 19-year-old Rashid stepped in as skipper for Afghanistan against Scotland in 1st of ICC Cricket World Cup Qualifiers Bulawayo held in Zimbabwe in 2018, he had also become youngest captain in international cricket.
Rashid was given captaincy in absence of Afghanistan skipper Asghar Stanikzai who was diagnosed with appendicitis.
Although Afghanistan had received the Test status in 2017 however it did not get an ideal start in longest format of game as they were defeated by India within 2 days in their 1st Test match.
Later, in their next match, Afghanistan was able to outclass Ireland by seven wickets earlier this year.
India Pavilion inaugurated at 44th Toronto International Film Festival - 07 Sep 19
Highlights:
India Pavilion was inaugurated at 44th Toronto International Film Festival (TIFF) 2019 by High Commissioner of India to Canada Vikas Swarup on 6 September 2019.
The Inauguration of India Pavilion at TIFF 2019 will provide a platform to showcase Indian Cinema in overseas market and facilitate new business opportunities.
TIFF :
Anupama Swain won bronze in World Martial Arts Mastership Jiu Jitsu 2019 - 07 Sep 19
Highlights:
Anupama Swain won a bronze medal in the recently concluded World Martial Arts Mastership Jiu-Jitsu 2019.
The event was held in Chungju, South Korea.
She qualified for 2022 Asian Games.
She is the only Indian to participate in the championship.
Jiu-Jitsu is PNB approved its merger with OBC and United Bank of India.
Reliance Jio launches wired broadband starting at 699 - 07 Sep 19
Highlights:
Mukesh Ambani's Jio announced the launch of its fiber-based broadband service, offering minimum internet speed of 100 Mbps for Rs.699 a month, a rate 35-45 per second.
Jio Fiber will offer free voice calling anywhere in the country, unlimited data and video conferencing.
Jio Fiber - Plans and Advantages:
The annual subscribers will get 4K set top box, for streaming TV channels, free while a 4K television set would be complementary with plans with higher payouts such as 'Gold'.
The company announced complementary high definition set-top box and an advanced modem Jio Home Gateway, zero-latency gaming and device security of up to five devices in all the plans priced between Rs.699 to Rs.8,499 per month.
The Device Security, Home Networking, VR Experience, Video Content services, provided by RCITPL (a platform service company) and TV Video Calling & Conferencing, subscribers need to purchase compatible devices.
They offer complementary television sets to annual subscribers of broadband plans in the range of Rs.2,499 to Rs.8,499.
The company is offering television set on two-year subscription of gold plan priced at Rs.1,299 per month.
The launch of Jio Fiber, with its revolutionary services is just the beginning of a new and exciting journey. The company announced the launch of the service across 1,600 cities.
Reliance Jio, Mukesh Ambani's vehicle for re-entry into the telecom space, had three years back begun mobile services, offering free voice calling and data.
That got millions hooked on to his network which started charging for internet data usages from April 1, 2017, while voice calls continue to remain free.
Jio's 3.5 lakh crore investment in 4G telecom services coupled with aggressive pricing had unleashed intense competition in the market that forced rivals to either fold up or merge to better compete with it.
Currently, the average fixed-line broadband speed in India is 25 Mbps. Even in America, which is the most developed economy, it is around 90 Mbps.
Jio Fiber, India's first 100 per cent all-fiber broadband service, will start from 100 Mbps and go all the way up to 1 Gbps.
This will propel India to top 5 broadband nations globally.
Jio Fiber customers subscribing to Rs.699 plan will get three-month complimentary access Jio Cinema and Jio Saavn app andRs.849 plan subscriber will get three-month access to video entertainment apps.
The customers opting for Jio Fiber will need to pay Rs.1,000 installation charges and Rs.1,500 refundable fee.
BSNL tops fixed line broadband service segment with 9.05 million customers.
It is followed by Bharti Airtel with 2.4 million customers, Atria Convergence Technologies 1.45 million, Reliance Jio's subsidiary Hathway Cable & Datacom 0.84 million and MTNL 0.74 million.
Jio Fibre Bronze plan:
1) Jio Fibre Rs.699 per month basic plan will offer a minimum speed of 100 megabit per second.
2) The plan offers a data cap of 100 GB plus 50 GB extra.
3) Jio Fiber customers subscribing to Rs.699 plan will get three month complimentary access to Jio Cinema and Jio Saavn.
4) You will be required to make a one-time payment of Rs2,500 which comprises Rs.1,500 security deposit and Rs.1,000 non-refundable installation.
5) Reliance Jio will also provide high definition set-top box, router, free voice calling anywhere in India, television-based video calling and conferencing service, along with Rs.699 Jio Fibre Bronze plan.
6) The company will also provide zero-latency gaming and device security of up to five devices in all the plans ranging between Rs.699 and Rs.8,499.
Author Kiran Nagarkar passed away on 5 September - 07 Sep 19
Highlights:
The Novelist Kiran Nagarkar passed away in hospital at the age of 77.
He suffered from a massive brain hemorrhage.
He was one of India's greatest writers.
Nagarkar:Abrief history
Nagarkar was born in Mumbai in 1942.
He worked in journalism, advertising and education.
He published his novel Saat Sakkam Trechalis in Marathi in 1974 at the age of thirty-two.
He worked as a screenplay, journalist, a book author, and within the advertising trade.
Nagarkar was distinguished with the HN Apte Award for the most effective first novel.
He won Sahitya Akademi Award for his epic novel Cuckold, which he wrote in 1997, in 2001 and the Dalmia Award for communicative harmony through literature.
He received a philanthropist grant award of a scholarship by the town of Munich.
PSUs bank merger:PNB approved its merger with OBC and United Bank of India - 08 Sep 19
Highlights:
Country's 2nd single largest Punjab National Bank's (PNB) board has decided to give its in-principle approval for the merger with the Oriental Bank of Commerce and United Bank of India.
The move is a part of the announcement of a major bank merger by the Finance Minister Nirmala Sitharaman.
The directors of the Bank approved to commence the amalgamation process.
The board also approved a capital infusion of up to Rs.18,000 crore from the government for preferential allotment of equity shares of the bank at a price determined in terms of SEBI (ICDR) Regulations.
After the merger, PNB will be the country's second-largest PSB with Rs.18 lakh crore business.
It will also be the second-largest branch network in India.
Earlier, the government announced that the four major bank mergers.
The merger of 10 public sector banks to be merged into four was announced by Finance Minister Nirmala Sitharaman.
After the merger, there will now be 12 public sector banks after the latest round of consolidation of PSU banks.a form of martial art and combat sport and it puts the entire focus on grappling with particular emphasis on ground fighting.
India ranks 9th nations in gold reserves: WGC - 08 Sep 19
Highlights:
The World Gold Council (WGC) released the 2019 list of gold reserves.
The country who topped the list was the United States(US).
They have gold reserves of 8,133.5 tonnes, followed by Germany (3,366.8 tonnes) at second place. India entered the top 10 list this year ranking at 10th spot surpassing the Netherlands (612.5 tonnes) it ranked 9th position in terms of individual countries with 618.2 tonnes, as the International Monetary Fund (IMF) ranks third (2,451.8 tonnes) in the gold reserve list.
Last Year India Report
India's gold reserve grown from 357.8 tonnes in the first quarter of 2000 to 618.2 tonnes at present.
India's neighboring country Pakistan 45th position (64.6 tonnes) in 2019 list.
Top 5 Rank Country
1- United States
2- Germany
3- International Monetary Fund
4- Italy
5- France
India ranks 34th in 2019 world travel and tourism competitiveness index - 08 Sep 19
Highlights:
According to the Travel and Tourism Competitiveness Index (TTCI) for the year 2019 released by the World Economic Forum(WEF). India ranked at the 34th spot from 6 places from the 2017 report (40th rank).
The index topped by Spain It is followed by France and Germany in the second and third places.
Around 140 countries were ranked based on four sub-indexes.
They are ranked mainly on the basis of -
I) Infrastructure
ii) Travel and Tourism policy enabling conditions
iii) Natural and cultural sources and
iv) Enabling environment.
India needs to improve in the enabling environment, tourist service infrastructure and environmental sustainability as it ranks 98th, 109th and 128th respectively.
Rank
Country
1 - Spain
2 - France
3 - Germany
4 - Japan
5 - United States
6 - United Kingdom
7 - Australia
8 - Italy
9 - Canada
10 - Switzerland
34 - India
MCC-Murugappa Gold Cup: IOC beats PNB - 08 Sep 19
Highlights:
Indian Oil Corporation (IOC) emerge the champion in the 93rd All-India MCC-Murugappa Gold Cup hockey tournament by defeating Punjab National Bank (PNB).
It beat 3-1 in final held at Chennai, Tamil Nadu.
MCC-Murugappa Gold Cup hockey is the 2nd oldest hockey tournament in country after Beighton Cup in Kolkata.
The 93rd All India MCC-Murugappa Gold Cup Hockey tournament was held from 29 August to 8 September at Mayor Radhakrishnan Stadium in Egmore, Chennai.
A total of 10 teams participated in tournament, pooled across 2 groups of 5 teams each. Defending champions of tournament was Indian Oil Corporation.
Indian Air Force (IAF) team is participating for 1st time in the tournament while teams from Indian Army and Navy (who are regulars to tournament), are also taking part.
So, for first time, hockey teams from all 3 forces are participating. Prize Money: Winner of tournament received Rs.6 lakhs while runners up get Rs.3.5 lakhs.
Cash prize of Rs.10,000 were given along with a high-end bicycle each to best forward, best midfielder, best goalkeeper, the most promising player of tournament and man of the match of finals.
National Handloom Day is observed on 7th August - 08 Sep 19
Highlights:
The National Handloom Day is observed on 7th August every year.
To mark the occasion, the nation holds a function at Vigyan Bhawan in New Delhi.
The function will be presided by the Union Minister of Textiles and Women and Child Development, Smriti Zubin Irani.
The Day is observed at Weavers' Service Centres in different States.
The main events are to be held in Bhubaneswar, Odisha.
Bhubaneswar has been chosen for its rich tradition of Handlooms.
The Day aims to honour the Indian handloom weavers and also highlight India's handloom industry.
It also aims to empower women and girls as they are the majority total weavers population of India.
The day focuses on the contribution of handloom to the socio economic development of the country.
It seeks to increase the income of weavers.
Ministry of Textiles regulates and formulates all the policies and promotion of the textile industry in India.
Former External Affairs Minister Sushma Swaraj passed away - 08 Sep 19
Highlights:
Former External Affairs Minister Sushma Swaraj, 67 years old, passed away on 6th August.
She suffered a cardiac arrest and passed away at AIIMS.
She underwent a kidney transplant in 2016.
Sushma Swaraj :A fact file
Sushma Swaraj was educated at Sanatan Dharma College in Ambala Cantonment.
She earned a bachelor's degree with majors in Sanskrit and Political Science.
She studied law at Punjab University, Chandigarh.
Her political career started at her age of 25 in 1977.
She became the youngest cabinet minister in Haryana in 1977.
She served as the 5th Chief Minister of Delhi from 13th October to 3rd December 1998.
She was a seven-time Member of Parliament.
She served as MLA for three terms.
Sushma Swaraj won from Vidisha constituency in Madhya Pradesh for a second term in 2014.
Swaraj took charge as Foreign Minister on 26th May, 2014.
After Indira Gandhi, she was the second woman to hold the External Affairs Ministry.
She was popularly known as the People's Minister.
She introduced a new sensitivity and sensibility in the functioning of the External Affairs Ministry.
President inaugurated the World first Youth Conference - 09 Sep 19
Highlights
The President Ram Nath Kovind inaugurated the World first Youth Summit in New Delhi on 7 September 2019.
It was organized by the Youth Awakening Mission, a youth wing of Paavan Chintan Dhara Charitable Trust, Ghaziabad.
The summit aimed to work for the betterment and welfare of ourselves, society and country.
in India youth have immense talent and energy.
This talent and energy need to be properly developed and utilized.
800 million Indian youth are with their creative power.
They are capable to take India to new heights of progress and human civilization.
The role of education is the most important in awakening the right vision and prudence achieve this objective.
A self-reliant and nation-loving person can contribute to nation-building by working in any field of life.
International Literacy Day observed on 8 September - 09 Sep 19
Highlights:
The International Literacy Day (ILD) is being observed every year across the world on 8 September to emphasize importance of literacy to individuals, society and communities.
The day was instituted in 1966 by United Nations Educational, Scientific and Cultural Organization (UNESCO).
This year it was 54th International Literacy Day.
ILD 2019 theme announced by UNESCO was "Literacy and Multilingualism".
It seeks to highlight importance of embracing linguistic diversity in education and literacy development as it is central to addressing persisting literacy challenges and to achieving Sustainable Development Goals.
Background The International Literacy Day (ILD) was officially proclaimed by UNESCO in its 14th Session in November 1966.
Since then, it is celebrated annually by member countries of UNESCO.
In year 1965, on this day, World Congress of Ministers of Education had met for first time in Tehran, Iran to discuss the programme of education at international level.
Objectives:
(A) To mobilize public opinion in favour of struggle against illiteracy.
(B) To disseminate information on literacy and
(C) To raise public awareness and the significance of literacy for individual and national development.
PM Narendra Modi to launch a new initiative to control FMD - 09 Sep 19
Highlights:
Prime Minister Narendra Modi is to launch a new initiative in the National disease management Programme for Foot and Mouth Disease (FMD) and Brucellosis.
Under this scheme, the Centre will allocate Rs.13,500 crore central scheme to control livestock diseases.
The scheme will be launched on 11 September from Mathura district in Uttar Pradesh. On this day, PM also will launch the National AI Programme throughout the event on 11 September in Mathura.
Objectives:
The aim of the Programme is to regulate Foot and Mouth sickness and Brucellosis by 2025 with vaccination and ultimate demolition of FMD by 2030.
National disease management Programme:
The National disease management Programme for Foot and Mouth sickness and Brucellosis could be a 100% centrally funded program with Rs 12,652 from 2019 to 2024.
The programme envisages a hundred percent vaccination coverage of oxen, buffaloes, sheep, goats, and pigs at six months intervals.
There will be a countywide workshop at the same time at Krishi Vigyan Kendras in all the 687 districts of the country on the subject of vaccination and disease management, Artificial insemination and productivity, etc.
Kalraj Mishra took oath as Rajasthan Governor - 09 Sep 19
Highlights:
Former Union Minister Kalraj Mishra took oath as the new Governor of Rajasthan on 9 September 2019. The oath of office was administered by Rajasthan High Court (HC) Chief Justice Shripathi Ravindra Bhat.
Mishra will succeed former Uttar Pradesh Chief Minister Kalyan Singh. Mishra is a BJP leader and veteran politician.
In 2017, the 78-year-old leader resigned from the Narendra Modi-led government as Minister for Micro, Small and Medium Enterprises (MSME) after he crossed the age of 75 as the BJP's unofficial age limit for holding an elected post.
Mr. Mishra is one of the tall leaders in Uttar Pradesh politics.
He was the Uttar Pradesh BJP chief, member of both the Lok Sabha and the Rajya Sabha
India's first-ever helicopter summit held in Dehradun - 09 Sep 19
Highlights:
India's first ever helicopter summit organised by Union Ministry of Civil Aviation at Sahastradhara helidrome in Dehradun, capital of Uttarakhand.
The summit was based on theme of expanding connectivity through helicopters.
The first-of-its-kind conclave, a Helicopter Summit- 2019 was organised jointly by Civil Aviation Ministry, Uttarakhand government and Federation of Indian Chambers of Commerce and Industries (FICCI).
Indian Air Force (IAF) was also invited at the summit to talk on 'Role of IAF helicopters in MEDEVAC i.e. medical evacuation at National level'.
Uttarakhand government announced that aviation firms offering helicopter services in areas identified under UDAN Yojana (Ude Desh Ka Aam Nagrik), a Regional Connectivity Scheme will get an additional subsidy from Uttarakhand government in addition to the subsidy given by the Centre.
Considering geographical situation of Uttarakhand, helicopter services are very important for state as it may take up to 20 hours to reach border areas.
As border areas of Uttarakhand were endowed with great scenic beauty the helicopter services will also make it easier for filmmakers to shoot their films in picturesque locations of state, which has emerged as one of country's finest film shooting destinations in recent years.
Govt constitutes 3-member committee to look into assets, liabilities of J&K - 10 Sep 19
Highlights:
Union government has constituted a 3-member committee to oversee the bifurcation of Jammu and Kashmir (J&K) into two union territories and look into distribution of assets and liabilities of J&K between two successor Union territories that will come into existence on October 31.
The decision of constituting a committee is in succession to abrogation of special status given to Jammu and Kashmir under Article 370 and bifurcation of state into two UTs, as announced by Centre on August 5.
Thereby after revocation of Article 370, apportionment of assets and liabilities of existing state of J&K shall be subject to recommendations of a committee constituted by central government. Committee.
The three member committee will be chaired by Sanjay Mitra, former defence secretary and the members include retired IAS officer Arun Goyal and retired Indian Civil Accounts Service (ICAS) officer Giriraj Prasad Gupta.
The central government has constituted the advisory committee in exercise of the powers conferred by Section 84 and Section 85 of Jammu and Kashmir Reorganisation Act, 2019.
According to Section 84 of Jammu and Kashmir Reorganisation Act, 2019, the assets and liabilities of existing state of J&K have to be apportioned between Union territories of Jammu and Kashmir, and Ladakh.
According to Section 85 of Jammu and Kashmir Reorganisation Act, 2019, the central government, by an order, can establish one or more advisory committees for apportionment of rights, assets and liabilities of companies and corporations constituted for existing state of Jammu and Kashmir between two Union territories.
PM Modi to launch National Animal Disease Control Programme - 10 Sep 19
Highlights:
Prime Minister Narendra Modi will be launching National Animal Disease Control Programme (NADCP) on 11 September 2019 from Mathura in Uttar Pradesh.
The NADCP aims towards eradicating Foot and Mouth Disease (FMD) and Brucellosis in the livestock.
It is a major efforts towards doubling farmers income and empowering farmers.
He shall also be taking up Swachhta Hi Seva Programme.
He is also expected to simultaneously launch of nationwide workshops in Krishi Vigyan Kendras (KVK) in all the 687 Districts of country on topic of vaccination, disease management, artificial insemination and productivity.
The programme aims to- Vaccinate more than 500 Million Livestock including cattle, buffalo, sheep, goats and pigs against Foot and Mouth Disease (FMD).
Vaccinate 36 Million Female Bovine Calves annually in its fight against Brucellosis disease. Two components of Programme –
(1) Controlling of diseases by 2025
(2) Eradication of by 2030 Funds.
The programme 100% funding from Central Government, of Rs.12,652 Crores for a period of 5 years till 2024.
Earlier, Centre and state governments used to contribute funds in ratio of 60:40.
Coverage: Scheme envisages vaccination coverage to 30 crore bovines (cows-bulls and buffaloes) and 20 crore sheep or goat and 10 million pigs.
The disease of FMD and brucellosis are common among livestock such as- cow, buffaloes, bulls, pigs, sheep and goats. Both the diseases have a direct negative impact on trade of milk and other livestock products.
As per government data if a cow or buffalo gets infected with FMD, the milk loss is up to 100% which could last for4-6 months.
In case of Brucellosis, the milk output reduces by 30% during entire life cycle of animal and also causes infertility among animals.
Also, the infection of brucellosis can also be transmitted to farm workers and livestock owners.
Worlds highest marathon was held in Ladakh - 10 Sep 19
Highlights: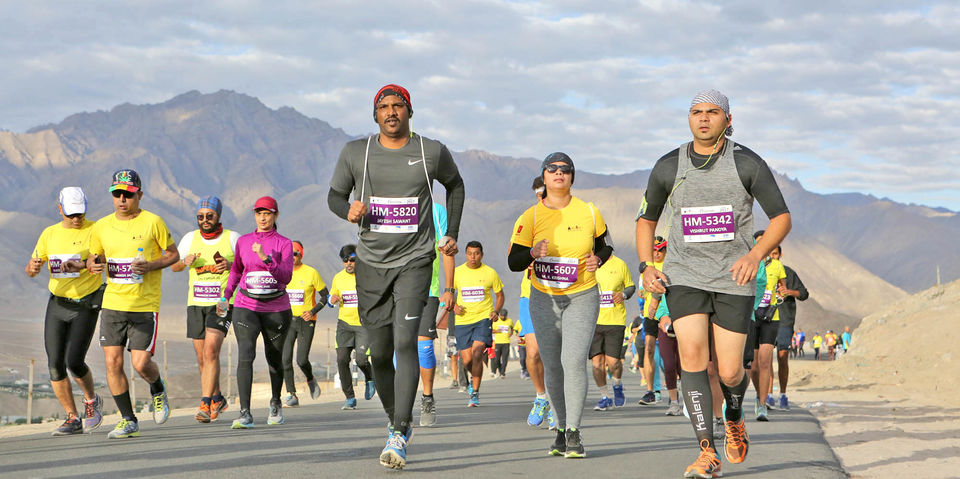 The eighth edition of Ladakh Marathon was held in Leh town, Jammu Kashmir.
More than 6,000 runners from different parts of India and 25 foreign countries participated in the marathon. It was sponsored by Ladakh Autonomous Hill Development Council (LAHDC).
The full marathons were jointly flagged off by the Chief Executive Councillor of LAHDC, Leh Gyal Phunchok Wangyal and Additional District Development Commissioner Mozes Kunzang. The half marathon was flagged off by Dilbag Singh, J&K Director General of Police.
The 7-km-long Run for Fun was flagged off by Lt Genl YK Joshi, GoC of 14 Corp of the Army.
Highest marathon:
All four categories marathon are held at over 11, 000 feet above the mean sea level.
This marathon is known as the highest marathon in the world.
The 4 categories of Ladakh Marathon are 72-km Ultra Khardungla Challenge, 42-km full and 21-km half marathon and 7-km long Run for Fun.
Ladakh Marathon:
Ladakh Marathon was first held in 2012.
The 7th edition of the Ladakh Marathon was held in 2018.
The 9th edition is to be held in 2020.
It will be a qualifying race for the Abbot World Marathon Majors.
The marathon has got international recognization.
The marathon was held with an aim to foster the national spirit and to encourage sport in Ladakh.
Winners:
72-km Ultra Khardungla Challenge:
Ladakh Scouts Regimental Centre (LSRC) clinched all the top three position of the world highest 72-km Ultra Khardungla Challenge.
1) Shabir got the first position and clocked 06:53:34
2) Stanzin Norboo stood second and clocked 06:53:39
3) Rigzin Norboo stood on the third position with a timing of 06:54:31
Women category(Full Marathon):
1) Jigmet Dolma of Egoo village stood the first position
2) Tsetan Dolkar of Lamayuru village stood the second position
3) Namgyal Lhamo of Dhomkhar village stood the third position
Men category:
1) Shabir Hussain stood the first position
2) Jigmet Nurboo stood second position
3) Manzoor Hussain stood the third position
Women category (
Half Marathon):
1) Tashi Ladol stood first position
2) Stanzin Chondol stood second position
3) Diskit Dolma stood the third position
World Suicide Prevention Day 2019 is observed on 10 September - 10 Sep 19
Highlights:
World Suicide Prevention Day 2019 is observed on 10 September every year.
The significant of the day is to raise awareness of the risks of suicide and to fund suicide prevention activities.
It also aims to provide worldwide commitment and action to prevent suicides.
The theme for the World Suicide Prevention Day 2019 is "Working Together to Prevent Suicide".
Every year, suicide is among the top 20 leading causes of death globally for people of all ages.
The theme aims to encourage and engage with each other and to spread awareness of suicide prevention.
Over 800,000 people, which is a death every 40 seconds or about 3,000 every day, die by suicide.
The Day was initiated by the International Association for Suicide Prevention (IASP) in collaboration with the World Health Organization (WHO) and the World Federation for Mental Health (WFMH).
It is noted that the day is being observed since 2003.
India and ADB sign $200-million loan agreement for upgrading rural roads in Maharashtra - 10 Sep 19
Highlights:
India and Asian Development Bank (ADB) signed 200-million dollar loan agreement for upgrading rural roads in 34 districts of Maharashtra with the objective of improving road safety and better connecting rural areas with markets and services.
In 2016-17, Maharashtra accounted for about 15% of gross domestic product (GDP) but economic development in the state is concentrated around urban centres of Mumbai, Pune, and Thane.
About 20 million people (or 17% per cent of state's population) still live below national poverty line, while in some districts mainly in rural areas it is as high as 40%.
Also, Maharashtra's agriculture accounts for about 47% of employment, engages as much as 79% of rural labour force, and contributes 11% to state GDP.
Under the project the roads in rural areas will improve the condition of about 2100 kilometres of rural roads to all-weather standards.
This will boost links between local residents and economic centres across the state.
The project will also work with Maharashtra Rural Road Development Association (MRRDA), the rural infrastructure agency, to develop road safety, road asset management, contract management, and climate resilient design.
The loan provided by ADB is accompanied with a technical assistance grant of $1 million to support MRRDA to improve its management performance in these areas.
Total cost of project is $296 million and out of this government will provide $96 million.
The project is due for completion at end of September 2024.
The upgraded roads under ADB project will improve rural connectivity, boost links between local residents, productive agricultural land, and economic centers across the state.
This will further help enhance agricultural productivity and incomes, rural livelihoods and alleviate poverty.
State government of Kerala to introduce iWTC in Kozhikode - 11 Sep 19
Highlights:
For the first time ever, the Kerala State government is to set up India's first International Women's Trade Centre (iWTC) in Kozhikode.
It is in consonance with the United Nations Sustainable Development Goals (SDGs).
iWTC aims to boost women entrepreneurship and secure gender parity by providing women a safe place away from home to start new businesses, set up or expand, and get their products marketed globally.
The first phase of iWTC is being implemented the Gender Park's Vision 2020.
The Phase-I is scheduled to be completed by 2021.
iWTC will provide space to promote and showcase performing arts and cultural forms like dance, music, and theatre.
Using the latest technology, it will involve women entrepreneurs and tradeswomen from the local region and connect them to world markets. It aims to build or expand their businesses
Gender Park is an institution that works to resolve gender inequity in development.
It is promoted by the Department of Social Justice, Government of Kerala.
It is headquartered at Thiruvananthapuram, Kerala.
It aims to generate a space exclusively for women development activities that emphasize entrepreneurship in service and cultural activities.
It aims to provide formal education in gender studies.
Gender Park also strengthens women development activities that are monitored by various departments, agencies, civil society movements, such as She-Taxi.
Gender Park's International Institute for Gender and Development (IIGD) is involved in research on gender at the local, national and international level.
Prime Minister to Launch Kisan Man Dhan Yojana - 11 Sep 19
Highlights:
Prime Minister Narendra Modi launched the Kisan Maan Dhan Yojana on the 12th of September at Ranchi, Jharkhand.
The Scheme shall secure the lives of 5 Crore Small and Marginal Farmers by providing a minimum pension of Rs 3000 per month to attain 60 years of age.The scheme has an outlay of Rs 10,774 Crores for the next three years.
The small and marginal farmers who are currently between the ages of 18 to 40 years can apply for the scheme.
Prime Minister Narendra Modi shall inaugurate 400 Eklavya Model Residential Schools to provide quality upper primary, secondary, and senior secondary level education to ST Students in Tribal dominated areas.
The New Jharkhand Vidhan Sabha Building and lay the foundation stone for the New Secretariat Building at Ranchi.
He inaugurate the Multi-Modal Terminal at Sahebganj.
Kisan Maan Dhan Yojana : A fact file
Pradhan Mantri Kisan Maan-Dhan Yojana (PM-KMY) is an old age pension scheme for all land holding Small and Marginal Farmers (SMFs) in the country.
It is a voluntary and contributory pension scheme for the entry age group of 18 to 40 years. The Scheme is effective from the 9th August, 2019.
It is voluntary and contributory for farmers in the entry age group of 18 to 40 years and a monthly pension of Rs. 3000 will be provided to them on attaining the age of 60 years.
The farmers will have to make a monthly contribution of Rs.55 to Rs.200, depending on their age of entry, in the Pension Fund till they reach the retirement date i.e. the age of 60 years.
The farmers will have to make a monthly contribution of Rs.55 to Rs.200, depending on their age of entry, in the Pension Fund till they reach the retirement date i.e. the age of 60 years.The monthly contributions will fall due on the same day every month as enrolment date.
The beneficiaries may also chose an option to pay their contributions on quarterly, 4-monthly or half-yearly basis.
Mumbai ranks 5th and New Delhi 11th in the 2019 Knight Frank Co-Living Index - 11 Sep 19
Highlights:
According to the Knight Frank India report, China's co-living sector is one of the most developed having started since the early 2010's, Beijing is ranked 1st in the Co-living Index followed by Tokyo and Shanghai.
Mumbai is ranked 5th in Knight Frank India's co-living Index.
Knight Frank India is one of the leading international property consultancy launched a report titled Insights on Co-living An Asia-Pacific Perspective.
Asia-Pacific cities classified into six key attributes likely to contribute in fostering the growth of Co-living within each Asia-Pacific city like- Tech & Financial Hub, Venture Capital Deals & Growth, Housing Affordability, University Population, The capital deal flow in Mumbai spiked by 288% in the period between 2015-17.
The rise in deal flow is a key indicator of the quality of job opportunities which are being created in the financial hub.
The changing lifestyles and stratospheric housing prices across major economic centres, co-living provides an alternate flexible accommodation option for the temporary and transient workforce.
These six attributes allocated different weights based on their relevance and importance which in summation provides a metric to quantify the magnitude of co-living's likelihood of success across the various Asia-Pacific cities.
Mumbai (5th) emerged as the top potential market for Co-living in India due to higher prices, rapid and continuous gentrification as well as its unchallenged position as India's top economic centre, offering vast opportunities for growth of the co-living sector.
India's capital New Delhi got 11th position.
Silicon Valley Bengaluru access to talent but also a conducive and self-sustaining business environment and a vibrant start-up ecosystem supporting the gig economy due to which the city features at 19th position.
India-Nepal petroleum products pipeline inaugurated - 11 Sep 19
Highlights:
Prime Minister Narendra Modi and his Nepal counterpart KP Sharma Oli jointly inaugurated South Asia's first cross-border petroleum products pipeline from Motihari ,Bihar in India to Amlekhgunj in Nepal through video conference.
Both leaders also expressed confidence that bilateral relations between India and Nepal will continue to further deepen and expand across diverse sectors.
Also regular exchanges at highest political levels have laid down a forward-looking agenda for expanding India-Nepal partnership.
This important connectivity project have been early implemented and completed much ahead of schedule as the deadline was 30 months but it was readied in just 15 months.
Motihari-Amlekhgunj pipeline:
It is a first-ever cross-border petroleum products pipeline in the South Asia region.
The Motihari-Amlekhgunj petroleum products pipeline is a 69- kilometre pipeline with a capacity of 2 million metric ton (MMT) per annum.
It will provide cleaner petroleum products at an affordable cost to people of Nepal. It is envisaged to put in place a mechanism for assured, continuous, cost effective, quality and eco-friendly supply of petroleum products to Nepal.
In the first phase, the pipeline will be used to supply diesel from India.
Nepalese government has made necessary arrangement for Nepal Army to provide security to pipeline on their side of border.
India's largest refiner the Indian Oil Corporation Ltd (IOCL) built the pipeline, with an investment of more than Rs.324 crore, in collaboration with Nepal Oil Corporation Ltd (NOCL).
It has been built in fulfillment of commitment made under an Memorandum of Understanding (MoU) signed in August 2014.
The India-Nepal are also working to build additional storage facility at Amlekhgunj Depot (in Nepal) which will supplement the storage of petroleum products in Nepal towards which NOCL has committed estimated cost of Rs.75 crore.
The pipeline reiterates India's commitment to support development of Nepal according to priorities of neighbouring country.
It is one of the best examples of connectivity in terms of trade and transit and infrastructure.
Also NOCL is expected to save Rs.2 billion annually in freight of petroleum products and save millions of rupees extra by reducing leakage of petroleum products.
The Motihari-Amlekhgunj oil pipeline project was 1st proposed in 1996.
However, the project finally edged closer to reality during PM Modi's visit to Kathmandu in 2014.
Then in August 2015, governments of India-Nepal inked an agreement to execute the project but following the 2015 earthquake in Nepal the project construction was delayed and supply obstruction along the southern border following Madhesi agitation.
In April 2018, the project construction works finally began.
At present, the products are being transported from India to Nepal by tankers/trucks at 13 pick-up points (7 products and 6 LPG).
PK Sinha appointed as Principal Advisor to PM Modi - 12 Sep 19
Highlights:
Appointments Committee of Cabinet (ACC) has approved the appointment of P.K. Sinha as Principal Advisor to Prime Minister Narendra Modi with effect from 11 September 2019.
He is currently functioning as as Officer on Special Duty (OSD) in the Prime Minister's Office (PMO). His appointment as Principal Advisor will be coterminus with the term of Prime Minister or until further orders, whichever is earlier.
PK Sinha: A fact file
He is a 1977 Batch IAS officer from Uttar Pradesh (UP) Cadre. During his career in IAS, he has served with distinction in many capacities both at level of Central Government as well as in Uttar Pradesh Government.
He served as Cabinet Secretary from 13 June 2015 to 30 August 2019. Prior to this, he has for many years served in the Energy and Infrastructure Sectors as Secretary in Union Ministries of Power and Shipping and as Special Secretary in Ministry of Petroleum and Natural Gas.
He has held various posts like District Magistrate (DM) of Jaunpur and Agra, Commissioner of Varanasi, Secretary (Planning) and Principal Secretary (Irrigation) among others.
He is an Economics graduate from St. Stephens College, University of Delhi.
He did his post-graduation in Economics from Delhi School of Economics (DSE).
In service he also obtained Masters Diploma in Public Administration and an M. Phil in Social Sciences.
24th World Energy Congress held in Abu Dhabi - 12 Sep 19
Highlights:
The 24th World Energy Congress was held in Abu Dhabi, at the Abu Dhabi National Exhibition Centre, United Arab Emirates (UAE) from 9-12 September 2019.
It was held under the patronage of Sheikh Khalifa bin Zayed Al Nahyan, President of UAE.
Theme of this year's 4-day World Energy Congress: 'Energy for Prosperity'.
This theme also represents ambitious and dynamic energy transition of UAE.
Objectives:
To bring together international energy stakeholders including governments, academia and media, private and state corporations.
The Congress welcomed more than 15,000 participants including 72 Ministers, 250 high-level speakers, 500 CEOs, 1000 media persons with 40,000 square-metre exhibition space that will cover entire energy spectrum.
World Energy Congress (WEC):
The World Energy Congress is a triennial event and has been running since 1924.
With over 150 countries represented, WEC is world's largest and most influential energy event that covers all aspects of energy agenda. It is a global flagship event of World Energy Council.
It offers a unique platform for global energy leaders to explore new energy futures, new strategies and critical innovation areas.
The congress enables dialogue amongst Ministers, CEOs, policy-makers and industry practitioners on critical developments in energy sector.
Dr Pramod Kumar Mishra appointed Principal Secretary to PM Modi - 12 Sep 19
Highlights:
Appointments Committee of Cabinet (ACC) has approved the appointment of Dr. P.K. Mishra as Principal Secretary to Prime Minister Narendra Modi with effect from 11 September 2019.
He was currently functioning as Additional Principal Secretary to PM Modi.
His appointment as Principal Secretary will be co-terminus with the term of Prime Minister or until further orders, whichever is earlier.
Dr P.Kumar Mishra : A fact file
He has a Ph.D in Economics/Development Studies from University of Sussex, M.A. in Development Economics at University of Sussex as also M.A. in Economics at Delhi School of Economics (DSE) and B.A. Hons. (Economics) from G.M. College (Sambalpur University) in 1970.
He served as Additional Principal Secretary to PM Modi during 2014-19.
He is credited with introducing innovation and transformative changes in human resource management, particularly appointments to senior positions.
As Secretary Agriculture & Cooperation, he was involved in national initiatives like National Food Security Mission (NFSM) and National Agriculture Development Programme (RKVY).
He has also served as Chairman of State Electricity Regulatory Commission (SERC) and in area of Disaster management.
His has been involved in research and academic work for more than 4 years at Institute of Development Studies (UK), negotiation and execution of Asian Development Bank (ADB) and World Bank projects, member of Governing Board of International Crop Research Institute for Semi-Arid Tropics (ICRISAT) and participation as expert/resource person in several international conferences.
He was also recently conferred with United Nations SASAKAWA Award 2019, the most prestigious international award in disaster management.
His publications include– Agricultural Risk, Insurance and Income: A Study of Impact and Design of India's Comprehensive Crop Insurance Scheme, Avebury, Aldershot, UK (1996), The Kutch Earthquake 2001: Recollection Lessons and Insights, National Institute of Disaster Management, New Delhi, India (2004) Edited Development and Operation of Agricultural Insurance Schemes in Asia, Asian Productivity Organization, Tokyo, Japan (1999).
DRDO successfully test fired MPATGM - 12 Sep 19
Highlights:
The Defence Research and Development Organisation (DRDO) successfully test-fired an indigenously developed Man Portable Anti-tank Guided Missile (MPATGM) in Kurnool, Andhra Pradesh on 9 September 2019.
It was launched from a tripod launcher.
The test aims to pave the way for the Indian Army to develop the third generation MPATGM. The anti-tank missile will be used for army purpose.
The MPATGM has been successfully tested for the third series.
Man-Portable Anti-Tank Guided Missile (MPATGM):
MPATGM is a man-portable anti-tank guided missile
The primary aim of the design is to hit and destroy heavily armoured military vehicles
MPATGMs range varies from:
1) smaller transportable shoulder-launched weapons and single transported soldier
2) larger tripod-mounted weapons that require a squad or team to transport and fire
3) vehicle and aircraft-mounted missile systems.
DRDO was formed in 1958.
It's headquarters is located at New Delhi.
DRDO is charged with the military's research and development.
India joins Global Antimicrobial Research Hub - 13 Sep 19
Highlights:
India has joined the world Antimicrobial Resistance (AMR) Research and Development (R&D) Hub as a new member.
Now, India will be a member of Board of Members officially and will be working with all the partners under the hub.
It will focus on new research to address drug-resistant infections.
AMR is the ability of a microorganism to treat the antimicrobial resistance that continues intense round the world.
India is cheap to explore problems with antimicrobial resistance through the lens of one Health approach that ought to be supported by long-run commitments from all stakeholders.
What is Global AMR R&D ?
The Global AMR R&D Hub was launched in 2018.
It was established within the margins of the 71st session of the globe Health Assembly following a decision from G20 Leaders in 2017.
The acting Chairperson of the hub's Board of Members is Bersabel Ephrem.
The operation of the world AMR R&D Hub is supported through a Secretariat.
The secretariat was established in Berlin.
Presently, it received its grants from the German Federal Ministry of Education and analysis (BMBF) and Federal Ministry of Health (BMG).
India's Role at the Hub:
Since, India to be one of the board members of the Global Antimicrobial Resistance R&D hub it aims to work with all the hub partners to boost their existing capabilities, resources and collectively focus on new R&D intervention to address infections that are drug resistant.
Union Govt to bring an ordinance to ban e cigarettes sales - 13 Sep 19
Highlights:
The Union cabinet is all set to approve an ordinance to ban e-cigarettes sales.
The Ordinance includes the prohibition of the manufacture and sale of e-cigarettes.
Earlier, the Health Ministry has proposed to announce a ban on the e-cigarette.
The production, import, export, transport, sale, distribution and advertisements of e-cigarettes will be an offense.
As per the draft ordinance,the prohibiter will get a penalty of jail term up to 3 years and fine up to Rs.5 lakh for violations.
For first time offender, the penalty will be a jail term up to one year and a fine up to Rs.1 lakh.
For repeat offenders, jail term might extend up to three years and a fine up to Rs.5 lakh.
Anyone storing e-cigarettes shall be punished with jail up to 6 months or fine up to Rs.50,000 or each.
The health ministry's proposal was backed by the Indian Council of Medical analysis (ICMR) and a skilled committee from AIIMS and National Centre for sickness science had discovered e-cigarettes contain vasoconstriction that is very harmful to health.
Around thirty-six countries have prohibited the sale of e-cigarettes.
What is e-cigarette?
An electronic cigarette or e-cigarette is a handheld battery-powered vaporizer that simulates smoking and provides some of the behavioral aspects of smoking, including the hand-to-mouth action of smoking, but without burning tobacco.

Using an e-cigarette is known as "vaping" and the user is referred to as a "vapor".

Instead of cigarette smoke, the user inhales an aerosol, commonly called vapor.

E-cigarettes typically have a heating element that atomizes a liquid solution called e-liquid.[6] E-cigarettes are automatically activated by taking a puff; others turn on manually by pressing a button.

E-cigarettes create vapor made of fine and ultrafine particles of particulate matter,which have been found to contain propylene glycol, glycerin, nicotine, flavors, small amounts of toxicants, carcinogens, and heavy metals, as well as metal nano - particles, and other substances

Since their entrance to the market in 2003,global use has risen exponentially.

over 460 e-cigarette brands with 7700 flavors out there within the market.
IISC Bengaluru the only Indian entry in World University Rankings 2020 - 13 Sep 19
Highlights:
According to UK-based Times Higher Education,Indian institution figured among the top 300 in World University Rankings 2020.
Indian universities are led by the Indian Institute of Sciences (IISc) Bangalore, its ranking dropped 50 places from 251-300 ranking cohort in the previous year to the 301-350 grouping.
The Indian Institute of Technology (IIT) Ropar appeared in the same grouping, followed by IIT Indore with a rank of 351 to 400.
The second-generation IITs established after 2008-09 have leaped ahead of other top schools and older IITs including those in Mumbai and Delhi primarily because of their high score in research citations.
IIT Ropar has got 100 in the research citation parameter, IIT Indore scored 77 much better than IISc and older IITs.
Delhi and Kharagpur placed in the 401-500.
IIT Kharagpur and IIT Delhi have grown by 100 ranks from the previous year.
The top Indian schools finding a space in the top 300, leave alone in the top 200, comes as a setback as Indian higher education is looking to improve its global presence and a structured programme of the Union government has shortlisted 20 universities as institutions of eminence to improve their global positions in all parameters.
India has a huge amount of potential in global higher education, given its rapidly growing youth population and economy and use of English-language instruction.
The country fall out of the top 300 of the rankings this year with only a small number of institutions registering progress.
The Indian government strong ambitions to boost the global standing of its top universities and attract foreign students, academics and research collaboration.
The Indian institutions have been lagging in their international outlook, a prickly issue for the higher education sector in the country despite its ambition to become a study-abroad destination for low income and developing countries.
The best Indian institutions are generally characterized by relatively strong scores for teaching environment and industry income, but perform poorly when it comes to international outlook in comparison to both regional and international counterparts,
In Asia, China's dominance continues with 24 of its universities finding a place among the top 200 in the list.
Globally, Oxford University to lead the high table followed by California Institute of Technology and University of Cambridge. Stanford University and MIT complete the top five global table.
Globally, the US continues to dominate the ranking, with 172 institutions overall and 60 in the top 200. US universities make up 14 of the global top 20 and seven of the top 10, with the country's leading institutions performing particularly well in the area of citation impact.
Chinese and other Asian universities have challenges of their own they must meet.
These include ensuring that the excellent academics they produce do not move abroad to more established institutions in Europe and North America; promoting a culture of scholarly creativity and freedom and boosting ties with nations across the globe.
Railways Ministry signs MoU with CII for facilitation of green initiatives - 13 Sep 19
Highlights:
Union Ministry of Railways signed Memorandum of Understanding (MoU) with Confederation of Indian Industries (CII) for facilitation of green initiatives in Indian Railways.
The MoU would carry forward some major Green initiatives undertaken by Indian Railways as part of India's contribution towards mitigation of global warming and combating climate change.
Indian Railways have been making concerted efforts to ensure cleanliness and hygiene in trains and on station premises.
Objectives of MoU: -
Greening of Railway properties Energy efficiency in manufacturing facilities and railway workshops Demonstrative pilots of 'net-zero energy buildings/railway stations'
Development of Green procurement policy, waste management policy, solid waste disposal, carbon neutrality, phytoremediation
Capacity and skill development by continuous sharing of best practices on energy and environment through training programmes
3 Coffee Table Publications: One each on Energy Efficiency, GreenCo Rating and Green Buildings (including railway stations) were also released for wide circulation as part of efforts taken by Indian Railways team as envisaged in MoU.
In 2016 Indian Railways & CII signed a MoU on Green Rating & Energy Efficiency Studies of IR's Production Units & major workshops.
After assessment in last 3 years 50 Railway units including workshops and production units, 12 Railway stations and 16 more buildings and other facilities have achieved GreenCo certification.
Green Co rating system:
It is developed by CII to evaluate the green initiative and rate of performance of industrial units who are pursuing environmentally sustainable practice and also certifies green building, green campus and green schools etc.
Govt declared a train service to Bangladesh from Tripura by next year - 14 Sep 19
Highlights:
Ministry of Development of North Eastern Region said that the Railway link service between the Agartala-Akhaura in Bangladesh will be completed by 2020 for Development of Northeastern Region (DoNER).
The declaration was announced during the meeting by the Minister of DoNER Dr.Jitendra Singh and senior officers of the Ministry which was held on 12 September in Delhi.
Bangladesh railway link project : A fact file
The Bangladesh railway link project is funded by the Ministry of DoNER.
The cost allocated for the project is Rs 972.52 crores.
The project can link Agartala with Bangladesh Railway Network at Akhaura.
It will cut the traveling time period for passenger and goods movement from Kolkata to Agartala of 38 hours to 15 hours.
Maitree categorical is already running between Kolkata and Dhaka which is now extended to Agartala.
Out of 15.19 Acre of land at Nischintpur Yard, 2.30 Acre has been handed over a month before Dec 2019 by Government of Tripura.
Hindi Divas observed on 14 September - 14 Sep 19
Highlights:
Hindi Divas (or Hindi day) is an annual day which is observed every year on 14 September all over India
The day has been observed since 1953, to promote the popularity of Hindi as an official language of India.
Although the Hindi Day is mostly observed by Government of India, but many private organizations and voluntary groups also celebrate the day.
Hindi is the forth most spoken language in world.
As per latest figures, 43.63% people in India currently speak Hindi language.
Section 343 (1) of Constitution of India, in reference of Hindi as official language, reads- the official language of Union shall be Hindi and script Devanagari.
The form of the marks used for official purposes of Union will be international form.
In the year 1949, the Constituent Assembly of India had adopted Hindi written in Devanagari script as official language of Republic of India.
The 14 September 1949 also marks 50th birthday of Beohar Rajendra Simha who was among stalwarts who rallied and lobbied pan-India in favor of Hindi.
Their efforts came to fruition following adoption of Hindi as official language and this decision was ratified by Constitution of India that came into effect on 26 January 1950.
UNESCO to publish Guru Nanak Dev's writing in world languages - 14 Sep 19
Highlights:
UNESCO has decided to translate and publish an anthology of writings of Baba Guru Nanak Dev, the founder of Sikhism and also first of 10 Sikh Guru in world languages to commemorate 550th birth anniversary of Guru Nanak Dev.
National Book Trust (NBT) will publish Gurbani (various compositions by Sikh Gurus and other writers of Guru Granth Sahib) in different Indian Languages.
UNESCO is stands for United Nations Educational, Scientific and Cultural Organization .
Meanwhile, the year 2019 mark 550th birth anniversary of Guru Nanak Dev.
The Government of India is also holding a series of events and has initiated many projects.
It include- Construction of Kartarpur Corridor from Dera Baba Nanak in Punjab's Gurdaspur district to international border, development of the historic town of Sultanpur Lodhi as a heritage town on smart city principle, upgradation of Sultanpur Lodhi railway station Release of commemorative coins and postage stamps and setting up of a Centre for Inter Faith Studies at Guru Nanak Dev University, among others.
Indian Army veteran Abhijit Guha appointed as as head of UN Hodeidah mission - 14 Sep 19
Highlights:
India's Lieutenant General (Retd.) Abhijit Guha as the head of UN mission in Hodeidah, Yemen.
Guha, who has 39 years of national and international military experience will be succeeding Danish Lieutenant General Michael Lollesgaard, who served in these posts from 31 January to 31 July 2019. ,
Mr. Guha will also assume the chair of Redeployment Coordination Committee (RCC) as well as leading the UN Mission in support of Hodeidah Agreement (UNMHA).
RCC is responsible for redeploying forces of Yemeni warring parties in accordance with their agreement.
Abhijit Guha : A fact file
He is a graduate of India's Defence Services Staff College, the College of Combat, and National Defence College.
He has held many important commands, staff and instructional appointments within Indian Army which includes leadership of an Infantry Brigade and Infantry Division, and of Mumbai Area.
He retired from Indian Army in 2013 and since then he has served on Expert Panel on Technology and Innovation in UN Peacekeeping (2014) and High-Level Independent Panel on Peace Operations (2015). International Portfolios:
He has also served as a Military Observer as part of United Nations Transitional Authority in Cambodia during 1992-23.
From 2009-2013, he served as Deputy Military Adviser and Military Adviser within the Office of Military Affairs of United Nations Department of Peacekeeping Operations (DPKO), while also establishing Office of Peacekeeping and Strategic Partnerships (OPSP) in 2013.
He has also led a number of United Nations' investigations and boards of inquiry in Africa and Middle East.
BHEL commissioned a 1,320 Megawatt (Mw) power plant in Odisha - 14 Sep 19
Highlights:
Bharat Heavy Electricals Limited (BHEL) India's largest power equipment manufacturer announced it has commissioned a 1,320 Megawatt (Mw) power plant in Odisha.
The IB Thermal Power Station with two units of 660 Megawatt capacity each is owned by Odisha Power Generation Corporation Limited (OPGC) a joint venture between the state government and US-based AES.
BHEL previously set up two units of 210 MW capacity each at IB Thermal Power Station operating for over 20 years.
BHEL supplied sets are contributing 100 per cent of the coal-based power stations installed by OPGC.
A substantial portion of power generated from the project will be supplied to the Grid Corporation of Odisha (GRIDCO)
The key equipment for the project was manufactured by BHEL at its Haridwar, Trichy, Hyderabad, Ranipet, Bhopal, and Bangalore facilities and the construction of the plant was undertaken by the company's Power Sector - Eastern Region division.BHEL installed more than 1,85,000 MW utility sets in India and abroad.
The International Day of Democracy is observed on 15 September - 15 Sep 19
Highlights:
The International Day of Democracy is observed on 15 September every year in the world.
The day aims to provide an opportunity to review the state of democracy in the world.
The day urges all governments to respect their citizens' right to active, substantive and meaningful participation in democracy.
The day urges all governments to respect their citizens' right to active, substantive and meaningful participation in democracy.
Democracy is a process which will happen only with the full participation of and support by the international community, national governing bodies, civil society, and individuals.
Democracy is a two-way street that is built on a constant dialogue between civil society and the political class.
In Sustainable Development Goal 16 (SDG-16) democracy has been addressed in the 2030 Agenda for Sustainable Development.
According to SDG, democracy is the indivisible links between peaceful societies and effective, accountable and inclusive institutions.
Rajasthan launches 'Jan Soochna Portal' - 15 Sep 19
Highlights:
The state government of Rajasthan launched 'Jan Soochna Portal', a portal for quick access to information on government departments.
The portal was launched by Rajasthan's Chief Minister Ashok Gehlot and is a step of state government towards making Rajasthan a model state for good governance and accountability in administration.
Jan Soochna Portal :
The public information portal has been developed by state's information and technology (IT) department.
In portal 23-24 types of information will be made available pertaining to 13 departments on a single platform.
The information will also be available on self-service 'E-Mitra Plus' kiosk. Rajasthan has now become first state in country to provide information about a dozen departments on a single platform.
The portal has been launched under Rajasthan Innovation Vision (RAJIV) campaign.
The move will bring transparency and accountability, and empower the right of people to seek information.
With the launch of portal, state government has expressed its intention of using technology for transparency and would further strengthen and expand the scope of the Right to Information (RTI) law.
Through this portal common man will get information pertaining to 13 departments online in a lucid language.
The portal is inspired by the very spirit of Section 4 (2) of RTI Act, 2005, i.e. Proactive Disclosure of Information.
Water discovered for the first time in atmosphere of habitable exoplanets K2-18b - 15 Sep 19
Highlights: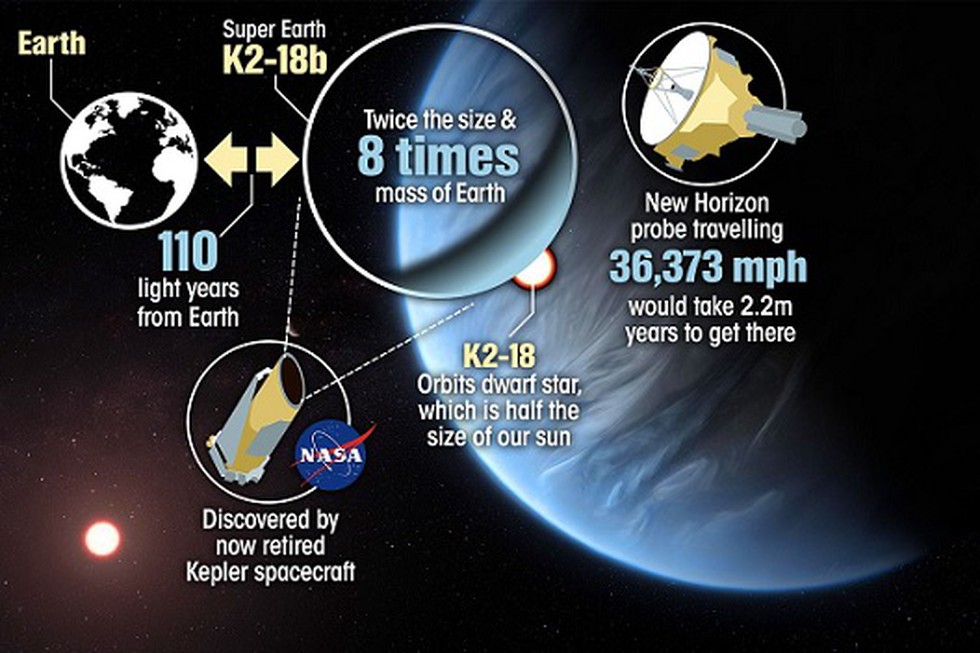 The first time discovered water in the atmosphere of a planet orbiting within the habitable zone of a distant star.
The finding makes the world is called K2-18b - a plausible candidate in the search for alien life.
The new space telescopes might be able to determine whether K2-18b's atmosphere contains gases that could be produced by living organisms.
The details were published in the scientific journal Nature Astronomy.
The lead scientist, Prof Giovanna Tinetti of University College London (UCL), described the discovery as mind blowing.
This is the first time that we have detected water on a planet in the habitable zone around a star where the temperature is potentially compatible with the presence of life.
The habitable zone is the region around a star where temperatures are considered sufficiently benign for water to exist in liquid form on the surface of a planet.
The new planet is just over twice the size of Earth - in a planet category known as a super Earth and has a temperature cool enough to have liquid water, between zero and 40C.
What is K2-18b ?
K2-18b is 111 light-years - about 650 million million miles - from Earth, too far to send a probe.
So the only option is to wait for the next generation of space telescopes to be launched in the 2020s and to look for gases in the planet's atmosphere that could only be produced by living organisms.
The first exoplanet was discovered in 1992, orbiting a pulsar (a neutron star that emits electromagnetic radiation)
The researchers determined some of the chemicals in their atmosphere by studying the changes to the starlight as the planets orbited their suns.
The light filtered through the planets' atmospheres was subtly altered by the composition of the atmosphere.
K2-18b cannot be classified as a mini-Neptune, it is more likely to be a planet with an interior of rock and ices.
These types of planets are sometimes called 'ocean planets'.
India won Track Asia Cup 2019 - 15 Sep 19
Highlights:
Cycling sensation Ronaldo Laitonjam won at the Track Asia Cup 2019.
The two gold medal on day one, the junior world champion team member created an Asian record for men's junior 200m time trial event and later won a gold medal in the junior men's Sprint event.
Venkappa Shiv Kengalgutti won the gold medal in the junior men's 3 km individual.
Triyasha Paul and Nikita Nisha gave finish in the junior women's sprint event and added two more medals to India's tally.
Paul and Nisha won medals on day one was well.
India's Punam Chand captured the silver medal falling short against Malaysia's Emam Firdaus Mohammad Zamri who won the gold medal.
India elite women's 3 KM individual pursuit race.
Elangbam Devi and Irungbam Devi gave India a silver-bronze finish in the event.
The bronze medal was won by Irungbam Devi.
India's second team is Sports Authority of India National Cycling Academy won its first medal when Swasti Singh won the bronze medal in junior women's 2 km individual pursuit.
Kristina Titovskaya of Kazakhstan won the gold while Yanina Kuskova of Uzbekistan captured silver.
Harshveer Singh to deal a disappointing end in the elite men's 15 KM Scratch Race as he failed to finish on the podium.
The Indian finished fifth as the gold was captured by Muhammad Shaari of Malaysia.
Kapil Dev to be the first chancellor of Rai Sports University - 16 Sep 19
Highlights:
The Haryana Government has appointed cricket legend Kapil Dev as the first Chancellor of Rai Sports University.
The minister of Haryana Anil Vij had approved the proposal to upgrade the sports university on Sept 14th in Sonepat.
The Sports University of Haryana in Sonepat is conducting the educational and coaching programs in education and sports sciences and as well as in sports technology and medicine.
This Course can embrace coaching for sports management, sports infrastructure engineering, sports scientific discipline, sports nutrition, sports journalism, and sports promoting.
It is the third sports university established by a government within the country where others are Swarnim Gujarat Sports University in Gandhinagar, province education and Sports University in Chennai.
Kapil Dev: A fact file
He was born on 6 January 1959 at Chandigarh,Haryana.
He was a hard hitting middle order batsman and a fast bowler.
He is one of the best captains in India.
Dev captained the Indian cricket team that won the 1983 Cricket World Cup.
He was India's national cricket coach between 1999 and August 2000.
He is retired in 1994.
He is the sole player within the history of 434 wickets and scored 5000 runs in Tests.
Dev was inducted into the ICC Cricket Hall of Fame On 11th March 2010.
Justice P Lakshmana Reddy appointed as 1st Lokayukta of Andhra Pradesh - 16 Sep 19
Highlights:
Justice P Lakshmana Reddy, a retired judge of erstwhile Andhra Pradesh High Court was sworn-in as the first Lokayukta of Andhra Pradesh.
His oath to office was administered by Governor Biswabhusan Hairchandan at a function held in Vijayawada.
Chief Minister of state Y S Jagan Mohan Reddy, judges of High Court and senior state government officials presided over the event.
Key Highlights Justice P Lakshmana Reddy would serve in office of Lokayukta for 5 years.
He is first Lokayukta to be assuming charge since the state bifurcated in 2014.
The current YSR Congress government headed by Jagan Mohan Reddy amended the Lokayukta Act in recent state budget session.
This enabled the appointment of a retired judge as Lokayukta, paving the way for constituting corruption-probing body.
The legislation establishing Lokayukta is part of state government policy to provide transparent and corruption-free governance.
What is Lokayukta ?
The Lokayukta is an anti-corruption ombudsman organization in the Indian states.
Once appointed, Lokayukta can not be dismissed nor transferred by the government, and can only be removed by passing an impeachment motion by the state assembly.
and can only be removed by passing an impeachment motion by the state assembly.Maharashtra was the first state to introduce the institution of Lokayukta through The Lokayukta and Upa-Lokayuktas Act in 1971.
This was followed by similar acts that were enacted by the states of Odisha, Rajasthan, Bihar, Uttar Pradesh, Karnataka, Madhya Pradesh, Andhra Pradesh, Gujarat, Kerala, Tamil Nadu and the union territory of Delhi.
Pankaj Advani wins IBSF World Billiards Championship title - 16 Sep 19
Highlights:
The Bengaluru-based cueist Pankaj Advani increased his tally of world titles to 22 by winning a 4th straight final in the 150-up format at IBSF World Billiards Championship 2019 held in Mandalay, Myanmar.
Pankaj Advani defeated Nay Thway Oo of Myanmar.
With this win and another trophy in the bag, Advani extends his remarkable run of winning a global crown since 2003.
In the short format of billiards, this is Pankaj's 5th title in last 6 years.
The 34-year-old is one of India's most consistent sportspersons and has brought home a world trophy every year ever since returning from a professional stint in the UK in 2014.
He has won more world titles in his sport than anyone else.
About IBSF World Billiards Championship It is the premier, international, non-professional tournament for game of English billiards.
It was established in 1951 however, the event has been sanctioned by International Billiards and Snooker Federation since 1973.
Special Training Programme for Maldivian Civil Servants to be conducted in India - 16 Sep 19
Highlights:
India is to conduct the Special Training Programme for Maldivian Civil Servants is scheduled at the hill town Mussoorie (Uttarkhand) and New Delhi from 16 to 28 September 2019.
A 32-member Maldivian delegation arrived in India for taking part in Special Training Programme.
India is the largest development partner for capacity building of Civil Servants of Maldives.
A unique feature of special training program is that 70% of delegates are women officials.
The inaugural session of Special Training Program for Maldivian Civil Servants taking place on 16 September.
Senior policymakers from the Government of India would be addressing the participants in 2-week training program.
STP Sessions will take place on: Public Policy and Governance, Ethics and Accountability and Redressal of Public Grievances, Sustainable Development Goals (SDG), Motivation, Promoting Tourism, Innovation, Regional Cooperation in Indian Ocean Region (IOR), India-Maldives Relations along with visits to Unique Identification Authority, Passport Sewa Kendra and Election Commission of India (ECI).
The Special Training Programme is part of a Memorandum of Understanding (MoU) signed by Prime Minister Narendra Modi and his Maldivian counterpart on his visit to Male (Maldives) in June 2019 on 'Training and Capacity Building Programme' between India's National Centre for Good Governance (NCGG) and Maldives Civil Service Commission (CSC).
One of the MoUs signed between NCGG and CSC of Maldives envisaged capacity building activities for 1000 Civil Servants of Maldives at National Centre for Good Governance over next 5 years.
Earlier, PM Modi, during his visit, emphasised India's 'Neighbourhood First' policy and assured India's full support to Maldives in realising its aspirations for broad-based socio-economic development and strengthening of democratic and independent institutions.
Mayank Vaid becomes first Indian to complete Enduroman triathlon - 17 Sep 19
Highlights:
Mayank Vaid becomes the first Indian to complete the Enduroman.
It is a triathlon from England to France which is considered to be one of the toughest endurance competitions in the world.
He is the 44th person in the world to have completed this triathlon.
He is also the first Asian person to complete this triathlon in solo capacity.
He also broken the record for the shortest time taken to complete the Enduroman Arch to Arc triathlon.
He completed the triathlon involving running, swimming and cycling.
The time duration is around in 50 hours and 24 minutes.
The previous record for this triathlon was 52 hours and 30 minutes. It is held by Julien Deneyer of Belgium.
The triathlon starts with a 140 km run from London's Marble Arch to Dover on the Kent coast, then a cross-Channel swim (shortest distance 33.8 km) to the French coast, and finishes with a 289.7 km bike ride from Calais to the Arc de Triomphe in Paris.
This is the longest point to point triathlon in the world.
Only 44 persons have completed it so far.
More people have climbed Mt. Everest.
It is truly the toughest and most brutal triathlon in the world.
The difficulties he faced in the course of his record run.
The swim and bike sections were really hard. Especially going sleepless for more than 50 hours.
The most challenging part is when a swimmer starts to see the French coast and that's when the mind plays games.
India First Maritime Communication Services And CEIR System launces In India - 17 Sep 19
Highlights:

Union Minister for Communications, Electronics and Information Technology and Law & Justice Shri Ravi Shankar Prasad launched the maritime communication services at Mumbai.
The maritime connectivity will enable high-end support to those in sea by providing access to Voice, Data and Video services while traveling on sailing vessels, cruise liners, ships in India using satellite technology.
India's leading VSAT solutions provider is the first Indian company that will now provide quality broadband services to the maritime sector.
Nelco through global partnerships, infrastructure including transponder capacity on satellite of ISRO Indian Space Research Organization) and a comprehensive service portfolio will help Energy, Cargo and Cruise vessels by enhancing operational efficiency, improving crew welfare and enabling customer services.
The IFMC licence has not only enabled connectivity for on-board users on ships but also brings operational efficiencies for shipping companies which were less evolved.
The Government of India announced the licenses for In-flight and Maritime Communications (IFMC) that allows voice and internet services while flying over the Indian skies and sailing in Indian waters, both for international and Indian aircrafts and vessels.
The IFMC license is a key initiative of the Telecom Ministry, a move to liberalise satellite communication services in India.
What is IMEI ?
The International Mobile Equipment Identity or IMEI is a number, usually unique, to identify 3GPP and iDEN mobile phones, as well as some satellite phones.
It is usually found printed inside the battery compartment of the phone, but can also be displayed on-screen on most phones by entering *#06# on the dialpad, or alongside other system information in the settings menu on smartphone operating systems.
GSM networks use the IMEI number to identify valid devices, and can stop a stolen phone from accessing the network.
For example, if a mobile phone is stolen, the owner can have their network provider use the IMEI number to blacklist the phone.
This renders the phone useless on that network and sometimes other networks, even if the thief changes the phone's subscriber identity module (SIM).
Devices without SIM card slot usually don't have the IMEI code.
However, the IMEI only identifies the device and has no particular relationship to the subscriber.
The phone identifies the subscriber by transmitting the International mobile subscriber identity (IMSI) number, which it stores on a SIM card that can, in theory, be transferred to any handset.
However, the network's ability to know a subscriber's current, individual device enables many network and security features
Inflight and Maritime Telecom Connectivity:
The Department of Telecommunications, Ministry of Communications had notified the Flight and Maritime Connectivity (FMC) Rules, 2018 on 14th December, 2018 permitting voice and data service provisioning in flights and ships.
The policy intent of the Government is to open the airspace and territorial waters for telecommunication services for the general public which was not possible earlier due to lack of enabling rules.
The IFMC service provider, can provide wireless voice or data or both type of services on ships within Indian territorial waters and on aircraft within or above India or Indian territorial waters.
Territorial waters are 12 nautical miles from baseline of the coast and beyond that is the Exclusive Economic Zone upto 200 nautical miles (1 nautical mile is 1.852 Kms.)Satellite bandwidth provided on Indian Satellites by ISRO.
Spain wins 2nd FIBA basketball World Cup title - 17 Sep 19
Highlights:
Spain captured its second FIBA basketball World Cup title after defeating Argentina with 95-75 in the gold medal game held at Wukesong Arena in Beijing, China.
The Spaniards won their 1st basketball World Cup title in 2006 in Japan.
The Spaniards capped a dominant run as they finished undefeated at 8-0. Point guard Ricky Rubio was named Most Valuable Player of the international competition. He led Spain with 20 points, 7 rebounds and 3 assists.
He surpassed Pablo Prigioni of Argentina as World Cup assists leader since FIBA started recording all game statistics in 1994.
Marc Gasol won his 2nd championship in less than 3 months. He won NBA championship with Toronto Raptors and has become 2nd player to win an NBA title and FIBA World Cup title in same year.
In 2010, Lamar Odom accomplished this feat for Los Angeles Lakers and USA Basketball. Gasol who finished with 14 points, 7 rebounds and 7 assists was among 5 players named to FIBA World Cup 2019 All-Star Five.
The other four are Rubio, Bogdan Bogdanovic of Serbia, Luis Scola of Argentina and Evan Fournier of France.
RBI expands coverage of Bharat Bill Payment System - 17 Sep 19
Highlights:
India's apex financial body Reserve Bank of India (RBI) has expanded the scope and coverage of Bharat Bill Payment System (BBPS) to include all categories of billers who raise recurring bills and payments (except prepaid recharges) as eligible participants, on a voluntary basis.
With the expansion of the scope of payment facility, RBI now allows other recurring/repetitive bill payments like school fees, insurance premiums, EMIs and municipal taxes, which can also be paid through BBPS.
At present, the facility of payment of recurring bills through BBPS is available only in five segments i.e. direct to home (DTH), electricity, gas, water and telecom.
Expansion of biller categories would increase the user base of Bharat Bill Pay along with providing an efficient, cost-effective alternative to existing systems and enhance consumer confidence and experience.
BBPS : A fact file
It is an integrated bill payment system that offers interoperable bill payment service to customers online and via a network of agents on ground.
This interoperable platform enables a customer to pay bills like telephone, water, gas, direct-to-home (DTH) and electricity at a single location (electronic or physical).
The system provides multiple payment modes and instant confirmation of payment.
BBPS functions under National Payments Corporation of India (NPCI).
National Centre for Clean Coal Research and Development inaugurated - 17 Sep 19
Highlights:
The Union Minister of Science & Technology Harsh Vardhan inaugurated the National Centre for Clean Coal Research and Development (NCCCR&D) at Indian Institute of Science (IISc) in Bengaluru.
The NCCCR&D has been launched at IISc. by Department of Science & Technology (DST). National Centre for Clean Coal Research and Development (NCCCR&D) It is a national consortium on clean coal research and development led by IISc.
The partner of IISc includes IIT- Kharagpur, Madras, Guwahati, Bombay, and Hyderabad.
The consortium will work on identifying existing gaps in clean coal technology as major problem being faced by Indian power plants is high level of pollutants and low thermal efficiency.
The new centre would address several critical Research & Development (R&D) challenges towards development of clean coal technologies in tandem with developing supercritical power plant technologies, both at materials and system level.
The centre will also address challenges such as development of low emission combustion and gasification, and achieve high cycle efficiencies with reduced pollutants.
IISc. has already set-up an advanced indigenous supercritical CO2 test loop at a laboratory scale. Significance: Scientific and collective endeavours like NCCCR&D would enable achievement of an affordable, efficient, and compact reliable clean energy system.
It would help India in achieving international targets and 'nationally determined contributions' on climate change which includes-
i) To have at-least 40% of our total requirement of energy to be from clean energy sources by 2030 (of this India have already achieved around 34-35%)
ii) Reducing emissions of greenhouse gases (GHG) by 33% to 35% by 2030
Manipur to host UN conference on drugs on HIV AIDS - 18 Sep 19
Highlights:
Nrth-East state Manipur is going to host the United Nations International Conference to discuss the issues related to drug menace, HIV/AIDS problems in the region on September 30 and October 1.
Governor Najma Heptulla made the announcement during the 13th Foundation Day Celebration of the Manipur State Commission for Women (MSCW) held at Hotel Imphal.
Chief Minister N Biren Singh to invite the home ministers of all the north-eastern states to the Conference so that the region can have a comprehensive policy to deal with such issues.
The main aim is to increase sexual crimes, women also suffer from other debilitating challenges which put them at a serious disadvantage, the Manipur Governor said. Women living with HIV/AIDS, orphans are soft targets for social stigma and discrimination and various forms of human rights violations, she pointed out.
The women-specific and women-related legislation to protect women against social discrimination, violence and atrocities among others have been enacted. However, the full implementation of such laws are hindered or delayed due to lack of awareness of the existence of such legislations.
MSCW to explore ways and means on how to eliminate all man-made social aberrations and means to prevent all crimes against women with the help of Law Enforcing Agencies of the State.
The women of the state are at the forefront in various fields including sports.
United Nations International Conference
The organization are represented in the General Assembly - one of the six main organs of the UN - to discuss and work together on a wide array of international issues covered by the Charter of the United Nations, such as development, peace and security, international law.
The members meet in this unique forum at Headquarters in New York for the General Assembly session.
The sitting arrangements in the General Assembly Hall change for each session.
During the 74th Session (2019-2020), Ghana will occupy the first seat in the Hall, including in the Main Committees (followed by all the other countries, in English alphabetical order).
Interdisciplinary Centre for Energy Research launched September 17, 2019 Union Minister of Science & Technology Harsh Vardhan launched an Interdisciplinary Centre for Energy Research (ICER) equipped with modern facilities for conducting a wide spectrum of energy research through knowledge network.
What is ICER?
ICER is a first of its kind in India which is equipped with state-of-the-art facilities.
This new centre would realise the vision of affordable, efficient, compact and reliable clean energy systems.
It was formed to conduct socially relevant research to benefit people directly.
Also, translational research carried out by ICER faculty has resulted in technology transfers in India and abroad.
Research conducted here would be in line with various national missions to have more reach.
ICER is also considering starting a new Master's course on energy.
ICER plans to expand its activities in several energy-related areas with an emphasis on process and material development, in collaboration with manufacturing industry.
The centre is focused on developing sustainable technologies for renewable energy, combustion, next-generation solar photovoltaic, concentrated solar power, novel energy storage technologies, hydrogen, bio-mass and bio-fuels.
Anjali Singh becomes India's first female military diplomat - 18 Sep 19
Highlights:
Anjali Singh became India's first female military diplomat to be posted in any of the Indian missions abroad.
Singh joined the Indian Embassy in Russia as the Deputy Air Attache.
Singh is trained on MiG-29 fighter aircraft, joined her new assignment on September 10.
She is the first female Indian Armed Forces Officer to be posted as a military diplomat in any of the Indian missions abroad.
Singh is an AE(L) officer with 17 years of service. She is trained on MiG-29 aircraft,
Air Force officer who is part of a diplomatic mission; this post is normally filled by a high-ranking officer. The air attache typically represents the chief of his home air force in the foreign country.
He typically represents the chief of his home air force.
Asian Development Bank President Takehiko Nakao resigns - 18 Sep 19
Highlights:
Takehiko Nakao announced his resignation from Asian Development Bank as President.
It will be effective from January 16.
The new president will be elected in accordance with an open, transparent and merit-based procedure.
The resignation with a deep sense of satisfaction and gratitude. With support from staff, Board members, and member governments.
He became the President of ADB on April 28, 2013.
The expanded operations of the funding agency from USD 14 billion in 2013 to USD 22 billion in 2018 to more technologies into projects.
Asian Development Bank's headquarters located in Manila, Philippines
It was founded on 19 December 1966.
Total members countries - 68.
MFIN and Sa-Dhan launches 'Code for Responsible Lending' - 18 Sep 19
Highlights:
Micro-finance Institutions Network (MFIN) and Sa-Dhan along with FIDC (Finance Industry Development Council) have jointly launched the 'Code for Responsible Lending' (CRL) for the micro credit industry.
The CRL was launched at Sa-Dhan's 15th Annual National Conference held in New Delhi.
Sa-Dhan is Reserve Bank of India (RBI) recognised self-regulatory organisation and industry association for the micro-finance industry.
What is 'Code for Responsible Lending'?
The CRL is sector-specific and entity-agnostic.
A common CRL unveiled would bar more than three lenders offering loans to a single borrower and cap the size of total lending to Rs.1 lakh per borrower.
A significant development in CRL adoption was signing up of Finance Industry Development Council (FIDC) which makes CRL more inclusive in its coverage.
FIDC is the self-regulatory organisation for registered NBFCs.
CRL will be a step in right direction to restore confidence in non-banking lending community, as this will bring better discipline and harmony among asset financing, loan financing and micro financing NBFCs.
In addition to CRL, a revised industry Code of Conduct (CoC) was also released for Micro-finance Institutions (MFIs) that will act as a binding and compulsory set of principles with respect to lending practices.
Currently, more than 90 entities have signed up for CRL as 'responsible lenders', and soon all micro-finance lenders are expected to come forward to endorse and adhere to it.
This launch is in line with Sa-Dhan's objective of furthering responsible finance across entire sector.
It is also a significant self-regulatory step across all RBI-regulated entities and others that aim towards safeguarding the interests of low-income customers by enhancing compliance and transparency.
Also, many lenders of diverse legal form are coming on board, as the code engages with all those catering to same micro-finance client.
It will bring about a level-playing field for all and ensure that client protection is more adequately addressed.
Interdisciplinary Centre for Energy Research launched - 18 Sep 19
Highlights:
Union Minister of Science & Technology Harsh Vardhan launched an Interdisciplinary Centre for Energy Research (ICER) equipped with modern facilities for conducting a wide spectrum of energy research through knowledge network.
What is ICER ?
ICER is a first of its kind in India which is equipped with state-of-the-art facilities.
This new centre would realise the vision of affordable, efficient, compact and reliable clean energy systems.
It was formed to conduct socially relevant research to benefit people directly.
Also, translational research carried out by ICER faculty has resulted in technology transfers in India and abroad.
Research conducted here would be in line with various national missions to have more reach. ICER is also considering starting a new Master's course on energy.
ICER plans to expand its activities in several energy-related areas with an emphasis on process and material development, in collaboration with manufacturing industry.
The centre is focused on developing sustainable technologies for renewable energy, combustion, next-generation solar photovoltaic, concentrated solar power, novel energy storage technologies, hydrogen, bio-mass and bio-fuels.
Allahabad Bank board approves merger with Indian Bank - 19 Sep 19
Highlights:
Public sector bank Allahabad Bank approved the merger proposal with Indian Bank.
The main aim is to make the amalgamated entity the seventh-largest public sector lender of the country.
The consolidation of 10 state-run banks into four large-scale lenders.
The board of directors in a meeting held considered and accorded its in-principle approval for amalgamation of Allahabad Bank into Indian Bank.
The employees and officers of Allahabad Bank staged a demonstration in front of its headquarters here to protest against the merger.
The amalgamation is being opposed as Allahabad Bank has higher levels of CASA - current account and savings account more staff strength and a bigger volume of business compared to the other lenders.
Allahabad Bank is a nationalized bank.It is the oldest joint stock bank in India.
It's headquarters is located in Kolkata.
Founded: 24 April 1865
Indian Bank is an Indian state-owned financial services company established in 1907.
It has 20,924 employees, 2900 branches with 2861 ATMs and 1014 cash deposit machines and is one of the top-performing public sector banks in India.
Headquarters: Chennai
5th International Ramayan Festival organized in New Delhi - 19 Sep 19
Highlights:
The 5th International Ramayan Festival organized by Indian Council for Cultural Relations (ICCR) is being held from 17-19 September 2019 in New Delhi.
The maiden day of festival was presided by Union Minister for Home Affairs Amit Shah as Chief Guest.
The year 2019 is 5th edition of International Ramayan Festival.
The festival is being organized for 5th year in row, during which 17 countries have participated with their artists and rendered their versions of Ramayan.
The ICCR was established with the vision of propagating Indian culture and its values to the whole world and organizing Ramayan festival is one way to realize this vision.
Ramayan is one such scripture of India that has transcended Personal, Religious, Societal, Cultural and National boundaries and reached a Global audience.
ICCR: A fact file
It was founded in 1950 by Maulana Abul Kalam Azad who was independent India's 1st Education Minister.
Objectives: To actively participate in formulation and implementation of programmes and policies realting to India's external cultural relations.
To foster and strengthen mutual understanding and cultural relations between India and other countries.
To promote cultural exchanges and develop relations with other countries and people, national and international organization in field of Culture.
World Patient Safety Day is observed on September 17 - 19 Sep 19
Highlights:
World Health Organization (WHO) declared September 17, 2019 as the first World Patient Safety Day. Globally, 134 million adverse events contribute to 2.6 million deaths each year due to unsafe care.
There are 28,000 deaths per year in Canada, patient harm ranks third in mortality after cancer and heart disease.
The slogan for the day is Speak Up for Patient Safety.
This campaign will mobilize patients and their families, health workers, policy makers, academicians, researchers, professional networks and the healthcare industry to speak up!
The raise awareness of the need to formulate policies, create a safe work culture, and provide care where the safety of patients is a priority.
The WHO spotlights patient safety to increase public awareness and engagement, enhance global understanding, and spur global action. The patients be more aware and engaged in their own care.
There are many ways in which to help spread this campaign.
World Health Organization (WHO) was founded on 7 April 1948.
It's headquarters is located at Geneva, Switzerland.
Sri Lanka unveils South Asia's tallest tower in Colombo - 19 Sep 19
Highlights:
Sri Lanka unveiled a 350-metre-tall Lotus Tower which is now being dubbed as South Asia's tallest tower in Colombo city.
Though the tower is still under construction President of Sri Lanka Maithripala Sirisena decided to open the tower to public.
As per the President, Lotus Tower is foreseen to be one of the significant landmarks and an epitome of island country's culture, economy and development.
About 'Lotus Tower' It is the tallest tower in South Asia in the shape of a 356-meter lotus.
The tower costs more than $100 million.
The 80% of costs incurred has been funded by China under the controversial Belt and Road Initiative (BRI).
The 350-metre tall Lotus Tower has 17-storey and is located in Colombo.
It comprises a hotel, a TV tower, restaurants, a mall, a telecommunications museum, and auditorium.
Sri Lanka and China signed the Lotus Tower agreement in 2012 to build the tower.
As per the agreement China National Electronics Import and Export Corporation (CEIEC) was the general contractor.
Bangladesh PM receives Dr Kalam Smriti International Excellence Award 2019 - 19 Sep 19
Highlights:
Prime Minister of Bangladesh Sheikh Hasina was conferred Dr Kalam Smriti International Excellence Award 2019 in Dhaka (Bangladesh Capital).
She receiv