Monthly Current Affairs for all banking PO,Clerk,IBPS PO,Railway,SSC,IAS,OAS Exams
More Visit www.isbtonline.com
Rajasthan: Ashok Gehlot bans e-cigarettes, sale of tobacco cigarettes to continue - 01 Jun 19
Highlights:
Rajasthan Chief Minister Ashok Gehlot has banned the sale of e-cigarettes in Rajasthan.
Gehlot issued the order on the occasion of World No Tobacco Day on May 31.
the government had banned the online or offline sale, storage, production, distribution and advertisement of e-cigarettes in the state.
the ban follows his party's manifesto to discourage the youth from addiction.
the government was opposed to the promotion of e-cigarettes as an alternative to tobacco cigarettes.
The government had set up a committee of experts to look into the adverse impacts of e-cigarettes and it found that there were indeed many.
But this is a surprise move in a state where the sale of tobacco products and cigarettes is allowed.
E-cigarettes are too new for researchers to have found their adverse impact like cancer associated with tobacco.
It was felt that many youngsters start smoking e-cigarettes -- and graduate to tobacco cigarettes later in life.
Smoking tobacco has been found to be more dangerous than e-cigarette.
While public smoking of cigarettes is banned in the state, no steps to ban chewing of tobacco have been taken.
Punjab To Ban Online Food Without Hygiene Rating - 01 Jun 19
Highlights:
Punjab is going to ban online delivery of food without hygiene rating.
The decision was taken under the 'Tandarust Punjab Mission'.
The government has issued directions to all online food order and supply companies to display the hygiene rating of the food business operators registered with them.
Giving three months for compliance, after the deadline no online food order will be delivered in the state without the hygiene rating.
The online food companies take orders from consumers and deliver it after procuring the hygiene rating from the Food Business Operators associated with them.
Industrialist B M Khaitan, former boss of Eveready Industries, passes away at 92 years - 01 Jun 19
Highlights:
Veteran industrialist Brij Mohan Khaitan passed away on Saturday at the age of 92 years at his residence in Kolkata.
He was till very recently the chairman of dry cell battery maker Eveready Industries and tea plantation major McLeod Russel.
B M Khaitan, the head of the Williamson Magor group, which controls Eveready and McLeod Russel, was suffering from old-age ailments.
Khaitan was mulling selling the Eveready business, which is a 100-year-old brand, in order to raise money to pare group debt.
The group's other company McLeod Russel is the world's largest bulk tea producer.
The industrialist had stepped down as chairman of Eveready Industries India in April this year following his resignation from the board of McLeod Russel in March.
Eveready Industries India was incorporated in 1934.
The company was a subsidiary of Union Carbide Corporation, US and was acquired by B M Khaitan and the Williamson Magor group of companies in 1993.
B M Khaitan also served as the President of International Chamber of Commerce Indian National Committee between 1986 and 1987 and was a founder Member of the International Management Institute New Delhi.
He was also elected as a Fellow of the Institute of Directors UK.
He was also the chairman of Williamson Tea Assam since July 13, 2005 and an independent director of CESC from May 1994 till May 2018.
B M Khaitan graduated in Bachelor of Commerce from Calcutta University.
Donald Trump terminates preferential trade status for India under GSP - 01 Jun 19
Highlights:
President Donald Trump has terminated India's designation as a beneficiary developing nation under the key GSP trade programme after determining that it has not assured the US that it will provide "equitable and reasonable access to its markets."
The Generalized System of Preference (GSP) is the largest and oldest US trade preference programme and is designed to promote economic development by allowing duty-free entry for thousands of products from designated beneficiary countries.
Accordingly, it is appropriate to terminate India's designation as a beneficiary developing country effective June 5, 2019.
Earlier,on March 4, Trump announced that the US intends to terminate India's designations as a beneficiary developing country under the GSP programme.
The 60-day notice period ended on May 3.
The Trump administration has prioritised working with the Government of India to ensure that US companies have a level-playing field.
Under the GSP programme, nearly 2,000 products including auto components and textile materials can enter the US duty-free if the beneficiary developing countries meet the eligibility criteria established by Congress.
India was the largest beneficiary of the programme in 2017 with USD 5.7 billion in imports to the US given duty-free status and Turkey the fifth largest with USD 1.7 billion in covered imports.
The GSP criteria includes, among others, respecting arbitral awards in favour of the US citizens or corporations, combating child labour, respecting internationally recognised worker rights, providing adequate and effective intellectual property protection, and providing the US with equitable and reasonable market access.
Countries can also be graduated from the GSP programme depending on factors related to economic development.
Trump's decision will cost American businesses over USD 300 million in additional tariffs every year.
Trump administration made the decision in the face of opposition from members of the Congress and hundreds of American businesses that have called for continued GSP eligibility for India.
American importers will pay more, while some American exporters will continue to face current market access barriers in India and others, including farmers, are very likely to be subject to new retaliatory tariff, Anthony.
the US government's move to withdraw duty concessions on certain products under the GSP programme will not have a significant impact on exports to America as the benefits were only about USD 190 million annually.
The package was covering all concerns related to bilateral trade with the US on sectors including medical devices, dairy products and agricultural goods.
India could not negotiate issues concerning interests of public healthcare.
India has failed to provide the US with assurances that it will provide equitable and reasonable access to its markets in numerous sectors.
The Trump administration had launched an eligibility review of India's compliance with the GSP market access criterion in April 2018.
WHO award for Rajasthan Health Dept. - 02 Jun 19
Highlights:
The World Health Organization has selected the Rajasthan government's Medical & Health Department for its award this year in recognition of its achievements in the field of tobacco control.
The department's Additional Chief Secretary, Rohit Kumar Singh, will receive the award at a function to mark World No Tobacco Day in New Delhi.
The Health Department of the State is the only government body in the country which will be awarded for its tobacco-free initiatives.
WHO has selected five organisations from the South-East Asian region for the prestigious award. individuals and institutions in each of the six WHO regions were recognised every year for their accomplishments in the area of tobacco control.
Three other organisations in the South-East Asian region have been selected from Thailand and Indonesia, while the Vallabhbhai Patel Chest Institute, New Delhi, is also among the recipients of the award.
The Medical & Health Department launched several campaigns against tobacco consumption at places such as schools, colleges, police stations and government offices during 2018-19.
As part of the tobacco-free initiatives, 1.13 crore people took a pledge against tobacco consumption at the events held in 1.56 lakh government institutions on January 30 this year, marking Martyrs' Day.
Anita Bhatia appointed as Deputy Executive Director in UN Women - 02 Jun 19
Highlights:
Indian-origin Anita Bhatia, a veteran in strategic partnerships, resource mobilization, and management, has been appointed by United Nations Secretary-General Antonio Guterres as the United Nations Entity for Gender Equality and the Empowerment of Women (UN-Women) for Resource Management, Sustainability, and Partnerships.
The agency focussed on women empowerment and gender equality.
The key appointment comes less than a week after Guterres appointed decorated Indian Army officer Lieutenant General Shailesh Tinaikar as his new Force Commander of the UN Mission in South Sudan.
Anita Bhatia- A fact file:
Bhatia holds a Bachelor of Arts in History from Calcutta University, a Master of Arts in Political Science from Yale University and a Juris Doctor in Law from Georgetown University.
Bhatia served for several years as Director of Global Partnerships for the International Finance Corporation (IFC), the World Bank Group's private sector arm.
Bhatia has led diverse teams, including as Global Head of Knowledge Management, Head of Business Process Improvement and Head of Change Management.
In addition to Latin America, she has worked in Africa, Europe, Central Asia and South and East Asia.
NITI Aayog suggested a National Project Management Policy Framework - 02 Jun 19
Highlights:
A task force on project management has suggested the development of a National Project Management Policy Framework for the effective execution of public sector and public-private partnership infrastructure projects.
The task force is headed by NITI Aayog CEO Amitabh Kant.
It has also recommended the setting up of a nodal body for the certification of chartered project management professionals to create world-class infrastructure.
The project management, with a view to delivering on time and within budget, is a learnable capability that can be institutionalised as demonstrated by the experiences of the U.S., the U.K., the UAE, and China.
NITI Aayog- A fact file:
It was formed on 1 January 2015 replacing Planning Commission.
NITI Aayog is a policy think tank of the Government of India.
Headquarters: Delhi
Chairman: Narendra Modi
Vice Chairman: Rajiv Kumar
CEO: Amitabh Kant
Former Indian President of India Pratibha Patil conferred the Orden Mexicana del Aguila Azteca award - 02 Jun 19
Highlights:
Former Indian President Pratibha Patil has been conferred the "Orden Mexicana del Aguila Azteca" (Order of the Aztec Eagle), the highest civilian award of Mexico given to foreigners, on 1 June 2019.
The Ambassador of Mexico to India, Melba Pria, conferred the award on Patil, who created history as this country's first woman President (2007-2012), at a special ceremony held in the MCCIA Bhavan, Pune.
Mexico's highest distinction for foreigners is in recognition of their outstanding services to the Mexican nation or humanity, significant contributions to strengthening the bilateral relations between Mexico and other countries.
Other India Awardees:
Ms. Patil, 85, becomes only the second Indian head of state to get the award. Earlier, the late President S. Radhakrishna had been conferred this honour.
Other Indian recipients in various categories include Nobel laureate Amartya Sen, renowned artist Satish Gujral, industrialist Raghupati Singhania, Consul-General of Mexico in Mumbai Rajju Shroff and others.
Order of the Aztec Eagle Award:
The royal eagle is Mexico's national animal, sacred to the ancient Aztecs and it is present on the National Emblem ofthe Mexican flag. It is an essential symbol that links their Aztec past with the modern nation.
It is of gold and turquoise and is given to express the respect and admiration of the Mexican people.
The award was created by a decree in 1993 by the then President of Mexico, Abelardo L. Rodriguez, it is awarded to prominent heads of state or government, ambassadors after they have served in Mexico, important personalities who have made a major contribution in various fields, service to the country or its people.
The award comes in five degrees namely Collar, Sash of Special Category, Sash, Plaque, Venera and Insignia.
PepsiCo to build Rs 500 crore food plant in Uttar Pradesh - 03 Jun 19
Highlights:
Oft drink company PepsiCo India will invest nearly Rs.500 crore to build a food manufacturing plant in Uttar Pradesh.
It will invest $2.1 bn in India by 2022, which is part of the $5.5 bn it had promised in November 2013.
It is part of PepsiCo's efforts to expand capacity in India's growing packaged foods market.
The makers of Lay's chips and Kurkure snacks, PepsiCo will invest along with its local bottling partner.
PepsiCo's global chairman and CEO:- Ramon Laguarta.
PepsiCo, which sells Tropicana, 7Up, Mountain Dew and Kurkure chips, among others, services the domestic market through 62 food and beverage plants.
The bottling operations are owned by its local partner Varun Beverages.
The packaged snacks and foods market in India is expected to grow 22.3% between 2018 and 2022.
June 3 is celebrated as the World Bicycle Day across the globe - 03 Jun 19
Highlights:
June 3 is celebrated as the World Bicycle Day across the globe since 2018.
In April 2018, the United Nations General Assembly (UNGA) declared 3 June as International World Bicycle Day.
The resolution for World Bicycle Day recognizes the uniqueness, longevity, and versatility of the bicycle, which has been in use for two centuries, and that it is a simple, affordable, reliable, clean and environmentally fit sustainable means of transportation.
2019 will be the second year when it will be celebrated after the UN General Assembly declared it in 2018 to acknowledge the uniqueness, longevity and the importance of the bicycle which is a simple, affordable, reliable and an environmentally friendly mode of transportation.
Objectives:
The day aims to promote the use of bicycles as a means of fostering sustainable development, strengthening education, including physical education, for children and young people, promoting health and tolerance, preventing disease, mutual understanding and respect, facilitating social inclusion and a culture of peace.

World Bicycle Day in India:
In India, Vice President of India Venkaiah Naidu had flagged off a cycling rally in Connaught Place in Delhi on the occasion of World Bicycle Day.
It was also celebrated by cyclists in many other cities like Bengaluru and Mumbai.
Spice Jets Chairman and MD Ajay Singh was elected to the board of IATA - 03 Jun 19
Highlights:
SpiceJet's Chairman and Managing Director Ajay Singh was elected to the board of the International Air Transport Association (IATA), less than three months after the airline joined the global grouping.
Founder and former chairman of the now grounded Jet Airways Naresh Goyal, who was associated with the IATA for a long time, was a member on the previous board.
The new board of the global airlines' grouping would be chaired by Lufthansa Group Chief Executive Officer Carsten Spohr, who took charge after the conclusion of the IATA annual general meeting at Seoul, South Korea.
Spohr will be the Chairman of the IATA Board of Governors (BoG) for a one-year term. Other board members include Air Canada President and CEO Calin Rovinescu, Qantas CEO Alan Joyce and Qatar Airways CEO Akbar Al Baker.
In March, SpiceJet became the first Indian low-cost carrier to take membership of the IATA, a grouping of around 290 airlines.
International Air Transport Association (IATA):
Formed on: 19 April 1945
Headquarters: Quebec, Canada
DG and CEO: Alexandre de Juniac
Membership: 290 airlines in 120 countries
IATA is a trade association of the world's airlines. IATA provides consulting and training services in many areas.
Assam govt hikes parental income limit under fee waiver to Rs 2 Lakhs - 03 Jun 19
Highlights:
Assam government increased the parent's annual income of students eligible for fee wavier scheme up to post graduation level from RS 1 Lakh to RS 2 Lakh.
It was announced by Assam education minister Siddhartha Bhattacharya.
The scheme does not apply for private colleges and universities in Assam.
Children of parents working in state and central government are not eligible.
Siddhartha Bhattacharya is a politician from the state of Assam.
He is a Cabinet Minister of Education of Assam
He is a Member of the Assam Legislative Assembly from Bharatiya Janata Party.
He is a National Spokesperson for the Bharatiya Janata Party for the North Eastern regio
Currently Chief Minister of Assam is Sarbananda Sonowal.
Governor - Jagdish Mukhi
CAG Rajiv Mehrishi elected External Auditor for WHO - 04 Jun 19
Highlights:
The Comptroller and Auditor General (CAG) of India Rajiv Mehrishi has been elected as external auditor of World Health Organization (WHO) for a period of four years from year 2020 to 2023.
CAG Rajiv Mehrishi was elected at 72nd World Health Assembly (WHA) held in Geneva, Switzerland on May 2019.
He will take over the charge from the Supreme Audit Institution of Philippines which is the incumbent External Auditor of WHO.
At 72nd WHA, CAG of India was elected with a majority of 90 votes out of 162 votes in first round of voting itself.
Apart from India others competing for elected position includes Auditors General of United Kingdom (UK) of Great Britain, Congo, France, Northern Ireland, Ghana and Tunisia.
Currently, CAG Mehrishi is also on the Board of Auditors of United Nations (UN) and Vice-Chair of the UN Panel of External Auditors (UNPEA).
India lost its spot as the worlds fastest growing economy to China - 04 Jun 19
Highlights:
India lost the world's fastest-growing economy title to China.
In the January-March quarter, India registered 6.3% whereas China recorded a growth of 6.4% in the March Quarter.
India had been ahead of China for two years.
The country's economic growth rate of India slowed to 5.8% during the fourth quarter of 2018-19 due to low agriculture and mining output along with subdued consumer demand.
India's economic growth driven by domestic consumption.
According to the government data, India's economy has grown at its slowest pace in almost five years.
Indian economy grew by 6.8% in the last financial year, with the GDP growing at 5.8% from the quarter of January-March.
The unemployment in the country reached a 45-year-high in the financial year 2017-2018.
Anton Aditya Subowo re-elected as President of Badminton Asia - 04 Jun 19
Highlights:
Indonesia's Anton Aditya Subowo was re-elected as the President of Badminton Asia.
He will continue as the President for another four years.
There was a close fight between Anton and Dato' Sri Mohamad Norza Zakaria (President of Badminton Association of Malaysia) for the post of Badminton Asia President.
There were seven other people who were selected as the vice-presidents of Badminton Asia.
The Badminton Association of India's president Himanta Biswa Sarma has also been elected as the vice-president.
Badminton Asia also got in a new Secretary-General in Moosa Nashid from the Maldives.
For the Treasurer's post, Jassem Kanso from Lebanon was re-elected to the position for another term.
Jassem also won the BWF Vice-President seat unopposed after Norza withdrew from contesting the post.
A total of 40 countries voted for the posts of President, Vice President, Treasurer and Secretary-General.
The people selected for the various posts are as follows:
President- Anton Aditya Subowo (Indonesia),
Vice-Presidents - Wang Wei (China), Kim Jong Soo (Korea), Tirta Juwana Darmadji (Indonesia), Chang Kuo-Tso (Chinese Taipei), Ali Almarri (Kuwait), Himanta Biswa Sarma (India), Sawsan Haji Mohammad Taqawi (Bahrain),
Secretary-General- Moosa Nashid (Maldives)
Treasurer- Jassem Kanso (Lebanon)
BWF Vice-President- Jassem Kanso (Lebanon)
Headquarters: Kuala Lumpur, Malaysia
ONGC became Indias most profitable public sector company - 04 Jun 19
Highlights:
Oil and Natural Gas Corp (ONGC), India's top oil and gas producer, has toppled Indian Oil Corp (IOC) to regain the crown of being the country's most profitable public sector company.
Oil and Natural Gas Corp (ONGC) reported a 34% jump in its 2018- 19 fiscal net profit to Rs.26,716 crore.
Whereas, IOC registered a net profit of Rs.17.274 crore for the fiscal year ended March 31, 2019.
ONGC, in the previous two financial years, had lost the most profitable PSU tag to IOC. With its refining margins under pressure due to falling oil prices, IOC had also lost the title of being India's largest company by turnover tag to billionaire Mukesh Ambani-led Reliance Industries in FY-2019.
Reliance has been India's most profitable company for the fourth year in a row.
Oil and Natural Gas Corporation (ONGC) was founded on 14 August 1956.

Headquarters: New Delhi, India
Chairman & MD: Shashi Shankar
Owner: Government Of India
OIC appoints Yousef Aldobeay as special envoy for Jammu and Kashmir - 05 Jun 19
Highlights:
The Organisation of Islamic Cooperation (OIC) has appointed Yousef Aldobeay of Saudi Arabia as its special envoy for Jammu and Kashmir.
The appointment was made during the 14th OIC summit held in Saudi Arabia's holy city of Makkah.
The summit was attended by several leaders of Muslim countries, including Pakistani Prime Minister Imran Khan.
The Summit reiterated the Conference's principled support for the legitimate right to self-determination of the people of Jammu and Kashmir in accordance with UN resolutions.
The OIC called for the adoption of a comprehensive strategy to combat Islamophobia, building on proposals made by Pakistan in the OIC Ministerial Executive Committee meeting in March 2019.
Imran Khan articulated Pakistan's views on the situation in Kashmir, Palestine, Islamophobia and the need for science, technology and innovation for Muslim countries.
The OIC is a 57-nation grouping which claims to be the collected voice of Muslims across the world.
One of its main aims is to preserve Islamic social and economic values and uphold international peace and security.
But some critics say it lacks real engagement and solutions for Muslim countries in crisis even as it made progress socially and academically.
International Day of Innocent Children Victims of Aggression is observed on 4 June - 05 Jun 19
Highlights:
The International Day of Innocent Children Victims of Aggression is a United Nations observance each 4 June. In 1997 The General Assembly adopted the 51/77 Resolution on the Rights of the Child.
It was established on 19 August 1982.
History:
Originally focused on victims of the 1982 Lebanon War. A large number of innocent Lebanese and Palestinian children being the victims of the aggression acts by Israel.
So, at its special emergency session on 19 August 1982, the members of the General Assembly of Palestine was shocked.
Therefore, the assembly decided to celebrate 4th June as the International Day of Innocent Children Victims of Aggression under the resolution ES-7/8.
UN's purpose expanded to acknowledge the pain suffered by children throughout the world who are the victims of physical, mental and emotional abuse.
This day affirms the UN's commitment to protect the rights of children.
It was a landmark development in efforts to improve the protection of children in conflict situations.
In recent years, the number of violations perpetrated against children have, in many conflict zones, increased.
More needs to be done to protect the 250 million children living in countries and areas affected by conflict.
More must be done to protect children from targeting by violent extremists, to promote international humanitarian and human rights law, and to ensure accountability for violations of the rights of children.
2030 Agenda for Sustainable Development:
The 2030 Agenda for Sustainable Development provides us with the universal masterplan to secure a better future for children.
The new agenda included for the first time a specific target to end all forms of violence against children, and ending the abuse, neglect, and exploitation of children are mainstreamed across several other violence-related targets.
National Security Adviser (NSA) Ajith Doval gets Cabinet rank with extension of Five more year - 05 Jun 19
Highlights:
National Security Adviser (NSA) Ajith Doval gets Cabinet rank with the extension of Five more year reappointed to the post for five more years and given Cabinet rank in the second term of the NDA government.
Government of India on Monday reappointed Doval as NSA and upgraded his position from Minister of State (MoS) rank
Doval, who was appointed as India's fifth NSA, played a crucial in ensuring the secure return of 46 Indian nursing bank who was appointed as India's fifth NSA.
Doval was widely credited along with the then Foreign Secretary S. Jaishankar and Indian Ambassador to China Vijay Keshav Gokhale, for resolving Doklam Standoff through diplomatic issues.
National Security Adviser (NSA):
He is the senior official on the National Security Council (NSC) of India, and the chief adviser to the Prime Minister of India on national and international security policy.
The National Security Advisor (India) is the most powerful bureaucrat in the Government of India.
Ajit Doval is the current NSA.
Nayib Bukele is elected as the new president of El Salvador - 05 Jun 19
Highlights:
Nayib Bukele is elected as the new president of El Salvador.
The 37 -year-old former mayor of San Salvador, who won more votes than all other candidates in the February presidential election, brought an end to a two-party system that has held sway over the country for three decades.
He pledged to cure the Central American country that he described as a "sick child" following years of violence and migration that has strained relations with the United States.
Nayib Bukele:A fact file
Bukele was born on July 24, 1981, in San Salvador.
The former mayor of El Salvador's capital Bukele made his political debut in 2012 as a small-town mayor with the now-ruling FMLN (Farabundo Marti National Liberation Front).
In 2017, Bukele was expelled from FMLN for "disrespecting" the rights of women.
His presidency breaks three decades of bipartisanship between the conservative Nationalist Republican Alliance (ARENA) and the outgoing Farabundo Marti National Liberation Front (FMLN).
Organisation of Islamic Cooperation (OIC) summit held at Mecca - 06 Jun 19
Highlights:
The 14th summit of the Organisation of Islamic Cooperation (OIC) held in Mecca, Saudi Arabia.
It was hosted by Saudi King Salman bin Abdul Aziz Al Saud.
The official agenda of the meeting was to address current issues in the Muslim world and recent developments in a number of OIC member states.
Also, amid soaring tension between Iran and the US and its Gulf allies the OIC summit discussed the regional security issues.
The Mecca summit supported Palestinians and backed Saudis in Iran standoff.
OIC holds an Islamic Summit once every three years at which heads of state discuss ways to achieve OIC's charter's objectives and make policy decisions that concern its member states.
OIC has permanent delegations to the UN and the European Union (EU)
What is OIC)?
The Organisation of Islamic Cooperation is an international organization founded in 1969, consisting of 57 member states, with a collective population of over 1.8 billion as of 2015 with 53 countries being Muslim-majority countries.
Secretary-General: Yousef Al-Othaimeen
Official languages: Arabic, English, French
It works to safeguard and protect the interests of the Muslim world in the spirit of promoting international peace and harmony.
Tripura to host 10th National Science Film Festival of India in 2020 - 06 Jun 19
Highlights:
The 10th National Science Film Festival of India (NSFFI) organized in Tripura in January and February 2020.
The NSF debuted in Chennai eight years ago in 2011.
It covered almost all regions of the country since then including Bhubaneshwar, Kolkata, Bangalore, Lucknow, Mumbai, Guwahati and Mohali.
This the second time the show will be held in a North Eastern city.
National Science Film Festival of India (NSFFI):
National Science Film Festival and Competition (Rashtriya Vigyan Chalchitra Mela) is organised by Vigyan Prasar.
The Indian Department of Science and Technology in collaboration with Jahangirabad Media Institute as a part of the Indian Science Congress 2011.
World Environment Day observed on 5 June - 06 Jun 19
Highlights:
World Environment Day (WED) is celebrated on the 5th of June every year.
It is the United Nation's principal vehicle for encouraging awareness and action for the protection of our environment.
The theme for 2019 is "Beat Air Pollution".
2019 host nation is China.
World Environment Day first started from 1974.
Approximately 7 million people worldwide die prematurely each year from air pollution, with about 4 million of these deaths occurring in Asia-Pacific.
Indian football star Sunil Chhetri becoming India's most-capped Player - 06 Jun 19
Highlights:
Former India skipper Bhaichung Bhutia congratulated Sunil Chhetri and became India's most capped international player with 108 appearances.
He overtook his mentor Bhutia's record of 107 matches and captained India in the King's Cup opener against Curacao.
He scored the goal for his side in the 31st minute from a spot kick for his 69th goal.
India ranked 101.
The 82nd ranked Caribbean island nation two players associated with English Premier League and some others in European leagues.
They scored three goals in the space of 18 minutes through Roly Bonevacia, Elson Hooi and Leandro Bacuna.
India will play with the losing team of the match between Thailand and Vietnam in the third-place play-off.
Bhaichung Bhutia playing current team: East Bengal F.C. (Forward)
Awards: Padma Shri, Arjuna Award for Football.
Prayuth Chan-ocha elected the Prime Minister of Thailand - 07 Jun 19
Highlights:
Prayuth Chan-ocha was elected the Prime Minister of Thailand in the recent election.
He was the one-time coup leader and incumbent Prime Minister, was again elected as the Prime Minister of Thailand by country's new Parliament on 5 June 2019.
He comfortably exceeded the 375-vote threshold in the two houses of parliament more than half of the 750-member parliament, needed to win the premiership.
Thailand's prime minister is chosen in a joint vote of the 500-seat House and the 250-seat Senate, whose members were appointed by the junta.
Prayuth is a former military general and had occupied the post of PM since he lead the military coup in 2014.
The vote officially restored civilian rule in Thailand after more than five years under the junta leader.
The 65-year-old retired general, who was nominated by a military-backed coalition led by the Palang Pracharath party, had been expected to keep his post under a new political system introduced by the junta, which critics say is meant to prolong the military dominance in Thai politics.
Thanathorn Juangroongruangkit, the leader of Thailand's progressive Future Forward Party, was Prayuth's sole opponent and represented an alliance of anti-military parties.
Sustainable Development Goals Gender Index:India ranks 95 - 07 Jun 19
Highlights:
India ranked 95th out of 129 countries in the Sustainable Development Goals Gender Index. India scored 56.2 on a scale of 0–100.
The index found that no country has fully achieved gender equality and that the global average score of 65.7 out of 100 which falls in the poor category.
Parameters:
SDG Gender Index a new index that measures global gender equality considering various parameters such as education, literacy, political representation, poverty, health, and equality at the workplace.
The SDG gender index included 51 indicators across 14 of the 17 official Sustainable Development Goals.
The list covered 129 countries across all regions of the world.
Denmark was ranked at the first place and Chad at 129th place.
China ranked at 74 position, Pakistan at 113 while Nepal and Bangladesh at 102 and 110 respectively.
The SDG Gender Index was developed by UK-based Equal Measures 2030 along with regional and global organisations including Asian-Pacific Resource and Research Centre for Women, African Women's Development and Communication Network, Bill and Melinda Gates Foundation, and International Women's Health Coalition.
India's highest goal scores in the Index are on SDG 3 of health where it secured 79.9, SDG 2 of hunger and nutrition with 76.2 and SDG 7 of energy with 71.8.
India's lowest goal scores in the SDG index are on SDG 17 of partnerships, the country scored 18.3, SDG 9 of industry, infrastructure and innovation with 38.1 and SDG 13 of climate with 43.4.
Top/Bottom 10 Countries in the Index:
The countries that secured the top 10 ranks are Denmark, Finland, Sweden, Norway, Netherlands, Slovenia, Germany, Canada, Ireland, and Australia.
The countries that secured the last 10 ranks are Sierra Leone, Liberia, Nigeria, Mali, Mauritania, Niger, Yemen, Congo, DR Congo, and Chad.
RBI cut interest rates by 25 basis points for the third time this year - 07 Jun 19
Highlights:
India's apex financial institution Reserve Bank of India (RBI) on 7 June 2019 cut interest rates by 25 basis points for the third time this year.
At 5.75% the Repo Rate is the lowest since the year 2010.
Due to lower inflation, huge availability of buffer food-grain stock, the Monetary Policy Committee (MPC) of the RBI on 7 June 2019 voted unanimously to bring down the Repo Rate from 6% to 5.75%.
This is the lowest Repo Rate since 2010.
Repo Rate is a tool of RBI to balance the monetary system time to time.
Delhi Metro Rail Corporation became the first in India to receive power from waste-to-energy - 07 Jun 19
Highlights:

Delhi Metro Rail Corporation project became the first in India to receive power from waste-to-energy.
From June 2019 the Delhi Metro Rail Corporation (DMRC) started receiving 2 MW power from a 12 MW capacity waste-to-energy plant set up in Ghazipur.
It thus became the first Indian project to receive power from waste-to-energy.
The plant will mitigate over 8 million tons of Greenhouse Gases (GHG) over the life of the project.
DMRC will take approximately 17.5 million units per annum from this plant. However, the energy offtake will depend upon the actual generation of the plant.
The waste-to-energy plant set up by East Delhi Waste Processing Company Limited (EDWPCL) is based on a Public Private Partnership (PPP) involving the Delhi government and East Delhi Municipal Corporation (EDMC), besides the EDWPCL.
The Delhi Metro has been working continuously towards the conservation of the environment since the inception of the organisation.
It is the first ever rail based organisation in the world to claim carbon credits.
The DMRC has also commissioned a facility at Rohini on PPP model with IL&FS Environmental Infrastructure & Services Ltd (IEISL) for recycling of Construction and Demolition (C&D) waste with a capacity of 150 tons per day.
Gujarat topped the country with annual fish production of 7.8 lakh tonnes - 08 Jun 19
Highlights:
According to the Central Marine Fisheries Research Institute (CMFRI),Gujarat topped the country with annual fish production of 7.8 lakh tonnes, followed by Tamil Nadu (7.02 lakh tonnes) and Kerala (6.43 lakh tonnes)
Kanniyakumari topped in the Tamil Nadu state annual fish production.
Ramanathapuram has emerged as the second topper in the Tamil Nadu state in annual fish production.
It has recorded 1.46 lakh tonnes during 2018.
Nagapattinam stands third highest fish production district to have recorded 91,186 tonnes. Thoothukudi stands fourth by recording 70,965 tonnes followed by Cuddalore (62,525 tonnes) and Chennai (55,707 tonnes).
The Central Marine Fisheries Research Institute (CMFRI) released the district wise marine fish landing data for the year 2018.
The Fisheries Resources Assessment Division (FRAD) of CMFRI had collected random sampling data across the state and finalized the provisional figure.
The data was collected by the fisheries department by employing the multi-stage cluster sampling method and the figures varied.
Fish export in 2018:
While Cuttlefish (Cephalopods), prawns, Pomfrets, crabs, and fishes belonging to the family of Percidae were exported, the protein-rich Sardines and Anchovies were sold in the local markets.
According to CMFRI report, the Fish production for the year 2018 was estimated at 3.49 million tonnes at the all India level.
Rajnath Singh to chair the Committee on Parliamentary Affairs - 08 Jun 19
Highlights:
Defence Minister Rajnath Singh is to chair the Cabinet Committee on Parliamentary Affairs in the second term of the NDA government.
Decisions on all the parliament matters will be taken by the Cabinet Committee on Parliamentary Affairs.
He was made a member of Cabinet Committee on Security and Cabinet Committee on Employment and Skill Development.
He is also a part of the Cabinet Committee on Political Affairs, the all-important panel on political affairs which is headed by Prime Minister Narendra Modi. All important political decisions in the ruling dispensation will be taken by the panel.
Apart from these 4 committees, he is also a member of the Cabinet Committee on Economic Affairs (CCEA) and the Cabinet Committee on Security (CCS). In total, he is now a part of six key panels of the government.
In the last government, Rajnath Singh headed the Cabinet Committee on Parliamentary Affairs.
Mumbai ranked first among 403 global cities in Traffic Index 2018 study - 08 Jun 19
Highlights:
An analysis of traffic congestion done in more than 400 cities across six continents has found that commuters in Mumbai spent the most time on the road last year.
Mumbai ranked first in the study, 'Traffic Index-2018', by location technology specialist TomTom, with a congestion level of 65%.
New Delhi ranked fourth with a congestion level of 58 %.
Mumbai held on to the top rank for the second consecutive year beating against Bogota (63 %), Lima (58 %) and Moscow (56%).
The overall study covered 403 cities in 56 countries and defined congestion as the extra time added to road travel when traffic doesn't flow freely.
The best time in Mumbai without any congestion would be 2 am and 5 am, when traffic flowed freely.
The peak hours between 8 am and 10 results in congestion of 80 percent, which shot up to 102 percent between 5 pm and 8 pm, when offices shut for the day.
August 21 considered as the worst day to be on the road bringing traffic movement to a complete standstill for the better part of the day leading to a congestion of 111 percent.
They suggested expanding the scope of the city's public transport network in order to provide end-to-end connectivity and businesses to provide flexible working hours to employees to ease traffic moving towards the suburbs.
Traffic Index 2018 is published by TomTom, an Amsterdam-based company that offers traffic solutions
It uses location technology to collect traffic information and publishes city rankings for eight years.
The latest index ranks 403 cities across 56 countries, including 13 new cities.
Muhammad Bande elected as the President of the 74th session UN General Assembly - 08 Jun 19
Highlights:
Nigeria's Ambassador to the UN Tijjani Muhammad-Bande, elected as the next President of the 74th session UN General Assembly.
He will succeed Maria Fernanda Espinosa.
The next General Assembly session will commence in September 2019.
UNGA rule states that the President of the 74th session of the General Assembly should be elected from among the African States.
In accordance with the rule, Muhammad-Bande has been elected.
He assumes charge as UNGA prepares to celebrate the 75th anniversary of its creation in 2020. India offered its support to Muhammad-Bande's candidature.
Muhammad-Bande was a former University professor.
The 74th session of UNGA will focus on high-level meetings which include the High-level Political Forum, the Secretary-General's Climate Summit, the high-level events on Universal Health Coverage, Financing for Development and the commemoration of Beijing+25, providing major opportunities to promote the implementation of the goals and targets.
United Nations General Assembly (UNGA): A fact File
It was formed in the year 1945.
Its Headquarters located at New York, United States.
It consists of total members 193.
President: Tijjani Muhammad-Bande
India's Permanent Representative to the UN is Syed Akbaruddin
French Open (Women)-2019: Ashleigh Barty won the women's singles title - 09 Jun 19
Highlights:
Ashleigh Barty former Australian woman cricketer on 8 June 2019 won the women's singles title of 2019 French Open.
The 23-year old Ashleigh Barty of Australia won the women's singles title of 2019 French Open as she defeated Marketa Vondrousova of Czech Republic in final by 6-1, 6-3.
It is worth mentioning that Ashleigh is a former cricketer and had registered with the Brisbane Heat for the inaugural Women's Big Bash League of Australia.
But in 2016 she returned back to tennis, her first love.
India to enhance its commitment to Sri Lanka - 09 Jun 19
Highlights:
India will enhance its commitment to Sri Lanka in the wake of the recent bomb attacks on churches and hotels that killed more than 250.
The announcement is made ahead of the visit of Indian Prime Minister Narendra Modi to Sri Lanka on June 8.
The PM will be visiting the Maldives also.
This will be his first foreign trip since winning a second term in power.
Currently, Sri Lanka's President is Maithripala Sirisena.
Prime Minister: Ranil Wickremesinghe
French Open (men) -2019: 's singles Rafael Nadal won his record 12th French Open title - 09 Jun 19
Highlights:
Rafael Nadal won his record 12th French Open title by defeating Dominic Thiem in the final of 2019 French Open men's singles final on 9 June 2019.
With this title win Nadal has now won 18 tennis Grand Slam titles.
Rafael Nadal (Spain) won his 18th tennis Grand Slam title as he defeated Austrian Dominic Thiem by 6-3, 5-7, 6-1 and 6-1 in the finals.
He is now just 2 titles behind Roger Federer's all time record of 20 Grand Slam titles.
This was Nadal's 12th French Open title, which is the highest by any men in the open era.
World Oceans Day is celebrated on 8th June - 09 Jun 19
Highlights:
World Oceans Day is celebrated on 8th June every year.
The day was declared in 2008. June 8 was marked as it marks the day when it was first proposed in 1992 by Canada's International Centre for Ocean Development (ICOD) and the Ocean Institute of Canada (OIC) at the Earth Summit, UN Conference on Environment and Development (UNCED) in Rio de Janeiro, Brazil.
The Conference supported the implementation of Sustainable Development Goal (SDG) 14 of the 2030 Agenda for Sustainable Development: Conserve and sustainably use the oceans, seas and marine resources for sustainable development.
Theme 2019:
The theme for the year 2019 is Gender and Oceans.
The theme is to build greater ocean and gender literacy and to discover possible ways to promote gender equality in ocean-related activities such as marine scientific research, fisheries, labour at sea, migration by sea and human trafficking, as well as policy-making and management.
The importance of gender equality is being recognized increasingly for the effective conservation and sustainable use of oceans, seas, and marine resources.
Yet very little data and researches are available on these issues. Serious action towards gender equality and the empowerment of women and girls is still needed in all ocean-related sectors to achieve Sustainable Development Goal 5.
María Fernanda Espinosa, the President of the General Assembly launched Play It Out which is a global campaign against plastic pollution.
Decades of overuse of single-use plastics has caused a huge menace to the marine lives.
13,000,000 tonnes of plastic leak into the ocean every year which kills 100,000 marine animals annually.
While most plastics are expected to remain intact for decades or centuries after use.
These plastics erode and ends up as micro-plastics, consumed by fish and other marine wildlife, quickly making their way into the global food chain.
Jnanpith Awarded Noted writer Girish Karnad passed away - 10 Jun 19
Highlights:
Noted writer, playwright, actor and intellectual Girish Karnad passed away at the age of 81 on 10 June 2019.
He was conferred the prestigious Jnanpith Award in1998.
Karnad was one of the most prominent theatre personalities of the 60s and 70s, a period regarded as the Renaissance of Indian theatre.
He was also a film director and actor.
He acted in films like Manthan, Swami, Nishant, Minsara Kanavu, Hey Ram, China Gate, Tiger Zinda Hai, Kadhalan among others. He directed films like Utsav, Tabbaliyu Neenade Magane and Kaadu.
He was also applauded for his acting in TV serial "Malgudi Days".
FIFA vice president Ahmad Ahmad arrested in France - 10 Jun 19
Highlights:
Jeune Afrique, the 59-year-old arrested at his hotel in Paris where global chiefs have gathered this week for FIFA's annual congress and the start of the Women's World Cup.
Former sports minister and current senator in Madagascar, Ahmad was elected president of the Confederation of African Football in 2017
His time in charge of the Egyptian-based organisation is subject of a FIFA ethics committee investigation.
He is related to bribery allegations linked to the 2017 switch CAF made from its German kit supplier Puma to French company Tactical Steel.
FIFA: A fact -file
President: Gianni Infantino Trending
Founded at: Paris, France
Membership: 211 national associations
Senior Vice-President: Salman Bin Ibrahim Al-Khalifa (AFC)
Secretary General: Fatma Samoura
Headquarters: Zürich, Switzerland
G20 Ministerial meeting on Trade and Digital Economy - 10 Jun 19
Highlights:
PM Narendra Modi reconstituted NITI Aayog - 11 Jun 19
China launches rocket from Yellow Sea platform for first time - 11 Jun 19
Highlights:
China has launched a rocket from a mobile platform at sea for the first time, sending five commercial satellites and two others containing experimental technology into space.
The Long March 11 rocket blasted off from a launch pad onboard a commercial ship in the Yellow Sea off the coast of Shandong province – the 306th Long March rocket launch, but the first one at sea.
China is the third country after the US and Russia to master sea launch technology.
Sea launches offer advantages such as the ability to position closer to the equator, requiring less fuel to reach orbit and thereby lowering overall launch costs.
It also reduces the possibility of damage on the ground from falling rocket debris.
The seaborne launch technology would meet the growing demand for launches of low inclination satellites.
China's space programme has developed rapidly, especially since it conducted its first crewed mission in 2003, becoming just the third country after Russia and the US to put humans into space using its own technology.
It has put two space stations into orbit and plans to launch a Mars rover in the mid-2020s.
Its space programme suffered a rare setback last year with the failed launch of a Long March 5 rocket.
Indian girl honoured in UAE for Green efforts. - 11 Jun 19
Highlights:
An 8 year old Indian origin student named Nia Tony was honoured during 22nd edition of Emirates Recycling Awards in Dubai, United Arab Emirates (UAE).

She won the award in the paper section in individual category for collecting a total of 14,914 kg of paper waste.

Ms. Tony was honoured with Eco Champions of Recycling award for her efforts in keeping the environment clean by collecting paper waste.

She collected nearly 15,000 kg of paper waste in Gulf's United Arab Emirate (UAE) as part of a nationwide recycling campaign.

She campaigned around her residency area to collect paper, so that it can be recycled. Every week, she used to go out for collecting newspapers, magazine and other paper that people threw away or didn't wanted to keep.

The campaign was organized by the Emirates Environmental Group (EEG), a non-governmental professional working group based in UAE.

The Emirates Recycling Awards were conducted to celebrate World Environment Day (observed on 5 June).

This eco-friendly drive in UAE was based on three categories- (1) corporations, (2) academic institutions and (3) individuals/families.

The materials that were collected during campaign included paper, plastic, glass, cans, mobiles, among other items.

Through this nationwide recycling campaign, EEG was able to reduce projected carbon emissions by about 73,393 metric tonnes.
VG Kannan headed the six-members committee to review the ATM interchange fee structure:RBI - 11 Jun 19
Highlights:
The RBI constituted a six-member committee to review the ATM interchange fee structure on 11 June 2019.
VG Kannan is heading this committee.
Currently,VG Kannan, Chief Executive, Indian Banks' Association, to review the ATM interchange fee structure.
The committee is expected to come up with recommendations to give a fillip to ATM deployment in unbanked areas.
The decision to form a committee tp review ATM interchange fee structure was taken at the seventh bi-monthly meet of RBI's Monetary Policy Committee increase ATM deployment in areas lacking in banking facilities.
Review Committee Members:
1. Dilip Asbe, Chief Executive Officer, National Payments Corporation of India.
2. Giri Kumar Nair, Chief General Manager, State Bank of India.
3. S Sampath Kumar, Group Head, Liability Products, HDFC Bank.
4. K Srinivas, Director, Confederation of ATM Industry.
5. Sanjeev Patel, Chief Executive Officer, Tata Communications Payment Solutions.
6. VG Kannan, Chief Executive, Indian Banks' Association(Head of the committee).
Functions:
The VG Kannan-led committee will examine the entire gamut of ATM charges and fees.
The panel will review the existing structures and patterns of costs, charges and interchange fees for ATM transactions; the overall patterns of usage of ATMs by cardholders and assess the impact, if any, on charges and interchange fees; assess the entire gamut of costs in respect of the ATM ecosystem; and make recommendations on the optimal charges and interchange fee structure and pattern.
The committee will submit its report within two months of its first meeting.
According to RBI guidelines, the savings bank account holders can make five free transactions in a calendar month after which they will be charged a particular amount for each transaction that varies from bank to bank.
Recently, the central bank has also abolished its charges for NEFT and RTGS money transfer systems in order to promote digital transactions.
Amitav Ghosh conferred with the 54th Jnanpith Award for 2018 - 12 Jun 19
Highlights:
Ace Indian writer Amitav Ghosh was on 12 June 2019 conferred with the 54th Jnanpith Award for 2018.
He was awarded by ex-West Bengal Governor Gopalkrishna Gandhi in Delhi.
He became the first Indian writer in English to win the award.
The award is often regarded as the most prestigious and highest literary award in the country.
The Jnanpith Award is an Indian literary award presented annually by the Bharatiya Jnanpith to an author for their outstanding contribution towards literature,instituted in 1961.
The award is bestowed only on Indian writers writing in Indian languages included in the Eighth Schedule to the Constitution of India and English, with no posthumous conferral.
The first recipient of the award was the Malayalam writer G. Sankara Kurup who received the award in 1965.
India's first Dinosaur Museum and Fossil Park was opened in Gujarat - 12 Jun 19
Highlights:
India's first Dinosaur Museum and Fossil Park was opened in Gujarat's Mahisagar district's Raiyoli village,recently.
This is third such facility in the world
Spread across 72 acres, the park showcases fossilised remains of dinosaurs in the natural form.
The museum has 10 galleries showcasing the evolution and extinction of dinosaurs.
The museum, which is located in Raiyoli area in Balasinor, will exhibit remains of various dinosaurs and fossil records.
It is being claimed that Dinosaur Museum cum Park is the first such park in the country and the world's third park.
Raiyoli area is known to be the third largest dinosaur fossil site in the world, and also the second largest dinosaur hatchery in the world, where thousands of eggs had been found.
This dinosaur museum was equipped with modern technology like 3D projection, virtual reality presentations, interactive kiosks and life-size dinosaur replicas.
The state government has announced that Rs. 10 crore will be allocated to promote the site internationally.
Cabinet approved the setting up of Defence Space Research Agency (DSRO) - 12 Jun 19
Highlights:
The Cabinet Committee on Security headed by Prime Minister Narendra Modi has approved the setting up of Defence Space Research Agency (DSRO), a new agency, which will develop sophisticated weapon systems.
The approval aimed to To enhance the capabilities of the armed forces to fight wars in space.
The agency will be headed by a Joint Secretary-level scientist. DSRO would constitute a team of scientists which would be working in close coordination with the tri-services integrated Defence staff officers.
DSRO will be entrusted with the task of creating space warfare weapon systems and technologies.
It would provide the research and development support to the Defence Space Agency (DSA).
DSA: A fact-file
Defence Space Agency (DSA)will constitute of members from the three services.
The aim of setting up of DSA is to help the country fight wars in the space.
DSA is being set up under an Air Vice Marshal-rank officer in Bengaluru.
It will be gradually taking over the space-related capabilities of the three forces.
RBI infuse Rs.15,000 crore into financial system through the purchase of government bonds - 12 Jun 19
Highlights:
The Reserve Bank of India is to infuse Rs.15,000 crore into the financial system through bond purchases on June 13.
RBI made the decision after assessing of prevailing liquidity conditions and also of the durable liquidity needs that are going forward.
RBI uses Open Market Operations (OMO) for injecting liquidity into the system through the purchase of government bonds (G-sec).
Therefore, RBI is to conduct the purchase of six G-sec under OMOs through multi-security auction using multiple price method.
What is G-Sec?
A government security (G-Sec) is a debt obligation of the Indian government to fund their fiscal deficit.
The securities are tradable. G-sec is issued either by the central or the state government. They are offered for short term as well as long term.
Multiple price-auction:
In a multiple price-auction each successful bidder should pay the price stated bu the player himself.
But, in case of uniform price auctions, all successful bidders should pay the cut-off price, that is, the same price at which the market clears the issue.
Open Market Operations:
Open market operations (OMO) refers to the buying and selling of government securities by the central bank, RBI in case of India, in the open market in order to contract or expand the amount of money in the banking system.
The purchase of the securities will inject money into the banking system and stimulate growth, while sales of securities do the opposite and contract the economy.
International Day Against Child Labour observed on June 12 - 12 Jun 19
Highlights:
International Labour Organization (ILO) started to celebrate World Day Against Child Labour in 2002
Its prime aim is to focus attention on the global extent of child labour and the action and efforts needed to eliminate it.
The 2019 theme is Children shouldn't work in fields, but on dreams!
The day brings government employers and workers organizations, civil society, as well as millions of people from around the world to highlight the plight of child labourers.
Sustainable Development Goals (SDGs) adopted by world leaders in 2015 to include a renewed global commitment to ending child labour.
Sustainable Development Goals and effective measures are take-ups in order to eradicate forced labour, end modern slavery and human trafficking and secure the prohibition and elimination of the worst forms of child labour includes use of child labours by the year 2025 and to end child labour in all its forms.
ILO celebrates 100 years of advancing social justice.
The protection of children embedded in the ILO's Constitution (Preamble). One of the first Conventions adopted by the ILO was on Minimum Age in Industry (No. 5, 1919).
8.7 target set by the international community calling for an end to child labour in all its forms by 2025.
World Day Against Child Labour
The day is observed by UN, International Labour Organization annually.
It is called as WDACL.
Tokayev sworn in as the President of Kazakhstan - 13 Jun 19
Highlights:
Kassym-Jomart Tokayev has sworn in as the President of Kazakhstan.
He was the interim president and hand-picked successor of Nursultan Nazarbayev.
He won the election, which was held on 9 June, with 70.96% of the vote which was contested against six government-approved candidates.
Tokayev presidency aims to continue Nazarbayev's policies aimed at improving the well-being of the people.
He succeeded Nursultan Nazarbayev, who announced his resignation in March after 30 years in power.
This is the first time Kazakhstan gets its new president since the collapse of the Soviet Union.
Amazon clinches top spot in the world's most valuable brand ranking - 13 Jun 19
Highlights:
Amazon: A fact-file
Founder: Jeff Bezos
Headquarters: Seattle, Washington, U.S.
Services: Amazon.com, Amazon Alexa, Amazon Appstore, Amazon MusicAmazon PrimeAmazon Video
Revenue: US$232.887 billion - 2018
BJP MP Virendra Kumar to be pro-tem speaker of Lok Sabha - 13 Jun 19
Highlights:
Virendra Kumar, a seven-time MP from Tikamgarh in Madhya Pradesh chosen as the pro tem speaker of the 17th Lok Sabha.
He was MoS in the ministry of women and child development He was also in the minority affairs ministry in the previous government.
He is likely to be administered the oath of office at the Rashtrapati Bhavan on June 17, the day where newly elected Lok Sabha commences its first session.
On the first two days, the new MPs will take the oath.
The election for the speaker will be on June 19.
He was elected to the 11th Lok Sabha for the first time in 1996.
He became a member of the Standing Committee on Labour and Welfare.
He served as a member and chairman of various committees.
He studied a Ph.D. started his political career in 1977
He became the convener of Akhil Bharatiya Vidyarthi Parishad (ABVP), Sagar district, Madhya Pradesh.
He served a prison sentence of 16 months under the Maintenance of Internal Security Act (MISA) in protest against the imposition of Emergency when he was associated with RSS.
He was a minister of state in the previous Modi government.
Who is Pro Term Speaker?
After the general election and formation of a new government, a list of senior Lok Sabha members prepared by the Legislative Section is submitted to the Minister of Parliamentary Affairs
He who selects a pro term speaker.
The appointment should be approved by the President.
Thawarchand Gehlot appointed the Leader of House in the Rajya Sabha - 13 Jun 19
Highlights:
Senior BJP leader Thawarchand Gehlot was appointed as the Leader of House in the Rajya Sabha.
He replaced former Union Minister Arun Jaitley as he had requested to step down from key positions in view of his health.
Gehlot represented the Shajapur Lok Sabha seat between 1996 and 2009.
He became a Rajya Sabha member in 2012 and was re-elected to the Upper House of Parliament from Madhya Pradesh in 2018.
The Rajya Sabha :
The Rajya Sabha or Council of States is the upper house of the bicameral Parliament of India.
It currently has a maximum membership of 245, of which 233 are elected by the legislatures of the states and union territories using single transferable votes through Open Ballot while the President can appoint 12 members for their contributions to art, literature, science, and social services.
Members sit for staggered terms lasting six years, with elections every year but almost a third of the 233 designates up for election every two years, specifically in even-numbered years
The Vice President of India (currently, Venkaiah Naidu) is the ex-officio Chairman of the Rajya Sabha, who presides over its sessions.
The Deputy Chairman, who is elected from amongst the house's members, takes care of the day-to-day matters of the house in the absence of the Chairman.
It is a permanent house.
Toronto Raptors the first-ever Canadian team to win the National Basketball Association(NBA) - 14 Jun 19
Highlights:
Toronto Raptors team became the first-ever Canadian team to win the National Basketball Association (NBA) title.
Toronto Raptors created history as they clinched their maiden NBA championship title with a 114-110 victory over defending champions Golden State Warriors in the Game 6 on 13 June 2019.
With this win the team became the first-ever Canadian team to win the NBA title.
Raptors forward Kawhi Leonard was named the NBA Finals Most Valuable Player.
It is noted that, Toronto Raptors are the lone Canadian team in the NBA.
Govt sets target of providing clean drinking water to all by 2024 - 14 Jun 19
Highlights:
The Centre has set a target of providing clean drinking water to all by 2024.
The government is formulating a plan to provide clean drinking water to nearly 14 crore households.
The prime minister has set a target and our party manifesto talks about providing clean drinking water by 2024.
There are nearly 14 crore households where clean drinking water is yet to reach.
Prime Minister Narendra Modi, during his poll campaign, had promised to integrate all ministries that look after water-related issues into one ministry.
The BJP had also promised to provide clean drinking water to all households in the country.
In states like Uttar Pradesh, Bihar, West Bengal, Chhattisgarh, Jharkhand and Odisha, the coverage of clean drinking water is less than 5%.
Shekhawat held discussions with officials and ministers from several states looking after water-related issues.
An emphasis will also be made on water conservation, citing the widening gap between water supply and demand.
Presently, the Union Jal Shakti Minister is Gajendra Singh Shekhawat.
Priyanka Chopra confers UNICEF for Danny Kaye Humanitarian Award - 14 Jun 19
Highlights:
Actress Priyanka Chopra will be awarded Danny Kaye Humanitarian Award by United Nations International Children's Fund's (UNICEF) American chapter at their Snowflake Ball in December 2019.
She is known for her contribution to social causes and for being a voice for children's education.
She is a UNICEF Goodwill Ambassador and most recently she visited Ethiopia as part of it.
She also has been a part of United Nation's global "Girl Up" Campaign.
She is also associated with several NGOs in India to raise awareness about ways to improve the education, health and safety of girl child in India.
UNICEF was established in 1946 to provide relief to children in countries devastated by World War II.
It is headquartered in New York City, United States.
Danny Kaye Humanitarian Award is named after actor-philanthropist Danny Kaye.
He was an American actor, singer, dancer, comedian, musician, and and philanthropist.
He was UNICEF's first Goodwill Ambassador in 1954.
India test fires Hypersonic Technology Demonstrator Vehicle - 14 Jun 19
Highlights:
India successfully test-fired Hypersonic Technology Demonstrator Vehicle (HSTDV) off Odisha coast.
It was test-fired from launch pad number-4 of Integrated Test Range (ITR) at Abdul Kalam Island in Balasore district at 11.22 a.m.
With scramjet engine, it can cruise at Mach 6 and have multiple civilian applications.
It can be used for launching satellites at low cost and long-range cruise missile.
The trial was conducted in the presence of the senior scientists of the Defence Research and Development Organisation (DRDO) and Defence secretary Sanjay Mitra.
The HSTDV is an unmanned scramjet demonstration aircraft.
It is designed to cruise at Mach 6 speed with scramjet engine.
In 2008, DRDO stated that through HSTDV project idea was to demonstrate performance of a scram-jet engine at an altitude of 15 km to 20 km, is on.
Thus under this project, DRDO developed a hypersonic vehicle that will be be powered by a scram-jet engine.
The HSDTV was supposed to fire and fly on its own after being carried to an altitude of around 30-40 km by solid rocket motor of an Agni-I ballistic ballistic missile in test but after launch, Agni-I booster went into an uncontrolled mode and could not achieve desired altitude.
Shanghai Cooperation Organisation (SCO) held at Bishkek in Kyrgyzstan - 15 Jun 19
Highlights:
The 2-day Summit meet of the Shanghai Cooperation Organisation (SCO) was held on 14 and 15 June 2019 at Bishkek in Kyrgyzstan.
Indian Prime Minister Narendra Modi represented India at the summit.
In the inaugural event Modi raised the issue of terrorism in the region in an apparent message to Pakistan.
The Indian PM raised the issue of terrorism in the meet.
SCO is a political, economic and security organisation of 8 Eurasian countries and it came into existence on 2001 in China's Shanghai.
The members of SCO include China, Russia, Kazakhstan, Uzbekistan, Kyrgyzstan, Tajikistan, India and Pakistan.
Suman Rao crowned Femina Miss India Pageant 2019 - 15 Jun 19
Highlights:
Suman Rao an Indian model was crowned Miss India 2019 at the 56th Femina Miss India pageant held on 15 June 2019.
Suman Rao, a CA aspirant from Rajasthan.
Sanjana Vij of Telangana was runner-up, while Bihar's Shreya Shanker was crowned Miss India United Continents 2019.
Suman Rao was born 23 November 1998.
She will represent India at Miss World 2019 pageant to be held in Pattaya, Thailand on 7 December 2019.
Muzzafarpur district of Bihar severely affected with the Acute Encephalitis Syndrome (AES) - 15 Jun 19
Highlights:
Muzzafarpur district of Bihar was severely affected with the Acute Encephalitis Syndrome (AES) resulting in the death of over 100 children by 15 June 2019.
The outbreak of summer always comes with AES threat. This year too, the disease has affected 222 blocks in 12 districts, especially in Muzaffarpur, Vaishali, Sheohar and East Champaran.
What is AES?
Encephalitis is a viral infection that causes mild flu-like symptoms such as fever, convulsions and headaches.
Since the 1990s, Muzaffarpur has recorded a large number of child deaths, majority of the victims less than 10 years of age and all from poor families, in the months just before the monsoon.
Locally known as chamki fever, because it triggers convulsions, the sickness occurs within an identified timeline with June always being the worse month.

AES affects central nervous system, mostly in children, starting with high fever. It then disrupts neurological functions causing mental disorientation, seizure , coma and death.

Ironically, what causes AES is still not known.
This syndrome is very complex and the exact cause of it is yet to be determined.
It is shocking that the syndrome that preys on the malnourished kids with low immunity, which first surfaced in Bihar's Muzaffarpur district in 1994, is yet to be identified.
Encephalitis is a viral infection that causes mild flu-like symptoms such as fever, convulsions and headaches.
Poet and lyricist Pazhavila Ramesan passed away - 15 Jun 19
Highlights:
Poet and lyricist Pazhavila Ramesan passed away on 13 June 2019 at Thiruvananthapuram. He was 83. He was ailing for some time.
Ramesan had received the 2017 Kerala Sahithya Akademi award for overall contributions.
He wrote lyrics for Malayalam movies such as Njattadi, Aashamsakalode, Uncle Bun, Malootty, and Vasudha.
He was co-editor of K. Balakrishnan's Kaumudi Weekly in the sixties.
He worked at the State Institute of Languages in various capacities till 1993.

He is a recipient of various awards, Ramesan brought out poetry collections such as Mazhayude Jalakam, Njan Ente Kadukalelikku, and Pazhavila Ramesante Kavithakal, besides collections of his writings such as Ormayude Varthamanam, Mayatha Varakal, and Nervara.
Peter Gilchrist won the 2019 Pacific International Billiards Championship - 16 Jun 19
Highlights:
Peter Gilchrist won the 2019 Pacific International Billiards Championship at the Yarraville Club in Melbourne, Australia.
Peter Gilchrist defeated Kolkata cueist Kothari who had been on a roll winning the International Reventon Classic Snooker championship, a triple crown event of Australia and thereafter went on to display some outstanding billiards en-route the final.
Peter Gilchrist: A fact file
Peter Gilchrist is an English-born Singaporean English billiards player.
He has won the WPBSA World Championships in 1994, 2001 and in 2013.
He has also represented Singapore in the SEA Games in 2009, where he won Gold for English Billiards Singles, and Bronze for the doubles.
He also set the world record for highest break in billiards (1346) under modern rules, at the New Zealand Open Billiards Championships.
In 2014, he scored his second 1000 break at the World Billiards Irish Open.
He is the only player of the modern era who scored more than one 1000 points in tournament break.
Virat Kohli is the only Indian in the list of top paid athlete - 16 Jun 19
Highlights:
Indian cricketer Virat Kohli is the only Indian in the Forbes list of world's highest-paid athletes. He has been estimated with an annual earnings of $25 million.
According to the report, his earnings are $21 million from endorsements and USD 4 million from salary and winnings for the last 12 months.
Kholi, the Indian captain, has dropped 17 spots to be 100th in the rankings despite an increase of $1 million in endorsements.
He was ranked 83rd in 2018.
The list is topped by Barcelona and Argentina football superstar Lionel Messi.
Retired boxer Floyd Mayweather has been dethroned by Messi as the sports world's highest earner, raking in $127 million via salary and endorsement deals.
Messi's long-time rival Cristiano Ronaldo, the Juventus and Portugal star is second with earnings of $109 million.
The 16th Asia Media Summit was successfully concluded in Cambodia - 16 Jun 19
Highlights:
The 16th Asia Media Summit was concluded on 13 June in Cambodia.
The summit called for regulation-making to fight against fake news and cyber-crimes.
The theme of the summit was Media Digitalisation - Focusing on Developing Markets.
The summit was organised by Cambodian Ministry of Information and the Asia-Pacific Institute for Broadcasting Development (AIBD).
Participants: Around 600 media representatives from 42 countries and regions participated in the two-day summit.
The summit focused on the spread of disinformation or fake news and its impact on governments, media, private sector and society.
The discussions included the concerns caused by digital media, which requires relevant authorities to make regulations to anti-cybercrimes, fake news, and training people to raise awareness and enhance media profession.
The summit encouraged the broadcasters and other media stakeholders to counter fake news by strengthening law enforcement, ethics and professionalism.
During the summit Angkor Fake News Initiative was launched.
It is year-long research project to find out appropriate measures to counter fake news.
It was urged that fake news and cyber-crimes pose severe risks to individual's right and security in the region as well as in the globe.
Asia Media Summit:
Asia Media Summit was established in 2004 in Kuala Lumpur, Malaysia.
The summit was held subsequently in Malaysia until 2008.
The sixth round of the meeting was moved to Macau of China in 2009. It was then held in Indonesia, Thailand, Vietnam, Saudi Arabia, India and Cambodia in the following years.
It provides opportunity for media practitioners, industry leaders, broadcasters, researchers, academia, experts and media policy makers to meet and discuss the developing media's quality and high technological revolution.
Global Peace Index - 2019:India ranks 141st - 16 Jun 19
Highlights:
According to the Institute for Economics & Peace,Iceland topped the Global Peace Index 2019 rankings.
Since 2008, Iceland holds the most peaceful country in the world.
India ranked 141 among 163 countries. In 2018, India ranked at 136th among 163 countries.
Afghanistan ranked as the least peaceful country in the world. Th has replaced Syria, which is now the second least peaceful
Parameters:
The Australian think tank ranked countries according to their level of peacefulness.
The analysis were based on three major domains:
1) the level of societal safety and security
2) the extent of ongoing domestic and international conflict
3) the degree of militarization
Top/Bottom 5 countries:
The top five countries in the list are Iceland, New Zealand, Austria, Portugal, and Denmark.
The least 5 peaceful countries in the list are Iraq, Yemen, South Sudan, Syria and Afghanistan (ranked the least) remains the world's least peaceful counties.
The report highlighted that India, Philippines, Japan, Bangladesh, Myanmar, China, Indonesia, Vietnam and Pakistan are the nine countries with the highest risk of multiple climate hazards.
In the overall natural hazard score, India stands 7th highest.
The top 5 countries with the largest total military expenditure are India, the US, China, Saudi Arabia, and Russia.
Bhutan topped the index with 15th rank, followed by Sri Lanka 72nd rank, Nepal 76th rank and Bangladesh stood 101th among the South Asian countries. Pakistan has been ranked 153rd on the index.
Adhir Ranjan Chowdhury chosen as Congress party's leader in the Lok Sabha - 17 Jun 19
Highlights:
Adhir Ranjan Chowdhury was selected as main Indian opposition party Congress' leader in the Lok Sabha.
Adhir Ranjan Chowdhury, a 5-time Congress Lok Sabha MP from West Bengal.
Mallikarjun Kharge was the leader of the Congress in the previous Lok Sabha but he lost the election this time.
Chowdhury currently represents the Berhampore Lok Sabha constituency in Murshidabad district of West Bengal.
It is worth mentioning that the Congress failed to secure the post of Leader of Opposition in the Lok Sabha as it did not get the requisite 10% seats in the House required for the post.
Adhir Ranjan Chowdhury chosen as Congress party's leader in the Lok Sabha - 17 Jun 19
Highlights:
Adhir Ranjan Chowdhury was selected as main Indian opposition party Congress' leader in the Lok Sabha.
Adhir Ranjan Chowdhury, a 5-time Congress Lok Sabha MP from West Bengal.
Mallikarjun Kharge was the leader of the Congress in the previous Lok Sabha but he lost the election this time.
Chowdhury currently represents the Berhampore Lok Sabha constituency in Murshidabad district of West Bengal.
It is worth mentioning that the Congress failed to secure the post of Leader of Opposition in the Lok Sabha as it did not get the requisite 10% seats in the House required for the post.
Former Egyptian President Mohamed Morsi died in a court - 17 Jun 19
Highlights:
Former Egyptian President Mohamed Morsi died on 17 June 2019 after collapsing in a court while on trial for espionage charges.
He headed Muslim Brotherhood Islamist movement (now-banned) when he became the first democratically elected head of state in Egypt's modern history.
Mohamed Morsi served as the fifth President of Egypt, from 30 June 2012 to 3 July 2013.
He was the first democratically elected head of state in Egypt's modern history.
Morsi was part of the Muslim Brotherhood movement and led his party – Freedom and Justice Party in 2012 Presidential elections.
However, his elected government was ousted in a military coup in 2013.
Airline IndiGo to have placed a $20-billion order for aircraft engines from CFM International - 17 Jun 19
Highlights:
Leading Indian budget airline IndiGo has announced to have placed a $20-billion order for aircraft engines from CFM International company, which is the largest ever single engine order in airline history.
IndiGo on 17 June 2019 announced it has placed the order for LEAP-1A engines with French-US engine maker CFM International to power its future fleet of 280 Airbus A320-family jetliners.
This is the largest ever single engine order in history.
It is worth mentioning that with this order IndiGo has moved away from Pratt & Whitney (P&W) engines following a series of glitches that grounded several of its planes and delayed aircraft deliveries, disrupting operations.
Sri Lanka's first satellite Raavana-1 was successfully launched into orbit - 18 Jun 19
Highlights:
Sri Lanka's first satellite Raavana-1 was successfully launched into orbit.
'Raavana-1', designed and developed by two Sri Lankan engineer.
It was released into orbit from the International Space Station (ISS) on 17 June 2019.
It was launched from Earth on 18 April 2019.
The satellite is expected to fulfill five missions including capturing pictures of Sri Lanka and surrounding regions.
Designed for a minimum lifespan of 1.5 years, Raavana-1 is expected to be active for about five years.
Scientists create history; install world's highest weather station at Mount Everest's Death Zone - 18 Jun 19
Highlights:
Climate scientists have created a history by installing world's highest operating weather station at Mount Everest's Death Zone, including five other automated stations on other parts of the mountain.
Tom Matthews and Baker Perry, along with a crew of engineers, stood on the Mount Everest's flank at 27,650 feet (8,430 metres), and erected seven-foot- building of a weather station that can withstand extreme winds and cold weather.
The weather station will record data on temperature, relative humidity, barometric pressure, wind speed, and wind direction.
Besides, the new weather stations will also give scientists direct observations to understand jet stream, and will also help understand how the climate change is affecting the Himalayas.
The other five weather stations that are located in the Mount Everest are in Balcony area (8,430 m), South Col (7,945m) at Phortse (3,810 m), Everest Base Camp (5,315 m) and Camp 2 (6,464 m).
The National Geographic Society has worked in partnership with Tribhuvan University, the Nepal government, and received funds from Rolex to launch the two-month expedition involving over 30 scientists, added the magazine.
The team members from eight countries, including 17 Nepali researchers, the expedition team conducted trailblazing research in biology, glaciology, meteorology, geology and mapping to understand environmental changes and their impacts.
Danish economist Inger Andersen chosen as new UN environment chief - 18 Jun 19
Highlights: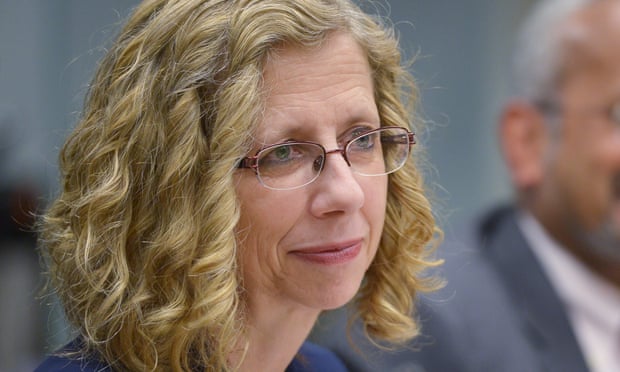 Inger Andersen expected to replace Erik Solheim, who quit amid travel expenses outcry
The UN secretary-general has picked the Danish economist and environmentalist Inger Andersen as its new environment chief.
Andersen, who heads the International Union for Conservation of Nature (IUCN) group of governments and civil society organisations, is set to succeed Erik Solheim of Norway, who resigned in November amid an outcry over his huge travel expenses.
Her nomination as head of the Nairobi-based UN environment programme (UNEP) will be submitted to the general assembly for approval.
Andersen, 60, has also served as the World Bank vice-president for the Middle East and north Africa and worked at the UN for 15 years on water and environment issues.
Andersen will takethe helm at UNEP after Solheim's scandal-racked tenure.
Andersen's nomination comes amid a push by Guterres to appoint more women to senior UN posts. The UN chief is also preparing a major climate summit in September to push for international action to confront global warming.
India to host UN meet on land degradation in September - 18 Jun 19
Highlights:
India for the first time will host the 14th session of the Conference of Parties (COP-14) of the United Nations Convention to Combat Desertification (UNCCD) in September.
It will see participation from at least 5,000 delegates from nearly 197 countries and will be held between September 2 and 14 in Delhi.
Ahead of the COP-14, Mr. Javadekar launched a flagship project, part of a larger international initiative called the Bonn Challenge, to enhance India's capacity for forest landscape restoration (FLR).
Building capacity:
It will be implemented during a pilot phase of three-and-a-half years in Haryana, Madhya Pradesh, Maharashtra, Nagaland and Karnataka.
The project will aim to develop and adapt the best practices and monitoring protocols for the country, and build capacity within the five pilot States.
This will eventually be scaled up across the country, Saibal Dasgupta, a senior official in the Forest Division of the Union Environment Ministry.
India faces a severe problem of land degradation, or soil becoming unfit for cultivation.
A 2016 report by the Indian Space Research Organisation found that about 29% of India's land (in 2011-13) was degraded, this being a 0.57% increase from 2003-05.
At the previous edition of the COP, India had committed to restore 13 million hectares of degraded and deforested land by the year 2020, and an additional 8 million hectares by 2030.
The Bonn Challenge is a global effort to bring 150 million hectares of the world's deforested and degraded land under restoration by 2020, and 350 million hectares by 2030.
The United Nations has three major Conventions: the United Nations Framework Convention on Climate Change (UNFCCC), the Convention on Biological Diversity (CBD) and the United Nations Convention to Combat Desertification (UNCCD).
Established in 1994, the UNCCD is the only legally binding international agreement linking environment and development issues to the land agenda.
One of the primary functions of the COP is to review reports submitted by the Country Parties, detailing how they are carrying out their commitments.
India will takeover the COP presidency from China for two years until the next COP in 2021.
Om Birla unanimously elected as 17th Lok Sabha Speaker - 19 Jun 19
Highlights:
Om Birla has been unanimously elected the Lok Sabha Speaker for the 17th Lok Sabha on 19 June 2019, a day after he was nominated for the post by the BJP.
Om Birla, a two-term BJP Lok Sabha MP from Kota (Rajasthan) and a 3-time MLA from Kota South assembly.
A day later on 19 June 2019 he was unanimously elected for the post as Prime Minister Narendra Modi formally nominated him.
He received support of all political parties.
Birla was declared elected as speaker by pro-tem Speaker Virendra Kumar.
His candidature as the Speaker was supported by all major parties including Congress, TMC, DMK and BJD.
A total of 13 motions were moved in support of Om Birla as the Speaker.
NITI Aayog proposed that only electric vehicles should be sold after 2030 - 19 Jun 19
Highlights:
NITI Aayog, the government's think tank, has proposed that only electric vehicles should be sold after 2030. The move is to expand the scope of the clean fuel technology beyond two- and three-wheelers
It also seeks to fix responsibility for different ministries.
It had asked the Ministry of road transport and highways to prepare a framework to phase out the sale of diesel and petrol vehicles by 2030.
It has also suggested that the ministry to roll out an e-highways programme, with an overhead electricity network, to enable plying of trucks and buses on select National Highways.
It directed the Ministry of Heavy Industries to go for complete replacement of all diesel/ petrol vehicles with EVs of all central ministries, agencies and public sector by 2030.
The proposals are part of the plan to manufacture 50 Gigawatt hour (GWh) batteries by 2030.
Earlier, a panel headed by NITI Aayog CEO Amitabh Kant had suggested that only electric-powered three-wheelers and two-wheelers with an engine capacity of up to 150 cc should be sold from 2025.
World Bank agreed a loan agreement of USD 518 million to Pakistan for reforms - 19 Jun 19
Highlights:
The World Bank has agreed a loan agreement of $518 million to Pakistan for reforms to enhance tax revenues and reduce compliance cost to provide better services to the public.
The bank approved $400 million loan for the Federal Board of Revenue (FBR) to increase its tax to gross domestic product ratio from 13% to 17% and enhance the number of income tax return filers, among other reforms.
The other $118 million will go to revenue mobilization and public resource management project of the country's northwest Khyber Pakhtunkhwa province to increase its capacity for revenue collection and the management of the province's resources.
Aim of the agreement:
The project aims to simplify the tax regime and strengthen the tax and customs administration. It will also support the FBR with technology and digital infrastructure and technical skills.
This will enable more effective use of taxpayer information and more targeted compliance as there are only 18 lakh people file income tax returns.
World Bank's Report:
World Bank said that Pakistan's revenue performance has improved significantly to 12.9% in fiscal year 2017-2018 against 9.5% of GDP in fiscal year 2011-2012 owing to tax policy measures.
This is still lower than the level needed by developing countries, of at least 15% of GDP, to fund basic government functions and provide services to people.
India is set to overtake China as the most populous country by 2027: UNO Report - 19 Jun 19
Highlights:
United Nations report said that India is set to overtake China as the most populous country by 2027. India will have almost 1.64 billion inhabitants by 2050.
South Asia's opportunity to reap the demographic dividend will peak by 2047.
According to the World Population Prospects 2019 report India is expected to have the largest national increase in the world by 2050.
China, on the other hand, is expected to become smaller, dropping from its current 1.43 billion people to approximately 1.4 billion by 2050.
However, while India may have the highest absolute increase in numbers, its rate of growth is slowing.
The Central and the Southern Asia region, of which India is a part, is expected to see a 25% increase in population between now and 2050.
Finance Minister Nirmala Sitharaman chairs the 20th Meeting of the FSDC in New Delhi - 20 Jun 19
Highlights:
Union Minister of Finance and Corporate Affairs chaired the 20th Meeting of the Financial Stability and Development Council (FSDC) held in New Delhi.
It was attended by senior officers of the Government of India and the Financial Sector Regulators.
The meeting reviewed the current global and domestic economic situation and financial stability issues including those concerning Banking and NBFCs.
About Financial Stability and Development Council
Financial Stability and Development Council (FSDC) is an apex-level body constituted by the government of India.
It is super regulatory body was first mooted by the Raghuram Rajan Committee in 2008.
Finance Minister of India, Pranab Mukherjee set an autonomous body dealing with financial regularities in the entire financial sector of India.
WHO launched a new tool to handle AMR named - 20 Jun 19
Highlights:
The World Health Organization (WHO) launched a global campaign named "AWaRe" urging governments to adopt a tool to reduce the spread of antimicrobial resistance (AMR), adverse events and costs.
It is developed by the WHO Essential Medicines List.
It is classified antibiotics into three groups - Access, Watch and Reserve.
The main aim to increase the proportion of global consumption of antibiotics in the Access group to at least 60% and to reduce the usage of the antibiotics from the Watch and Reserve groups.
The AWaRe campaign - 'AdoptAWaRe, Handle antibiotics with care'
WHO: A fact file
It is an international organisation under the umbrella of UNO.
Established: April 7, 1948
Headquarters: Geneva, Switzerland
Director-General: Dr. Tedros Adhanom Ghebreyesus
Rashid Khan becomes most expensive bowler in World Cup history - 20 Jun 19
Highlights:
Afghanistan leg-spinner Rashid Khan is the most expensive bowler in World Cup history.
Rashid Khan, the world's No.3 ODI bowler, leaked 110 runs off nine overs.
He played Sunrisers Hyderabad in Indian Premier League
The record earlier belonged to New Zealand's Martin Snedden 105 runs for two wickets against England in the 1983 World Cup.
Rashid had taken one for 52 against Australia and two for 17 against Sri Lanka.
He gave 45 runs against South Africa team.
He is the second most expensive in ODI history.
Pakistan's left-arm Wahab Riaz took 110 runs in 10 overs against England in August 2016.
He is a world class bowler & a delight to watch.
International Cricket Council (ICC):
It is the apex global governing body for cricket.
ICC Chairperson: Manu Sahney
Headquarters: Dubai, United Arab Emirates.
World Refugee Day is observed on 20 June - 20 Jun 19
Highlights:
World Refugee Day is observed on June 20 each year.
The day is dedicated to raising awareness of the situation of refugees throughout the world.
The theme for 2019 World Refugee day is #StepWithRefugees - Take A Step on World Refugee Day.
The theme expects communities, schools, businesses, faith groups and people from all walks of life should take big and small steps in solidarity with refugees.
Refugee is a person who has been forced to leave their country in order to escape war, persecution, or natural disaster.
Brief History:
The United Nations General Assembly decided that from 2000, 20 June would be celebrated as World Refugee Day.
The General Assembly noted that 2001 marked the 50th anniversary of the 1951 Convention relating to the Status of Refugees.
Prior to 2000, the African Refugee Day had been formally celebrated in several countries.
The Organization of African Unity (OAU) had agreed to decision of UN to observe the International Refugee Day coincide with Africa Refugee Day on 20 June.
UN High Commissioner for Refugees (UNHCR):
Formed on: 14 December 1950
Headquarters: Geneva, Switzerland
High Commissioner for Refugees: Filippo Grandi
The Office of the United Nations High Commissioner for Refugees, also known as the UN Refugee Agency, is a United Nations programme.
It aim to protect refugees, forcibly displaced communities and stateless people, and assist in their voluntary repatriation, local integration or resettlement to a third country.
SEBI sets up panel to review margins on derivatives - 21 Jun 19
Highlights:
India's apex regulatory body for secondary market ,Securities and Exchange Board of India (SEBI) decided to review the current framework of margins.
The capital markets regulator set up a working group to be headed by NSE Clearing Ltd.
Their aim to look into the issue and submit its recommendations to the Secondary Market Advisory Committee.
The significance as lower cost of trading preferred to trade in Nifty contracts on SGX at Singapore.
A recent study jointly conducted by Association of National Exchanges Members of India (ANMI) and consultancy firm Ernst & Young (EY)
Insisted the fact that trading in derivatives in India costs more when compared with most of the other leading markets
It is due to a variety of margins that are imposed on the traders.
It is disclosed that unlike other markets where higher event-based margins are applied temporarily.
Indian levy a variety of margins during the normal course thereby pushing up the overall cost of trading.
SEBI: A fact file
Founded: 12 April 1992
Sector: Securities market
Jurisdiction: India
Headquarters: Mumbai
India extended $15 million grant to Niger to organize the AU summit - 21 Jun 19
Highlights:
India extended USD 15 million assistance to Nigeria for organizing the African Union (AU) summit scheduled to be held in Niamey.
This summit is scheduled to be held in Niamey from July 7-8.
It is the first time that Niger is scheduled to host an AU summit.
The assistance in the form of the grant was symbolically handed over to Niger's Deputy Foreign Minister Lamido Ousseini Bala Goga Salamatou by Ambassador of India to Niger Rajesh Agarwal held on June 17 in Niamey.
This summit is expected to launch the historic African Continental Free Trade Area (AfCFTA).
Bilateral ties expanded significantly since the opening of the Indian Resident Diplomatic Mission in Niamey in 2009.
India provided Lines of Credit worth USD 96.54 million to Nigeria for projects in transport, electrification, solar energy, and potable drinking water.
India also establishes the Mahatma Gandhi International Convention Centre (MGICC) in Niamey under grant assistance.
Maharashtra topped the USGBC list of Top 10 States for LEED in India - 21 Jun 19
Highlights:
The Second Edition of the United States Green Building Council's (USGBC) list of India's top 10 states are released.
The states which have maximum number of Leadership in Energy and Environmental Design (LEED) certified green buildings are listed below.
Maharashtra bagged the top slot with 334 LEED-certified green buildings
It is followed by Karnataka and Tamil Nadu with the rankings 232 and 157 buildings respectively.
LEED is a widely used green building rating system in order to rank states in terms of cumulative Gross Square Feet (GSF) of certified space.
They were ranked on December 31, 2018.
At the first Edition of the list Tamil Nadu ranked first with 118 buildings.
Ireland plans to ban sale of petrol and diesel cars from 2030 - 21 Jun 19
Highlights:
Ireland decided to ban the sale of new petrol and diesel vehicles by 2030 as part of a major strategy to protect the environment.
It is one among the 180 measures of the Irish government published in the 'Climate Action Plan'.
They plan to have 950,000 electric vehicles on Irish roads supported by a network of charging stations.
This plan also includes the elimination of non-recyclable plastic and higher fees for plastic items which are difficult to recycle.
To this, the government decided to invest in a nationwide charging network.
Their main objective is to transition to a low-carbon to achieve net zero carbon emissions by 2050.
The ban of the sale of new fossil fuel cars, they would stop granting National Car Test (NCT) certificates to such vehicles by 2045.
Punjab Government set to launch a universal health insurance scheme - 22 Jun 19
Highlights:

Punjab Health Minister Balbir Singh Sidhu State Government to launch its flagship universal health insurance scheme named "Sarbat Sehat Bima Yojana(SSBY).
The Health scheme will be the first of its kind in the state and provide annual health cove of Rs. 5 lakh per family to 43.18 lakh families of Punjab.
Health Minister Balbir Singh Sidhu administered government hospitals, 364 private hospitals in Punjab where the beneficiaries would get the secondary and tertiary care treatment.
Around 14.86 lakh families will be covered under the Pradhan Mantri Jan Arogya Yojana (PM JAY) .
The cost of the premium for the families covered under the PM JAY by the Centre .
Currently the Chief minister of Punjab is Amarinder Singh while the Governor is V.P. Singh Badnore.
Bangladesh emerged as the fastest economy in Asia-Pacific: Asian Development Bank - 22 Jun 19
Highlights:
According to the Asian Development Bank (ADB), Bangladesh emerged as the fastest growing economy among the 45 countries of the Asia-Pacific region.
Higher public sector investment, stronger consumption demand, revival in exports, improved power supply and higher growth in private sector credit were the key factors of the high growth performance of Bangladesh.
Bangladesh registered a growth rate of 7.9%.
They predicted that the growth will be 8% in the next financial year 2019-20.
ADB: A fact file
ADB is the largest iner-governmental financial institution in Asia.
It consists of 67 members from Asia and other part of globe.
Headquarters: Mandaluyong, Manila, Philippines
Prime Minister: Sheikh Hasina Asian Development Bank (ADB)
President: Takehiko Nakao
Fifth International Yoga Day being celebrated on June 21 - 22 Jun 19
Highlights:
Prime Minister Narendra Modi led the nation in celebrating yoga day from Ranchi in Jharkhand.
The main function held at the Prabhat Tara ground in Ranchi.
Prime Minister insisted on integrating yoga with health schemes.
Government has integrated yoga with health and wellness to make it a pillar of preventive health care.
At Gujarat 1.51 crore people participated in the celebrations.
Governor of Gujarat O.P. Kohli and Chief Minister Vijay Rupani. Prime Minister participated in the event through video conferencing early this morning.
Tamil Nadu, several programs were organised by Central Government offices, Central and state Government schools and yoga groups.
International Day of Yoga aims to raise awareness worldwide about the benefits of practicing yoga.
The 2019 Theme: Yoga for Climate Action.
Prime Minister of Nepal K. P. Sharma Oli as chief guest.
Indian Ambassador Manjeev Singh Puri and other dignitaries will also attend the event.Janakpur city, a special programme organised early in the morning at the premises of famous Janaki temple.
A mass Yoga Utsav held in temple premises. The event organised by the Embassy of India in association with Janaki temple trust and Patanjali Yogpeeth Nepal.
Many government officials Governor and Chief Minister of Province 2, senior leaders from Center and Province 2 and officials of Indian Embassy Kathmandu and Consul General of India Birgunj join Yoga Day celebrations.
Patanjali Yogpeeth Nepal planned events in all seven provinces of Himalayan nation.Around two hundred programmes will be held in all 77 districts headquarters to celebrate International Day of Yoga.
Shefali Juneja appointed India's representative to ICAO - 22 Jun 19
Highlights:
Civil Aviation Secretary Rajiv Nayan Choubey named UPSC member
Civil Aviation Min to focus on developing new airports, boosting regional air connectivity
Mobile app for global aviation summit launched
Air India chief Pradeep Singh Kharola to steer Civil Aviation Ministry as secretary
Senior bureaucrat Shefali Juneja was Wednesday appointed as India's representative in the council of International Civil Aviation Organisation (ICAO), a United Nations body.
Juneja, a 1992 batch officer of Indian Revenue Service (Income Tax cadre), is at present the Joint Secretary in Ministry of Civil Aviation.
She has been appointed to the post of Representative of India in the ICAO, Montreal, Canada, for a period of three years, an order issued by personnel Ministry said.
Juneja will replace senior IAS officer Alok Shekhar who was named for the post in October 2015.
The council, which is composed of 36 states, is elected for a three-year term.
The council member states are chosen under three headings -- states of chief importance in air transport, states which make the largest contribution to the provision of facilities for air navigation and states whose designation will ensure that all major areas of the world are represented.
ICAO Council:
IndusInd Bank fixes 4 July as date for merger with Bharat Financial Inclusion - 22 Jun 19
Highlights:
IndusInd Bank on 4 July, 2019 will be the effective date of the merger with Bharat Financial Inclusion Ltd (BFIL).
M R Rao, current CEO of BFIL, will become the CEO of IndusInd Financial Inclusion Ltd (IFIL).
The boards of IndusInd and BFIL decided that on 4 July the NCLT Order will be filed by the lender, BFIL and IFIL with the Registrar of Companies.
on 10 June, 2019, NCLT sanctioned the scheme of arrangement about BFIL, IndusInd and IFIL and their respective shareholders and creditors.
The Business Correspondent network of BFIL will operate under IFIL.
Assets and liabilities of BFIL will be merged with IndusInd's balance sheet.
Consolidated financial results for the first quarter of FY19 will be published on 12 July, 2019.
The merger with IndusInd Bank Limited will enable our 8.8 million microfinance customers to access savings, deposits and other banking products.
The merger will help us boost financial inclusion in its truest form.
Asian Artistic Gymnastic Championship: Pranati Nayak wins bronze - 23 Jun 19
Highlights:
Pranati Nayak of India won bronze medal in vault event held at Senior Asian Artistic Gymnastics Championships 2019 in Ulaanbaatar, Mongolia.
The 23-year-old Indian gymnast is from West Bengal, who had qualified for vault finals with a 6th place, in finals scored 13.384 to claim bronze medal.
She had scored 13.400 and 13.367 in the 1st and 2nd vault respesctively.
Other Winner: China's Yu Linmin (14.350) clinched the gold and Japan's Ayaka Sakaguchi (13.584) won silver medal at event.
She now currently stands tall as India's 3rd major vaulting medallist after Dipa Karmakar and Aruna Reddy. She now eyes her biggest challenge of World Championships 2019 which is scheduled to be held later this year.
AGC is organized by Asian Gymnastic Union (AGU) for each of the FIG (International Gymnastics Federation) gymnastic disciplines for both men's and women's.
The FIG is the governing body of competitive gymnastics which is headquartered in Lausanne, Switzerland.
The Senior Asian Artistic Gymnastics Championships 2020 will take place in Japan Tokyo, Japan from 2–5 May 2020.
Mauritania holds election for 1st time since independence 60yrs ago - 23 Jun 19
Highlights:
Mauritania went to polls for the first time since the African nation gained independence from France nearly 60 years ago.
President Mohamed Ould Abdel Aziz, who seized power in a coup in 2008, agreed to step down and abide by the maximum two five-year elected terms.
Non-elected military governments have mostly ruled the country following independence.
The election was the first in Mauritania's history since independence from France in 1960 to choose a successor to a democratically-elected president.
Mohamed Ould Ghazouani, a former general and defence minister, was heavily tipped to replace outgoing President Mohamed Ould Abdel Aziz, who is stepping aside after serving the maximum two five-year elected terms.
Since coming to power in a 2008 coup, Abdel Aziz, 62, has positioned Mauritania, home to fewer than 5 million people across a vast expanse of the western Sahara Desert, as an ally of the West against Islamist militants.
Bound by term limits, he threw his support behind the 62-year-old Ghazouani, bucking a trend in which African leaders, including in Rwanda and Congo Republic, have changed term limits to stay in power.
Nevertheless, Abdel Aziz could maintain significant influence behind the scenes. He said on Thursday that he had not ruled out running again in five years when his term limits would reset.
Gilles Yabi, the founder of West African think tank WATHI, said that, if victorious, Ghazouani would likely continue to rule in Abdel Aziz's mould, but that he could still surprise.
ECONOMY AND SECURITY:
Five candidates besides Ghazouani were on the ballot.
Former prime minister Sidi Mohamed Ould Boubacar, who is backed by Mauritania's biggest Islamist party, drew large crowds on the campaign trail and was considered Ghazouani's main rival.
Ghazouani campaigned on continuing economic and security progress made under Abdel Aziz. Gross domestic product is growing and will receive an extra boost when a large offshore gas field starts producing early next decade.
Tourists are starting to return for desert tours after years of staying away following a series of kidnappings in 2009.
In recent years, Mauritania has been spared the attacks by jihadist militants linked to al Qaeda and Islamic State that have devastated other countries in West Africa's Sahel region, including neighbouring Mali and Burkina Faso.
Documents seized from Osama bin Laden's Pakistan hideout in 2011 indicated al Qaeda's leaders had discussed among themselves the previous year a possible peace deal with Mauritania's government that would involve prisoner releases and payments.
The government denied any such deal existed and has credited its success preventing Islamist attacks to intelligence work and rehabilitation of imprisoned jihadists.
The opposition candidates, who include a prominent campaigner against slavery in the country, have tried to tap into dissatisfaction among young people over stagnating salaries and poor health care.
Govt set to roll out IMEI database to help people track stolen mobile phones - 23 Jun 19
Highlights

The Telecom Ministry is set to roll out a Central Equipment Identity Register (CEIR), a database of International Mobile Equipment Identity (IMEI) to help people track their stolen mobile phones.
People can inform the Department of Telecom (DoT) on losing their phones, which will, in turn, blacklist their IMEI numbers.
DoT had declared its plan to implement this project in July 2017 and a pilot was conducted in Maharashtra.
According to TRAI data, there are 1.16 billion wireless subscribers in India as of March 2019.
In the interim budget for 2019-20, the government allocated Rs 15 crore to the DoT for the CEIR project.
IMEI is a 15-digit number that uniquely identifies each mobile device.
In line with global practices, DoT's identity register will be a database of IMEI numbers that will consist of three lists – white, grey and black.
Mobile phones with IMEI numbers in the white list will be permitted for use, while those in the blacklist will be the ones that are reported stolen or lost and will not be allowed to access the network.
Devices with IMEI numbers in the greylist will be the ones that do not conform to standards but will be permitted to connect under supervision.
India has the highest data usage per smart-phone in the World: Ericsson Mobility Report - 23 Jun 19
Highlights:
According to the Ericsson Mobility Report, monthly data usage per smartphone in India rose to 9.8 gigabytes (GB) at the end of 2018, the highest in the world.
It is expected that, Monthly data usage per smartphone would grow at 11 percent to reach 18 GB by 2024 from 9.8 GB in 2018.
The report also projects that total mobile data usage per month in the country will go up 23 % in the coming five years, rising from 4.6 exabytes (EB) presently to 16 EB. One EB equals one billion GB.
At the end of 2018, there were 5.1 billion smartphone subscribers globally, 99 % of which were for 3G and 4G.
North East Asia comes second with 7.1GB per month.
Indian Women's Rugby Team Makes History with First Ever International Win - 24 Jun 19
Highlights:
India emerged victorious against Singapore with a 21-19 score.
This was only the third time the team played an international match after having been formed a year ago.
Riding on the shoulders of a team formed barely a year ago, India, with its 15-member women's rugby team, registered its first international victory.
In a hotly-contested match versus higher-ranked Singapore in the Asia Women's Division 1 Rugby XVs Championship fixture at Manila on June 22, India emerged victorious with a 21-19 score.
India's victory comes after a narrow defeat of 32-27 in the hands of the Philippines last week.
The Asia Women's tournament acts as one of the qualifying rounds for the 2021 Women's Rugby World Cup in 2021.
The win ensures a bronze for India.
China won gold with an incredible 68-0 victory over hosts Philippines.
India's first solar cruise vessel will debut in Kerala - 24 Jun 19
Highlights:
India's first solar-powered ferry in 2016, Kerala is gearing up for the launch of the country's premier solar-powered cruise boat.
The initiative comes from the State Water Transport Department (SWTD), whose solar ferry Aditya in the Vaikom-Thavanakadavu route proved to be a success.
The Rs.3-crore cruise boat can carry 100 passengers is under construction at a boatyard in Aroor and comes from the stable of the builders of Aditya.
It will be rolled out in Alappuzha in December.
The hybrid vessel will be powered by a motor that can source energy from solar panels, battery, and generator.
Its battery will have 80 KWh (kilowatt hour) power backup, as compared to 50 KWh backup in Aditya.
Aditya incurs a rock-bottom energy expense of Rs.200 a day compared to the approximately Rs.8,000 needed for diesel-powered ferries.
Solar vessels do not create air and noise pollution.
The double-deck, double-engine catamaran-type vessel adheres to norms specified by the Indian Registry of Shipping (IRS).
The vessel will have an air-conditioned lower deck and pushback seat.
The upper deck, which is non-air conditioned, can be used for dining and to get a better view of the backwaters.
PM Modi to attend G-20 summit in Japan from June 27-29 - 24 Jun 19
Highlights:
Prime Minister Narendra Modi will attend the G-20 summit in Osaka, Japan from June 27-29, the Ministry of External Affairs.
He would be participating in the summit.
He would hold bilateral (discussions) and participate in plurilateral meetings which would be announced closer to the date.
The G-20 members are Argentina, Australia, Brazil, Canada, China, the European Union, France, Germany, India, Indonesia, Italy, Japan, Mexico, Russia, Saudi Arabia, South Africa, South Korea, Turkey, the UK and the US.
Collectively, the G-20 economies account for nearly 90 per cent of the gross world product,
Around 80 per cent of world trade, two-thirds of the world population, and approximately half of the world land area.
G 20 Summit:
The G20 (or Group of Twenty) is an international forum for the governments and central bank governors from 19 countries and the European Union (EU).
Founded in 1999 with the aim to discuss policy pertaining to the promotion of international financial stability
Host country: Argentina
Chair: Mauricio Macri
Precede: 2019 G20 Osaka summit
Pankaj Advani wins Asian snooker Championship to complete career grand slam in cue sports - 24 Jun 19
Highlights:
India's ace cueist Pankaj Advani clinched the 35th men's Asian Snooker Championship to complete a career grand slam in cue sports.
Advani conquered the ACBS Asian Snooker events - 6-red (short format) and 15-red (long format) - along with the IBSF World Championships in both formats too.
Pankaj Advani wins Asian snooker Championship to complete career grand slam in cue sports
Having already accomplished it in Billiards, Pankaj had this elusive 15-red Asian Snooker title missing from his silverware collection.
Advani defeated Thanawat Tirapongpaiboon 6-3 in the final to become the only one to win the Asian and World championships in all formats.
He is also the only one to do so in two sports, both Billiards and Snooker.
Pankaj will now take part in IBSF World Cup next week in Doha.
Results:
Final: Pankaj Advani (India) beat Thanawat Tirapongpaiboon 6-3 (10-52, 1-97(97), 95(54)-1, 110(75)-1, 69-43, 71(60)-44, 80-49, 72-42, 67(50)-1)
Semifinal: Pankaj Advani (India) defeated Asjad Iqbal (Pakistan) 5-4 (31-68, 1-54, 40-76, 1-96(81), 78-8, 89-33, 55-14, 89-24, 52-26).
Cricket Australia signs a multi-year partnership with HCL - 24 Jun 19
Highlights:
Indian multinational information technology service HCL Technologies (Hindustan Computers Limited, HCL) signed a multi-year deal with Cricket Australia (CA), the administrative body of Australian Cricket.
India's third largest sports deal, Accenture was working with Cricket Australia
A five-year deal from November 2013.
HCL becomes the digital technology partner of Australia (CA)
The company will help CA more fans, cricketers, fans, employees, and volunteers through digital experience around the world.
HCL build CA's digital products such as Cricket Australia Live App, cricket.com.
Cricket Australia's fan following gradually increased up to 20 million per year.
HCL was founded on 11 August 1976.
Putin extends ban on European food imports until end of 2020 - 25 Jun 19
Highlights:
President Vladimir Putin signed a decree on Monday extending a Russian ban on food imports from the European Union until the end of 2020.
Russia imposed an embargo on a wide range of imports from the EU and other countries in 2014 in retaliation for international sanctions over Moscow's role in the Ukraine crisis.
A decree signed by President Vladimir Putin posted on Moscow's official government website, reads that ban on produce, dairy, meat and most other food imported from EU will now stretch to December 31, 2020.
In 2014, following the international sanctions imposed by United States and other countries over Russia for its annexation of Crimea and support of east Ukraine's separatists, Moscow in August 2014 imposed counter sanctions on most food imports from the European Union, US and several other countries.
The international restrictions were primarily targeted at finance, energy and defense sectors of Russian economy.
Recently on 20 June 2019, EU further extended their punishing economic sanctions against Russia (over conflict in Ukraine) for a further 6 months period.
NTPC, PGCIL sign MoU to enter Power Distribution Business - 25 Jun 19
Highlights: