Monthly Current Affairs for all banking PO,Clerk,IBPS PO,Railway,SSC,IAS,OAS Exams
More Visit www.isbtonline.com
Nobel Prize for Medicine-2018 jointly awarded to James P. Allison and Tasuku Honjo - 01 Oct 18
Highlights:
The 2018 Nobel Prize in Physiology or Medicine has been jointly awarded to James P. Allison and Tasuku Honjo in the field of study of these scientists Cancer Treatment as was announced on 1 October 2018.
James P. Allison (US) and Tasuku Honjo (Japan) have won the prize for their discovery of 'immune checkpoint therapy,' a cancer treatment.
They have been jointly awarded the 2018 Nobel Prize for Medicine.
The discovery made by the two Medicine Laureates takes advantage of the immune system's ability to attack cancer cells by releasing the brakes on immune cells.
While Allison studied a protein that functions as a brake on the immune system, Honjo discovered a protein on immune cells and revealed that it also operates as a brake, but with a different mechanism of action.
Gita Gopinath appointed as Chief Economist of IMF - 01 Oct 18
Highlights:
Gita Gopinath has been appointed as Chief Economist of International Monetary Fund (IMF). Gopinath was born and grew up in India.
She is a U.S citizen and an Overseas Citizen of India.
The development comes after IMF in a statement confirmed that Gita Gopinath will succeed Maurice Obstfeld as IMF Chief Economist.
International Monetary Fund (IMF) Managing Director Christine Lagarde appoints Harvard's Gita Gopinath as IMF Chief Economist.
Gopinath will succeed Maurice (Maury) Obstfeld, who announced in July that he would retire at the end of 2018.
Ms. Gopinath currently serves as the John Zwaanstra Professor of International Studies and Economics at Harvard University.
Gita is one of the world's outstanding economists, with impeccable academic credentials, a proven track record of intellectual leadership, and extensive international experience.
Before coming to Harvard, she was an assistant professor of economics at the University of Chicago's Graduate School of Business.
She studied B.A. Economics (Honors) at Delhi's Lady Shri Ram (LSR) College (1989-92)
During 1992-94, she studied Masters in Economics at Delhi School of Economics
She joined the University of Chicago in 2001 as an Assistant Professor before moving to Harvard in 2005.
She became a tenured Professor there in 2010.
NCLT approved the takeover of IL&FS board by government nominees - 01 Oct 18
Highlights:
The National Company Law Tribunal (NCLT) approved the takeover of housing finance major IL&FS board by government nominees on 1 October 2018.
A new six-member board led by Uday Kotak took charge of the entity.
The National Company Law Tribunal (NCLT) on 1 October 2018 approved the takeover of IL&FS board by government nominees, saying mismanagement at the crisis-ridden financier makes it a fit case of supersession of the board under Article 241 of the Companies Act.
A new six-member board led by veteran banker Uday Kotak took charge of the company.
The other members are former SEBI chief GN Vajpai, ICICI Bank chairman GC Chaturvedi, Tech Mahindra's Vineet Nayyar, and former bureaucrats Malini Shankar and Nand Kishore.
Nobel Prize in Physics confers to Arthur Ashkin, Gérard Mourou and Donna Strickland - 02 Oct 18
Highlights:
The three physicists Arthur Ashkin, Gérard Mourou and Donna Strickland have been awarded the 2018 Nobel Prize in Physics.
American scientists Arthur Ashkin, French engineer Gérard Mourou and English professor Donna Strickland have been awarded the Nobel Prize in Physics for their work in the field of laser physics.
This was announced on 2 October 2018.
Ashkin has been awarded the Prize "for the optical tweezers and their application to biological systems, while Mourou and Strickland have been awarded "for their method of generating high-intensity, ultra-short optical pulses.
First session of International Solar Alliance (ISA) starts in New Delhi - 02 Oct 18
Highlights:
The first assembly session of ISA on October 2 in the presence of United Nations General Secretary António Guterres in New Delhi.
Prime Minister Narendra Modi reiterated that International Solar Alliance (ISA) has the potential to play the role of OPEC (The Organization of the Petroleum Exporting Countries) in near future to meet energy requirements of the world.
Indian government is looking to achieve a target of 40% of power generation from non-fossil fuel-based resources by 2030, as part of its efforts to cut its dependency on coal to meet its energy requirements.
At present, domestic firms are in the process to implement the government's plan of commissioning at least 10,000 renewable energy-based micro- and mini-grid projects with a total capacity of 500 MW by 2022.
PM Modi invited all members of the United Nations to cooperate for solar energy conservation.
A total of 40 nations' representatives were present in the assembly.
Further, Modi added that the government has an aim to add 50 gigawatt (GW) of renewable energy to the existing capacity.
Also, non-hydro renewables will contribute about 20% of the country's total energy needs.
The event on also marked the inauguration of the second Indian Ocean Rim Association (IORA) Renewable Energy Ministerial meeting, and the Second Global RE-Invest, Renewable Energy Investors' Meet and Expo.
It aimed at speeding up efforts to increase renewable energy and connect the global investment community with Indian energy stakeholders.
The three-day 2nd Global RE-INVEST 2018 is set to be held from 3-5 October, 2018 and more than 600 global industry leaders, and 10,000 delegates will participate in the event.
It may be noted that the ISA, an alliance of 121 countries and most of them are sunshine countries, was launched jointly by PM Modi and Francois Hollande, then president of France, on November 30, 2015 in Paris.
Foundation stone for the ISA headquarters in Gurugram district was laid by Modi and Hollande in January 2016.
MP announces 52nd district, decision to come into effect from Oct 1 - 02 Oct 18
Highlights:
The Madhya Pradesh government announced the creation of a new district 'Niwari'.
The new district would include three tehsils of the present Tikamgarh district - Niwari, Orchha and Prithvipur.
The government's decision will come into effect from October 1.
With Niwari, the total number of districts in the state now stands at 52.
The district has been carved out of the Tikamgarh district.
It will include three tehsils of present Tikamgarh district viz. Niwari, Orchha and and Prithvipur.
The decision comes ahead of the Madhya Pradesh assembly elections, which is scheduled to be held by the end of this year.
India's first AICTE Training and Learning (ATAL) Academy to be at Jaipur - 02 Oct 18
Highlights:
All India Council for Technical Education will establish country's first AICTE Training and Learning (ATAL) Academy in Jaipur, capital of Rajasthan.
Moreover, tree more ATAL academies will come at Thiruvananthapuram (Kerala), Guwahati (Assam) and Baroda (Gujarat) by next year.
ATAL Academy academies will provide upgraded teaching methods and modules to make technical education more effective and accountable.
The training will be mandatory for new teachers from 2019.
AICTE is statutory body established in November 1945.
It comes under aegis of Department of Higher Education, Ministry of Human Resources Development.
It is national-level council for technical education responsible for planning and coordination of technical education and management of education system in the country.
It accredits graduate and post graduate programs at Indian institutions.
It is headquartered in New Delhi.
Nobel Prize Chemistry-2018 confers to Frances H. Arnold, George P. Smith and Sir Gregory P. Winter - 03 Oct 18
Highlights:
Frances H. Arnold, George P. Smith and Sir Gregory P. Winter were chosen for the Nobel Prize in Chemistry for 2018, as was announced on 3 October 2018.
The Royal Swedish Academy of Sciences has awarded the Nobel Prize in Chemistry 2018 with one half to Frances H. Arnold "for the directed evolution of enzymes" and the other half jointly to George P. Smith and Sir Gregory P. Winter "for the phage display of peptides and antibodies.
This announcement was made on 3 October 2018.
Dr. Arnold and Dr. Smith are Americans, while Dr. Winter is British.
The trio has worked extensively in the evolution enzymes and used it for purposes that bring the greatest benefit to humankind.
Enzymes produced through directed evolution are used to manufacture everything from bio-fuels to pharmaceuticals.
Union Govt plans to create steel giant through merger - 03 Oct 18
Highlights:
The Centre will examine a proposal by the steel ministry to first merge the loss-making steel firm.
The state run Neelachal Ispat Nigam (NINL) with Rashtriya Ispat Nigam (RINL) and then merge it with Steel Authority of India (SAIL) to create a single state-owned steel manufacturer to bring in efficiency.
Similarly, it has also suggested consolidation of profitable iron ore mining companies NMDC and KIOCL.
In a presentation to Prime Minister Narendra Modi in April, chiefs of central PSUs had proposed the creation of public sector behemoths by consolidating firms based on commonalities of functions to benefit from economy of scale, global competitiveness and access to cheaper capital.
Modi had asked the PSUs and administrative ministries to prepare an action plan on this.
There is scope for merger of these companies.
Integration of CPSEs engaged in the same business line would limit the number of CPSEs in a sector and create profitable entities which will have capacity to bear higher risks, take higher investment decisions and create more value for stakeholders, officials reckon.
Bigger entities would be able to raise cheaper funds and reduce their dependence on the government.
SAIL, the largest state-run steel maker, achieved a sales turnover of Rs 58,297 crore during FY18, 19% higher than the previous year.
SAIL's losses slimmed by around 83% to Rs 482 crore in FY18 from Rs 2,833 crore in FY17.
The massive capex in the past few years to modernise plants and recession in the steel sector has hurt SAIL in the recent years.
Neelachal Ispat Nigam is a joint venture company of MMTC, which holds 49.78%, while the Industrial Promotion & Investment Corporation of Odisha (IPICOL) holds 15.29% in the firm.
The bulk of the remaining 34.93% stake in NINL is held by central PSUs. NINL incurred net loss of Rs 378 crore, while RINL incurred a net loss of Rs 1,369 crore in FY18 due to slowdown in the industry.
In the iron ore-mining business, NMDC showed an impressive 47% increase in net profit at Rs 3,806 crore in FY18.
India's largest iron ore producer also reported a 31.5% increase in revenues at Rs 11,615 crore in FY18.
KIOCL (formerly Kudremukh Iron Ore Company) could potentially be merged with NMDC. KIOCL showed an impressive 70% increase in net profit at Rs 81 crore in FY18.
October-2 observed as International-Day-Non-Violence - 03 Oct 18
Highlights:
The International Day of Non-violence is celebrated every year on 2 October throughout world on birth anniversary of Mahatma Gandhi, leader of Indian independence movement and also pioneer of philosophy of non-violence (ahimsa).
Observance of this day seeks to promote principles of non-violence through education and public awareness and is observed by all countries of the UN.
In India, this day is celebrated as Gandhi Jayanti.
The day was instituted by United Nations General Assembly (UNGA) by adopting resolution A/RES/61/271 in June 2007 to disseminate message of non-violenceincluding through education and public awareness.
The resolution reaffirmed universal relevance of principle of non-violence and the desire to secure.
Gandhiji returned to India in 1915 and joined Indian National Congress (INC). He led nationwide campaigns for various social causes and for achieving Swaraj or self-rule.
India moves up to 28th rank in govt e-payment adoption: Visa - 03 Oct 18
Highlights:
According to the survey by payments company Visa, India's overall ranking on the government's adoption of e-payments has moved up to 28th in 2018, from 36th in 2011.
It needs to do more on digital infrastructure access and socio-economic factors.
The country is taking "rapid strides" in advancing government e-payments capabilities and is one of the top-performing countries in terms of citizen-to-government (C2G), business-to-government (B2G) and government-to-business (G2B) transactions.
The country holds the top ranking on B2G and G2B, and comes third on C2G jointly with Argentina.
Norway leads the pack in the 73-country ranking, followed by France and Denmark.
The 73-country survey, which was last conducted in 2011, looks at availability of government electronic transaction services and the underlying environment of mechanisms that support digitisation for all transactions in a market, such as policy and infrastructure.
India is at the 58th place for digital infrastructure and lags significantly in the development of digital infrastructure and socio-economic conditions, according to the survey.
The same is also the case with payment acceptance infrastructure, where the country lags behind despite the government efforts.
India is placed 60th among the 73 countries surveyed on socio-economic development
The country was also found to be lacking in the policy context, at the 40th rank, the survey said, specifically pointing out that work on protecting intellectual property rights can improve the ranking.
Foreign firms also face restrictions ability to access funding from domestic sources, which could create another barrier to entry.
The country has done well on financial inclusion, its overall performance in inclusiveness dropped due to a lack of government integration of the informal economy.
BSE becomes first stock exchange in India to launch commodity derivative contracts in gold, silver - 04 Oct 18
Highlights:
India's leading bourse BSE became the first stock exchange in the country to launch the commodity derivative contracts in gold and silver.
Till date, commodity contracts are available only on MCX and NCDEX, the two specialised commodity derivatives exchanges in the country.
BSE has launched gold and silver derivative contracts and has applied for the launch of crude oil and copper contracts with Sebi. The stock exhange will subsequently launch more agri commodities.
The launch of commodity derivatives platform on BSE will help efficient price discovery, reduce timelines and make it cost effective.
The bourse also promises a user-friendly platform with robust risk management system and wider market penetration.
Despite the presence of about 40-plus contracts, country's commodities derivatives segment is still at a very nascent stage.
Out of the total exchange-traded derivatives across the globe, the size of commodity derivatives is only 22 %, out of which India has a negligible share of 5-6 %.
The country is a leading producer of several commodities and the world's second largest consumer of gold, but it depends on benchmark prices from abroad.
BSE has already registered 150 trading members and 27 clearing members for its commodity derivatives segment.
The exchange also waived off transaction charges for the first year in the commodities derivatives segment.
The commodity trading will be conducted from 10.00 am to 11.30 pm from Monday to Friday
Odisha state government launches own food security scheme - 04 Oct 18
Highlights:
Odisha Chief Minister Naveen Patnaik launched the state's own food security scheme to benefit 25 lakh people who have been left out from the National Food Security Act (NFSA).
Patnaik launched the food security scheme after interacting with people of four districts through video conferencing from the state Secretariat.
The scheme will benefit the vulnerable populace who have been excluded from the NFSA.
the beneficiaries will get five kg of rice per person per month at a rate of Rs 1 per kg.
The state government will spend Rs 443.5 crore per annum to support the scheme and Rs 221.75 crore in the current financial year.
The UPA had started the food security scheme and ensured subsidised rice to different states at Rs 3-4 only.
The state government is making tall claims about its own food security scheme.
All these moves are part of vote-bank politics.
The state government did not follow transparency in selecting the beneficiaries in the scheme.
The increase of 34 lakh poor people in 19 years shows the failure of the Naveen Patnaik government in the state.
VP Venkaiah Naidu inaugurated world largest dome in MIT Pune - 04 Oct 18
Highlights: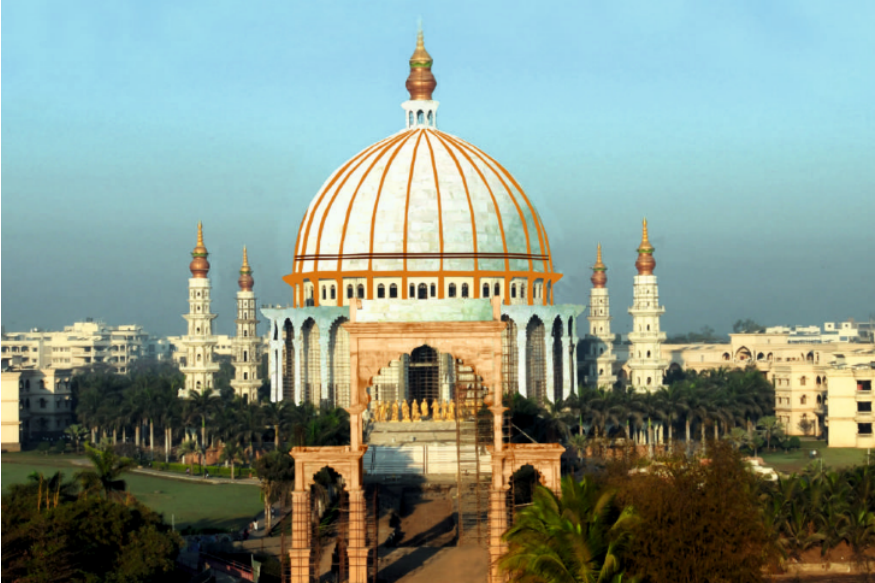 The world's largest dome was inaugurated at Maharashtra Institute of Technology (MIT)'s World Peace University (MIT-WPU) campus at Loni Kalbhor, Pune .
Vice President Venkaiah Naidu has inaugurated world largest dome.
It has organized a four-day world parliament of science, religion and philosophy at its Rajbaug campus in Loni Kalbhor.
The 4 day conclave starts from today, on the 150th anniversary of Mahatma Gandhi on October 2 and will end on October 5.
All the statues in the dome are made by 93 year old famous sculpture Ram V Sutir.
The dome can house over a thousand people together and has spititual symbols of all religions in the world.
Vice President Venkaiah Naidu inaugurated 160ft world's largest dome on 2nd October.
With 160ft diameter and 263 feet height, this would be one of the largest dome in the world.
Earlier the largest dome was at Vatican city with 136 ft diameter and 448 ft height.
The conclave has been jointly organized by MIT World Peace University in association with World Peace Centre, Alandi, MAEER's MIT Pune and MIT ADT University.
World Parliament with 110 speakers and thousands of delegates from around the world are expected to participate and speak on a wide spectrum spanning the spiritual and scientific realms over different sessions.
The MIT four day world parliament of science, religion and philosophy conclave will cover a spectrum of themes that span across the scientific and spiritual landscape.
The conclave is for bridging the seeming gaps between the three pillars; science, religion and philosophy to show how all of them together lead the path to a sustainable and peaceful future.
Justice Madan Lokur nominated as NALSA Executive Chairman - 04 Oct 18
Highlights:
Senior judge of the Supreme Court, Madan Bhimarao Lokur nominated the Executive Chairman of the National Legal Services Authority of India (NALSA).
President Ramnath Kovind nominated Justice Lokur to the post.
He was one of the four senior judges of the Supreme Court, who on January 12 this year, held a first-of-its-kind press conference.
Justice Lokur will take the charge as NALSA's Executive Chairman on October 3.
Justice Ranjan Gogoi, who is set to become the head of the apex court, is the outgoing chairman of the NALSA.
In exercise of the power conferred under Clause (b) of sub-section (2) of Section 3 of the Legal Authorities Act, 1987, the President is pleased to nominate Hon'ble Shri Justice Madan B. Lokur, Judge, Supreme Court of India, as Executive Chairman, National Legal Services Authority, with effect from October 3, 2018.
The NALSA, the chairman of which is the second senior-most judge of the Supreme Court, ensures speedy disposal of cases.
Its prime objectives also include reducing the burden of the judiciary and providing free legal services to marginalised and disadvantaged.
The legal body also organises Lok Adalats for speedy resolution of cases.
Sixty-four-year-old Justice Lokur is an alumnus of Delhi's Moden School and St. Stephen's College. Enrolled as an Advocate in 1977.
He has vast experience in Civil, Criminal, Constitutional, Revenue and Service laws. He got enrolled as an Advocate-on-Record in the Supreme Court in 1981.
Justice Lokur served as the Additional Solicitor General of India from July 1998 to February 1999, when he became an Additional Judge of Delhi High Court on 19th February 1999.
He also functioned as Chief Justice of Gauhati High Court from June 2010 to November 2011 and then as the Chief Justice of Andhra Pradesh High Court.
During his stint with the Andhra Pradesh High Court, in May 2012, he reportedly struck down the central government's decision to allocate 4.5% sub-quota, within the 27% Other Backward Classes quota, for minorities.
He was appointed as Judge of the Supreme Court in June 2012.
Pankaj Sharma appointed India's Ambassador to UN Conference on Disarmament - 05 Oct 18
Highlights:
Pankaj Sharma has been appointed as the next Ambassador of India to the United Nations Conference on Disarmament, Geneva.
Sharma, an Indian Foreign Services (IFS) officer of 1991 batch is currently serving as a Joint Secretary in the Ministry of External Affairs (MEA).
He will be taking up the assignment shortly.
Sharma will succeed senior IFS officer Amandeep Singh Gill.
UN Conference on Disarmament UN Conference on Disarmament (CD) is not formally United Nations (UN) organization.
It is linked to UN through personal representative of UN Secretary-General.
It is multilateral forum established in 1979 by international community to negotiate multilateral arms control and disarmament agreements.
It is headquartered in Palais des Nations, Geneva, Switzerland.
The conference has 65 members represent all areas of the world.
India and Russia for promoting trade in local currencies - 05 Oct 18
Highlights:
India and Russia expressed their support to promoting bilateral trade in national currencies and pledged to increase economic cooperation through joint ventures in different sectors.
The two sides also noted that the two-way investment will increase to USD 30 billion by 2025.
The 19th India-Russia annual summit between Prime Minister Narendra Modi and Russian President Vladimir Putin held in New Delhi.
The bilateral trade in 2017 increased by more than 20 %.
The (two) sides expressed their support to promoting bilateral trade in national currencies.
Both the countries agreed to explore opportunities for joint collaboration in sectors like precious metal, minerals, natural resources and forest produce.
The two countries also called for expediting the negotiations for a free trade agreement between Eurasian Economic Union and its member states, and India.
The Indian side invited Russian companies to participate in the development of industrial corridors in India, including in areas of road and rail infrastructure, smart cities, construction of wagons and creation of a joint transportation logistics company.
The Russian side offered its expertise in tax collection based on satellite navigation technologies for the realisation of joint projects in India including in the framework of above mentioned industrial corridors.
Both the countries called for the development of the International North-South Transport Corridor (INSTC) through intensified efforts by finalizing pending issues related to Customs authorities, development of road and rail infrastructure and financial facilitation through bilateral discussions as well as discussions with other partner countries at the earliest.
The proposed trilateral meeting between India, Federation and Iran on the sidelines of 'Transport Week – 2018' in Moscow, on the issue of Indian goods transportation through the territory of Iran to Russia.
India and Russia also supported the early launch of the Green Corridor project aimed at the simplification of customs operations in respect of goods being transported between India and Russia.
Both the countries agreed to actively promote joint projects in third countries in sectors such as railways, energy and others where there is a complementarity between them in terms of technology and resources.
Swachh Survekshan Grameen Awards 2018 by Narendra Modi - 05 Oct 18
Highlights: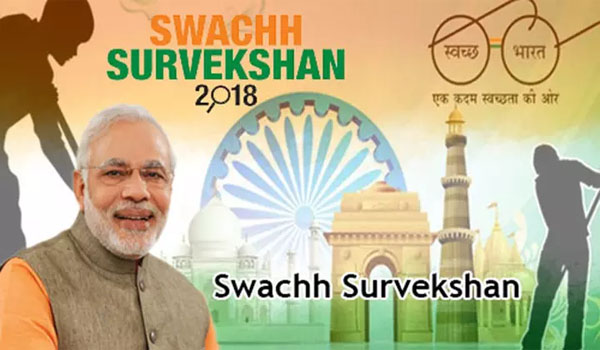 Prime Minister Shri Narendra Modi gave awards to top Ranked State, District and State with maximum citizen participation based on the National Swachh Survekshan Grameen 2018.
The Grameen Awards is commissioned by Ministry of Drinking Water and Sanitation.
The awards by Prime Minister were given at the concluding session of Mahatma Gandhi International Sanitation Convention at Rahtrapati Bhawan Cultural Centre.
Haryana was ranked as the best State while Satara District of Maharashtra was ranked as the best district as per the ranking undertaken by Swachh SurvekshanGrameen 2018.
Uttar Pradesh was rewarded for maximum citizens' participation.
Later, Ms Uma Bharti, Union Minister for Drinking Water and Sanitation gave awards at Pravasi Bhartiya Kendra, New Delhi to top three States and Districts from all the zones of the country.
The Ministry of Drinking Water and Sanitation had commissioned "Swachh Survekshan Grameen-2018" (SSG 2018) through an independent survey agency to develop ranking of all districts of India on the basis of quantitative and qualitative sanitation (Swachhata) parameters.
This ranking was done based on a comprehensive set of parameters including surveys of public places like schools, Anganwadis, PHCs, Haat/ Bazaars, Panchayat and citizen's perception of Swachhata and their recommendations for improvement of the program and data from the SBM-G IMIS.
As part of Swachh SurvekshanGrameen, 6786 villages in 685 Districts across India were covered.
27,963 public places namely schools, anganwadis, public health centres, haat/ bazaars/religious places in these 6786 villages were visited by an independent agency for survey.
Around 182,531 citizens were interviewed for their feedback in villages on SBM-G related issues.
Also, citizens were mobilised to provide feedback on sanitation relation related issues online using an application developed for the purpose.
The collection of data from Direct Observation were based on physical observation of the sanitation status in public places by the survey agency.
The survey agency used maps and simple handheld device/recording formats to record their observations and findings along with Photographs/videos, wherever necessary.
The top ranked States and Districts which received awards are as below:
Overall Ranking:
Top 3 States-
1) Haryana, 2) Gujarat 3) Maharashtra
Top 3 Districts:
1) Satara, Maharashtra 2) Rewari, Haryana 3) Pedapalli, Telangana
States with maximum citizen participation:
1) Uttar Pradesh 2) Gujarat 3) Maharashtra
Districts with maximum citizens' participation:
1) Nashik, Maharashtra 2) Solapur, Maharashtra 3) Chittorgarh, Rajasthan
Dr.Denis Mukwege and Nadia Murad shares Nobel Peace Prize-2018 - 05 Oct 18
Highlights: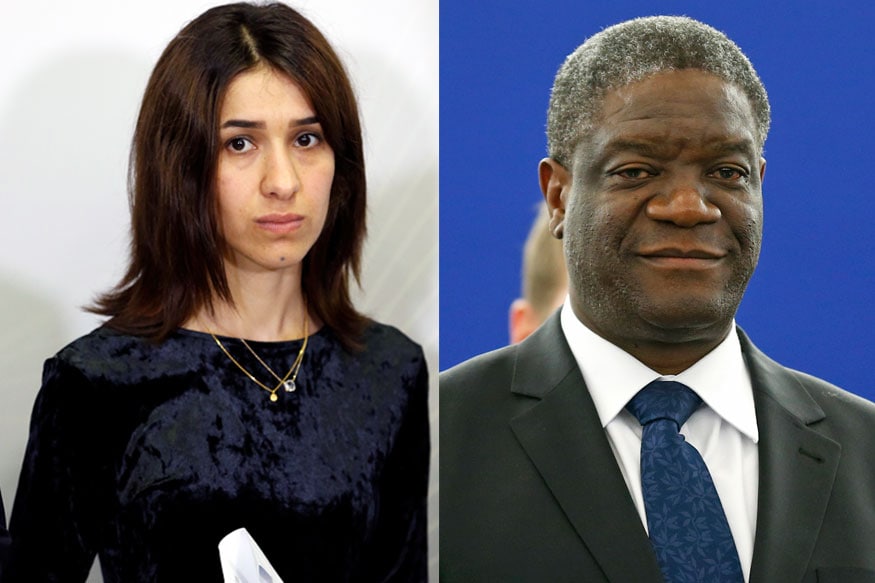 The Nobel Peace Prize for 2018 has been awarded to Congolese gynaecologist Dr. Denis Mukwege and Yazidi Iraqi human rights activist Nadia Murad for their efforts to end the use of sexual violence as a weapon of war and armed conflict.
This announcement was made the Nobel Prize committee on 5 October 2018.
Dr. Denis Mukwege has spent large parts of his adult life helping the victims of sexual violence in the Democratic Republic of Congo.
Dr. Mukwege and his staff have treated thousands of patients who have fallen victim to such assaults.
Nadia Murad is one of an estimated 3,000 Yazidi girls and women who were victims of rape and other abuses by the Islamic State in Iraq.
She is the founder of "Nadia's Initiative", an organization dedicated to "helping women and children victimized by genocide, mass atrocities, and human trafficking to heal and rebuild their lives and communities".
India and ADB sign $110 mn loan agreement to upgrade rural roads in MP - 06 Oct 18
Highlights:
India and the Asian Development Bank (ADB) have signed a $110 million loan agreement to upgrade all-weather rural roads in Madhya Pradesh under the Prime Minister's Rural Roads Programme (PMGSY).
The $110 million is the second tranche of the $500 million Second Rural Connectivity Investment Programme for India approved by the multilateral lending agency in December 2017.
The agreement was signed by Ministry of Finance Additional Secretary Sameer Kumar Khare for the Indian government and ADB's India Resident Mission Country Director Kenichi Yokoyama for the bank.
The Tranche 2 of the project will provide continued assistance to the PMGSY by upgrading rural roads in Madhya Pradesh that will support the government's long term goal to achieve inclusive economic growth in rural India.
ln view of increased rainfall and storm surges in Madhya Pradesh, the road designs take into account these climate risks with measures such as greater elevation of road embankments and slope protection.
Women were extensively consulted during the project design and will gain some key benefits, including improved access to healthcare, livelihoods and schooling.
The loan will improve mobility for self-employment and livelihood opportunities in rural areas by improving access to district centres.
The project will continue to support the government's drive for innovative approaches to reduce costs, conserve non-renewable natural resources and promote the use of waste materials in rural road construction.
The overall Second Rural Connectivity Investment Programme is aimed at improving rural connectivity, safe and efficient access to livelihood and socio-economic opportunities for communities in Assam, Chhattisgarh, Madhya Pradesh, Odisha and West Bengal.
It plans to upgrade about 12,000 km rural roads across the five states.
Tranche 1 loan of $250 million is currently under implementation upgrading over 6,000 km roads.
Natwar Thakkar, eminent Gandhian known as 'Nagaland's Gandhi' passed away - 06 Oct 18
Highlights:
Natwar Thakkar, an eminent Gandhian passed away on 6 October 2018 at the age of 86.
He was popularly known as 'Nagaland's Gandhi', passed away after a brief illness in Nagaland .
He was from Maharashtra and had made Nagaland his home ever since he had arrived in the State in 1955.
A Padma Shri awardee, he had founded the Nagaland Gandhi Ashram at Chuchuyimlang.
His efforts to spread Gandhian philosophy and peace had earned him the sobriquet 'Nagaland's Gandhi'.
Ajit Doval replaces cabinet secy as head of 'strategic policy group' - 06 Oct 18
Highlights:
National security advisor Ajit Doval has replaced cabinet secretary as the head of the Strategic Policy Group (SPG).
The SPG, a mechanism first notified in April 1999 to assist the National Security Council (NSC) in strategising on matters dealing with external, internal and economic security of the country.
The 1999 notification constituting SPG and defining its role and functions had specified the cabinet secretary as its chairperson.
Recently, the government, through a notification on September 11 and published in the gazette on October 8, has made a partial modification, listing NSA as its chairman.
Earlier, the SPG notified in 1999 was a 16-member body, the new notification makes it an 18-member body with the cabinet secretary and vice-chairman of NITI Aayog as the new members.
Other members to be part of SPG are Chief of Army Staff, Chief of Naval Staff, Chief of Air Staff, RBI governor, secretaries of external affairs, home, defence, finance, defence production, revenue, atomic energy, space, and National Security Council Secretariat besides scientific adviser to defence minister, secretary (R) in Cabinet secretariat and the Intelligence Bureau chief.
The reconstitution of SPG puts NSA at the top of the national security strategy set-up, coming close on the heels of a decision to set up the defence planning committee, a new strategic think-tank under chairmanship of NSA to formulate national military and security strategy and oversee defence acquisitions from abroad.
While NSA will convene SPG meetings, the cabinet secretary will coordinate implementation of its decisions with various ministries and departments.
India and Russia signed an Inter-governmental Agreement (IGA) - 06 Oct 18
Highlights:
India and Russia signed an Inter-governmental Agreement (IGA) for the supply of iconic S-400 Triumf anti-aircraft missile system to India.
S-400 Triumf is the name of an anti-aircraft weapon system developed by Russia which is often been described as "one of the best air-defence systems currently made".
India and Russia signed on 5 October 2018 this agreement for $5.43-billion.
The Triumf missile deal with Russia will give India's military a much-needed boost, which would act as a deterrent against China's growing presence in the region and a superior edge over Pakistan.
The S-400 Triumf missiles are extremely efficient to track and hunt down combat aircraft, even stealth planes, at unprecedented ranges.
India and Japan vow to boost cooperation on connectivity projects in North East - 07 Oct 18
Highlights:
India and Japan have held the second meeting of their Act East Forum, during which they agreed to boost cooperation on connectivity projects in the northeast.
The meeting of 'Japan-India Act East Forum' was held on October 8 under the co-chairmanship of Japan's Ambassador Kenji Hiramatsu and Foreign Secretary Vijay Gokhale.
India emphasised on cooperation in the northeast region, ranging from connectivity to people-to-people exchanges and the need to come up with concrete projects.
The forum witnessed lively discussions, in which the representatives from relevant ministries and states of the NER shared their views.
The future orientation of cooperation in northeast was confirmed, ranging from the road and bridge connectivity projects; forest management projects in states of Tripura and Meghalaya; a new initiative to utilise bamboo which is abundant in the region; and to enhance people-to-people exchanges.
Longest inland water transport movement delivers fly ash successfully to Assam via Bangladesh - 07 Oct 18
Highlights:
India's longest inland water transport movement delivers fly ash successfully to Assam via Bangladesh.
In a first, fly ash has reached successfully Pandu Port in Assam via Bangladesh, making the longest haulage in inland water transport movement.
The fly ash from NTPC, Bihar was transported by Inland Waterways Authority of India (IWAI) to Assam through serpentine routes of rivers and sea via Bangladesh before reaching Pandu port.
The first load of fly ash reached Assam on September 30.
The fly ash transported by the teams of NTPC and IWAI from Bihar to Assam will be used by cement manufacturing company Star Cement.
About 1,235 of Fly Ash was transported from NTPC Kahalgaon to Pandu Port via Kolkata through National Waterways 1 and 2 via Indo Bangladesh Protocol (IBP) route.
The inland water transportation was chosen to deliver fly ash to Assam due to the lack of railway facilities in the northeastern states.
Completing a long voyage (2085 KMs) from Bihar to Assam via Bangladesh waterways, 1233 tonnes of fly ash from NTPC Kahalgaon plant reached Pandu, Guwahati today , marking one of the longest hauls in Inland Water Sector (IWT) movement in the country.
This endeavour will also establish the water highway route from Kahalgaon to Pandu in Assam via Bangladesh border helping transportation of other goods also.
In May 2017, the government held a roadshow in Guwahati to promote the inland water transportation system.
The government aims to develop the rivers of the North East as viable and sustainable means for cargo and passenger transportation.
North East connected with Kolkata through the Indo-Bangladesh Protocol (IBP) route of river Brahmaputra.
India in bottom 15 of Oxfam index on efforts to reduce inequality - 07 Oct 18
Highlights:
India fared poorly, ranking 147 out of 157 countries, in terms of its commitment to reducing inequality, while Denmark topped the list.
According to the Commitment to Reducing Inequality Index developed by Oxfam and Development Finance International, Nigeria, Singapore, India and Argentina are among a group of governments that are fuelling inequality.
The index ranks 157 countries on their policies on social spending, tax, and labour rights.
As per the report, countries such as South Korea, Namibia and Uruguay are taking strong steps to reduce inequality.
However, countries like India and Nigeria did very badly.
Among rich countries, USA showed a lack of commitment towards closing the inequality gap.
In terms of its ranking across specific pillars this year, India was placed 151st on the index for public spending for healthcare, education and social protection, 141st for labour rights and wages, and 50th on taxation policies.
Regionally, India ranks sixth among the eight South Asian nations. On public spending and on labour rights it ranks sixth, but India is placed on the top in terms of progressiveness of tax policy.
Other countries in the top ten include Germany (2nd), Finland (3rd), Austria (4th), Norway (5th), Belgium (6th), Sweden (7th), France (8th), Iceland (9th) and Luxembourg (10th).
Among the emerging economies, China was ranked 81st on the list, Brazil 39th and Russia 50th.
William D. Nordhaus and Paul M. Rome confers Nobel Prize for Economics-2018 - 08 Oct 18
Highlights:
Two American economists - William D. Nordhaus and Paul M. Romer, were announced as the winners of the 2018 Nobel Prize for Economics.
This prize is officially known as the "Sveriges Riksbank Prize in Economic Sciences" and has been awarded for work on climate change and sustainable growth.
The Yale economist William D. Nordhaus has spent the better part of four decades trying to persuade governments to address climate change, preferably by imposing a tax on carbon emissions.
On the other hand, New York University economist Paul M. Romer's work has demonstrated that government policy plays a critical role in fostering technological innovation.
Air Force Celebrates Its 86th Anniversary on 8 October - 08 Oct 18
Highlights:
Air Force Celebrates its 86th Anniversary October 8.
The Indian Air Force came into force in 1932 as the Royal Indian Air Force under then British rule.
The Indian Air Force (IAF) celebrates its 86th anniversary today, highlighting the "untiring efforts and supreme sacrifices.
The IAF will hold a grand parade-cum-investiture ceremony at the Air Force Station at Hindon (Ghaziabad in Uttar Pradesh). Air Chief Marshal BS Dhanoa, Chief of the Air Staff, will review the parade.
The parade will be followed by an air display and acrobatics by the Air Force's various aircraft, including Jaguar, Bison, MiG-29, Mirage-2000 and SU-30 MKI fighter jets and Rudra helicopters.
The Indian Air Force came into force in 1932 as the Royal Indian Air Force under then British rule. The name was changed to Indian Air Force in 1950.
The IAF has technologically evolved and grown in strength over these years to thwart any threat to the nation.
It is committed to safeguarding the Indian skies and has played a key role in providing assistance to the people during natural calamities.
IAF is the world's fourth largest air force (after US, Russia and China) with primary responsibility to secure Indian airspace and to conduct aerial warfare during conflict.
It was officially established on October 8, 1932 as an auxiliary air force of the British Empire and the prefix Royal was added in 1945 in recognition of its services during World War II.
India's first dolphin research centre to come up soon in Patna - 08 Oct 18
Highlights:
National Dolphin Research Centre (NDRC), India's and Asia's first, would be come up soon in Patna.
The NDRC is likely to be set up next month on the banks of the Ganga river in the Patna University premises.
It will play an important role in strengthening conservation efforts and research to save the endangered mammal.
The process to set up the NDRC started after the Patna University agreed nearly two months ago to provide the land.
The university's Syndicate had earlier stalled the proposal for over three years.
The water level has been decreasing and the flow has slowed down. Besides, siltation is increasing in the river.
The Gangetic river dolphin is India's national aquatic animal but frequently falls prey to poachers and is sometimes killed inadvertently after being trapped in plastic fishing nets and hit by mechanised boats.
The mammals are being killed at an alarming rate with wildlife officials saying poachers covet them for their flesh, fat and oil.
Gangetic dolphins prefer deep water with adjoining shallow water.
They live in a zone where there is little or no current that helps them save energy.
The then Deputy Chairman of the Planning Commission, had approved the proposal during his visits in mid-2011 and early 2012 after he was impressed by sight of dolphins along the 22 km stretch of the Ganga river.
The Commission had sanctioned Rs 28.06 crore for it in 2013 followed by the state government releasing Rs 18.16 crore in 2014 to the Infrastructure Development Authority. It's remained stuck there since then.
The Vikramshila Gangetic Dolphin Sanctuary, India's only dolphin sanctuary, spread over 50 km along the Ganges, is located in Bihar's Bhagalpur district.
Bihar is home to around half of the country's estimated 3,000 dolphin population.
The state government has decided to conduct a study-cum-survey of the Gangetic dolphin in 2018 in the 525-km stretch of the Ganga river between Chausa (Buxar) in the west and Manihari (Katihar) in the east.
The Wildlife Institute of India will help the government in this.
The last survey was conducted in 2012 and nearly 1,500 dolphins were counted.
Gangetic river dolphins fall under Schedule I of the Indian Wildlife (Protection) Act and have been declared an endangered species by the International Union for Conservation of Nature (IUCN). T
he Gangetic river dolphin is one of the four freshwater dolphin species in the world.
The other three are found in the Yangtze river, the Indus river in Pakistan and the Amazon river.
The Gangetic river species - found in India, Bangladesh and Nepal - is almost completely blind.
Odisha Government Launches 'Nirman Kusuma' Scheme To Help Kids Of Construction Workers - 08 Oct 18
Highlights: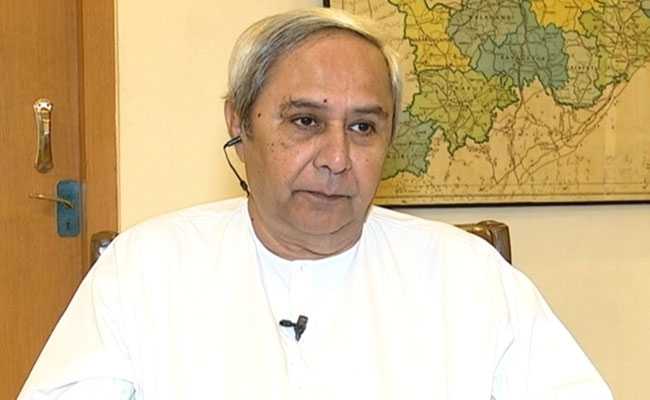 Odisha Chief Minister Naveen Patnaik launched 'Nirman Kusuma' programme for providing financial assistance to the children of the construction workers for their technical education in the state.
the programme, 'Nirman Kusuma' would help fulfil dreams of construction workers' children.
the children of construction workers would get financial assistance for their education in Industrial Training Institutes (ITIs) and polytechnics.
An ITI student will be entitled to get financial assistance of Rs. 23,600, a diploma student to get Rs. 26,300 per annum.
A total of 1,878 students will get benefit from the programme.
the government had already deposited Rs. 1.09 crore in the bank account of beneficiaries of the 'Nirmal Kusuma'.
The government had decided to increase the financial assistance by 20 % for girl students.
Female students from standard sixth to post graduation level are being provided financial assistance.
The state government has doubled the death benefits for the construction workers.
While the construction workers' family was getting Rs. one lakh as compensation, now they will get Rs. two lakh.
Similarly, the accidental benefit has been doubled from Rs. two lakh to Rs. four lakh.
Central government re-constitutes the Environment Pollution (Prevention and Control) Authority - 09 Oct 18
Highlights: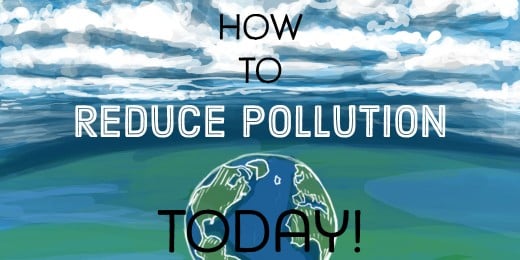 The Centre has reconstituted Supreme Court-empowered Environment Pollution (Prevention and Control) Authority or the EPCA, which is tasked with taking various measures to tackle air pollution in the National Capital Region.
The tenure of the last EPCA expired on October 3.
While reconstituting the EPCA, it tried to broad-base the organisation and therefore brought in more members.
Former secretary Bhure Lal continues to be the chairman, while the Centre for Science and Environment (CSE) DG Sunita Narain is one of the members.
The other members of the 20-member re-constituted authority.
It include Ajay Mathur,the Director General of The Energy Research Institute (TERI), Arunabha Ghosh, the Chief Executive Officer of the Centre for Energy Environment and Water, Navroz K. Dubash, the Senior Fellow for the Centre for Policy Research.
Others include Vishnu Mathur, Director General, Society of Indian Automobile Manufacturers; Arvind Kumar, former professor of surgery, AIIMS, in New Delhi and presently Chairman Centre for Chest Surgery, Sir Ganga Ram Hospital; Krishna Dhawan, Chief Executive Officer, Shakti Sustainable Energy Foundation, New Delhi among others.
The Centre had removed a JNU professor, accused of sexual harassment, from the EPCA back in July. The Environment Ministry, inan order issued on July 4, announced the removal of Atul Kumar Johri, a professor at the School of Life Sciences at Jawaharlal Nehru University (JNU).
EPC :
The EPCA was constituted with the objective of protecting and improving the quality of the environment and preventing and controlling the environmental pollution in the National Capital Region.
The EPCA is also mandated to enforce Graded Response Action Plan (GRAP) in the city as per the pollution levels.
In November, the EPCA had enforced several measures, including closure of the Badarpur thermal power plant, ban on brick kilns, hot mix plants and stone crushers, and construction activities.
ESIC wins 'ISSA GOOD Practice Award, Asia & the Pacific 2018' - 09 Oct 18
Highlights:
The Employees' State Insurance Corporation (ESIC) has won the 'ISSA Good Practice Award' for Administrative Solution for Coverage Extension.
The award has ginen at the "Regional Social Security Forum for Asia and the Pacific" held at Kuala Lumpur, Malaysia recently.
The award recognizes the measures taken by ESIC for extension of coverage-SPREE (Scheme for Promoting Registration of Employers and Employees), reduced rate of contribution rates for 24 months in newly implemented areas and raising the wage limit for coverage under the ESI Act, etc.
Shri Raj Kumar, IAS, Director General, ESIC represented Employees' State Insurance Corporation and received the Certificate of Merit on behalf of ESIC.
The Regional Social Security Forum for Asia and the Pacific is a triennial Forum, which is the most important social security event in the Region.
For the triennial Regional Forum, ISSA invites submissions for the ISSA Good Practices Award for Asia and the Pacific Regions.
The Forum provides unique opportunities to CEOs and Managers of ISSA Member Institutions to discuss key social security challenges and share their experiences.
The ISSA (International Social Security Association) is the principal international organization for Social Security Organizations, Govts. and Departments of Social Security.
The ISSA was founded in 1927 under the auspices of the International Labour Organization (ILO), Geneva.
It promotes excellence in social security administration through professional guidelines, expert knowledge, services and support to enable its Members to develop dynamic social security systems.
The ESI Corporation hosts ISSA Liaison Office for South Asia at New Delhi.
The Liasion Office coordinates with the Member countries and Social Security Institutions in Bhutan, Nepal, Bangladesh, Sri Lanka and Iran on activities of ISSA related to social security.
Mizo Weightlifter Lalrinnunga Wins India's First Ever Gold At Youth Olympics - 09 Oct 18
Highlights:
India won their maiden gold medal at the Youth Olympics with Mizo weightlifting sensation Jeremy Lalrinnunga claiming the top honours in the men's 62kg category at Buenos Aires Games.
The 15-year-old from Aizwal, who is also a world youth silver-medallist, lifted a total of 274kg (124kg +150kg) to finish on top in the Argentine capital on Monday night.
The silver medal went to Turkey's Toptas Caner, who lifted 263 kg (122kg+141kg), while Colombia's Villar Estiven Jose took the bronze with an effort of 260 kg (115kg+143kg).
The Mizo sensation, who will turn 16 on October 26, is being touted as the next big thing in Indian weightlifting.
Earlier this year, Lalrinnunga claimed a silver (youth) and a bronze (junior) in the Asian Championships, smashing two national records in the process.
His maiden gold also means that India are set to record their best ever performance at the Youth Olympics.
India won just two medals - a silver and a bronze - in the last Youth Olympics in 2014 in Nanjing in China. In the inaugural 2010 edition in Singapore, the nation fetched six silver and a couple of bronze medals.
The country is being represented by 47 athletes at the ongoing Games, its biggest ever contingent.
He was born on 26 October 2002 in Aizwal, Mizoram.
He had started weightlifting at the age of 10. He had started his training with Indian Army at Army Sports Institute in Pune, Maharashtra.
In 2018, he broke two National Records claiming Bronze medal (Junior) and Silver medal (Youth) in Asian Championships.
Mizo Weightlifting Sensation Lalrinnunga Wins India's First Ever Gold At Youth Olympics.
China to sell 48 armed drones to Pakistan - 10 Oct 18
Highlights:
India's arch rival China will sell 48 high-end armed drones to its "all-weather ally" Pakistan, will be the largest deal of its kind.
The cost of the major defence deal was not revealed.
The high-end armed drones called as Wing Loong II.
It is a high-end reconnaissance, strike and multi-role endurance unmanned aerial system, capable of being fitted with air-to-surface weapons.
It is roughly equivalent to the American MQ-9 Reaper drone.
The drones will also be jointly manufactured by China and Pakistan.
Last year, China reportedly sold to countries like the UAE and Egypt the Wing Loong II at an estimated $1 million per unit.
Largest supplier:
China is the largest supplier of weapon system to the Pakistan Army. Both countries also jointly manufacture JF-Thunder a single engine multi-role combat aircraft.
The Trump administration has agreed to sell sell 22 Sea Guardian drones to India.
The country is reported to have received 10 advanced Heron drones from Israel as well.
The deal for the acquisition of the drones manufactured by Chengdu Aircraft Industrial (Group) Company.
In the future, the Pakistan Aeronautical Complex Kamra and the Aviation Industry Corporation of China's Chengdu Aircraft Industrial (Group) Company will jointly manufacture the drones.
World Post Day observed on 9th October - 10 Oct 18
Highlights:
Every year, more than 150 countries celebrate World Post Day in a variety of ways on 9th October.
In certain countries, World Post Day is observed as a working holiday.
The purpose of World Post Day is to create awareness of the role of the postal sector in people's and businesses' everyday lives and its contribution to the social and economic development of countries.
The celebration encourages member countries to undertake programme activities aimed at generating a broader awareness of their Post's role and activities among the public and media on a national scale.
In many countries, philatelic exhibitions are organized and new stamps and date cancellation marks are issued.
Other activities include the display of World Post Day posters in post offices and other public places, open days at post offices, mail centers and postal museums, the holding of conferences, seminars and workshops, as well as cultural, sport and other recreational activities.
The day is celebrated to mark anniversary of the establishment of the Universal Postal Union (UPU) in 1874 in the Swiss Capital, Bern.
The 2018 theme is: "Imagine you are a letter travelling through time. What message do you wish to convey to your readers?"
Universal Postal Union (UPU)
UPU is specialized agency of United Nations that coordinates postal policies among member nations.
It was established in 1874 and is second oldest international organization worldwide after International Telecommunication Union (ITU).
It is headquartered in Berne, Switzerland.
Nakkheeran editor R Gopal released, Chennai court upholds freedom of press - 10 Oct 18
Highlights:
Tamil bi-weekly magazine Nakkheeran's editor R Gopal has released from Tamil Nadu Police custody which invoked a seldom used law.
A magistrate court in Egmore refused to remand him in judicial custody.
R Gopal was released in the evening and he thanked the judiciary for upholding the freedom of speech and freedom of press.
Magistrate Gopinath questioned the police on Section 124 of the Indian Penal Code (IPC).
The court asked why the journalist was arrested now for a report published in April 2018.
During the arguments that lasted for over an hour, PT Perumal, Gopal's counsel said that the charges for slapping Section 124 on Gopal were not made out.
In a rare move, the court heard the views of veteran journalist and chairman of The Hindu Group N Ram as a representative of media fraternity.
This is the first time Section 124 of the IPC has been used against a journalist in India.
He further contended that arrest of Gopal was unwarranted. The court recorded his views.
Gopal was arrested by the Chennai Police based on a complaint filed by T Sengottayan, Deputy Secretary to the Governor of Tamil Nadu.
The complaint was filed and sought action against the Journalist for publishing an article in the month of April, linking Governor's office in the Nirmala Devi case - which pertains to a college professor's alleged attempt to lure students to extend sexual favours in return for higher grades.
External Affairs Minister launches 'India for Humanity' - 10 Oct 18
Highlights:
'India for Humanity' was formally launched by Smt. Sushma Swaraj, External Affairs Minister, in a ceremony in New Delhi on 9 October 2018.
As part of 150th Birth Anniversary celebrations of Mahatma Gandhi being held over the next one year.
The Ministry of External Affairs has launched the 'India for Humanity' initiative in honour of his service to humanity.
'India for Humanity' features a year long series of artificial limb fitment camps in a number of countries spanning the globe.
The Ministry is collaborating with the renowned charitable organization "Bhagwan Mahaveer Viklang Sahayata Samiti" (BMVSS).
Founded in 1975 and better known by its trademark limb "Jaipur Foot", BMVSS is among the world's largest organisations for the fitment of artificial limbs and till date has served over 1.73 million amputees.
The limb fitment camps, which aim to provide for the physical, economic and social rehabilitation of the differently-abled around the world by helping them regain their mobility and dignity to become self-respecting and productive members of the society.
India lost $80 bn due to disasters in last 20 years: UNO - 11 Oct 18
Highlights:

According to UNISDR ,India has been ranked as the fourth worst hit country in the world.
India lost $80 billion to natural disasters over the past 20 years.
The report ranks India among the top five countries that have suffered losses due to disasters. Others are: US, China, Japan and Puerto Rico.
The report was released by the United Nations Office for Disaster Risk Reduction (UNISDR) ahead of the International Day for Disaster Reduction on October 13.
The report says that in the past 20 years, the overall direct economic loss from climate-related disasters across the world has witnessed a 151 per cent increase.
The report has been jointly prepared by UNISDR and the Centre for Research on the Epidemiology of Disasters (CRED).
It is titled 'Report on Economic Losses, Poverty and Disasters for 1998-2017', and ranks India among the top five countries that have suffered losses due to disasters.
At $944.8 billion, the United States has suffered the greatest losses due to disasters in the past 20 years.
This is followed by China ($492.2 billion), Japan ($376.3 billion), India ($ 79.5 billion) and Puerto Rico ($ 71.7 billion).
In terms of occurrences, climate-related disasters also dominate the picture, accounting for 91 per cent of all 7,255 major recorded events between 1998 and 2017.
Floods (43.4 %) and storms (28.2 %) are the two most frequently occurring disasters.
The UN report says that between 1998 and 2017, disaster-hit countries reported direct economic losses of $2.9 trillion, of which climate-related disasters accounted for $2.2 trillion (77 %).
Besides this, 1.3 million people lost their lives and 4.4 billion people were injured, rendered homeless, displaced or were in need of emergency assistance.
A total of 563 earthquakes, including those related to tsunamis, accounted for 56 % of the total deaths (7,47,234 people).
Mobile Health app for citizens of India Launched by IAF on Air Force Day - 11 Oct 18
Highlights:
On the occasion of 86th anniversary, the Indian Air Force has launched an innovative mobile health App named 'MedWatch' in keeping with the Prime Minister's vision of 'Digital India, Ayushman Bharat and Mission Indradhanush'.
The app is conceived by the doctors of IAF and developed in house by Directorate of Information Technology (DIT) with ZERO financial outlay.
'MedWatch' will provide correct, Scientific and authentic health information to airwarriors and all citizens of India.
The app is available on www.apps.mgov.gov.in and comprises of host of features like information on basic First Aid, Health topics and Nutritional Facts; reminders for timely Medical Review, Vaccination and utility tools like Health Record Card, BMI calculator, helpline numbers and web links.
'MedWatch' is the first mobile health app in the three Armed Services and was launched by Air Chief Marshal BS Dhanoa on Air Force Day,' at New Delhi on 08 Oct 18.
The app was also displayed and showcased to the Hon'ble Prime Minister of India at Air House in the evening.
The MedWatch mobile health app is an Indian Air Force initiative and a small contribution to our citizen.
Tushar Mehta appointed Solicitor General of India - 11 Oct 18
Highlights:
The Centre has appointed additional solicitor general Tushar Mehta solicitor general of India, the second most important post of law officer after the attorney general.
The post had remained vacant for nearly a year making many wonder whether the NDA government needed an SG in the Supreme Court.
The post fell vacant on October 20, 2017, when senior advocate Ranjit Kumar resigned from the post citing personal reasons, a couple of months after the NDA government gave him two-year extension.
Last year, the Centre had appointed senior advocate K K Venugopal as AG after senior advocate Mukul Rohatgi expressed his desire to return to private practice.
Mehta recently defended the Maharashtra police decision to arrest five rights activists from different places in the country and the SC after ordering their house-arrest had recently permitted police to go ahead with its investigation while declining a prayer of petitioners for a SIT probe.
Mehta is representing the UP government in the Ayodhya land dispute case pending before a three-judge SC bench.
India's first ever National Environment Survey to kick off in 24 states, 3 UTs in Jan, 2019 - 11 Oct 18
Highlights:

India's first ever National Environment Survey (NES) will be kicked off from 55 districts across 24 states and three Union Territories in January, 2019.
The earliest the first set of complete green data from the survey will be available is 2020, providing an important tool in the hands of policy-makers for decision making at all levels - district, state and national.
The survey will be done through a grid-based approach, using grids measuring 9x9 km, to collect comprehensive data on various environmental parameters such as air, water, soil quality; emission inventory; solid, hazardous and e-waste; forest & wildlife; flora & fauna; wetlands, lakes, rivers and other water bodies.
It will also assess carbon sequestration potential of all the districts across the country.
The NES will rank all the districts on their environmental performance and document their best green practices.
Unless policy-makers have exact data on all environmental parameters, they cannot take appropriate decisions.
The country's first ever environment survey will fill the gaps in existing data.
The Environmental Information System (ENVIS) will conduct the survey through its hubs and resource partners across the country.
At present, the country has secondary data on most of these parameters.
The NES will, however, for the first time provide primary data on all the green heads in the same way that the National Sample Survey (NSS) periodically collects various socio-economic data.
The first set of data on all parameters, the survey will be done at regular intervals like the one being done by the NSSO.
The first set of data will be compiled in one year because we need to cover seasonal cycles in terms of air pollution and flora & fauna.
All 716 districts in the country are expected to be surveyed in a period of three to four years. Currently, all necessary preparatory works and training are being done in all the 55 districts where the NES will be conducted next year.
Ganga crusader GD Agarwal dies after 111-day fast - 12 Oct 18
Highlights:
GD Agarwal died due to a heart attack after being on a hunger strike for more than 100 days .
GD Agarwal, a former professor at the Indian Institute of Technology in Kanpur and a man who devoted his life to the cause of saving river Ganga.
He died on the 111th day of fasting.
Agarwal began his fast on June 22 to protest the government's alleged inaction in taking measures to make the Ganga free of pollution and free-flowing.
Agarwal died at the All India Institute of Medical Sciences in Rishikesh where he was admitted by the Uttarakhand Police.
Earlier, in 2012, Agarwal took on the name Swami Gyan Swarup Sanand in his later life, went on a similar fast.
Then, his fast lasted nearly two-and-a-half months at the end of which the then Manmohan Singh-led government at the Centre was forced to give in to Agarwal's demand that a meeting of the National Ganga River Basin Authority (NGRBA) be held.
Agarwal was born in 1932 in Shanli.
He retired as a professor of environmental engineering from IIT Kanpur.
He served as a member-secretary of the Central Pollution Control Board.
In 2012, he formally renounced the world and adopted the name Swami Gyanswaroop Sanand.
"Titli" : The severe cyclonic storm causing damage to power and communication Odisha and Andhra Pradesh - 12 Oct 18
Highlights:
the severe cyclone "Titli" that made landfall between Odisha and Andhra Pradesh in the early hours of 11 October 2018 and devastated the two states resulting in death of many persons.
It devastated Srikakulam district in Andhra Pradesh and Ganjam district in Odisha with surface wind reaching speeds of 126 kmph.
At least 8 persons were killed in Srikakulam district of Andhra Pradesh.
More than 16 died in Odisha after landfall in a mountain due to severe rain.
The cyclone triggered heavy to very heavy rainfall in Ganjam, Gajapati and Puri districts of Odisha, causing minor damage to power and communication.
On the other hand numerous trees were uprooted and huge damage to property reported in Andhra Pradesh. More than 2,000 electric poles were uprooted by strong winds in the state.
ChrysCapital appointed former SBI chairperson Arundhati Bhattacharya as its adviser - 12 Oct 18
Highlights:
ChrysCapital,a private equity firm appointed former SBI chairperson Arundhati Bhattacharya as an adviser, as was disclosed on 10 October 2018.
ChrysCapital is a Homegrown private equity firm.
She has joined her new designation.
Mrs. Bhattacharya will work alongside the PE firm's managing partner Kunal Shroff and others to advise the company on strategy.
She will also be an integral part of the meetings for the PE firm's global institutional investors and will serve as a mentor to the team.
ChrysCapital was founded in 1999.
The company manages assets of around $3 billion across seven funds.
It largely provides growth capital to companies in India across sectors such as consumer goods and business services, infrastructure, manufacturing, healthcare, pharmaceuticals, information technology and financial services.
Union government has mandated the first-ever regulations pertaining to flow of Ganga - 12 Oct 18
Highlights: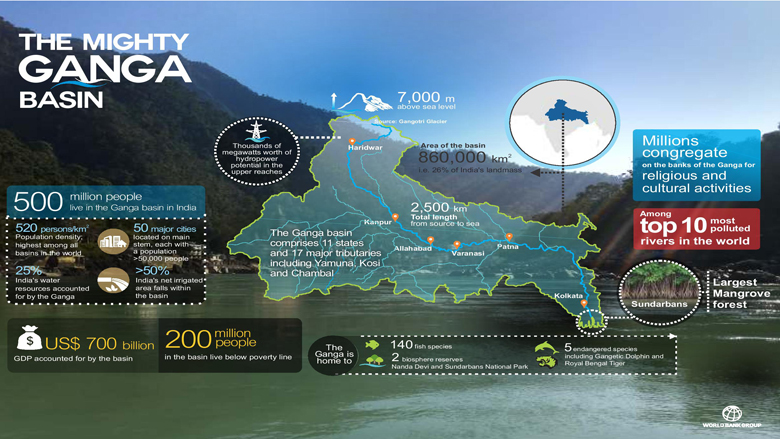 During October 2018, the Union Government came out with first-ever regulations pertaining to flow of Ganga.
In a first, the Union government has mandated the minimum quantity of water that various stretches of the Ganga must necessarily have all through the year.
The new norms would require hydro-power projects located along the river to modify their operations so as to ensure they are in compliance.
This was announced on 10 October 2018.
National Mission for Clean Ganga (NMCG) has laid down the flow specifications.
The upper stretches of the Ganga - from its origins in the glaciers and until Haridwar - would have to maintain: 20% of the monthly average flow of the preceding 10-days between November and March, which is the dry season; 25% of the average during the 'lean season' of October, April and May; and 30% of monthly average during the monsoon months of June-September.
For the main stem of the Ganga - from Haridwar in Uttarakhand to Unnao, Uttar Pradesh - the notification specifies minimum flow at various barrages: Bhimgoda (Haridwar) must ensure a minimum of 36 cubic metres per second (cumecs) between October-May, and 57 cumecs in the monsoon; and the barrages at Bijnor, Narora and Kanpur must maintain a minimum of 24 cumecs in the non-monsoon months of October-May, and 48 cumecs during the monsoon months of June-September.
Lt. Gen. Asim Munir appointed as the new Director General (DG) of ISI - 13 Oct 18
Highlights:
Lt. Gen. Asim Munir was appointed the new chief of Pakistan's spy agency Inter-Services Intelligence (ISI).
Lt. Gen. Asim Munir was appointed as the new Director General (DG) of Pakistan's spy agency ISI.
This was announced by Pakistan Army's media wing on 10 October 2018.
He replaced Lt. Gen. Naveed Mukhtar.
Mukhtar assumed the office of the ISI chief in December 2016.
Munir has previously served as the head of the Military Intelligence (MI).
He has also served as the commander of the Force Command Northern Areas.
NHRC celebrates silver jubilee foundation function - 13 Oct 18
Highlights:
The National Human Rights Commission (NHRC), which has served as a "watchdog of democracy" and been part of some landmark cases in which its intervention had significant impact, completed 25 years.
The commission was established on October 12, 1993 under the Protection of the Human Rights (PHR) Act, 1993, and it has lined up a host of activities till Sunday to mark the occasion.
A commemorative first day postal cover and stamp will be released, besides the launching of a new version of the commission's website.
The rights panel has five members, including the chairperson, who deliberate upon the cases put before them, currently post of two of the members are vacant.
The NHRC, in the run up to the jubilee, has already hosted a number of programmes, including an international conclave on human rights, panel discussion on role of media in context of human rights, painting competition and slogan and logo making contest.
The panel had recently unveiled its special silver jubilee logo and also commissioned a documentary, titled 'NHRC: 25 years, Billion Hopes' capturing the 25 years of its journey, from its humble beginning in Sardar Patel Bhawan.
The film captures the journey of the NHRC from its humble beginning in 1993 to its present stature, references some of the landmark cases in which NHRC's intervention had made significant impact and the back story of how the redressal system works.
Currently, housed in a modern high-rise building complex -- Manav Adhikar Bhawan -- in south Delhi, it has received "over 17.5 lakh grievances" from people across the country since its inception, and the most from Uttar Pradesh.
Some of the cases referred to in the film in which NHRC had intervened, include the Nandigram violence in West Bengal, Salwa Judum-related incidents in Chhattisgarh and the issue of silicosis.
NHRC either takes suo motu cognisance of cases through media reports or complaint filed by a victim or any other person on his or her behalf or on the basis of reports received from the police department, as in the case of encounters, where the police, as per the guidelines is supposed to inform the commission.
It has also sent notices to the Centre and the chairman of the SAIL over the death of 11 workers in a recent blast at the steel major's Bhilai plant in Chhattisgarh.
India Elected To UN Human Rights Council With Most Number Of Votes - 13 Oct 18
Highlights:
India was elected to the United Nations' top human rights body for a period of three years beginning January 1, 2019.
It has got 188 votes in the Asia-Pacific category, the highest number of votes among all candidates.
The 193-member UN General Assembly held elections for new members to the UN Human Rights Council.
The 18 new members were elected by absolute majority through a secret ballot. Countries needed a minimum of 97 votes to get elected to the Council.
India was vying for a seat in the Asia Pacific category.
Along with India, Bahrain, Bangladesh, Fiji and Philippines had also staked a claim in the same regional group.
There were five nations vying for five seats in the Asia Pacific category, India's election to the Council was all but certain.
The new members will serve a term of three years beginning January 1, 2019.
India had previously been elected to the Geneva-based Human Rights Council for the 2011-2014 and 2014-2017 term.
Its last tenure had ended on December 31, 2017 and in accordance with the rules, it was not eligible for immediate re-election since it had already served two consecutive terms.
It was created by the Assembly in March 2006 as the principal United Nations body dealing with human rights.
The Human Rights Council comprises 47 elected Member States.
On the basis of equitable geographical distribution, Council seats are allocated to the five regional groups as follows: African States, 13 seats; Asia-Pacific States, 13 seats; Eastern European States, 6 seats; Latin American and Caribbean States, 8 seats; and Western European and other States, 7 seats.
All five of the General Assembly's regional groups had submitted competition-free slates, meaning that all candidates, regardless of their rights records, were virtually assured seats on the council.
Former President of Chile Michelle Bachelet assumed the role of UN High Commissioner for Human Rights in September this year.
He will be succeeding Jordanian diplomat Zeid Ra'ad al-Hussein, who had in June this year released a first ever report on Kashmir that was rejected by India.
Indian Navy inducts first deep submergence rescue vehicle - 13 Oct 18
Highlights:
The Indian Navy has inducted its first deep submergence rescue vehicle (DSRV).
The DSRVs are used for rescue of personnel in downed submarines.
They are also deployed for various other missions including laying cables on the sea-bed.
Some DSRV vessels are air transportable.
It can be mobilized from the Indian Navy's naval base in Mumbai to the nearest port by air, land, and sea.
The second DSRV is expected to be inducted into the Indian Navy at the southern port city of Vishakhapatnam in 2019.
Deep Submergence Rescue Vessel will be used to search, locate and rescue to distressed submarines.
The Indian Navy has inducted its first deep submergence rescue vehicle for downed or disaster-struck submarines at high sea.
India has joined a select group of countries that have the capability to locate and rescue distressed submarines.
Indian Navy joins select league of nations with capability to search, locate and provide rescue to distressed submarines by induction of first Deep Submergence Rescue Vessel (DSRV) and associated kit in fly away configuration
The DSRVs are also used to lay cables on the sea bed. Some DSRV vessels are air transportable in very large military cargo.
The induction was part of efforts to enhance operational capabilities when China has been ramping up its maritime presence in critical sea lanes which are of strategic importance to India.
Dr Shekhar C. Mande appoints as new Director General of CSIR - 14 Oct 18
Highlights:
Dr Shekhar C. Mande has been appointed as the new Director General of the Council of Scientific and Industrial Research (CSIR) and the Secretary of the Department of Scientific and Industrial Research (DSIR), India.
He is the current Director of the National Centre for Cell Science (NCCS), Pune
He succeeds Dr Girish Sahni, who retired on 31st August 2018.
CSIR is one of the world's largest publicly-funded research and development organisations and is known for its contributions in diverse areas of science.
Dr Mande is a leading structural and computational biologist and has more than 100 publications to his credit.
His laboratory at NCCS has been involved in research on the structural characterisation of Mycobacterium tuberculosis proteins and the computational analysis of genome-wide protein: protein interactions.
After completing his M.Sc. in Physics from Nagpur University in 1984, Dr Mande obtained his PhD in Molecular Biophysics from the Indian Institute of Science, Bengaluru, in 1991 under the supervision of Prof. M. Vijayan.
He started his postdoctoral research at Rijksuniversiteit Groningen, in the Netherlands in 1991 and joined as a senior fellow at the University of Washington, Seattle, USA in 1992.
After returning to India, he joined the Institute of Microbial Technology, Chandigarh, as a scientist and continued till 2001 when he was selected as a Staff Scientist at the Centre for DNA Fingerprinting and Diagnostics, Hyderabad.
In 2011, Dr Mande was appointed as the Director of NCCS, Pune, an autonomous Institute of the Department of Biotechnology, Government of India.
He also served in various advisory committees for the Government of India.
Dr Mande has several honours and awards to his credit.
He is the fellow of all the three major science academies of India-the Indian National Science Academy (INSA), the National Academy of Sciences India (NASI), and the Indian Academy of Sciences (IAS). He received the prestigious Shanti Swarup Bhatnagar Prize for Biological Sciences in 2005.
India ranks 115 in World Bank's Human Capital Index :World Bank - 14 Oct 18
Highlights:
According to World Bank, India ranked 115th among 157 countries in its first-ever Human Capital Index (HCI).
India's neighbours Bangladesh, Nepal and Sri Lanka were better placed at 106th, 102nd and 74th position, respectively.
The index took into account parameters like child mortality, health and education.
The World Bank gave India a score of 0.44 of the total 1.0, lower than the average for its income-level countries.
In simple terms, it shows that the children born in India today will be 44 % as productive when they grow up as they could be if they enjoyed complete education and full health.
Girls fared slightly better at 0.45 than boys, who scored 0.43.
Globally, 56 % of all children born today will grow up to be, at best, half as productive as they could be, and 92 % will grow up to be 75 % as productive as they could be.
India ranks 115 in World Bank's Human Capital Index; govt dismisses report
The ground that India has to recover could be gauged from the fact that the topmost country, Singapore, scored 0.88.
The index basically measures the amount of human capital that a child born today can expect to attain by 18.
It conveys the productivity of the next generation of workers compared to a benchmark of complete education and full health.
The index is made up of five indicators: the probability of survival to age five, a child's expected years of schooling, harmonised test scores as a measure of quality of learning, adult survival rate (fraction of 15-year-olds that will survive to age 60), and the proportion of children who are not stunted.
India got 0.96 score on the first parameter - the probability of survival to age 5.
On the second parameter, a child who starts school at age 4 can expect to complete 10.2 years of school by their 18th birthday.
However, factoring in what children actually learn, the expected years of school are only 5.8 in India.
On other parameters, the index reveals that 83 per cent of 15-year-olds will survive until 60. Also, 62 of the 100 children are not stunted and 38 of the 100 children are stunted.
Reacting strongly to these observations, the finance ministry said the HCI score for India did not reflect the key initiatives that were being taken for developing human capital in the country.
Programmes such as Samagra Shiksha Abhiyan, Ayushman Bharat Programme, Swachh Bharat Mission, Pradhan Mantri Ujjwala Yojana, and Pradhan Mantri Jandhan Yojana to counter the World Bank's findings.
Aadhaar identification system had enabled India to make direct cash transfer of about $ 64 billion to citizens, improving governance and social protection.
These initiatives were transforming human capital in India at a rapid pace and very comprehensively touching upon the lives of millions of people living in rural and tribal areas.
The HCI is part of the World Development Report (WDR).
As part of this report, the World Bank has launched a Human Capital Project (HCP).
The HCP is claimed to be a programme of advocacy, measurement, and analytical work to raise awareness and increase demand for interventions to build human capital.
Human Capital Index seeks to measure how well governments enable their people to reach their full potential.
The index quantifies the contribution of health and education to the productivity of the next generation of workers
CUJ signs MoU with ISRO to set up Space Applications Center - 14 Oct 18
Highlights:
The Indian Space Research Organisation (ISRO) signed a MoU with the Central University of Jammu (CUJ) in Jammu for setting up of the Satish Dhawan Center for Space Science in the University.
Another MoU was signed between the Central University of Jammu (CUJ) and the Central Scientific Instruments Organization (CSIR-CSIO).
This is to create awareness about space research.
This is the first of its kind institute coming up in Jammu and Kashmir and the building is proposed in an area of about 1,150 sq. m.
The Space Science Centre at CUJ will have facilities for Geospatial Data analysis that will help in the sustainable use of natural resources and planning land-use pattern.
Manu Bhaker becomes second Indian to win two medals at Youth Olympics - 14 Oct 18
Highlights:
Young shooting sensation Manu Bhaker became the second Indian after Judoka Tababi Devi to win two medals at the Youth Olympic Games in Buenos Aires, Argentina.
Manu won the first medal in the form of Gold in the 10-metre air pistol event.
Manu combined with Tajikistan's Behzan Fayzullaev in the 10-metre pistol mixed international settled for a silver after losing the gold medal match 3-10 to Germany and Bulgarian pair of Vanessa Seeger and Kiril Kirov.
India thus wrapped up their shooting campaign with two gold and three silver medals.
Khayyam named for Hridaynath Award for lifetime achievement - 15 Oct 18
Highlights:
National Award winning music director Mohammed Zahur Khayyam Hashmi, famous as 'Khayyam', has been named for this year's Hridaynath Award for Lifetime Achievement.
The award is Instituted by the Hridayesh Arts.
The award carries a cash prize of Rs 100,000 and a memento and shall be conferred.
The award ceremony coincides with the 81st birthday of Hridaynath Mangeshkar after whom it is named.
Hridaynath is the only and youngest brother of the legendary Mangeshkar singer-sisters - Lata, Asha, Usha and Meena, all children of the great composer, Deenanath Mangeshkar.
The veteran composer, lyricist and writer Khayyam, 91, started his music career in Ludhiana in 1943 at the age of 17.
Later, the Padma Bhushan awardee teamed up as Sharma of the music-director duo 'Sharmaji-Varmaji' to compose music for films like "Heer Ranjha" (1948) and others.
It was the 1961 blockbuster "Shola Aur Shabnam" which firmly established Khayyam as a top-notch music director followed by films with superhit music like "Mohabbat Isko Kehta Hain" (1965) and "Aakhri Khat" (1966), that was the late superstar Rajesh Khanna's debut film with memorable songs like "Bahaaron, Mera Jeevan Bhi Savaaron".
Later, he composed music for films like "Kabhi Kabhi" (1976), "Trishul" (1978), "Noorie" (1979), "Thodisi Bewafai" (1980), "Dard" and "Ahista Ahista" (1981), "Dil, Akhir Dil Hai" and "Bazaar"(1982), "Razia Sultan" (1983).
In 1981, he composed music for the sensitive blockbuster film "Umrao Jaan, which he bagged the National Award, and also a Filmfare Award, besides a string of other honours.
The other past recipients of the awards are Lata Mangeshkar, Asha Bhosle, Amitabh Bachchan, Sulochana Latkar, A.R. Rahman, Pandit Jasraj, and Javed Akhtar, besides chess champ Vishwanathan Anand.
Maryse Conde wins alternative literature prize in absence of Nobel - 15 Oct 18
Highlights: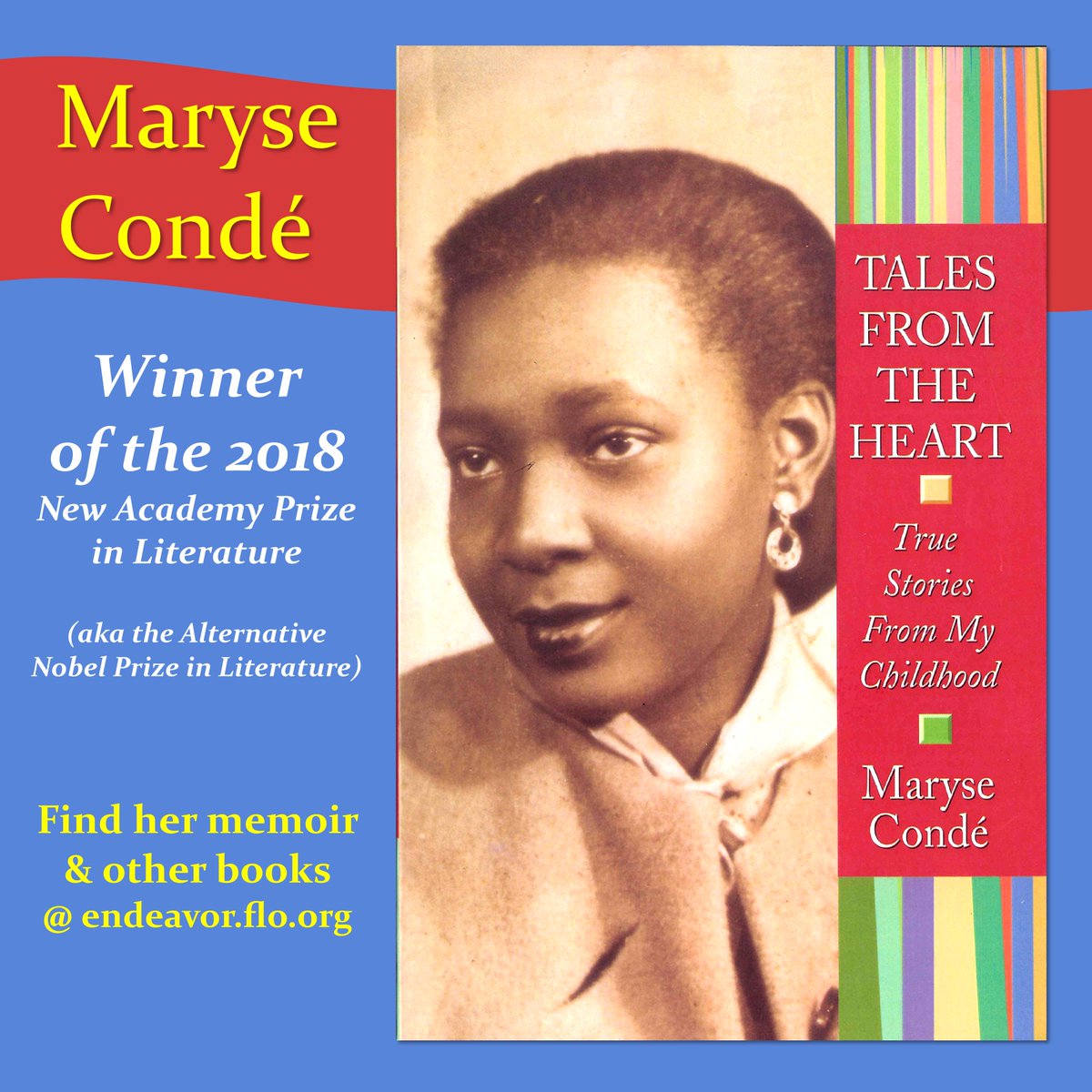 Maryse Conde from the French Caribbean territory of Guadeloupe was awarded the New Academy Prize in Literature.
The award is created after the Swedish Academy postponed this year's literary Nobel as it sought to deal with the aftermath of a rape scandal.
Maryse Conde, author from Guadeloupe living in Paris, appears on screen at the announcement that she was awarded the New Academy Literature Prize at Stockholm City Library, Stockholm, Sweden October 12, 2018.
She will receive 87,000 pound cash prize that was raised from crowdfunding and donations, at the award ceremony on 9 December 2018, a day before the Nobel award ceremony.
She is 81 years old.
The New Academy was founded by more than 100 Swedish cultural figures earlier this year as a response to the scandal and the postponement of the Nobel.
In her work she describes the ravages of colonialism, and the post-colonial chaos in a language which is both precise and overwhelming.
For the first time in decades, this year's Nobel prizes included no literature award after deep disagreement and defections at the awarding body, the Swedish Academy, left it unable to select a winner.
The controversy centers on the husband of one of the Academy's members who was sentenced to two years in prison for rape earlier this month. He has denied the allegations against him and is appealing the verdict.
The Swedish Academy named two new members last week and is working on filling other empty seats and rebuilding confidence.
India and France in talks to conduct tri-service exercise - 15 Oct 18
Highlights: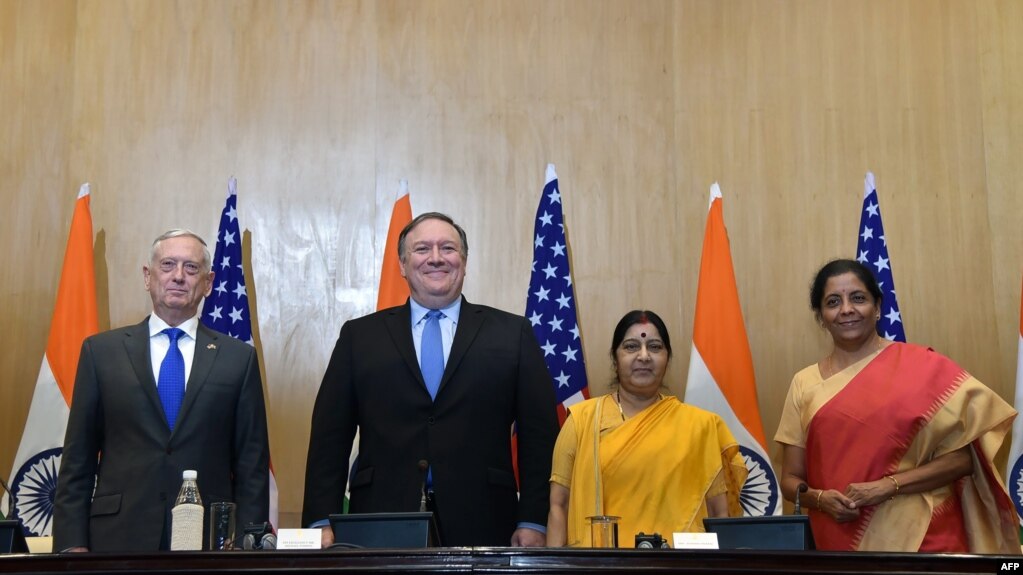 India and France are in discussions for a bilateral tri-service military exercise to take forward the strategic cooperation while also exploring ways to operationalise the logistics agreement.
These issues were discussed during the visit of Defence Minister Nirmala Sitharaman to Paris last week.
This will be India's third such joint exercise.
The first joint tri-service exercise was held with Russia in October last year and has finalised one with the U.S. to be held next year.
India and France currently hold bilateral exercises between individual services - Shakti, Varuna and Garuda respectively for the Army, Navy and Air Force.
India and France signed a logistics pact in March this year which gives access to their militaries to each other's bases for logistics support.
While the agreement gives India access to French military bases all over the world on a "reciprocal basis," of particular interest for New Delhi are the three French bases in the Indian Ocean - Reunion Island, Djibouti and Abu Dhabi.
These three bases would give the Indian Navy and the Air Force operational turnaround to the far end of the Indian Ocean, improving its monitoring and surveillance of the region, in the backdrop of increased Chinese presence in the Indian Ocean Region (IOR).
India has signed a series of logistics agreements recently beginning with the Logistics Exchange Memorandum of Agreement (LEMOA) with the U.S., which will increase its operational footprint in the IOR.
Japan set to host 2019 World IAAF Relays - 16 Oct 18
Highlights:
Japan Association of Athletics Federations announced to be the host of the 2019 edition of 4th International Association of Athletics Federations (IAAF) World Relays, beginning May 11, 2019.
The first three editions of the IAAF World Relays, in 2014, 2015 and 2017, were held in the Bahamian capital of Nassau.
The 2019 meet will take place May 11 and 12 at Nissan Stadium in Yokohama, near Tokyo.
This will serve as a qualifier for the world championships taking place in Doha in September and October.
India and China to sign internal security cooperation agreement on Oct 22 - 16 Oct 18
Highlights:
For the first time, India and China will sign an internal security cooperation agreement,marking a new beginning in bilateral relations.
Zhao Kezhi, China's Minister of Public Security, who is set to visit India on October 22, will hold meetings with Home Minister Rajnath Singh.
The duo is slated to discuss various aspects of security cooperation between the two countries.
During the visit, an agreement on internal security cooperation between the two countries will be signed.
The proposed pact is expected to cover areas of intelligence sharing, exchange programme, sharing of best practices, cooperation in disaster mitigation besides others.
The move comes just a year after a two-month-long border stand-off between the India Army and the China's People's Liberation Army at Doklam on the India-Bhutan-China tri-junction.
Prime Minister Narendra Modi and Chinese President Xi Jinping held an informal summit in Wuhan, China, in April this year, which helped repair bilateral ties.
A Chinese delegation met an Indian team on August 28 to hold discussions on the forthcoming visit of the Chinese Minister of Public Security and the proposed pact on security cooperation between the two countries.
This will be the first such agreement between the authorities that look after internal security of the two countries.
While Mr. Singh is the head of eight central armed police forces with a combined strength of about 10 lakh personnel, Mr. Zhao is responsible for day-to-day law enforcement in China and commands about 19 lakh personnel.
The scheduled meeting may lead to a future India-China agreement on exchange of sentenced prisoners, another official said.
Currently, India does not have an extradition treaty with China, nor a pact to exchange each other's sentenced prisoners.
There are at least 10 Indians in Chinese prisons and an equal number of Chinese citizens in Indian prisons.
Korean war memorial to be built in Delhi - 16 Oct 18
Highlights:
India and South Korea have agreed on building the war memorial.
A Korean War memorial will be built in New Delhi to commemorate India's role in the war which ended in an armistice in 1953.
The proposal was initiated by the Indian Korean War Veterans Association and the Delhi government had already designated a place to build the memorial.
Technical details like design and other aspects are yet to be worked out and the memorial is expected to be ready by end of next year.
There were 21 countries which participated in the Korean War from 1950-53 of which 16 countries had sent combat troops.
India sent medical teams and a custodian force to deal with the Prisoners of War (PoW).
India played a neutral role in the war. They contributed in a peaceful manner to end the Korean War.
As of now, there are Korean War memorials in about 20 countries around the world which had played a role in the war.
India's longest river bridge will be built across Brahmaputra River - 16 Oct 18
Highlights:
India's longest river bridge will be built across the Brahmaputra River and it will connect Dhubri in Assam to Phulbari in Meghalaya.
The 19.3 km, four-lane bridge will be built by 2026-27 and will cut road travel by 203 km as also travel time.
At present, vehicles take an over-200 km-long detour using the Naranarayan Bridge, which is 60 km upstream.
The new bridge will complete the missing link of NH127B from Assam to Meghalaya.
Currently, the longest river bridge in India, at 9.15 km, is the Dhola-Sadiya Bridge which was opened last year.
The Japanese funding agency Japan International Cooperation Agency (JICA) has approved a loan for this project.
Anna Burns won the prestigious Man Booker Prize for fiction - 17 Oct 18
Highlights:
Anna Burns won the Man Booker Prize for fiction on 16 October 2018.
She became the first writer from Northern Ireland to win the prestigious prize.
She won the prestigious Man Booker Prize for fiction "Milkman".
The novel is a violent story about men, women, conflict and power set during Northern Ireland's years of Catholic-Protestant violence.
Burns is the first writer from Northern Ireland to win the 50,000-pound ($66,000) prize, which is open to English-language authors from around the world.
This was the 50th edition of the prize.
October 17 observed as International Day for the Eradication of Poverty 2018 - 17 Oct 18
Highlights:
The International Day for the Eradication of Poverty (IDEP) is observed every year on October 17.
Its main aim is to raise people's awareness of the need to eradicate poverty and destitution worldwide, particularly in developing countries.
Theme: "Coming together with those furthest behind to build an inclusive world of universal respect for human rights and dignity"
This year marks the 70th anniversary of the proclamation of the Universal Declaration of Human Rights.
It is important to recall the fundamental connection between extreme poverty and human rights, and that people living in poverty are disproportionately affected by many human rights violations.
Joseph Wresinski was one of the first persons to highlight this direct link between human rights and extreme poverty.
In February 1987, he appealed to the Human Rights Commission to examine the question of extreme poverty and human rights and eloquently captured the nexus between human rights and extreme poverty with his profound observation:
The persistence of poverty, including extreme poverty, is a major concern for the United Nations and, at its 72nd session, the General Assembly launched the Third United Nations Decade for the Eradication of Poverty (2018–2027), under the theme "Accelerating global actions for a world without poverty".
It is important that the Third Decade's inter-agency, system-wide plan of action to coordinate the poverty eradication efforts of the United Nations system includes an effective partnership with people living with poverty.
Centerlaunches 'Swastha Bharat Yatra' campaign to create awareness about safe food - 17 Oct 18
Highlights:
The government has launched a national campaign 'Swasth Bharat Yatra' on the World Food Day under which a pan-India cycle rally is being organised to sensitise people about eating safe food and be healthy.
The Food Safety and Standards Authority of India (FSSAI) is leading this campaign.
About 7,500 cyclists are expected to participate in over 18,000 km relay cycle rally travelling across six tracks through almost every state and UT over 100 days to propagate a powerful message 'Eat Right India'.
The cyclathon will culminate in the national capital on January 27.
the campaign has been launched by the central government, in association with states, from October 16 on occasion of the World Food Day.
The FSSAI is leading this campaign to create consumer awareness about eating safe and nutritious food for becoming healthy.
The 'Swasth Bharat Yatra' was launched simultaneously at Leh (in Jammu & Kashmir), Panaji (Goa), Thiruvananthapuram (Kerala), Puducherry, Ranchi ( Jharkhand) and Agarthala (Tripura).
From October 16 to January 27, 2019, on every single day, 150 volunteer cyclists and a convoy including the 'Eat Right Mobile Unit' and 'Mobile Food Testing Unit' would travel across the country to build awareness around food safety, combating food adulteration and healthy diets.
The government is also making available foods at a cheaper rates to people through a public distribution system and other welfare schemes with an annual subsidy of about Rs 2 lakh crore.
Presently, India is 103rd rank in 'Global Hunger Index' out of 119 countries.
Veteran politician and former CM Narayan Dutt Tiwari passed away - 18 Oct 18
Highlights:
Veteran Congress leader Narayan Dutt Tiwari died on his 93rd birthday after a prolonged illness.
He was four-time Chief Minister - thrice of Uttar Pradesh and once of Uttarakhand.
He also was the foreign minister in Rajiv Gandhi government and held the post of Governor of Andhra Pradesh.
A Congressman all his life, Mr Tiwari had met Amit Shah and other BJP leaders last year when his son Rohit Shekhar -- who had been looking to establish himself politically after being united with his father after a long paternity suit-- joined the party.
A consummate politician and an exemplary administrator, Mr Tiwari was handpicked by then Prime Minister Indira Gandhi in 1976 to replace Veer Bahadur Singh as the chief minister of Uttar Pradesh.
Mrs Gandhi sprang a surprise on everyone with the choice of Mr Tiwari.
Pitched against more illustrious colleagues, such as Rajendra Kumari Bajpai, Mr Tiwari did not stand a chance to lead India's largest state, where the Congress was ruling the roost.
He was chief minister of Uttar Pradesh thrice: from January 1976 to April 1977, from August 1984 to September 1985 and from June 1988 to December 1988.
Mr Tiwari was elected to the Lok Sabha in 1980.
He was the deputy chairman of the planning commission and minister holding crucial portfolios, including petroleum, external affairs, finance and commerce in both Indira Gandhi and Rajiv Gandhi governments.
In 1994, he quit the Congress to form All India Indira Congress (Tiwari) and returned to the party when Sonia Gandhi took up the Congress's reins in 1996.
ND Tiwari cut his political teeth in the freedom movement in 1942 as a student activist, penning anti-British leaflets.
He was sent to Nainital jail along with his father Poornand Tiwari, a forest department official who left his job to join the freedom movement.
He was an old-school politician with a steely resolve, who neither quit nor got perturbed when greeted with derision.
Towards the end of his career, when Mr Tiwari was the Governor of Andhra Pradesh, he had to contend with a paternity suit and allegations of sleazy videos.
The 88-year-old stepped down and officially adopted Rohit Shekhar, who fought a long legal battle to be accepted as Mr Tiwari's son.
He also married Mr Shekhar's mother Ujjwala Sharma.
India and Tanzania sign two MoUs in New Delhi - 18 Oct 18
Highlights: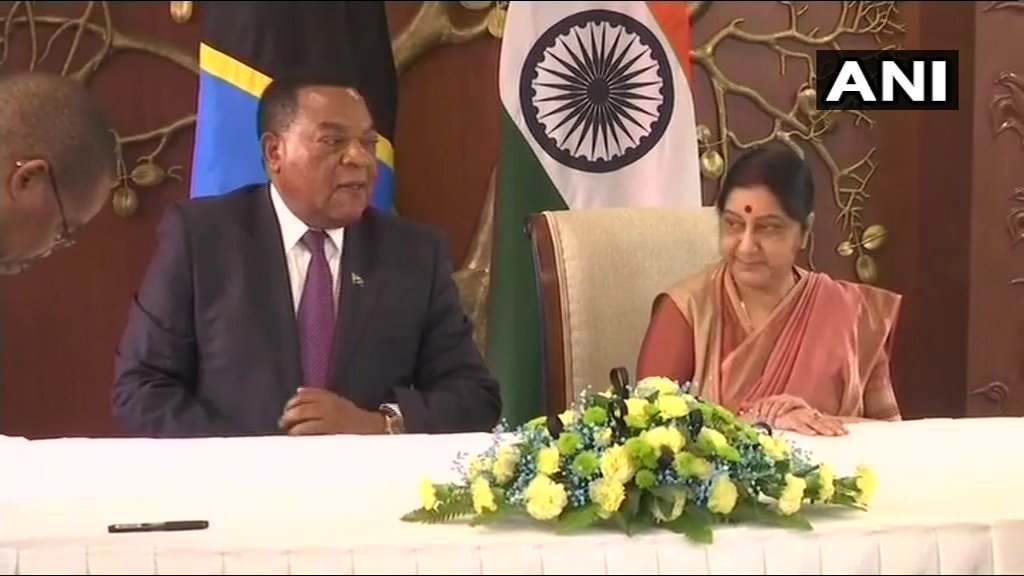 India and Tanzania signed 2 Memoranda of Understandings (MoUs) in New Delhi.
Key Points:
The MoUs were signed following India-Tanzania 9th Session of Joint Commission on Economic, Technical and Scientific Cooperation in New Delhi.
They were signed in the presence of Indian External Affairs Minister Sushma Swaraj and Tanzanian Foreign Minister Dr. Augustine Mahiga.
The MoUs are signed between: Foreign Service Institute of India and Centre for Foreign Relation, Tanzania and National Research Development Corporation and Tanzania Industrial Research and Development Corporation.
Discussions were held on enhancing cooperation in trade and investment, defence and security, development partnership, Science and Technology, oil and natural gas, culture and people-to-people relations.
Tanzania is west African country.Its capital is located at Dodoma.
Currency – Tanzanian shilling
President – John Magufuli
Prime Minister – Kassim Majaliwa
Arundhati Bhattacharya is appointed as additional director of RIL - 18 Oct 18
Highlights:
Arundhati Bhattacharya is appointed as additional director of RIL
Arundhati Bhattacharya, former chairman of State Bank of India (SBI), is appointed as additional director, designated as independent director, Reliance Industries Limited (RIL).
She is appointed for five years commencing October 17, 2018, subject to the approval of the shareholders.
It also said wholly-owned arm Reliance Industrial Investments and Holdings has bought 12.7% in SkyTran Inc., which develops technology in the field of Personal Rapid Transit Systems.
Sixth meeting of NDMA begins at New Delhi - 18 Oct 18
Highlights:
On October 18, 2018, Prime Minister Narendra Modi chaired the sixth meeting of National Disaster Management Authority (NDMA) at New Delhi.
Prime Minister chaired 6th meeting of NDMA.
Other delegates present in the meeting were: Home Minister Rajnath Singh, Finance Minister Arun Jaitley and Agriculture Minister Radha Mohan Singh and officials of NDMA.
The agenda of the meeting was:
Review of ongoing projects undertaken by the NDMA,
Review of effective management and response to disasters,
Coordination between the various stakeholders for better implementation of joint projects,
Need to bring in global expertise in the field of disaster management.
The Headquarters of NDMA is located at New Delhi,India.
PM Narendra Modi is the Chairman of NDMA.
It works Under Ministry of Home Affiars.
Lotay Tshering elected the new Prime Minister of Bhutan - 19 Oct 18
Highlights:
Lotay Tshering was elected the new Prime Minister of the Himalayan kingdom of Bhutan in country's third democratic election.
The results of which were announced on 19 October 2018.
Lotay Tshering is the President of Druk Nyamrup Tshogpa party.
His party won 30 of 47 national assembly seats in the third general election in Bhutan.
Bhutan has now chosen a different party to rule at each election since the end of absolute monarchy in 2008.
Tshering is a 50-year-old urology surgeon. He will replace Tshering Tobgay.
Arcelor Mittal acquired debt-ridden Essar Steel - 19 Oct 18
Highlights:
A consortium led by ArcelorMittal, a global steel entity acquired debt-ridden Essar Steel.
On 19 October 2018, the lenders to bankrupt Essar Steel declared that the highest bid was from the joint venture (JV) of Luxembourg-based ArcelorMittal, promoted by Lakshmi Mittal, and Japan's Nippon Steel and Sumitomo Metal Corp.
Thus the consortium acquired the Indian steel maker and ensured that ArcelorMittal, the world's largest steelmaker, makes its entry into Indian steel sector.
ArcelorMittal-led consortium had tabled a resolution plan that offered Rs. 42,000 crore to buy out Essar Steel's assets, which had accumulated debt of over Rs. 49,000 crore.
Essar steel has a 10 million tonne (mt) per annum mill in Hazira, Gujarat.
The company is a fully-integrated flat steel manufacturer.
Wildlife Photographer of the Year 2018 bagged by Marsel van Oosten - 19 Oct 18
Highlights:
Dutch photographer Marsel van Oosten has won Wildlife Photographer of the Year 2018.
Wildlife Photographer of the Year 2018 bagged by Marsel van Oosteni.
It was awarded by London's Natural History Museum.
He got the award for his photo titled "The Golden Couple," which is the striking photo of a pair of endangered golden snub-nosed monkeys in central China's Qin Ling Mountains.
Second place in the competition was awarded to Skye Meaker, 16, who won the Young Wildlife Photographer of the Year 2018 award.
The two winning images will be showcased in an exhibition featuring 98 other entries at the Wildlife Photographer of the Year exhibition, running from 19 October until 1 July 2019, by the Natural History Museum in London.
Other Awardees:
National Geographic photographer, Thomas Peschak won in the birds category with the photo of a sharp-beaked finch.
National Geographic photographer, Jen Guyton, won the plants and fungi category with a photo of a desert plant called a welwitschia found in Namibia and Angola.
Contributor to National Geographic magazine and Dutch nature photographer, Frans Lanting won the organization's first-ever lifetime achievement award.
Wildlife Photographer of the Year Award was instituted in 1965.
The award has been presented for Wildlife Photography by the Natural History Museum, London.
Three-fourths of H-1B visa holders in 2018 are Indians: U.S. report - 20 Oct 18
Highlights: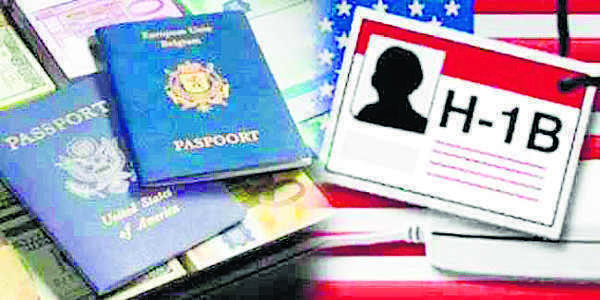 Indians account for 73.9% of the total H-1B visa holders in the U.S.
Nearly three out of every four H-1B visa holders as of October 5 are Indian citizens, an official U.S. report has said.
According to the U.S. Citizenship and Immigration Services (USCIS), there were as many as 419,637 foreign nationals working in the U.S. on H-1B visas as on October 5.
Of these, 309,986 are Indians, the USCIS said in its report 'H-1B petitions by gender and country of birth fiscal year 2018'
The report reveals a massive gender disparity - only one out of every four H-1B visa holders is female. Of the 419,637 H-1B visa holders, 106,096 (or 25.3%) are females as against 311,997 (or 74.3% males).
Gender disparity is wider among Indians.
Of the 309,986 Indians on H-1B visas in the U.S. this October, only 63,220 or 20.4% are females while nearly 245,517 Indians on H-1B visas or 80% (79.2% to be precise) are males.
As many as 1,249 Indians on H-1B visas have been characterised in the category of missing/others.
Indians, who account for 73.9% of the total H-1B visa holders in the U.S., are followed by a distant Chinese with 47,172 on H-1B visas, accounting for 11.2% of the total foreign nationals on this work visas.
But there is not much gender disparity among the Chinese on H-1B visas. According to the report, 21,342 or 45.2% are females and 25,718 or 54.5% are males.
After India and China, Canada and South Korea are the only two countries which account for a little over one% (1.1% to be precise) each on H-1B visas.
After that all other countries constitute less than 1% of the H-1B visas as of October 5.
The Philippines is the only country in top 10 H-1B visa holders wherein there are more females (1712 or 52.7%) on H-1B visas than males (1519 or 46.7%) on H-1B visas.
As of October 5, as many as 3,250 professionals from the Philippines were on H-1B visas.
The H-1B gender report was released days after the Trump administration came out with its unified fall agenda, in which it said that it plans to make changes in the definition of specialty occupation for the definition of H-1B visas and re-redefining the relationship between employees and employers.
The proposed regulations, it said, is aimed at attracting the best and the brightest from across the world, prevent the abuse of H-1B visas which is consentient with the hire American agenda of the Trump administration.
The USCIS is also proposing to introduce a pre-registration system for foreign students in the U.S. Technically it is possible that if 85,000 such students succeed in getting H-1B visas, no overseas applicants could apply.
4) On 20 October 2018 China performed the full-fledged test of a huge amphibious aircraft that has been claimed to be the largest amphibious aircraft currently in operation. What is the code name given to this aircraft? - AG600
AG600 is the code name of China's ambitious amphibious aircraft that has been claimed to be the world's largest amphibious aircraft in operation. It is equal in size to a Boeing 737.
The first water take-off and landing of AG600 was successfully performed on 20 October 2018 outside the city of Jingmen in central China.
The aircraft is designed for maritime rescue, long-range transport and firefighting operations. The machine can take up to 50 passengers on board and can take in some 12 tons of water in just 20 seconds.
PM to unveil National Police Memorial in New Delhi - 20 Oct 18
Highlights: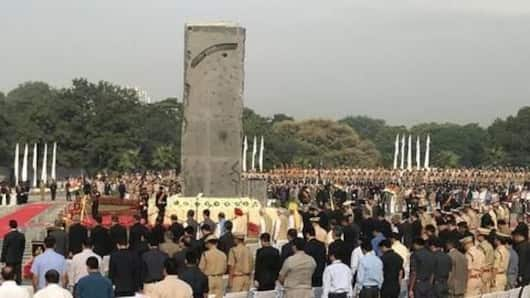 The National Police Memorial would be inaugurated by Prime Minister Narendra Modi.
The memorial is in recognition of the sacrifice made by nearly 35,000 police personnel killed in action since Independence.
A 30-foot granite pillar, weighing around 238 tonnes, has been installed at Chanakyapuri in the heart of Lutyens' Delhi to honour the policemen.
The sculpture has been conceptualised by Advaita Gadanayak of the National Gallery of Modern Art. The stones to construct the pillar were sourced Khammam in Telengana.
Since 1947, as many as 34,864 police personnel have been martyred.
Many of these brave lives were lost in the fight against terrorism in Jammu and Kashmir, Punjab, Assam, Nagaland, Manipur, Mizoram and Maoist-affected regions of the country.
The memorial will also have a 'Wall of Valour', engraved with the names of police personnel, including those killed in the 1965 India-Pak war, the 26/11 Mumbai terror attacks of 2008 and the 2001 Parliament attack.
The Prime Minister will also unveil the country's first national police museum.
China-built world's largest amphibious plane completes maiden flight test - 20 Oct 18
Highlights: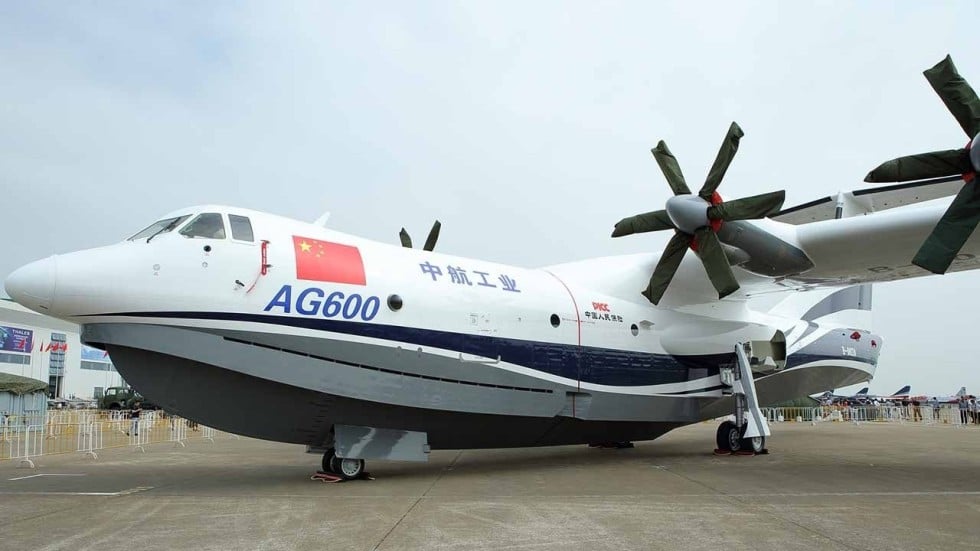 China's domestically developed AG600, the world's largest amphibious aircraft, is seen during its maiden flight in Zhuhai, Guangdong province, China December 24, 2017.
Designed to be the world's largest amphibious aircraft, AG600 is powered by four domestically-built turboprop engines and has a range of 12 hours.
China's indigenously designed and built amphibious aircraft AG600, touted as the world's largest, successfully carried out its first take-off and landing tests on Saturday.
The aircraft, developed and built by the state-owned aircraft firm Aviation Industry Corporation of China, took off and later landed on the water in Hubei province's Jingmen.
The seaplane took off from the Zhanghe Reservoir at 8:51 am (local time) and stayed airborne for about 15 minutes.
The aircraft code-named Kunlong was piloted by four crew members.
Early this month, it completed its first water taxiing trials at a high speed of 145 kilometres.
Designed to be the world's largest amphibious aircraft, AG600 is powered by four domestically-built turboprop engines and has a range of 12 hours.
It will be mainly used for maritime rescue, fighting forest fires and marine monitoring, according to an earlier report by the state-run Xinhua news agency.
The aircraft has passed a series of tests since its maiden flight last December. It successfully finished eight taxiing tests on water at a speed of 80-kilometre per hour and 120-kilometre per hour.
Smartphone payment service launched in Japan by paytm - 20 Oct 18
Highlights: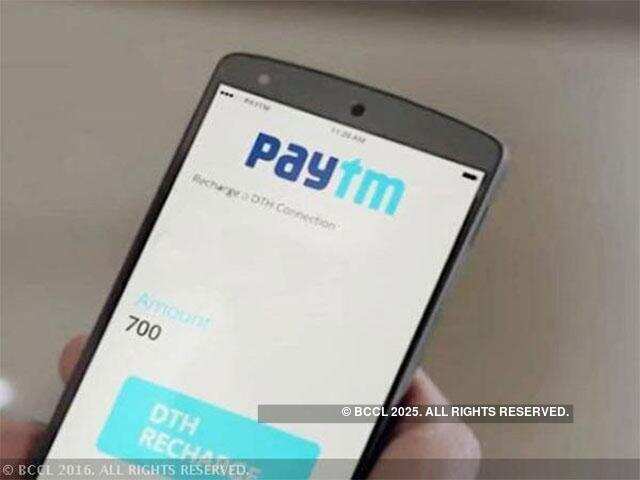 The PayPay smartphone payment service launched in Japan by Indian payments entity Paytm in joint-venture with SoftBank and Yahoo during October 2018.
'PayPay' is the name of the barcode-based smartphone payment service.
It is India's largest payments service provider.
This new service has been launched in a joint venture with SoftBank Corporation and Yahoo Japan Corporation.
PayPay allows users to store money from a bank account in their "PayPay" wallet and aims to promote the use of cashless payment in Japan, which is heavily dependent on cash for payments.
Japan accounts for only 20% of overall cashless transactions in the country.
Police Commemoration Day being observed on 21 October - 21 Oct 18
Highlights:
India has been observed on October 21 every year, the Police Commemoration Day remembers the sacrifices of ten policemen who died in Chinese firing in 1959.
Union Home Minister Rajnath Singh attend the Police Commemoration Day Parade at the Police Memorial Ground in New Delhi.
Chinese troops opened fire and threw grenades at a party of 20 police personnel.
Ten were killed in the incident, which left seven others injured, who were later taken as prisoners.
Three weeks later, China returned the bodies of the ten personnel which were later cremated with full police honours at Hot Springs in North Eastern Ladakh.
Police personnel had been responsible for manning the 2,500 mile long border of India with Tibet until the autumn of 1959.
A memorial was erected at Hot Springs and members of Police Forces from different parts of the country trek to Hot Springs to pay homage to the martyrs.
Since the year 2012, the Police Commemoration Day Parade is being held at the National level at the Police Memorial, Chanakyapuri.
Since independence, 34,418 police personnel have lost their lives while protecting the country.
In the past one year, from September 2016 to August 2017, 383 police personnel had died.
India to host global meet on maternal, child health in December: UNICEF - 21 Oct 18
Highlights:
India would be the global host for a meet of stakeholders from nearly 100 countries on issues related to maternal and child health.
The Partnership for Maternal, Newborn and Child Health forum will emphasise the importance of people-centred accountability bringing forward the voices and lived realities of women, children and adolescents through innovative programming and creative projects.
The forum will be hosted by the Ministry of Health and Family Welfare in collaboration with the Partnership for Maternal, Newborn and Child Health (PMNCH) this December.
Prime Minister Narendra Modi and former Chile President Michelle Bachelet and chair of PMNCH will deliver the keynote addresses.
India has made significant progress in improving maternal health and reducing child mortality.
India has performed better than rest of world in this field and the number of under-five children dying has fallen by 30 %% since 2012, from 1.4 million to 9,89,000.
According to a new report by the United Nations Inter-agency Group for Child Mortality Estimation, under-five mortality rate in India was recorded below one million in 2017 for the first time in five years.
The forum to be held on December 12 and 13 at Vigyan Bhawan will see participation from heads of State, ministers, popular champions, and 1,200 partners from nearly 100 countries.
This is the second time India is hosting the forum,the first was in 2010.
Previous chapters of the forum have been held in Johannesburg in South Africa in 2014 and Dar es Salam in Tanzania in 2007.
"Angriya": India's first domestic luxury cruise liner started its operations between Mumbai and Goa - 21 Oct 18
Highlights:
India's first domestic luxury cruise liner started its operations between Mumbai and Goa.
Itsname is "Angriya", started its operations during October 2018.
The cruise, operating on the Mumbai-Goa sea route, is a luxurious 7-deck, 131-meter long passenger ship built in Japan.
Complete with bars, restaurants, swimming pool, spa and discotheque, the ship can accommodate about 400 passengers.
It completes the journey between Mumbai and Goa in 14 hours.
CBI names its No.2 Rakesh Asthana in bribery case - 22 Oct 18
Highlights:
India's one of the top most autonomous body ,the Central Bureau of Investigation has named its second-in-command Rakesh Asthana as an accused in a bribery case along with another agency official and two private persons.
Those named as accused in the FIR are Mr. Asthana, CBI Deputy Superintendent of Police Devender Kumar, Dubai-based investment banker Manoj Prasad and his brother Somesh Prashad.
More than Rs.3 crore in bribes were paid by the complainant for getting relief in a case against meat exporter Moin Qureshi and others.
Rakesh Asthana is accused of accepting a bribe of Rs. 2 crore in a case that also involves businessman Moin Qureshi.
The agency alleges that bribes were taken in five instalments in December 2017 and October 2018 to give a clean chit to the Hyderabad businessman.
As alleged,Rs.1 crore was paid on December 10 and Rs.1.95 crore on December 13 last; Rs.25 lakh on October 10; and 55, 000 dirhams on October 14.
Accused Somesh handled Mr. Asthana's investments in Dubai and London.
The amended provision of the Prevention of Corruption Act, which mandates prior approval for initiating a probe against senior government functionaries, would not apply in the case of Mr. Asthana.
According to the FIR, the businessman was summoned in the Moin Qureshi case several times for questioning on a Rs.50 lakh transaction in 2011.
During a trip to Dubai, he met Manoj who allegedly got him in touch with his brother for getting relief from CBI summonses.
The FIR alleges that Somesh, after talking to a CBI official on the phone, demanded Rs.3 crore as the initial amount and Rs.2 crore after the filing of the charge sheet in the case.
Subsequently, the businessman allegedly paid about Rs.3 crore through middlemen.
However, on September 25 this year, he was stopped at the airport as a look-out circular had been issued against him when he along with his family was to board a flight from Hyderabad to Paris.
Before the present complaint was filed, Mr. Asthana filed a complaint against the CBI Director before the Central Vigilance Commission (CVC), accusing him of interfering in a corruption case involving family members of RJD leader Lalu Prasad.
In August this year, Mr. Asthana wrote to the Cabinet Secretary bringing to his notice certain corrupt practices within the CBI.
Earlier, Mr. Asthana is facing bribery allegations and his name had surfaced in the Sandesara brothers' case.
The Vadodara-based businessmen Sandesara brothers are now abroad, evading probe and arrests by the CBI and the Enforcement Directorate for allegedly defrauding banks of Rs.5,200 crore.
The CBI is investigating its two former chiefs A.P. Singh and Ranjit Sinha in other cases.
Diesel became costlier than petrol for the first time in Odisha - 22 Oct 18
Highlights:

The Indian state Odisha where diesel became costlier than petrol for the first time.
A litre of diesel cost 12 paise more than that of petrol in Odisha's capital Bhubaneswar on 21 October 2018 with diesel being sold at Rs 80.69 per litre while petrol cost 80.57 per litre.
This was the first instance of diesel becoming costlier than petrol in any Indian state.
While other states have different VAT rates for petrol and diesel, Odisha charges a uniform 26% VAT on both.
National Police Memorial and museum inaugurated by Narendra Modi - 22 Oct 18
Highlights:
Prime Minister Narendra Modi opened a revamped National Police Memorial and a museum at Chankayapuri in New Delhi on 21 October 2018.
It was conceptualised in 1984.
The earlier memorial, a 150-foot structure of steel, was brought down on the order of the Delhi High Court in 2008 because it violated environmental norms.
The Prime Minister also announced a decoration in the name of Netaji Subhash Chandra Bose for police and paramilitary men engaged in disaster relief.
Indian regional language Telugu fastest growing language in USA - 23 Oct 18
Highlights:

According to the by an American think tank ,Telugu is the fastest growing language in the USA.
According to the World Economic Forum ,the number of US residents speaking Telugu rose by 86 % between 2010 and 2017.
Presently, Telugu is fourth most spoken language in India.
It is still outside the top 20 of the most widely-spoken languages other than English in the USA.
The study on languages spoken in the US used data from the American Community Survey and compared the number of people who said they spoke a language other than English at home in 2010 and 2017.
Last year there were more than 400,000 Telugu speakers in the US - nearly double the number in 2010.
Out of the top 10 fastest-growing languages in America, seven are from South Asia.
The rise of Telugu was connected to the links forged between Hyderabad and the US engineering and technology industries, Prasad Kunisetty, founder of the Telugu People Foundation, a non-profit organisation in the US, was quoted as saying.
The rapid growth of IT in the mid-1990s led to a huge demand for software engineers, he said.
Many were recruited from Hyderabad, which sends students to the US in large numbers.
Down the years, Telugu-speaking Americans have continued to hire software engineers from Andhra Pradesh and Telangana, the BBC said.
Notable US-based Telugu speakers include the first Indian-American Miss America Nina Davuluri and the current Microsoft CEO Satya Nadella.
Of the more than 60 million people that speak a language other than English out of the total population of about 320 million, the vast majority speak Spanish.
Out of the most commonly spoken South Asian languages, Hindi is first, followed by Urdu, Gujarati and then Telugu.
India and China signed the first-ever internal security cooperation agreement - 23 Oct 18
Highlights:
India and China during October 2018 achieved important breakthrough in bilateral relations.
Both nations signed their first ever internal security cooperation agreement, ensuring support to each other in dealing with problems of terrorism, human trafficking, smuggling of drugs and arms etc.
The historic agreement was signed in New Delhi during a high-level meeting chaired by Union Home Minister Rajnath Singh and China's minister for public security, Zhao Kezhi.
In the absence of an extradition treaty with China, the two countries have not exchanged each other's sentenced prisoners, but this pact may change that.
There are at least 10 Indians in Chinese prisons and an equal number of Chinese citizens in Indian prisons.
China opened the world's longest sea-crossing bridge and tunnel for public - 24 Oct 18
Highlights:
This bridge primarily connects Hong Kong and Zhuhai.
China opened the world's longest sea-crossing bridge and tunnel for public.
The longest sea bridge was opened to public on 24 October 2018
The entire length of this super structure is 55 km and it is thus the longest fixed link on the Earth.
This bridge is officially called the Hong Kong-Zhuhai-Macau Bridge (HZMB).
It was opened to the public after its inauguration a day earlier by Xi Jinping, General Secretary of the Communist Party of China.
The HZM Bridge connects Hong Kong with Macau and Zhuhai, three major cities on the Pearl River Delta. The governments of mainland China, Hong Kong and Macau contributed in this mammoth project that cost around USD$ 20 billion.
This project is primarily a bridge-tunnel system cnsisting of a series of three cable-stayed bridges and one undersea tunnel, as well as two artificial islands.
The undersea tunnel ensures ships to pass unhindered.o
Rajnath Singh is heading the Group of Ministers(GoM) to look into the issue of sexual harassment - 24 Oct 18
Highlights:
The Union Government on 24 October 2018 constituted a Group of Ministers (GoM).
It is headed by Home Minister Rajnath Singh, to strengthen the legal and institutional frameworks to deal with and prevent sexual harassment at the workplace.
The GoM has been set up in the wake of the recent #MeToo movement in the country.
Former editor M.J. Akbar had to resign as Minister of State for External Affairs following allegations of sexual harassment against him by former colleagues.
Other members of the GoM include Road Transport Minister Nitin Gadkari, Defence Minister Nirmala Sitharaman and Women and Child Development Minister Maneka Gandhi.
India and Myanmar Sign MoU On Ope-rationalization Of Sittwe Port - 24 Oct 18
Highlights:
India and Myanmar inked a crucial MoU for the appointment of a private operator of the Sittwe Port.
It will boost connectivity and help in creating local job opportunities as the two sides discussed bilateral issues as well as topics of common interest, including developments in the strife-torn Rakhine state.
The MoU was signed by Foreign Secretary Vijay Gokhale after his meetings with Myanmar's State Counsellor Aung San Suu Kyi and Union Minister of Transport and Communications U Thant Sin Maung.
The discussed issues related to bilateral cooperation as well as topics of common interest, including developments in the strife-torn Rakhine state.
Both countries signed the MoU for the appointment of a private Port Operator for the operation and maintenance of Sittwe Port, Paletwa Inland Water Terminal and associated facilities that are part of the Kaladan Multi Model Transit Transport Project.
The Sittwe port in Myanmar will connect India's landlocked north-east region to the Bay of Bengal through Mizoram. It will also provide an alternate route to Kolkata.
India has an overall commitment of USD 1.75 billion for developmental programmes in Myanmar.
Over 720,000 of Myanmar's stateless Muslim minority have fled villages in Rakhine state following a military crackdown in August last year, taking shelter in refugee camps in Bangladesh.
Myanmar is one of India's strategic neighbours and shares a 1,640-km-long border with a number of northeastern states including militancy-hit Nagaland and Manipur.
Prime Minister Narendra Modi had visited Myanmar in 2014 to attend the ASEAN- India Summit and then again travelled to the country in 2017 on a bilateral visit.
Fali S Nariman gets Lal Bahadur Shastri National Award - 24 Oct 18
Highlights:
Eminent jurist Fali S. Nariman was awarded 19th Lal Bahadur Shastri National Award for Excellence in Public Administration.
Vice-President M Venkaiah Naidu has presented the Lal Bahadur Shastri National Award to eminent jurist and senior advocate at Supreme Court Fali S Nariman.
He is one of India's most distinguished constitutional lawyers and he has argued several leading cases.
He was the senior advocate to Supreme Court of India since 1971 and has remained President of Bar Association of India since 1991.
He was Additional Solicitor General of India from May 1972- June 1975.
He has been awarded Padma Bhushan (1991), Padma Vibhushan (2007)and Gruber Prize for Justice (2002). He was nominated by President as member of Rajya Sabha, Upper House of Parliament for single term (1999–2005).
The award was instituted in 1999 by Lal Bahadur Shastri Institute of Management in memory of India's second Prime Minister Lal Bahadur Shastri.
The award consists of cash award of Rs. 5,00,000 plus citation and plaque. In 2017, it was awarded to Bindeshwar Pathak, founder of Sulabh Internation.
Nariman's significant contributions in the field of jurisprudence.
Invest India wins UN award for excellence in promoting investments in sustainable development - 25 Oct 18
Highlights:
Invest India, the country's investment promotion body, has won the UN Award for excellence in promoting investments in sustainable development.
The award was presented by Armenian President Armen Sarkissian to Deepak Bagla, the CEO of Invest India at the World Investment Forum, Geneva.
The event is being attended by more than 6,000 participants, including more than 10 heads of state, and ministers from 50 countries.
Agencies from Bahrain, Lesotho and South Africa have also won top honours during the function.
The awards, organised by the United Nations Conference on Trade and Development (UNCTAD).
It honours investment promotion agencies (IPAs) and their governments for their achievements, but also showcase best practices in attracting investment into Sustainable Development Goals-related projects that can inspire investment promotion practitioners in developing and developed countries.
Invest India received the award for excellence in servicing and supporting a major global wind turbines company in the establishment of a blade manufacturing plant in India while committing to train local staff and produce 1 gigawatt of renewable energy.
Implementation of the project is expected to reduce India's wind energy cost significantly.
As the national investment promotion and facilitation agency, Invest India focuses on sector-specific investor targeting and development of new partnerships to enable sustainable investments in India.
Invest India is set up as a non-profit venture under the Department of Industrial Policy and Promotion, Ministry of Commerce and Industry, Government of India.
Prime Minister Narendra Modi launched new portal Self4Society - 25 Oct 18
Highlights:
Self4Society is the name of the new portal launched by Prime Minister Narendra Modi on 24 October 2018.
The prime aim is to enable various organizations to create their own initiatives under the identified National Causes to serve the society better.
The app availed under this portal aims to make corporate social responsibility (CSR) more collaborative and meaningful.
Supreme Court bans sale of BS-IV vehicles from 2020 - 25 Oct 18
Highlights:
The Supreme Court has banned the sale and registration of motor vehicles conforming to the emission standard Bharat Stage-IV in the entire country from April 1, 2020.
The pollution has reached an "alarming and critical" level all over India.
A three-judge Bench of Justices Madan B. Lokur, S. Abdul Nazeer and Deepak Gupta observed in a 20-page judgment.
The country will have to shift to the cleaner Bharat- VI fuel from April 1, 2020. Bharat Stage (BS) emission norms are standards instituted by the government to regulate output of air pollutants from motor vehicles.
The BS-IV norms have been enforced across the country since April 2017.
In 2016, the Centre had announced the country would skip the BS-V norms altogether and adopt BS-VI norms by 2020.
BSVI compliant vehicles are going to be more expensive than BSIV compliant vehicles.
People have a tendency to buy cheaper vehicle(s) even from a neighbouring city.
The problem of pollution is not limited to the NCR of Delhi but it is a problem which has engulfed the entire country especially the major cities.
India has the dubious distinction of having 15 out of the 20 most polluted cities in the world.
There cannot be any compromise on the health of citizens and this has to take precedence over the "greed" of a few automobile manufacturers who want to stretch the timeline.
Therefore, if there is a conflict between health and wealth, obviously, health will have to be given precedence.
It is not as if on 01.04.2020 just by waving a magic wand the entire country will change to BSVI compliant norms.
Indian Institutes of Skills to come up in across the country - 25 Oct 18
Highlights:

The Centre has decided to set up skill development institutes on government land, in partnership with private players, across the country.
The public-private partnership model will be adopted to set up the institutes.
the model to be called the Indian Institutes of Skills - at select locations, based on demand and available infrastructure.
The institutes are expected to help boost global competitiveness of key industry sectors by providing high-quality training, applied research education and a direct and meaningful connection with the industry.
India's first engineless train set for trial run on October 29 - 26 Oct 18
Highlights:
India's first engineless train set for trial run on October 29,2018.
The scale model of Train 18 , IRCE 2018 is being indigenously developed by the ICF.
Train 18, the country's first engineless train, which is being regarded as a successor to the 30-year-old Shatabdi Express, is set to hit the tracks for trials on October 29.
Driven by a self-propulsion module sans a separate locomotive, the train, capable of running at a speed of up to 160 kmph, comes with technical features for enhanced quick acceleration.
It will cut travel time by 15 % compared to the Shatabdi.
The swanky 16-coach prototype, developed by the Chennai-based Integral Coach Factory in 18 months, is designed in such a way that passengers can have a look at the driver's cabin.
It cost nearly Rs.100 crore to build the prototype and subsequent production would bring down the cost.
It will do three to four days of trial outside the factory and then will be handed over to Research Design and Standards Organisation (RDSO) for further trials.
The the full AC train, fitted with CCTV cameras, would have two executive compartments in the middle with 52 seats each, whereas trailer coaches would have 78 seats each.
Train 18 has diffused lighting, automatic doors and footsteps besides GPS-based Passenger Information System.
The footstep in a coach's doorway slides outward when the train stops at a station enabling passengers to alight safely with comfort in view of the variation in height between a train's floor and the platform.
Shatabdi was introduced in 1988 and is presently running on over 20 routes connecting metros with other important cities.
Union Government has set up Rs.7,522 cr. fisheries fund - 26 Oct 18
Highlights:
The Centre has set up a Rs.7,522-crore fund to create infrastructure facilities for the fisheries sector.
The main aim is to help and boost annual fish production to 20 million tonnes by 2022-23 from the current production of 11.4 million tonnes.
The establishment of the Fisheries and Aquaculture Infrastructure Development Fund was approved by the Cabinet Committee on Economic Affairs.
Loan lending will be over a period of five years till 2022-23 and maximum repayment will be over a period of 12 years, inclusive of a moratorium of two years on repayment of principal.
Narendra Modi conferred with Seoul Peace Prize - 26 Oct 18
Highlights:
India's Prime Minister Narendra Modi has been conferred with the Seoul Peace Prize for 2018 for his contribution to international cooperation and fostering global economic growth.
Narendra Modi awarded prestigious Seoul Peace Prize 2018 for contribution to high economic growth in India and world through 'Modinomics', contribution to world peace, improving human development & furthering democracy in India.
The award would be presented to Mr. Modi at a mutually convenient time by the Seoul Peace Prize Foundation, which was established in 1990 to commemorate the success of the 24th Olympic Games held in Seoul.
The award was established to crystalise Korean people's yearning for peace on the Korean peninsula and in the rest of the world.
The committee lauded Mr. Modi's initiatives to make the government cleaner through anti-corruption measures and demonetisation.
The committee also credited him for his contribution toward reginal and global peace through a proactive policy with countries around the world under the 'Modi doctrine' and the ''Act East'' policy.
Mr. Modi is the 14th recipient of the award and the past laureates included former United Nations Secretary General Kofi Annan, German Chancellor Angela Merkel and renowned international relief organizations like Doctors Without Borders and Oxfam.
Union Cabinet approves to set-up United Nations Sustainable Development Goals - 27 Oct 18
Highlights:
The Union Cabinet has approved the setting up of a high-level steering committee for Sustainable Development Goals.
The committee is chaired by the Chief Statistician of India and Secretary to the Ministry of Statistics and Programme Implementation (MoSPI) to review if India was on track to achieving the United Nations Sustainable Development Goals (SDG).
The panel would also decide if there was a need to "refine" indicators by reviewing the National Indicator Framework (NIF) periodically.
The SDGs are a list of 17 goals, which include the elimination of poverty, ending hunger, ensuring provision of quality education, clean water and sanitation, that countries, including India, must achieve by 2030.
The steering committee would recommend measures to "mainstream" SDGs into ongoing national policies, programmes and strategic action plans to address the developmental challenges.
Statistical indicators of the NIF would be the backbone for monitoring of SDGs at the national and State levels and would scientifically measure the outcomes of the policies to achieve the targets under different SDGs.
Based on statistical indicators, the MoSPI would produce national reports on implementation of the SDGs.
Data source Ministries / Departments will be responsible for providing regular information to MoSPI on these indicators at required intervals and disaggregation for national and sub-national reporting of SDGs.
At the Millennium Summit held in 2000 at the UN Headquarters in New York, eight development goals known as the 'Millennium Development Goals' (MDGs) were adopted, which formed the blueprint for countries to pursue their national development strategies from 2000 to 2015.
The UN General Assembly in its 70th Session, in 2015, considered and adopted the SDGs for the next 15 years.
The 17 SDGs came into force with effect from January 1, 2016.
The SDGs have become de facto international obligations and have the potential to reorient domestic spending priorities of the countries during the 15-year-period.
Second International Conference on Primary Health Care held in Astana - 27 Oct 18
Highlights:
The second conference on PHC inaugurated on 25 October 2018 in Astana, Kazakhstan.
The conference is a initiative of Government of Kazakhsta, WHO and UNICEF.
Highlights of the event:
The conference took place in the memory of 40 years of Alma Ata Declaration on Primary health care.
Alma Ata Declaration was adopted at international conference on primary health care held in Kazakhstan in 1978).
The conference will be held in the palace of Independence in Astana. The main aim is to achieve Universal Health Coverage and Sustainable Development Goals by 2030.
Astana declaration: Not just the health but affordable health for all. The theme of the conference is : "The future of Primary Health Care".
Primary Health Care PHC is the essential health care that makes affordable universal health care accessible to all the individuals of the community.
In India, the recent initiative of AAYUSHMAN BHARAT is a step in improving primary health care with establishing health and wellness centers all around the country and providing health insurance. Community health workers and ASHA workers are also involved in the task of improving primary health insurance.
India wins Commonwealth Association for Public Administration and Management Award, 2018 - 27 Oct 18
Highlights:
India has won Commonwealth Association for Public Administration and Management (CAPAM) Award, 2018.
The award was announced at Annual General Members Meet held at Georgetown, Guyana.
The Department of Administrative Reforms and Public Grievances (DARPG), Ministry of Personnel, Public Grievances and Pensions is an institutional member of Commonwealth Association for Public Administration and Management (CAPAM).
It is a non-profit association representing an international network of over 1100 senior public servants, Heads of Government, leading academics and researchers located in over 50 different countries across the Commonwealth.
The association is guided by international leaders who believe in the value of networking, knowledge exchange and the promotion of good governance for the betterment of citizens in the Commonwealth countries.
CAPAM has been announcing its International Innovations Awards (IIA) Programme bi-annually, since 1998.
Shri K. V. Eapen, Secretary, Department of Administrative Reforms & Public Grievances(DARPG) has been elected to the Board of Commonwealth Association of Public Administration & Management(CAPAM) at the Annual General Members Meet held on 23rd October, 2018 at Georgetown, Guyana.
During the Conference, CAPAM Innovation Awards were announced.
Government of India had sent entries for CAPAM International Innovations Awards, 2018 under various categories
The CAPAM Awards celebrate the spirit of innovation in the public service by recognizing organizations that have made significant contributions to improve governance and services in the public sector.
The initiative entitled "Unnayan Banka- Reinventing Education Using Technology of Banka District, State of Bihar has been awarded under the Category "Innovation Incubation".
"Unnayan Banka" is an initiative which envisages "Quality education for all' especially for those at the bottom of the Pyramid, using latest technologies.
It's a holistic model of overall development of youths from Education to Employability.
One of the most important Millennium Development Goals, "Education" is the great social Mobiliser & must be everyone's Birthright and it is Government of India's endeavour to provide this to all its children.
Another initiative entitled "Unified Agriculture Markets" of Co-operation Department of Government of Karnataka has also been selected under the Category 'Innovation in Public Service Management'.
This initiative has also been awarded the overall Gold Award for CAPAM Awards, 2018.
Tagore Award for Cultural Harmony for 2014, 2015 & 2016 announced - 28 Oct 18
Highlights:
The Tagore Award for Cultural Harmony for the years 2014, 2015 & 2016 is being conferred on the doyen of Manipuri dance Sh. Rajkumar Singhajit Singh; Chhayanaut (a cultural organization of Bangladesh) and on one of India's greatest sculptors, Sh. Ram Vanji Sutar, respectively.
The Jury under the Chairmanship of Prime Minister, Sh Narendra Modi and comprising of the Chief Justice of India, Justice Ranjan Gogoi, Shri N. Gopalaswami & Dr. Vinay Sahasrabuddhe after detailed discussions on 24th October, 2018.
Shri Rajkumar Singhajit Singh, a doyen of Manipuri dance, has distinguished himself both as an outstanding teacher, performer and choreographer.
His work over the years bears witness to his creativity within the framework of traditional Manipuri dance.
His choreography has been enriched by elements incorporated from various forms of performing arts of Manipur such as Thang-ta, Nata-Sankirtana, Lai-haraoba and Rasleela.
The award recognizes his contribution in keeping the tradition of Manipuri dance alive and vibrant, promoting harmony through dance and also pays tribute to Gurudev Rabindranath Tagore.
Chhayanaut, established in 1961, has played a leading role in promoting Tagore's works and Bengali culture, music and literature not only within Bangladesh, but all across the world.
It has built a close bridge of understanding and cultural exchange between Bangladesh and India, especially West Bengal.
Chhayanaut was part of the movement for an independent Bangladesh and provided a platform for cultural expression and assertion of Bengali identity.
When Rabindra Sangeet was banned in East Pakistan, Chhayanaut continued to promote liberal expression through secret renditions of Tagore songs and discussions on Tagore.
The jury's decision recognizes the contribution of the organization in upholding the liberal progressive tradition of universal humanism of Gurudev and in promoting the spirit of cultural harmony.
Sh. Ram Vanji Sutar is one of the greatest living sculptors of India.
He has created more than fifty monumental sculptures in the last forty years of his career.
The annual award was instituted by the Government of India during the commemoration of 150th Birth Anniversary of Gurudev Rabindranath Tagore.
The first Tagore Award was conferred on Pt. Ravi Shankar, the Indian Sitar Maestro in 2012 and second was conferred on Shri Zubin Mehta in 2013.
The award carries an amount of Rs. 1 crore, a citation in a scroll, a plaque as well as an exquisite traditional handicraft/ handloom item.
The award is open to all persons regardless of nationality, race, language, caste, creed or sex.
M.S. Swaminathan receives World Agriculture Prize - 28 Oct 18
Highlights:
Professor M.S. Swaminathan ,the founder of the M.S. Swaminathan Research Foundation (MSSRF) was awarded the first World Agriculture Prize at the 11th Global Agriculture Leadership Summit in New Delhi recently.
He received the award from Vice-President M. Venkaiah Naidu at the event hosted by the Indian Council of Food and Agriculture.
The M.S. Swaminathan Junior Research Fellowship to be awarded from 2019 onwards — was also instituted on the occasion.
The cash associated with the prize would be used for creating fellowships at MSSRF at the post-graduate level, to convert the United Nations Sustainable Development Goals into field-level accomplishments.
The fellowship would help promote linkages between agriculture, nutrition and health, through a 'Farming Systems for Nutrition' programme.
The fellowship would be an opportunity for young scholars to address the UN Sustainable Development Goals, including eradication of hunger and climate change.
The five areas considered for the fellowship are: the UN Sustainable Development Goal 2 of Zero Hunger, Farming System for Nutrition (FSN), genetic garden of bio-fortified crops and halophytes, bio-valley for curative and culinary diversity and eco-technologies for eco-enterprises.
World Wrestling Championships – 2018, held in Budapest,Hungary - 28 Oct 18
Highlights:
The 2018 World Wrestling Championships were fifteenth edition of World Wrestling Championships of combined events and were held from October 20 to 28 in Budapest,Hungary.
What is UWW World Wrestling Championships ?
It is amateur wrestling world championship event organised by the United World Wrestling.
It was started in 1904 with the Men's Greco-Roman wrestling tournament. From 1951, the Men's freestyle wrestling tournament began.
From 1987, women's freestyle championship started.
The top medal winning countries In the 2018 event, Japan won the most medals with 5 gold, 1 silver and 4 bronze. Russia comes second with 8 medals.
India's performance India is at the 17th place with 2 medals – 1 silver and 1 bronze. Bajrang Punia bagged the silver medal.
Pooja Dhanda won Bronze medaland became fourth Indian woman to win a medal at the World Wrestling Championship.
India to become world's 3rd largest aviation market around 2024: IATA - 29 Oct 18
Highlights:

According to global airlines' body IATA,India will become the world's third largest aviation market around 2024 surpassing the UK.
It projected total air passenger numbers to touch 8.2 billion in 2037.
Releasing the latest update to IATA's 20-year Air Passenger Forecast, the grouping also cautioned that growth prospects for air transport and the economic benefits driven by aviation could be curtailed if protectionist measures are implemented by governments.
The present trends in air transport suggest passenger numbers could double to 8.2 billion in 2037.
The Asia-Pacific region is projected to drive the biggest growth with more than half the total number of new passengers over the next 20 years coming from these markets.
The growth is being driven by a combination of continued robust economic growth, improvements in household incomes and favourable population and demographic profiles, it noted.
According to the IATA, China would displace the United States as the world's largest aviation market in the mid-2020s.
Aviation market is defined in terms of traffic to, from and within a country, as per the grouping.
India will take 3rd place after the US, surpassing the UK around 2024. Indonesia is forecast to be a standout performer - climbing from the world's 10th largest aviation market in 2017 to the 4th largest by 2030.
Winners of the 2018 United Nations Human Rights Prize - 29 Oct 18
Highlights:
The President of the UN General Assembly, Maria Fernanda Espinosa, is delighted to announce the 2018 winners of the prestigious United Nations Prize in the Field of Human Rights.
They are:
Ms. Rebeca Gyumi – activist for the rights of women and girls (Tanzania)
Ms. Asma Jahangir (posthumously) – human rights lawyer (Pakistan)
Ms. Joênia Wapichana (Joênia Batista de Carvalho) – activist for the rights of indigenous communities (Brazil)
Front Line Defenders – organization advocating and working for the protection of human rights defenders (Ireland)
The United Nations Prize in the Field of Human Rights is an honorary award given to individuals and organizations in recognition of outstanding achievement in human rights.
It provides an opportunity to give public recognition to the achievements of the recipients themselves and to send a clear message to human rights defenders all over the world that the international community is grateful for, and supports, their efforts to promote all human rights for all.
Previous winners have included Eleanor Roosevelt, Martin Luther King, Nelson Mandela, Jimmy Carter, Denis Mukwege, Malala Yusafzai, Amnesty International and the International Committee of the Red Cross (ICRC).
The Prize, established by the General Assembly in 1966 (A/RES/21/2217), was awarded for the first time in 1968 on the occasion of the 20th anniversary of the Universal Declaration of Human Rights, on what is now known as Human Rights Day, 10 December.
This is the tenth award of the prize, coinciding this year with the 70th anniversary of the Universal Declaration of Human Rights.
Prize winners are chosen by a special committee comprising of the President of the General Assembly, the President of the Economic and Social Council, the President of the Human Rights Council, the Chair of the Commission on the Status of Women and the Chair of the Advisory Committee of the Human Rights Council, as mandated by the UN General Assembly.
The Office of the UN High Commissioner for Human Rights (OHCHR) provides support to the special committee.
Over 300 nominations were received for this year's Prize from a broad variety of sources including Member States, UN organizations and civil society.
The award ceremony for the 2018 Prize will take place at UN Headquarters in New York in December 2018, as part of activities to commemorate Human Rights Day.
The date of the ceremony will be announced nearer the time.
Further details on the 2018 Human Rights Prize Winners:
Ms. Rebeca Gyumi – activist for the rights of women and girls (Tanzania)
Rebeca Z. Gyumi is a Founder & Executive Director at Msichana Initiative, a Tanzanian civil society organization which aims to empower girls through education and addresses challenges which limit girls' right to education.
She has worked for over 8 years with an organization working on youth, as a TV personality and youth advocate. Ms. Gyumi challenged the constitutionality of section 13 and 17 of The Law of Marriage Act of 1971 that allowed girls to marry at the age of 14 and 15 where there is parental consent or court's sanction.
She won the case before the High Court of Tanzania in 2016.
Ms. Asma Jahangir (posthumously) – human rights lawyer (Pakistan)
Ms. Joenia Wapichana (Joênia Batista de Carvalho) – activist for the rights of indigenous communities (Brazil)
Front Line Defenders – organization advocating and working for the protection of human rights defenders (Ireland)
Indian Railways is building world's highest railway line - 29 Oct 18
Highlights:
India railways announced its plan to link New Delhi and Ladakh by means of a railway line that will run along the India-China Border.
The proposed Bilaspur-Manali-Leh Line would be the world's highest railway line once launched..
The location survey of the first phase is complete.
Besides giving quick all-weather access to the armed forces, the railway line will also boost tourism in the scenic Ladakh region that is currently connected by road and air.
The Ladakh-Himachal region receives heavy snowfall and road and air connectivity are sometime affected due to bad weather.
Once finished the line will halve the duration taken to cover the distance between Delhi and Leh, from currently 40 hours to 20 hours.
The final location survey is expected to be completed in 30 months' time after which a detailed project report will be finalised.
Features of this strategic railway line:
The rail line will have a highest road point of 5,360 metres above mean sea level that is comparable only to the Qinghai-Tibet Railway Line in China, which is at a height of around 2,000 metres.
The estimated cost to build this 465 km-line will be Rs 83,360 crore.
The project will include 74 tunnels, 124 major bridges and 396 minor bridges, according to the first phase of the survey.
There would be 30 station on the line.
Keylong station on the route will be build inside a tunnel at a height of 3,000 metres, a first in India. More than half of the train route would be covered through tunnels, the longest of which would be 27 km long.
Total length of the tunnels would be 244 km.
The route will connect important locations between Bilaspur and Leh like Sundernagar, Mandi, Manali, Keylong, Koksar, Darcha, Upshi and Karu and other important towns of Himachal Pradesh and Jammu and Kashmir.
SBI to issue and encash electoral bonds soon - 29 Oct 18
Highlights:
Country's largest PSUs bank SBI to issue and encash electoral bonds soon.
The GoI has notified the sale of electoral bond by SBI through its 29 authorized branches from 1.11.2018 to 10.11.2018.
These SBI branches are in cities like New Delhi, Gandhinagar, Chandigarh, Bengaluru, Bhopal, Mumbai, Jaipur, Lucknow, Chennai, Kolkata and Guwahati.
The concept of electoral bond was initiated in Union Budget 2017.Later on Electoral bond scheme 2018 was introduced.
What is Electoral Bond?
An Electoral Bond is just like a promissory note that will be payable to bearer on demand and free of interest.
It can be purchased by a citizen of India or anybody incorporated in India.
Benefits of an Electoral bond:
Transparent political funding
Protecting donors from harassment
No disclosure of information to third parties
Achieving Achieving Digital India vision
Bringing donations under tax preview.
The scheme introduced that the a party registered under the Representation of People's act, 1951 and securing not less than one percent of the votes polled in the preceding election is entitled to receive the electoral bonds. Electoral Bonds may be purchased by only citizen of India.
13th India-Japan annual summit: PM Modi promotes 'Make in India' in Tokyo - 30 Oct 18
Highlights:
The annual bilateral summit of India –Japan held on 28, 29 October 2018 in Japan.
The Indian prime minister visited Japan to attend the summit.
The partnership between the two countries has been transformed a lot and it has now become as a 'special strategic and global partnership'.
Japan investors will invest around $2.5 US dollars in India. The two sides agreed for a 2+2 dialogue between our foreign ministers and defence ministes to further work towards world peace.
An India-Japan Business Platform will be established to enhance the development of industrial corridors and industrial network in the region.
Both countries will cooperate for the first time in the areas of traditional medicinal systems such as Yoga and Ayurveda.
Both the countries have agreed to synchronize upon sharing benefits of the Ayushman Bharat scheme and the Japanese healthcare programme.
India was at 140th position in the 'ease of doing business' ranking of the World Bank when he took over the responsibility of the government in 2014.
Now India has reached 100th position and we are working towards better ranking.
This is Modi's third visit to Japan for the summit and his 12th meeting with Abe since 2014.
Odisha Govermnent launches disaster alert system for its coast - 30 Oct 18
Highlights:

The Odisha government has launched the much-awaited Early Warning Dissemination System, the first-of-its-kind technology in India, to simultaneously warn coastal communities and fisherfolk about impending cyclone and tsunami through siren towers.
Sirens will go off from 122 towers installed along the 480-km-long coast of the State if a button is pressed in the State emergency centre in Bhubaneswar.
'Innovative system':
The innovative warning system would alert people about disasters such as floods and cyclone. Fishermen fishing in deep sea can also be reached via mass SMS on their mobile phones through EWDS.
The EWDS, a collaborative effort of the Central and State governments, has been implemented under the assistance of World Bank.
It comprises technologies such as satellite-based mobile data voice terminals, digital mobile radio, mass messaging system and universal communication interface for interoperability.
It's a part of the last-mile connectivity programme under National Cyclone Risk Mitigation Project and aims to inform the last man living near the sea in case of an impending cyclone. Six coastal districts —Balasore, Bhadrak, Jagatsinghpur, Kendrapara, Puri and Ganjam — have been covered under the EWDS.
Chief Minister Naveen Patnaik dedicated the EWDS to the public on the 19th anniversary of the Odisha Super Cyclone.
World's largest airport 'under one roof' opened in Istanbul, Turkey - 30 Oct 18
Highlights:
On October 29, 2018, the world's largest airport terminal under one roof with a capacity to serve 90 million passengers was opened in Istanbul, Turkey.
World's largest airport 'under one roof' opened in Istanbul, Turkeyi. It has been constructed as a part of the phase-1A of the project – Istanbul New Airport.
It has been constructed by – IGA and the first phase costed 7.5 billion Euro.
It has five pier blocks as well as 77 boarding gates and 143 aero-bridges.
The airport has been envisioned to have a total capacity of up to 200 million passengers, once all four phases are completed in the next 10 years.
World Savings Day or World Thrift day is observed as October 31 - 31 Oct 18
Highlights:
World Thrift Day is celebrated every year on 31st October worldwide to promote savings and financial security of individual and nation as a whole.
World thrift day was established to inform people all around the world about the idea of saving their money in a bank rather than keeping it under their mattress or at home.
The World Savings Day was established on October 31, 1924, during the 1st International Savings Bank Congress (World Society of Savings Banks) in Milan, Italy.
The 'World Thrift Day' should be a day devoted to the promotion of savings all over the World.
In their efforts to promote thrift the savings banks also worked with the support of the schools, the clergy, as well as cultural, sports, professional, and women's associations.
The World Savings Day is usually held on October 31 except in countries where this day is a public holiday, since the idea is for the banks to be open, so that the people are able to transfer their savings into their account.
Seychelles Launches World's First Sovereign Blue Bond - 31 Oct 18
Highlights:
The Republic of Seychelles has launched the world's first sovereign blue bond-a pioneering financial instrument designed to support sustainable marine and fisheries projects.
The bond, which raised US$15 million from international investors, demonstrates the potential for countries to harness capital markets for financing the sustainable use of marine resources.
The World Bank assisted in developing the blue bond and reaching out to the three investors: Calvert Impact Capital, Nuveen, and Prudential.
Proceeds from the bond will include support for the expansion of marine protected areas, improved governance of priority fisheries and the development of the Seychelles' blue economy.
Grants and loans will be provided through the Blue Grants Fund and Blue Investment Fund, managed respectively by the Seychelles' Conservation and Climate Adaptation Trust (SeyCCAT) and the Development Bank of Seychelles (DBS).
Seychelles is an archipelagic nation consisting of 115 granite and coral islands.
It has a land area of 455 km2 spread across an Exclusive Economic Zone of approximately 1.4 million km2. As one of the world's biodiversity hotspots, Seychelles is balancing the need to both develop economically and protect its natural endowment.
Marine resources are critical to the country's economic growth.
After tourism, the fisheries sector is the country's most important industry, contributing significantly to annual GDP and employing 17% of the population.
Fish products make up around 95% of the total value of domestic exports.
The Seychelles blue bond is partially guaranteed by a US$5 million guarantee from the World Bank (IBRD) and further supported by a US$5 million concessional loan from the GEF which will partially cover interest payments for the bond.
Jair Bolsonaro is elected as President of Brazil - 31 Oct 18
Highlights:
Jair Bolsonaro, Former Army Captain, was elected as the President of Brazil.
Mr.Bolsonaro will take office on January 1, 2019.
He got 55.13% of the votes in the run-off election, to 44.87% for leftist opponent Fernando Haddad, with 99.99% of the ballots counted.
Brazil became the latest country to drift toward the far right, electing a strident populist as president in the nation's most radical political change since democracy was restored more than 30 years ago.
The president-elect, Jair Bolsonaro, has exalted the country's military dictatorship, advocated torture and threatened to destroy, jail or drive into exile his political opponents.
He joins a number of far-right politicians who have risen to power around the world, including Italy's deputy prime minister, Matteo Salvini, and Prime Minister Viktor Orban of Hungary.
The 63 year old Mr. Bolsonaro is a former army captain.
He has been a member of Congress for nearly three decades, beat a crowded field of presidential contenders, several of whom entered the race with bigger war chests, less baggage and the backing of powerful political parties.
Former President Luiz Inacio Lula da Silva, the longtime front-runner in the race, was ruled ineligible to run after he was imprisoned in April to start serving a 12-year sentence for corruption and money laundering.
In Brazil ,nearly 13 million people are unemployed.
The homicide rate is among the highest in the world - last year, 63,880 people were killed.
Jair Bolsonaro is elected as President of Brazil - 31 Oct 18
Highlights:
Jair Bolsonaro, Former Army Captain, was elected as the President of Brazil.
Mr.Bolsonaro will take office on January 1, 2019.
He got 55.13% of the votes in the run-off election, to 44.87% for leftist opponent Fernando Haddad, with 99.99% of the ballots counted.
Brazil became the latest country to drift toward the far right, electing a strident populist as president in the nation's most radical political change since democracy was restored more than 30 years ago.
The president-elect, Jair Bolsonaro, has exalted the country's military dictatorship, advocated torture and threatened to destroy, jail or drive into exile his political opponents.
He joins a number of far-right politicians who have risen to power around the world, including Italy's deputy prime minister, Matteo Salvini, and Prime Minister Viktor Orban of Hungary.
The 63 year old Mr. Bolsonaro is a former army captain.
He has been a member of Congress for nearly three decades, beat a crowded field of presidential contenders, several of whom entered the race with bigger war chests, less baggage and the backing of powerful political parties.
Former President Luiz Inacio Lula da Silva, the longtime front-runner in the race, was ruled ineligible to run after he was imprisoned in April to start serving a 12-year sentence for corruption and money laundering.
In Brazil ,nearly 13 million people are unemployed.
The homicide rate is among the highest in the world - last year, 63,880 people were killed.