World Hindu Congress held in Chicago, USA
Highlights: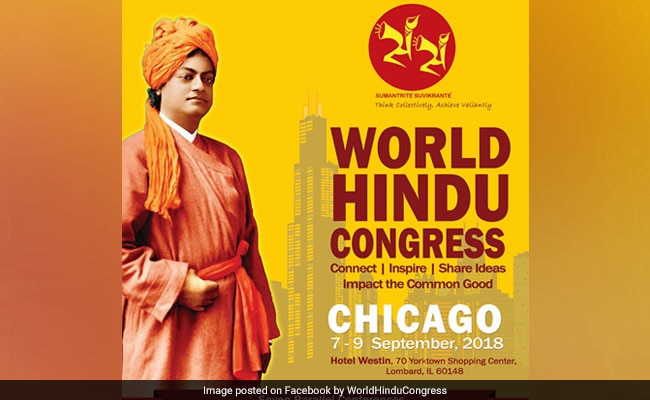 The World Hindu Congress being held in Chicago, USA.
The second World Hindu Congress is being held here to mark the commemoration of the 125th anniversary of Swami Vivekananda's historic speech at the Parliament of the World's Religions in 1893 in Chicago.
Brief History:
The World Hindu Congress (WHC) is a global platform for Hindus to connect, share ideas, inspire one another, and impact the common good.
The World Hindu Congress is an informal organization organized by World Hindu Foundation.
It offers Hindus an opportunity to introspect towards improvement and tap into our collective resources to seek tangible solutions to the most pressing issues of our age.
Held once every four years, WHC's seven parallel conferences showcase how the values, creativity, and entrepreneurial spirit of the global Hindu community find expression in a variety of spheres, including economic, education, media, organizational, and political, as well as the unique leadership and contributions of Hindu women and youth.
WHC also serves as a platform to address critical issues impacting Hindus worldwide, including human rights, discrimination, and cultural assaults.
Why World Hindu Congress?
When people are able to come together on a shared platform for a shared purpose, inspired by shared values, only good things happen. But such opportunities for Hindus, specifically, have been few and far between. The World Hindu Congress seeks to change that.
Hindus have both spiritual and secular needs. Unfortunately, many of the secular needs and challenges have been left for others to handle. The WHC seeks to fill in this very important gap.
The inaugural WHC, held in November 2014, saw 1800 delegates from 53 countries.
WHC 2018:
The second World Hindu Congress will be held in Chicago, Illinois, U.S. from September 7 - 9, 2018.
Inspired by the Hindu principle, Sumantrite Suvikrante or THINK COLLECTIVELY, ACHIEVE VALIANTLY, the World Hindu Congress 2018 promises to be a movement not to be missed.
On the eve of the 125th anniversary of Swami Vivekananda's historic address to the Parliament of World Religions in Chicago, Hindus from around the world and of all backgrounds are invited to actively participate.